Best Chinese Restaurant Sydney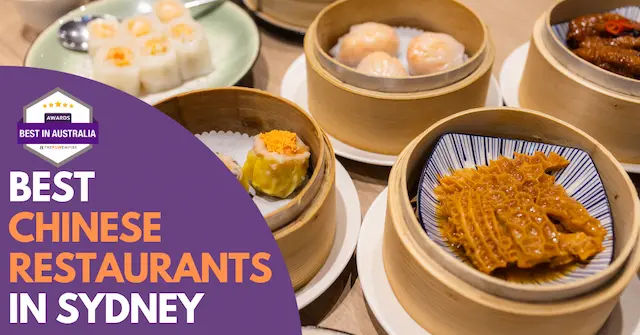 If you're looking for the best Chinese restaurant Sydney, look no further! We've compiled a list of the 10 best Chinese restaurants in Sydney, all of which offer delicious and authentic Chinese cuisine. So whether you're in the mood for some dumplings, chow mein, or sweet and sour pork, these restaurants will not disappoint!
1) Palace Chinese Restaurant
Key Service
Extensive Chinese supper menu
Address
Shop 38, Level 1, Piccadilly Tower, 133-145 Castlereagh Street, Sydney, NSW
Website
https://palacechinese.com.au/
Phone
+612 9283 6288
Email
info@palacechinese.com.au
Operating Hours
LUNCH
Tue, Wed Thurs & Fri 11:00AM to 3:00PM
Sat & Sun 9:00AM to 3:00PM
DINNER
Tue, Wed Thurs & Fri 5:00PM to 10:00PM
Sat & Sun 5:00PM to 10:00PM
The Palace Chinese Restaurant is located in the Sydney CBD near Piccadilly Tower. It offers both traditional and contemporary Cantonese dishes to fit every scenario, including a fantastic dim sum seven days a week.
Key Differentiators:
Food is always hot when served

Good portions
Serves fresh dumplings
Customer's Review:
One of the best yum cha places I've been to! Every dish tasted so good and the mango sago at the end is a good finish to a meal.

Vicky Du
2) Iron Chef Chinese Seafood Restaurant
The street food version of the original is available at one of Cabramatta's best yum cha restaurants. Instead of a Chinese tea, order a Vietnamese iced coffee in Sydney's "Little Vietnam." The siu mai, steamed dumplings (filled with pork, prawn, or vegetable) are both delicious and well prepared. Try the roast pork belly (peking duck is only available on certain days) or fried calamari if you're in the mood for some fried or grilled seafood.
Key Differentiators:
One of the largest yum cha restaurants

Offers 10% off on weekends
Wide variety of yum cha and specials
Customer's Review:
Family favourite. Quite busy if you go at lunch time but the wait for a table is never too long. Good variety of dishes and quick service. One star off as I find the tastiness of the dishes are not always consistent on visits.

C Y
3) The Dynasty
Key Service
Regional Chinese dishes
Address
26 Bridge Rd
Belmore NSW 2192 Australia
Website
https://canterbury.com.au/bars-restaurants/the-dynasty/
Phone
+61 2 9704 7704
Operating Hours
LUNCH
From 11am – 3pm (Tue – Fri)
From 10am-3pm (Sat-Sun)
DINNER
From 5.30 – 9pm (Sun, Tue – Thurs)
From 5.30 – 10pm (Fri – Sat)
The Canterbury League Club is home to a stunning indoor rainforest, complete with a waterfall, tiki torches, real plants, and a lagoon. The Dynasty Chinese Restaurant is located behind the rainforest and offers yum cha every weekday from 11am-3pm or 10am on weekends. Reservations are required for weekend dining in the red room. Unfortunately, there isn't much of a trolley service available.
Key Differentiators:
Freshly prepared food

Serves traditional Cantonese yum cha
Friendly staff
Customer's Review:
This is one of our favourite yum cha places in Sydney and we have been coming for years. The food is freshly prepared, tastes great and is reasonably priced. The service is friendly and polite. The restaurant is also very clean. Highly recommended if you are in the area.

Jake
4) Mr Wong
Key Service
Modern Cantonese menu
Address
3 Bridge Lane Sydney, NSW, Australia 2000
Website
https://www.facebook.com/mrwongsydney/
Phone
+61 2 9114 7317
Operating Hours
Monday: 12:00 PM – 3:00 PM, 5:30 PM – 10:00 PM
Tuesday:12:00 PM – 3:00 PM, 5:30 PM – 10:00 PM
Wednesday: 12:00 PM – 3:00 PM, 5:30 PM – 10:00 PM
Thursday: 12:00 PM – 3:00 PM, 5:30 PM – 10:00 PM
Friday: 12:00 PM – 3:00 PM, 5:30 PM – 11:00 PM
Saturday: 12:00 PM – 3:00 PM 5:30 PM – 11:00 PM
Sunday: 12:00 PM – 3:00 PM, 5:30 PM – 10:00 PM
Mr. Wong is a great example of one of Merivale's top chefs, Dan Hong, who transformed traditional yum cha in Sydney with his contemporary and fresh take on the cuisine. Because it has components from a wide range of dishes, this isn't like anywhere else on this list. The prawn toast with foie gras and sesame is an excellent illustration of that. Don't worry, though; all of Mr. Wong's lunchtime-only dim sum selection includes classics like barbecue pork buns, spinach dumplings, and silky cheung fun (rice noodle roll).
Key Differentiators:
Serves vegetarian options

Serves great cocktails
Courteous staff
Customer's Review:
Mr. Wong has got to be one of the best restaurants for whatever occasion. The food here was absolutely delicious and the portions did not disappoint. We had several doggy bags!!

Abhinav Bidani
5) Din Tai Fung
Key Service
Renowned handmade dumplings
Address
Cafe Court, Shop K504/5
Level 5, 188 Pitt St
Sydney, NSW 2000
Website
https://dintaifung.com.au/
Phone
0410 542 049
Email
hello@dintaifung.com.au
Operating Hours
Mon – Wed: 11:30am – 5:00pm
Thurs : 11:30am – 8:00pm
Fri: 11:30am – 5:00pm
Sat: 11:15am – 7:00pm
Sun : 11:15am – 7:00pm
Key Differentiators:
Specialise in good quality Szechuan sauce

Serves good dumplings
Has robot waiters
Customer's Review:
Dined in here and the food was good. But what stand out was the service. The steamed bun that came out first on the robot was wrinkled and squahed. One of the wait staff saw it and said they will re make it as it was below standard.

Alex Chen
6) Hung Cheung
| | |
| --- | --- |
| Key Service | Traditional Chinese cuisine and yum cha |
| Address | 338 Marrickville Rd, Marrickville NSW 2204, Australia |
| Website | https://hungcheung.com.au/ |
| Phone | +61 2 9560 4681 |
| Operating Hours | Daily 10AM–9:30PM |
If you're looking for a good place to brunch in the inner West, look no further than Hung Cheung. The service isn't extraordinary, but the dim sum is some of the best I've ever had.
Key Differentiators:
Offers dishes for vegetarians

Efficient service
Good standard yum cha quality
Customer's Review:
Yum Cha selection here is great with some really good dishes. Although we didn't enjoy the beef rice wrap. Service is a hit and miss here. Overall it's good yum cha.

Alex Chen
7) Lotus Dining
Lotus has expanded into seven restaurants in Sydney throughout the years, from modest to opulent experiences. One of the most successful Chinese restaurant businesses in Sydney is Michael's interest in food and entrepreneurship. He acquired a restaurant property on Hickson Road Walsh Bay, which became Lotus Dumpling Bar, with passion and hard work.
Key Differentiators:
Luxurious experience
Authentic Cantonese cuisine
Several location accross Sydney
Customer's Review:
Very good food overall. We went for $99 feed me menu and no regrets. Absolutely loved the pork belly. Salmon sashimi was wonderful as well. Peking duck was good – not particularly great, just good.

Zaar Hai
8) Uncle Ming's
Key Service
Intimate Chinese restaurant
Address
49-51 York St Sydney, NSW, Australia 2000
Website
https://www.unclemings.com.au/
Email
info@unclemings.com.au
Operating Hours
MONDAY 4PM – MIDNIGHT
TUESDAY 4PM – MIDNIGHT
WEDNESDAY 4PM – MIDNIGHT
THURSDAY 12PM – MIDNIGHT
FRIDAY 12PM – 1AM
SATURDAY 4PM – 1AM
While the restaurant does not have rolling steam buns on the menu, Uncle Ming's dumplings, spring rolls, and barbeque ginger chicken wings are all worth a try if you've got steaming cravings. You might also settle your nerves with a couple of great cocktails and a house ale.
Key Differentiators:
Upbeat vibe

Vegetarian options
Great customer service
Customer's Review:
I'm so glad I found this place! I have never been anywhere similar which makes it so unique. The dumplings and dim sims were delicious, we had to order more! The cocktails were great and so much variety plus the service was spot on.

Roxy Roxby
9) The Eight
The Eight is one of Sydney's largest Chinese restaurants, and it boasts a highly diverse dim sum menu. For the best service, request a table near the kitchen so you can get your food quicker and fresher. The mango pancakes and har gows (steamed prawn dumplings) are mouthwatering.
Key Differentiators:
Big servings

Fresh food with lots of choices
Plenty of trolleys
Customer's Review:
Authentic, but expensive, as they come. As with any dim-sum place, carts roll by with a wide variety of choices and The Eight was no different. The food was warm, fresh and plentiful.

Anna Blackman
10) Mama Mulan
Mama Mulan, a popular Chinese restaurant in Chatswood, serves wonderful yum cha. Their dim sum menu is excellent, with options ranging from traditional Chinese cuisine to dumplings, fresh seafood and delicious desserts, but with a modern culinary twist.
Key Differentiators:
Serves traditional with modern twist of dishes

Unique yum cha items
Wide vegetarian options
Customer's Review:
Highly recommend! Went here with a friend and the food was amazing. Favourites were the pork belly and mocktails. Even better is the service – staff were very attentive to our needs! Would go again.

Steffany Ngu
Chinese Restaurant Sydney
If you're looking for a great place to enjoy traditional Chinese cuisine with a modern culinary twist, Sydney has no shortage of amazing Chinese restaurant Sydney. Whether you're in the mood for yum cha, dim sum, or some fresh seafood, there's something sure to please everyone's palate. So what are you waiting for? Start planning your next dining adventure today!
If you're looking for more recommendations, you can check out our other posts below: