Sit Stand Desk Australia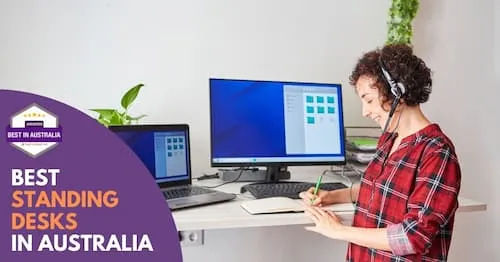 The concept of a sit-stand desk is gaining popularity in Australia, heralding a revolution in how we perceive our workspaces.
The best sit stand desks in Australia include EverDesk Max, UpDown Desk with Melamine Desktop, Zen Solid Rubberwood Sit Stand Desk, and Artiss Mobile Twin Laptop Desk.
When selecting a sit-stand desk in Australia, take into account factors such as dimensions, load capacity, flexibility, and added features like keyboard trays or cable management.
The use of standing desks can enhance posture, alleviate back pain, boost energy levels and focus, and encourage a more active way of life.
In this guide, we'll explore the best sit-stand desks available in Australia, helping you make an informed decision for your workspace needs.
Quick Summary
Best sit stand desks in Australia include EverDesk Max, UpDown Desk with Melamine Desktop, Zen Solid Rubberwood Sit Stand Desk, and Artiss Mobile Twin Laptop Desk.
When choosing a sit stand desk in Australia, consider factors such as size, weight capacity, adjustability, and additional features like keyboard trays or cable management.
Standing desks can help improve posture, reduce back pain, increase energy levels and concentration, and promote a more active lifestyle.
Best Sit Stand Desk Australia
1. EverDesk Max
The EverDesk Max is an anti-clutter desk that keeps your workspace tidy 24/7. It's proven to improve productivity, while keeping you healthier. The EverDesk Max comes with an anti-clutter system to fit you like a glove, and ensure natural comfort.
Key Differentiators
UniGroove: Ensures easy cable access, or to act like a phone/tablet holder
Limitless Customisation: Over 1000 customisations to adapt to your style and work flow
Health Coach Controller: Helps you meet your activity goals with one touch adjustments
2. UpDown Desk with Melamine Desktop
UpDown Desk with Melamine Desktop is one of the finest electric desks, as well as a pricey luxury item from Australian manufacturer Vic Ash. While bamboo desktops are less expensive than melamine ones, there's no way you'll get anything but high-quality performance and design. This electric standing desk is the only thing you'll need to upgrade your office in the most stylish way possible, with a simple yet elegant design and a sense of modern elegance.
This is a fantastic standing desk. It has the ability to support a maximum of 120 kg, which means you can put anything from several PCs to a printer on the desk. In addition, the frame is available in three hues: silver, white, and black, while the desktop is available in white or beech. This desk's many color options allow it to work with any office décor or style. Finally, for added peace of mind, the desk comes with a five-year warranty and exceptional customer service!
Key Differentiators:
Unrivalled frame stability
4 memory buttons for height control
Powerful dual motor lifting mechanism, 150kg lifting capacity
Desktops available in beech or white, to suit all office spaces
Frame available in 2 colours – black or white
10 year frame warranty for peace of mind
3. Zen Solid Rubberwood Sit Stand Desk
The Zen Solid Rubberwood Sit Stand Desk is available from Zen Space Desks, and it's one of the greatest standing desktops accessible in Australia. Why? It's powered by Zen's Pro Series lifting mechanism, which can lift weights of up to 140kg. This stand-alone desktop from Zen Space Desks is a four-height model with smooth automated motions. This Zen Space Desks desk, which features rock-solid stability and a beautiful natural or walnut finish, is one of the most high-end standing desks on the market.
What else can you say about Zen Space Desks? They provide ten-year warranties on all parts, including their desks, which move at a smooth yet quick 38mm per second. It also has a height range of 60 to 125cm, so your height won't be an issue when using this desk.
Key Differentiators:
Smart Controller with 4 memory presets
Child lock function
USB charge port
Programmable upper and lower limits
Compatible with our Zen Connect App
Active Anti-Collision
One Touch Adjustments
10 Second Auto-off LCD Display
4. Artiss Mobile Twin Laptop Desk
The Artiss Mobile Twin Laptop Desk is one of the few standing workstations with two distinct desk areas. This arrangement is fantastic for individuals who use many laptops or gadgets while working. The rows of screens are arranged in the form of a cloud, with each desktop acting as its own little section. This frees up desk space by letting you group everything together on several PCs. The design is sleek, simple, and ergonomic to the utmost degree.
The Artiss standing desktop's affordability is another plus. It's also very light, making it a breeze to transport. As a result of its mobility, this desk is a strong contender for you if you move frequently between office areas or jobsites. Not only have the designers thought of everything, but they've also included an anti-slip bar on the upper surface to keep your keyboard or textbook from sliding when you have a desktop set up on the slanted top tabletop.
Key Differentiators:
Portable and lightweight
360 degree rotating laptop stand
Large and smooth surface
Classic matte finish
High flexibility and mobility
Double knobs for height adjustment
Adjustable stand height
Wall-leaning design
Detachable and lockable caster wheels
5. Uplift V2
The Uplift V2 is one of the most stable standing desks with excellent build quality, and it prides itself on stability. Some standing desks may be a bit wobbly, particularly when extended to higher heights. The Uplift is rather solid owing to built-in stability struts.
With a dual-motor design that enables the desk to readily adjust heights, and anti-collision technology (meaning if the desk is lowering and runs into something, like your seat or worse yet, your head), you'll be able to work from anywhere. The table also has a wide variety of mounting locations for add-ons, including an under-desk hammock, which is pretty cool. If there's any proof that this thing is sturdy, it's being able to sleep in a hammock beneath it!
Key Differentiators:
Excellent build quality
Smooth and quiet motors
Many size and color choices
Lots of mounting points for accessories
6. Stilford S2 Pro Desk
Officeworks has a large selection of Stilford S2 workstations. One of the finest things about the Stilford desks is how inexpensive they are; they are frequently at least $400 -$800 less expensive than the other listed standing desks. The Stilford S2 Pro's height is fixed because it doesn't come with a motor or automatic height adjustments, so its position has to be manually adjusted. Nonetheless, the Stilford S2 Pro offers a number of excellent benefits at an affordable price, making it the ideal option for any company owner on a restricted budget.
The standing desk's powder-coated steel frame and scratch-resistant melamine finish, per Australian regulations, will become apparent once it's built. What does this signify? This means that you can anticipate your standing desk to be sturdy and long-lasting; nevertheless, don't be scared if something goes wrong or it becomes faulty – because each one comes with a 15 year warranty. The Stilford S2 Pro features a scallop design that allows you to organize your cables. No one wants a messy desk, and the S2 Pro's style is conducive to a clutter-free environment.
Business grade construction with a powder coated steel frame and FSC certified E0 particle board top with a scratch-resistant melamine finish and 2 mm ABS edging, tested to Australian standards
Scalloped design to keep your cables all together
It takes approximately 30 minutes to assemble
Comes with a 15 year warranty for added peace of mind
Oak coloured desk top over a black frame
Loop leg frame design
Maximum weight capacity of 100 kg
The feet are adjustable to ensure stability
7. Brateck Height Adjustable Standing Desk
The Brateck Standing Desk is a large, tidy, and extremely durable standing desk that offers ten distinct height settings to its users. The Brateck model, like the Artiss desktop, includes two operational levels. This standing desk features great storage options, thanks to the additional shelves you may add. The shelf in the rear is ideal for small items like a reading light or anything else that requires less room than your usual desktop computer workstation.
Key Differentiators:
Expansive upper surface provides large space for dual-monitor setups and other necessities
Lower keyboard and mouse deck gives a comfortable operation space
Dual-handle design puts effortless operation at your fingertips
Spring-assisted lifting mechanism allows you to raise and lower it easily in just a few seconds
Smoothly adjust to 10 different heights (370mm vertical adjustments)
Adjust the lift strength to fit the weight of the mounted load for smooth and easy movements
Extremely solid base ensures it stay sturdy and stable at any height
8. Omnidesk Pro 2020
The Omnidesk Pro 2020 is a premium electric standing desk with cutting-edge technical features and an extensive range of personalisation options. The desktop color is available in three hues: white, black, or bamboo. You may also alter the traditional design of the Pro 2020, choosing from a straight edge or an ergo curve. The ergo curve is gaining popularity among more innovative, independent organizations, while the straight edge model appeals to more traditional business owners.
The Omnidesk Pro 2020 comes in three different sizes: tiny (48′), medium (60′) and extra-large (72′). If you purchase a desk but are dissatisfied with its size or any other aspects, you may use the 100-day risk-free trial on Omnidesk. Flatpack delivery takes 5-9 days, and there's a 7-year guarantee. There are also a lot of accessories that work with the desk, such as mounts for your PC, speakers, and headphones.
Key Differentiators:
Fully height adjustable
Increased stability
Increased movement speed
Controller dimming
Desk feet redesign
Anti-collision 2.0
Improved cable management tray
Improved aesthetics
Future proof
9. UpDown Desk with Bamboo Desktop
UpDown Desk with Bamboo Desktop is a complete office package that includes everything you could need in an office. Your staff shouldn't have to spend their days sitting at a dreary desk, hunched over their computers. They'll be more productive and healthier if they have the freedom and independence to adjust their routine. You may also add a collection of fantastic accessories to your standing desk, such as an anti-fatigue mat or a cable management tray. If you want to get the most out of your UpDown Desk, it's critical that your workstation is as productive, efficient, and organized as possible!
Key Differentiators:
Unrivalled frame stability
4 memory buttons for height control
Powerful dual motor lifting mechanism, 150kg lifting capacity
100% eco-friendly solid Bamboo desktop
10 year frame warranty for peace of mind
10. The Movi Standing Desk Converter
The Movi Standing Desk Converter is a cutting-edge standing desk that looks great in your office while also providing incredible benefits for your body. This desk is made entirely in Australia and is incredibly efficient and simple to use, even coming fully built so you don't have to! The Movi allows you to expand your productivity by 4x more than any other standing desk because it optimises your work area to ensure that your job is not hampered. This desk will really help you feel more awake and energetic while you work, as well as alleviate the drawbacks that come with using a standing office.
Your safety is a top priority at Movi. The standing desk converter is constructed of natural wood and is very sturdy, so it will not rock on top of your current desk. It also includes an electric switch for activation, which minimizes the risk of harm. The Movi High-Speed Electric Lift is a safe and efficient manual lift converter. This desk has taken into account every factor to reduce strain and achieve the greatest possible outcome for both your body and your job.
Key Differentiators:
Get set up in seconds. Arrives fully assembled, plug into power and get standing
Easy electric sit-stand. Automated, push-button electric lift for ultimate back support and safety
Large productive work area. Completely flat benchtop with maximum usable space
Adjusts to suit everybody. Raise it to your exact height up to 6'4″ for outstanding comfort and ergonomics
Revolutionary quiet motor. Provides strong stable lifting for two monitors, laptop, tablet and more
11. IDASEN Sit Stand Desk
The IDASEN Sit Stand Desk is a popular IKEA product available at IKEA shops around Australia due to its minimalist style and elegant frame. The IDASEN Sit Stand Desk, like many of IKEA's products, has a very understated postmodern look. However, that doesn't negate the fact that it can meet all of your requirements as an office worker, whether at home or at work.
The IDASEN Sit Stand Desk has a lot of advantages. To begin with, it is a very durable desk, so you won't have to worry about load-bearing requirements. It includes a 10-year warranty and can be quickly raised or lowered from 63cm to 127cm in height. The handle, which regulates the height, is rather simple to use. The drawback of this desk is that it isn't automated. The ease with which you may combine this sit-stand workstation with other office necessities makes it a winner. The elementary colors blend effortlessly into any office setting (regardless of décor or interior design style) because to the minimalist hues.
Key Differentiators:
Change to Linak as OEM
High Quality Two Stage Gear System
Column and Glide Quality
Linak Electronics
Overall Stability
10 Year Warranty
12. BEKANT Sit Stand Desk
Another well-known product from IKEA in Australia is the BEKANT Sit/Stand Desk. The BEKANT standing workstation, while less expensive than the IDASEN variant, is one of our top picks for best standing desks in Australia. Why? There are several straightforward reasons for this. Its minimalist style is basic, unassuming, and appealing to a wide range of people. The tabletop is constructed of oak veneer, particleboard, ABS plastic, and transparent acrylic lacquer. Its cable management consists of stainless steel 30 percent polyester 70 percent rubber.
We recommend checking for any loose fasteners on a regular basis to get the most out of your BEKANT standing desktop. We recommend retightening them at some point, so inspections will not result in any wasted wear and tear. We also recommend that you clean your workstation as frequently as any other standing desk on our list (regardless of how often it is used). You'll be surprised at how much dust can accumulate on the surface of your desk and how quickly it forms up without regular cleansings. All you'll need is a mild soapy solution and a clean cloth. After the solution has been applied, use another clean towel to dry the desk completely.
Key Differentiators:
Desktops contoured for wrist comfort
Hand controls and pre-sets
Environmental friendliness
Stability
Lift capacity
Warranty
13. Vari Electric Standing Desk
The Vari Electric Standing Desk is ideal for both commercial and residential usage, which is one of its greatest features. Its height may be adjusted between 64.5cm and 128cm, as well as the amount of room it offers for several monitors and other technology. The stand is easy to use and very stable, even when adjusted all the way up. It also has a powerful stability crossbar that ensures that the table remains solid and secure at any height within its range. This standing desk is also excellent because it only takes approximately 5 minutes to put together completely. It's really easy to build, and you won't need any particular tools or techniques. The directions are also simple.
The height motor in this desk is as quiet as a mouse, and it has three adjustable heights. Even if you have to raise your desk during the meeting, you can be confident that the noise (or lack thereof) won't be an issue. Finally, this standing desk comes with a five-year limited warranty, so if you run into any problems during that time, contact Vari for assistance.
Key Differentiators:
Assembles in minutes with included tools
T-Style legs for enhanced stability
4 programmable memory settings
Durable laminate with chamfered edges
Sit Stand Desk Australia
The standing desk is a great way to encourage your employees, family members, and co-workers to get up from their desks every once in awhile. But standing all day can also be bad for you! We recommend that if you're going to use a standing desk at work or home, you should make sure that it's adjustable so that the user can switch back and forth between sitting and standing positions throughout the day. This will help avoid any complications with posture or other health problems associated with prolonged standing periods.
In this article we've provided an extensive list of our favorite standing desks available on IKEA Australia's website along with some key differentiators about each one. Let us know what your opinion is after reading through them all.
If you want to read more interesting articles, follow the links bellow:
Frequently Asked Questions (FAQ)
If you have any questions about sit-stand desks in Australia, you can refer to the frequently asked questions (FAQ) about the best Sit-Stand Desks in Australia below:
What are the best sit-stand desks in Australia?
The best sit stand up desk in Australia include EverDesk Max, UpDown Desk with Melamine Desktop, Zen Solid Rubberwood Sit Stand Desk, and Artiss Mobile Twin Laptop Desk.
What are some of the best electric sit stand desks in Australia?
There are many high-quality electric sit stand desk available in Australia. Some popular options include the Stand Desk Pro, which offers a sleek design and robust functionality, or the Varidesk Pro Plus, known for its wide workspace and easy height adjustment.
Why should I consider a stand up desk for my office space?
A stand up desk can drastically improve your office space. It promotes better posture, reduces back pain, and increases productivity by allowing you to easily switch between sitting and standing throughout the day. It's a great investment for both health and work efficiency.
Are there any accessories I can add to my electric standing desks?
Yes, there are numerous standing desk accessories that can enhance your experience. These may include monitor arms for adjustable viewing angles, anti-fatigue mats for foot comfort when standing, and cable management systems to maintain a clean and organized workspace.
What are the benefits of stand desk frames?
Stand desk frames are highly versatile. They allow you to choose your own desk top while providing the functionality of height adjustment. This means you can tailor your desk to your personal style and comfort needs.
How does an electric height adjustable desk work?
An electric height adjustable desk uses a motorized frame that can raise or lower the desk top at the push of a button. This allows for quick and effortless transitions between sitting and standing positions.
What are some recommended height adjustable desks in Australia?
Several brands offer excellent height adjustable desks in Australia. The Stand Desk Pro is a popular choice for its durability and smooth height adjustment. Others like the Ergotron WorkFit-D and the Ikea Bekant also receive high praise for their quality and affordability.
How can a stand up desk improve my office space?
A stand up desk can make your office space more dynamic and ergonomic. It encourages movement, reduces sedentary time, and can even boost productivity. Plus, it's a modern addition that can enhance the aesthetic of your office.
What should I look for in the perfect standing desk?
The perfect standing desk should be stable, have a smooth height adjustment mechanism, offer a decent amount of workspace, and fit well with your office decor. It's also good to consider desks with features like built-in cable management or options for accessories.
Can home office desks be height adjustable too?
Absolutely. Many home office desks come with height adjustable features. This allows you to create a comfortable and ergonomic workspace at home, just as you would in a traditional office setting. Stand up desks can be particularly beneficial for those working from home long hours.
Additional Useful Articles
If you are looking for other useful guides and articles about Sit-Stand Desks in Australia, check them out below: