Smart Watch Australia
If you are looking for the best smart watches in Australia, you have come to the right place. In this blog post, we will discuss some of the best options on the market and help you decide which one is right for you. With so many different brands and models available, it can be difficult to know where to start. But don't worry – we are here to help in finding the best smart watch in Australia!
1) Fossil Watch Gen 5
The Fossil Smartwatch Gen 5, the company's most recent series of smartwatches, is simply breathtaking. Given that the watch producer has been producing fashionable wrist jewelry for over 30 years, it shouldn't come as a surprise that the Fossil Watch Gen 5 combines the brand's traditional appearance with contemporary technology well.
The 5th generation has three distinct styles: Julianna (black/rose gold, rose gold, and gold-tone) and Carlyle (black and silver), both of which have a 44mm case, and the 46mm Garrett (five color choices). The three are identical in terms of functions, with the exception of style. The features include NFC, GPS, altimeter, heart rate sensor, and more, which you'll find in all three. It was also the first WearOS watch to allow iPhone users to receive calls, which is a big selling point.
Key Differentiators:
Qualcomm® Snapdragon™ Wear 3100 processor
Sensors for Accelerometer, Altimeter, Ambient Light, Compass, Gyroscope, Off-body IR, PPG Heart Rate
24 Hr + multi-day Extended Mode
Customer's Review:
I love this smart watch. It is fabulous. Works so well and it's very nice and unique and easy to use. The design is stunning.

JO
2) Apple Watch SE
The Apple Watch Series 6 isn't the cheapest smartwatch on the market, but thankfully, Tim Cook has blessed us with a more budget-friendly option: the Apple Watch SE. The front of it looks almost identical to the Series 6, however, there are some concessions under the hood. The ECG, if it's ever approved in Australia, will be non-invasive and only use epinephrine for fast onset of action. There's no always-on display, no ECG (if it even gets authorized), no SpO2 sensor, last-gen processor, and a less sophisticated optical heart sensor.
Key Differentiators:
With GPS + Cellular models
Track all your daily activity
Emergency SOS footnote4 and fall detection
3) Realme Watch S
Smartwatches are not cheap, to say the least. Because smart technology is new, you may believe that you must pay hundreds of dollars for something halfway decent. But the Realme Watch S is unexpectedly feature-rich for a device that is priced affordably.
It has an SpO2 sensor, a heart rate monitor, sleep and exercise monitoring capabilities, notification handling, music and camera control, and more than 100 different watch faces to select from. There are, however, several drawbacks. There is no NFC capability, so you can't pay with your watch; there's no voice assistant; there are only three exercise modes to choose from, and the watch uses a proprietary operating system that doesn't allow users to download third-party applications.
Key Differentiators:
Blood Oxygen Monitor
Real-time Heart Rate Monitor
Smart Control Centre
Customer's Review:
This watch is perfect for my needs. Very simple to use. You won't be disappointed unless you want top specs and if so spend the money. For the money, it was a bargain.

Neil Burgoyne
4) OPPO Watch
| | |
| --- | --- |
| Key Feature | 24-hour heart rate monitoring |
| Where to Buy | Click here |
| Price | $549 |
The OPPO Watch is a beautiful watch that looks similar to an Apple Watch at first glance, yet it's its own unique creature. It's elegant, intelligent, and quick-charging, with a lovely display. On the negative side, sleep monitoring is unreliable, and the 41mm will only get you through a day or two of usage. That's not ideal, but it's understandable given its rapid charging capability.
Key Differentiators:
Qualcomm Snapdragon Wear
24-hour heart rate monitoring
Guided breathing exercises
5) Garmin Fenix 6 Series
The Garmin Fenix 6 is the leader in multisport tracking, whether you're a decathlete or simply enjoy running. The Fenix 6 series isn't cheap, with the lowest-end model, the 6S, costing $599 and the top-of-the-line Solar model costing over $1,250. The Garmin Fenix 6 doesn't pretend to be anything more than a feature-rich, tough, exercise-focused behemoth. It's not the sort of thing you'd want to wear to a cocktail party, but you'd be hard-pressed to find a more high-tech companion for your preferred sport.
Key Differentiators:
Calls and text replies on Android
Accurate GPS
Phone notifications
6) Samsung Galaxy Watch 3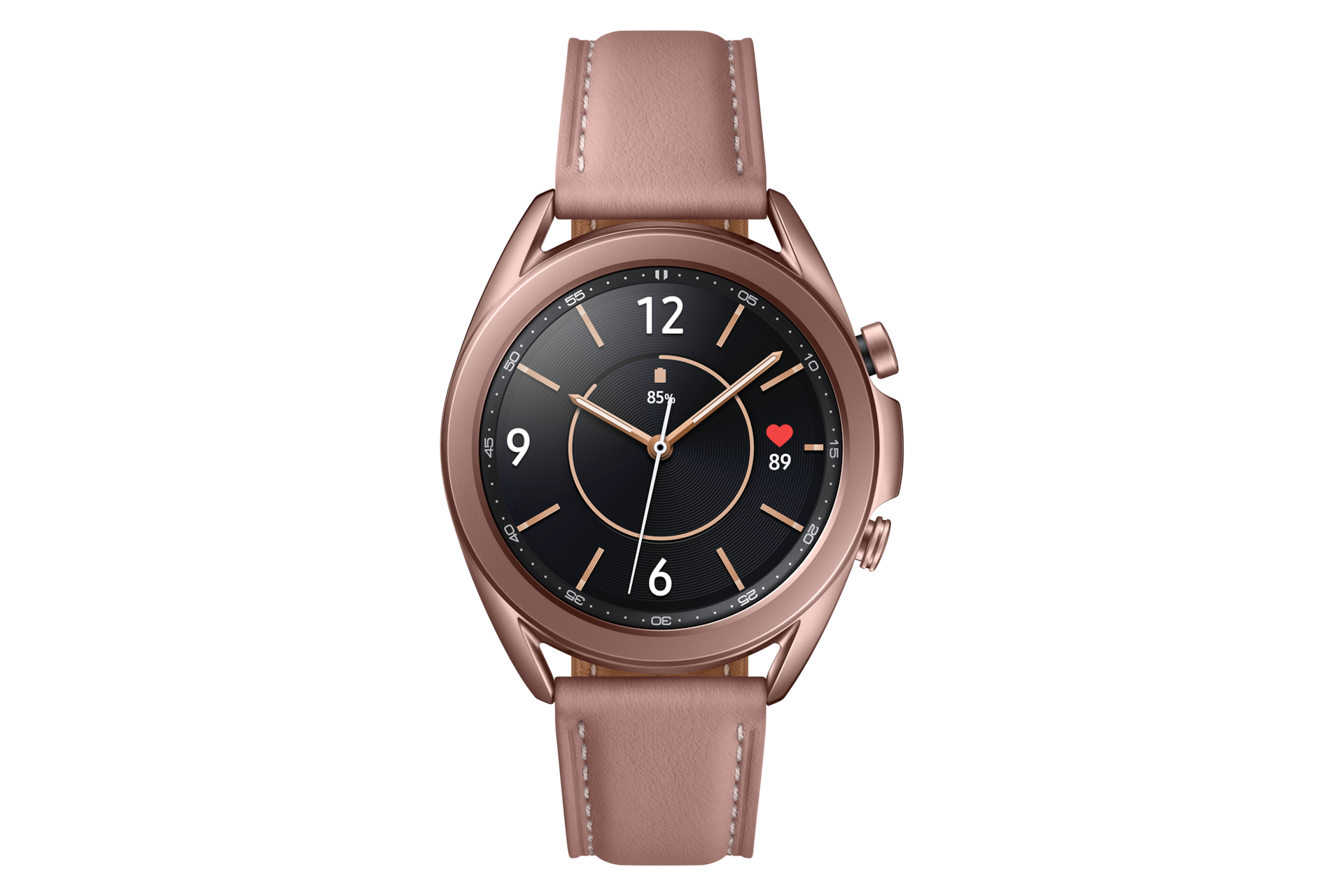 Samsung's Galaxy wearables line has found its stride with the Galaxy Watch 3. The Watch 3 is a powerhouse in terms of design and display, as well as features and battery life, making it Samsung's first truly exciting competitor to the Apple Watch in a long time.
The Galaxy Watch 3 has a stylish, analog-looking design with a clever rotating bezel, a premium stainless steel finish, and a stylish leather strap. It's one of the most typical smartwatches on the market, making it ideal for people who want smart features without looking advanced.
Key Differentiators:
Subtle rotating bezel
Automatically detect hard falls with its enhanced accelerometer
Equipped with over 120 home workout programs
7) Apple Watch Series 6
| | |
| --- | --- |
| Key Feature | All-day battery lifefootnote |
| Where to Buy | Click here |
| Price | $579.00 |
Surprise, surprise, the finest smartwatch for iPhone users is an Apple Watch – specifically, the Apple Watch Series 6. The Series 6 isn't a total redesign of its parent model, but the technology giant isn't striving to reinvent the wheel either, and the newbie has a lot of welcome new features. The Apple Watch operates flawlessly with the iPhone, as you would anticipate. In fact, if you opt for the cellular version, it can serve as a suitable substitute for your phone in a variety of scenarios, such as at the beach or poolside.
Key Differentiators:
All-day battery lifefootnote
Blood Oxygen app and sensorfootnote4 and the ECG app.
Dust-resistant
8) Fitbit Versa 3
With a battery life that puts all rivals to shame, the Versa 3 from Fitbit sets a new standard for endurance. One charge is enough to get you through days upon days of work, exercise, and sleep with one charge lasting up to (and sometimes exceeding) six days. It also has some of the best health monitoring technology on the market. Although the Versa 3 is compatible with both Android and iOS, it does not allow iPhone users to read texts or take phone calls from their watch.
Key Differentiators:
Up to 12 hours with continuous GPS
Voice assistant availability
With Daily Readiness Score
9) Suunto 7
For years, Garmin and Suunto have competed for multisport watch dominance, but Garmin has taken the lead in our comparison. Suunto's products, on the other hand, are still excellent alternatives – and slightly more affordable ones. The Suunto 7 is a mid-to-high-end smartwatch from the manufacturer that comes with over 70 exercise modes, free offline outdoor maps, NFC, GPS, and all of the other standard features of WearOS (Google Pay, Google Fit, and Google Assistant).
Key Differentiators:
70+ sports modes
Suunto app or on major sports services like Strava, Endomondo, and TrainingPeaks
Battery-saving GPS mode
Customer's Review:
I bought this Suunto 7 black sports watch last few months ago it is a great watch. I like all the features that build in and it's satisfied me with all the sports I can do indoors or outside. And it records and tells me all that I'm done accurately. I like the sleek sporty looking and it fits my lifestyle. Definitely, I'm very satisfied and I will recommend it to all my sporty bike riders.

Anonymous
Smart Watch Australia
The smart watch Australia is a great tool for athletes looking to take their performance to the next level. Whether you're training in the gym, running on the track, or cycling through your favorite mountainous terrain, smartwatches are designed with features that cater to all of these activities and more. These fitness-focused watches give you real-time stats about everything from distance traveled to calories burned so you can stay motivated throughout your workout routine.
The smartwatches we have listed provide many options when it comes to style – some come equipped with sporty black faces while others offer sleek analog looks perfect for everyday wear. No matter what kind of smartwatch suits your needs best, there's one out there just waiting for you! Which smart watch has caught your eye?
If you want to read more interesting articles, follow the links below: