Office Christmas Party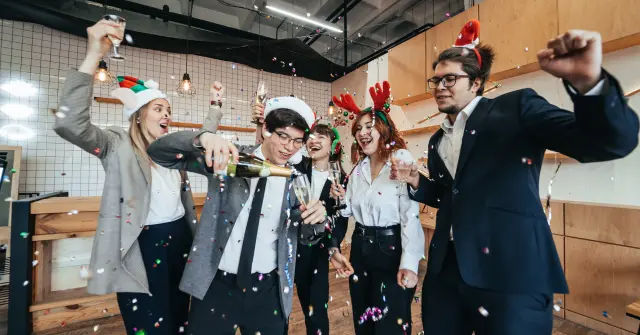 Are you stuck for Christmas party ideas?
Are you looking for something fun and festive to keep your work colleagues entertained?
Look no further! In this blog post, we will provide a range of Christmas party games and activities that are sure to get everyone in the holiday spirit. From classic games like charades to more festive activities like making Christmas ornaments, we have something for everyone.
So put on your party hats and get ready to celebrate Christmas with your coworkers!
1. Alphabet Holiday Game
Exercise the mental muscles in the morning.
Game of "A through Z." Each letter of the alphabet will include a space for a holiday term that your staff members will write in on a printed sheet. Then, they can either sit around alone or in groups (organized by department is a good idea) and fill out their responses. The list with the most original ideas wins first place, and the humorous list comes in second!
2. Santa Costume Party
Why should the mall guy get all the fun? For the holiday party, the CEO or perhaps all the managers can dress like St. Nick. Even better, dress like Santa Claus the whole day long as a team in your business, complete with white fluffy beard, cap, and boots. If charming reindeer or elf ears suit your style better, you can just just wear them.
These festive outfits could cause many belly laughs, which is important at work.
3. Photo Booth
Do you have The Office on DVD? If so, you are aware that Stanley and Angela may be found in every workplace. Give the scrooges a chance to relax at the holiday party in a temporary photo booth. You can build up sets and costumes and shoot pictures yourself, or you can hire a firm for a fair price.
Images are the most important thing that people value in the world. They display photographs of their family, friends, and pets at their desks because of this. Your staff members can have fun and get to know one another better by using a photo booth. Perhaps a couple of these pictures will be put on display in the workplace, adding to the friendly environment.
4. Guess that Song
Nothing says festive like Christmas music, such as "Jingle Bells," "All I Want for Christmas is You," and "Little Drummer Boy." By holding a karaoke hour, hiring carolers, or playing the music in the background, you can bring these holiday classics to your workplace party. Give out printable sheets and ask everyone to write down the name of the song as it plays if you're looking for a holiday party game that your staff can literally sing along to.
4. Secret Santa
The most popular option is typically Secret Santa, which has been a staple of company Christmas parties for years. They are a fantastic method to get your staff talking to one another. Set aside $20 and enforce a tight no food, no booze policy to prevent any problems. Go ahead and enjoy yourself while looking for a truly amazing gift to trade at the party!
5. Holiday Stockings
Giving your staff mini stockings at the office holiday party is a simple present idea. Do you employ a tiny staff? Spend lavishly on an elegant restaurant or Amazon gift card. Are you employed in a sizable office? Keep it straightforward with a few candies and perhaps a few little trinkets.
6. Go for Volunteer Works
The giving season is upon us! Instead of hosting a customary business holiday party, find a method for your firm to volunteer together to get back to the true spirit of the season. Many non-profit organizations, like Habitat for Humanity, Feed My Starving Children, and homeless shelters, are always in need of assistance, particularly during the holiday season.
7. Blind Christmas Tree
Give each player a piece of green construction paper. After placing the paper behind his back, each participant tears it into the shape of a Christmas tree. Whoever has the most attractive tree wins.
8. Holiday Scavenger Hunt
Hide Christmas-related objects throughout the party space before the event. Give out cards with pictures of all the goods the hunters need to find as soon as everyone has arrived. The winner is the player who unearths the most objects.
9. Ugly Christmas Sweater Contest
Invite guests to the party and tell them to wear their ugly Christmas sweaters. A panel of judges selects the three most hideous sweaters: ugly, uglyer, and uglyest. Think about presenting prizes to the top three winners.
10. Holiday Charades
Use the titles of Christmas carols or other Christmas-related words to play this popular game. Divide into teams and add up the points to make it a contest.
11. Fun Employee Awards
Recognizing employees for their accomplishments at this time is ideal. Make them silly or honest. For the person who makes the coffee or is an early bird, create prizes or give out joke gifts.
12. Christmas Bingo
The game of holiday bingo promotes social interaction among partygoers. Give a Bingo card to each participant before starting the game. Then, exhort participants to converse with other visitors. The names of other players who fulfill the description are written in the squares by the participants. The winner is the first person to mark five consecutive squares and shout "Bingo!"
13. Gingerbread House Build-off
One of the best office Christmas party activities is competing in gingerbread house builds. Give the employees the supplies they need to create mouthwatering displays before holding the competitions.
Give each team time to discuss their decorating decisions before judging the houses at the conclusion of the program. Before selecting a winner and eating the first taste, be sure to take lots of pictures!
14. Pet Christmas Party
You may host a pet-friendly gathering where your furry friends take center stage. We advise either hosting separate events for dogs and cats or going with the pet option that most people have. Make sure all animals are fully immunized and get along with other animals. You may also make appointments for the pets to attend the celebrations in order to prevent any potential fights.
15. Holiday Escape Room Adventure
Escape rooms are all the rage right now, and for good reason––they're a ton of fun! Why not put a Christmas spin on things and create a holiday-themed escape room? This is a great team-building activity that will get everyone in the Christmas spirit. Have employees work through different adventures and mystery together!
Check out FunEmpire's Escape Room to know more about it!
Office Christmas Party
Christmas is just around the corner, and that means it's time for office Christmas parties! If you're looking for some ideas on how to make your party fun and festive, you've come to the right place. In this blog post, we have discussed a variety of Christmas party games and activities that will keep your guests entertained all night long.
So put on your Christmas sweaters and get ready to have some fun!