Office Halloween Costume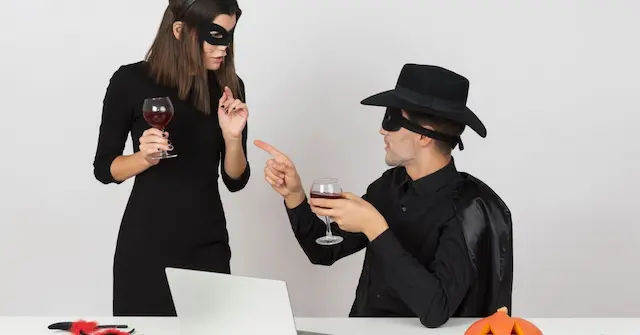 With Halloween just around the corner, many people are starting to think about their costumes. While it can be a lot of fun to dress up for Halloween, there are some things you need to keep in mind when choosing a costume for work.
In this blog post, we will discuss Halloween makeup and costume etiquette for the workplace. We will cover topics such as what is appropriate and inappropriate to wear to work on Halloween, and how to avoid offending your coworkers.
So read on for tips on how to have a spook-tacular Halloween at work!
1. Secure permission to dress up for Halloween
It's usually a smart idea to speak with your employer and inquire whether it's permissible to wear a costume to work on Halloween.
2. Respect other cultures
Avoid impersonating another culture or ethnic background when dressing up. It's hurtful and offensive to appropriate designs and cultural relics. Wearing Aboriginal regalia, such as feather headdresses, as part of a Halloween costume is disdainful.
3. Avoid revealing costumes
When dressing up for work, avoid wearing costumes labeled as a sexy version of any individual or creature, like sexy nurse, attractive tiger, frightening zombie. On Halloween night, save your costumes for another day!
4. Wear a not-so-complicated Halloween costume
Bring a change of clothing to work in case the need arises for you and your coworkers to be more serious. You never know when you'll have to deal with an unexpected meeting or a major client coming into the office.
Wearing a costume to make fun of or glamorize another person's issues is not a good idea. It's not cool to wear costumes that mock poverty (e.g., hobo), violence (e.g., "pimp and ho"), racism (e.g., blackface), or sickness (e.g., blind person)
6. Try a casual version of your costume
Maybe you don't want to dress up for Halloween because your company doesn't allow it, or you're just not comfortable putting on a full costume. Whatever the case may be, a simple outfit can still be elegant and affordable.
7. Participate
Participate in your company or organization's dressing up and having a good time with everything Halloween has to offer. It's acceptable for an adult in a mask to feel silly, but it's better to show that you're part of the team. Even if it's only a funny hat or animal ears, getting into the office fun will make your holiday better.
8. Plan a group costume
There's safety in numbers. You'll never be the only one in disguise if you pick a group costume. Plus, if you're concerned your outfit is becoming too risqué, you may get an outside opinion from another member of the group. Group costumes are also more prone to cause distractions throughout the day than individual costumes.
9. Consider a comfortable costume
The standard workday is eight hours long, which is more than most people would want to wear a Halloween costume to a party or go door-to-door trick or treating.
Consider how your costume will feel throughout the day. How will a full face of make-up weather your morning commute?
You should be comfortable in your costume not only when you're performing your task, but also while you're just standing there. If it's going to make you uncomfortable all day, it may be better to reconsider.
10. Get creative
Putting together a unique costume might be fun, but it may also help you in your career. According to one research, individuals who were allowed to wear Halloween costumes at work were happier than those who weren't.
It's possible that a clever Halloween costume might help you professionally, a method to perhaps impress your employer."
If you know your employer is a huge Star Wars enthusiast, and you come to work in your finest Darth Vader costume, it may earn you some bonus points. In the end, a clever, accurate Halloween outfit can help you get to know your coworkers better, you might discover that you have more similar tastes.
Office Halloween Costume
Halloween is a time for fun and celebration, and it's important to be mindful of how you dress up when going to work. In this blog post, we have outlined Halloween makeup and costume etiquette for the workplace. We hope that our tips will help you have a spook-tacular Halloween at work!