Oktoberfest Party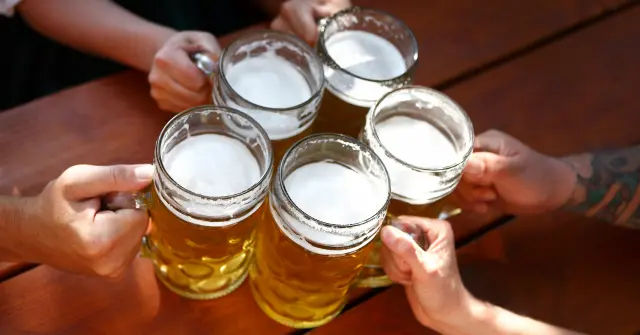 Are you looking for some Oktoberfest party ideas? If so, you have come to the right place!
In this blog post, we will discuss some of the best ways to throw an Oktoberfest party that your guests will love. We will cover everything from food and drinks to decorations and games.
So whether you are planning a large or small Oktoberfest party, we have you covered!
What is Oktoberfest?
Oktoberfest is a two-week-long festival held annually in Munich, Germany. The festival typically takes place in September or October and celebrates the end of the harvest season.
During Oktoberfest, visitors can enjoy traditional German foods like Bavarian pretzels and sauerkraut, as well as beer and wine. There are also a variety of carnival rides and games, and live music is often played.
Oktoberfest is a great opportunity to experience German culture firsthand and is one of the largest and most popular festivals in the world.
1. Bring the Food
When it comes to planning your Oktoberfest menu, there are a number of traditional dishes available, but there are a few that everyone will be hoping for as they dress up in their dirndls and lederhosen.
Here are some dishes you should include on your menu!
Homemade soft pretzels are worth learning how to make for your party. They're delicious and will get you a lot of compliments! Make some homemade Obatzda or mustard pretzel dip or stir up some homemade Obatzda or mustard pretzel dip.
Bratwurst, this sausage is a must-have on any Oktoberfest menu! Make sure you have a variety of sausage choices, such as brats with mustard and currywurst.
The traditional apple strudel is made with spiced apples and baked in a deliciously buttery pastry. It may be served warm or cold as a main dessert or as a tiny bite-sized pleasure throughout the day. To complete the dessert, sprinkle it with powdered sugar or cinnamon sugar, then add ice cream or vanilla.
2. Build the Beer Garden
You can have a real Oktoberfest party in your backyard if you make it seem as much like a German beer garden as possible. Beer gardens are laid-back and comfortable, so all you have to do is add some Munich flavor.
Here's what you need to know if you want to get into the spirit for Oktoberfest.
Patio-style seating with beer garden features, this is the sort of wooden table you'll find at most beer gardens.
Bavaria's national colors are blue and white, they may be found on plates, napkins, and other decorations such as bunting and tablecloths. And who could resist this Biergarten sign?
3. Prepare the Playlist
You may play any type of music you like at your party, but if you want to keep things interesting, throw in a few German songs. Play "A Toast," a traditional drinking song, at the end of your celebration. Everyone will be singing along by the time it's over.
4. Create Oktoberfest Banners
Create or invest in an Oktoberfest banner that welcomes your visitors and establishes the tone for a fantastic party. With this outstanding Oktoberfest party idea, let your guests know they're visiting something unique.
We adore the appearance of a Bavarian flag or German banner on an Oktoberfest banner. It's a fantastic method to acknowledge the event's history. Place your banner at the entrance to your party, or use it as a stunning backdrop for a DIY photo booth.
5. Use Beer Steins as Party Decor
It wouldn't be an Oktoberfest celebration without the appropriate number of beer steins. They're ideal for showcasing your favorite beverages, but they may also be used as party décor for your Oktoberfest gathering.
Find antique, elaborate beer steins to use as centerpieces or decorate your beer tasting area. They may be displayed solo or filled with flowers to brighten up your tables.
To add a more modern spin to your Oktoberfest party, swap out traditional stone versions for glassware and fill them with dried flowers. Create a beer stein decal for your guests to pose in front of for photo opportunities.
6. Put up a Crafting Corner
Your visitors may just want to relax, unwind, and have some quiet time, even at an Oktoberfest event. As a place for people to take a break or learn a new talent, set up a creative crafting area.
Take a look at the different Creative Kits offered by FunEmpire!
7. Arrange a Dance Floor
Aside from the beer, Oktoberfest is all about music and dancing. Arrange a dance floor at your party location to provide your visitors more opportunities to dance.
If you have the opportunity, go all out with a hardwood flooring area, disco lights, and an awesome sound system. If not, a modest designated location in your garden is also fine. Set up a playlist of traditional Bavarian music or keep it current with your favorite tunes from today's charts.
Oktoberfest Party
Oktoberfest is a time for celebration and fun, and what better way to celebrate than by throwing an Oktoberfest party! There are many different ways to plan an Oktoberfest party, but no matter how you choose to do it, your guests are sure to have a good time.
So don't wait any longer and start planning now!