Best Remote Team Building Activities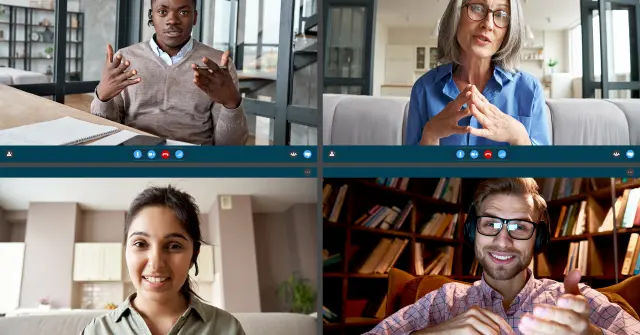 If you work in a virtual team, it's important to find ways to build team cohesion and collaboration.
Working remotely can be challenging, because team members may not have the opportunity to physically interact with one another. This can lead to feelings of isolation and lack of teamwork.
In this blog post, we will discuss the best virtual team building activities that will help your team work together more effectively!
1. Water Cooler Trivia
Water Cooler Trivia is a fantastic method to keep your team interested on a consistent basis. Water Cooler Trivia is a free app that you can use to integrate into your email, Slack, or Microsoft Teams channels and send trivia questions directly to your employees every week.
You may customize the trivia schedule and themes, and Water Cooler Trivia will generate questions, automate their distribution, and score the results for you.
2. Recipe Swap
Everyone needs to eat, so why not add a little bit of collaboration into your weekly culinary routine? Start by asking each member of your team to share their favorite dish. It might be breakfast, supper, or dessert; it's entirely up to you!
On a monthly basis, invite your team to submit their favorite dish. Encourage everyone to try one of your creations once a week. The group can all tackle the same dish, or you may each take on something new.
Ask your employees to try the dish before the end of the week, then set aside some time on Friday to discuss how it turned out.
3. Virtual Food Quest
Do you love to eat? Do you love to travel? If so, then the FunEmpire Virtual Food Quest is the perfect team building activity for you! This quest takes you on a journey around the world, all from the comfort of your own home.
You and your team will sample cuisines from all over the world, and learn about different cultures and traditions. Best of all, you can do it all without leaving your desk!
4. Mario Kart Tour
If you have a crew that enjoys gaming, Mario Kart Tour is an excellent virtual team-building exercise to try together.
You may play Mario Kart for Android and iPhone on the go, simply downloading this app-based version from your smartphone. With access like that, it's simple to take a 15-minute mental vacation with your crew.
Have a group video call going on your computer at the same time to get the full competitive effect! Challenge up to seven of your coworkers and have an open video session on your computer while you're playing to really feel like you're partaking in a race!
5. Virtual Saber Fit
Virtual Saber Fit is the perfect virtual team building activity for groups of all sizes. It combines neon combat sabers with saber striking techniques and fitness exercises to give everyone a full body workout.
Plus, it's a great way to get everyone moving and improve coordination. And since it's all virtual, there's no need to worry about anyone getting injured.
6. Online Team Building Bingo
Team Building Bingo is a lighthearted, well-known game that makes it a quick and simple method to get started with virtual team building.
You start with a bingo board that has numerous action items or achievements on it. For example, you may cross out the phrase "sorry, I was on mute!" and "wearing pajama bottoms to a video meeting" when you hear someone say it you must cross out yours too.
7. Typing Speed Race
Typing speed races are an entertaining free online team building exercise that you may begin right now. To get started, take a typing test like typingtest.com or similar. Then, send your results to your company's message board or by email. The more competitive members of your team will quickly reply, while others will likely do so as well.
If you're looking for something unique, this is the group for YOU! You can organize a typing speed relay to see who's fastest among your colleagues and have a prize for that.
8. Virtual Escape Room
Looking for a fun and interactive way to bond with your team virtually? This virtual team building activity is perfect for groups of all sizes and can be tailored to your group's interests and skill level.
With mind-blowing puzzles and locks, the Virtual Escape Room is sure to give your team a challenge. But don't worry, experienced game masters are always on hand to help you out if you get stuck. Plus, 360 tours give you a realistic experience without having to leave your home or office.
9. Birth Map
You may learn a lot more about your coworkers and their pasts by getting to know them better. And you might be shocked what you find out about individuals with a virtual team building game like Birth Map.
In this activity, you'll need to build a collaborative Google Map. Invite your teammates to place a sticker on or near the site of their birth after giving them access.
Ask your teammates to tell a tale from their origin or discuss their favorite thing about it, all while utilizing a video conferencing platform of your choosing.
10. Exciting Sponge
A fast and fun storytelling game is made possible by the exciting sponge. Each team member picks a random item in arm's reach and creates a narrative about it, or may default to describing a generic sponge.
The goal is to give the item more credit than it deserves. For example, they could claim that "this is a relic from the past and AI edition of Indian Jones 2.0 will travel back in time and steal it for a museum collection someday" if someone found an alarm clock.
The sillier the better!
Remote Team Building Activities
As businesses increasingly move towards virtual work environments, the need for effective virtual team building activities has become more important than ever. When team members are working in different locations, it can be difficult to build strong relationships and collaborate effectively.
That's where remote team building comes in! Hope you have found the perfect activity that you can use to help your team work together harmoniously.
Looking for more articles about team building and the office? Check out our list below: