Virtual Tourist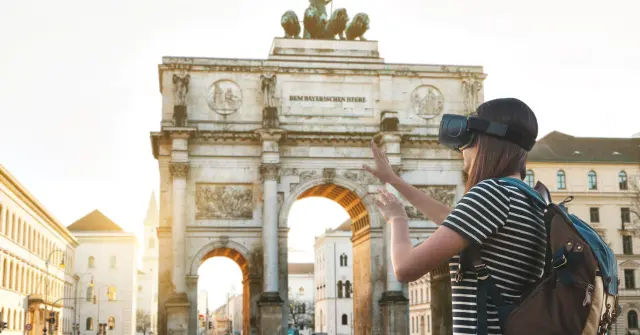 Are you looking for a fun and interesting way to spend your time? If so, we have the perfect solution – virtual tourist experiences!
These activities allow you to explore new and exciting places without ever leaving your home. In this blog post, we will discuss 11 of the best virtual tourist experiences that you can enjoy from the comfort of your own living room.
So what are you waiting for? Get started today!
1. Virtual Food Quest
If you love to cook and eat, then a virtual food quest is the perfect activity for you! This experience allows you to explore different cuisines from around the world, and learn about the history and culture behind them. You can find Virtual Food Quest on FunEmpire!
Enjoy mini-games while learning different facts about the world's most famous cuisines!
2. Virtual Amazing Race
If you are looking for an exciting and challenging activity, then a virtual Amazing Race is the perfect choice for you! This experience allows you to explore different parts of the world and compete against others in a variety of challenges.
You can find Virtual Amazing Race on FunEmpire! Compete against others while exploring 360° real-life clues with an exciting storyline.
3. Icons of Singapore
If you are looking for a virtual tourist experience that takes you to a new place, consider Icon of Singapore! This activity allows you to explore the culture and history of Singapore through its icons. You can find Icons of Singapore on FunEmpire!
Explore different areas of Singapore and learn about its iconic landmarks while having fun solving puzzles, locks, and mini-games.
Without leaving your house, go hiking. The magnificent Yosemite National Park may now be explored online. Hike through some of the park's most breathtaking natural beauties, including Nevada Fall, Diving Board, Tuolumne Meadows, the Swinging Bridge, and Hetch Hetchy, and learn interesting trivia about the park's well-known locations.
Pick yourself up and take in the wonder of nature's beauty when everything looks hopeless. From the comfort of your couch, you can see the Northern Lights livestreamed via Explore.org and Polar Bears International. One of the best sites on earth to view the aurora borealis in all of its splendour is Churchill, Manitoba, where the live camera is positioned exactly underneath the aurora oval.
This one is for couples having a cozy date night at home. Through this video tour, you may discover the mystique of the Taj Mahal in the city of Agra while admiring the monument's recognizable white marble and beautifully planted grounds. The tour begins at the complex's three grand entrance gates and provides information on the mausoleum, one of the Seven Wonders of the World, as well as its illustrious past.
Join camp expert Budi from Capella Hotels as he discusses the lovely origins of the term "Ubud" and how it accurately expresses the location's special capacity for healing. The distinctive Jamu recipe that Capella Ubud also offers is based on old knowledge that has been handed down through the years.
The 300-square kilometer Tembe Elephant Park is located in a rural area of Maputaland, KwaZulu-Natal, South Africa. Tembe is home to a wide variety of animal species, including the Big Five—lion, rhino, leopard, buffalo, and elephant—as are other significant national parks on the continent. More than 340 different species of birds either reside in Tembe or pass through on their travels.
For quite some time now, one of the most well-known zoos in the world has been live-streaming the antics of its inhabitants. The cameras are positioned strategically within and outside of animal enclosures with the express purpose of teaching kids more about wildlife, the environment, and animal behavior. Every movement of the animals is captured, so you can watch elephants and pandas play, baboons and gorillas act out in the wild, or polar bears and tigers display their majestic beauty.
This is a guided virtual tour of the UNESCO World Heritage Site and one of the New 7 Wonders of the World, the Inca fortress from the fifteenth century. Anyone who appreciates historic structures, tall mountains, Incan history, or perhaps Peru in general, will enjoy the 360-degree experience.
After a brief historical lesson about Machu Picchu, the tour begins at one of the viewpoints where you can glimpse the Urubamba River. You are guided to the "heart of Machu Picchu," where you may see several homes and the burial grounds. Look closely at the stones and buildings; the Incas' engineering prowess allowed Machu Picchu to withstand earthquakes that would have destroyed modern towns.
You may now experience an African safari game drive thanks to the efforts of WildEarth and luxury vacation brand andBeyond. The two businesses have teamed up to offer personalized game drives that you may watch twice daily from the comfort of your home.
Join one of the two daily live safaris, which last around three hours each. These will be live-streamed from andBeyond Ngala Private Game Reserve and Djuma Private Game Reserve, two renowned South African game reserves. Enjoy the unfolding sights and sounds of the African bush.
Virtual Tourist
Do you love to travel but don't have the time or money to do it? Or maybe you've been traveling a lot lately and need a break. No problem! There are a number of virtual tourist experiences that you can enjoy from the comfort of your own home.
In this blog post, we have explored 11 different virtual tourist attractions that you can visit without ever leaving your living room!
Check out more interesting blog posts about team building, gatherings, and celebrations down below: