Best Bachelor Party Themes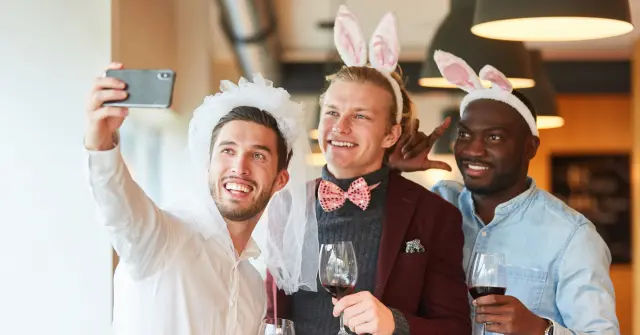 Planning a Bachelor Party can be a daunting task. But don't worry, we've got you covered!
In this blog post, we will discuss the best Bachelor Party themes for every groom. Whether you are looking for something classic or something more unique, we have got you covered.
So sit back and relax while we show you how to throw the ultimate Bachelor Party for your friend or loved one!
1. Skydiving
Make the groom-to-be's wish come true by completing an activity on his bucket list like skydiving. Experience the thrills and views of an afternoon of skydiving under the supervision of professionals. This is for those looking for a thrill.
2. White Water Rafting
If you want a thrill but don't want to go up high, white water rafting is another fantastic bachelor party idea. It combines a feeling of danger and adventure with a lot of enjoyment for both experienced and inexperienced rafters.
3. Brewery Tour
If a bar crawl isn't your bachelor party's idea of fun, consider a brewery tour instead. For a more sophisticated take on a bachelor party classic, go on a research local breweries or visit the home of his favorite beer for an elegant variation.
If the centerpiece of the celebration isn't a fan of brew, explore distilleries instead.
4. Escape Room
If your groom is looking for a mental challenge, why not try an escape room? These live puzzle games have become increasingly popular in recent years, and offer a unique and exciting way to spend an afternoon or evening with your friends.
Try FunEmpire's Escape Room and be ready for a battle with your brains!
5. Bubble Bump
If the groom is looking for a physical challenge, bubble bump is a great option. This fun and silly game is perfect for a group of friends looking to let off some steam.
Warning: this one is sure to leave you with a few laughs and sore muscles.
What are you waiting for? Try Bubble Soccer now!
6. Dinner Feast
You may spend a lot of money on a fine meal for all of the groomsmen if you want to live it up without having to worry about tomorrow's hangover. This is an excellent method to show your appreciation for what everyone contributes to the wedding while still having fun.
This is clearly a very pricey alternative, especially when you consider the restaurant you pick. It's also essential to reserve a table for a big party ahead of time, so keep that in mind if going out to eat will take more planning than you anticipated.
7. Lunch Party
You may dig into a big lunch as a group, just like going out for a nice dinner. Grouping and having a pleasant day will be an excellent method to bond and have fun in a relaxed and less tense atmosphere than that of a late-night dinner.
If you're having a party on a weekend, perhaps go out for a huge brunch! Brunch is experiencing a resurgence in popularity right now—people love them some brunch! You may get everything from quick pancakes to gourmet sandwiches when you go out for brunch, so everyone will be able to find something they like.
8. Sports Events
Even if you're a sports enthusiast, you may not always want to get involved. Tickets to a major sporting event can make an excellent bachelor party present for fans of the game. Combine the occasion with a bar crawl for an unforgettable evening by upgrading the party's tickets or combining it with another activity.
9. Hike
Hiking trails can be easy, flat, and pleasant, or they may be difficult, physically taxing, and demanding. If that's the case, make sure you pick a route that will allow you to complete it in the time frame you require.
However, if you've found the ideal setting, a day-long excursion may be an excellent method to get in touch with nature and with your buddies.
Plus, it's a fantastic method to disconnect from the tech world and get in touch with nature.
10. Beach
If it's the summer, you can go to the beach as a group! Going to the beach is one of the most enjoyable and relaxing activities imaginable when the weather is nice. Beaches are both a celebration spot and a chill-out zone, so you can create whatever type of bachelor party atmosphere you desire!
11. Backyard Party
Putting an ice cream social for 10 or 20 people in your own backyard is a fantastic way to have fun together. Backyard parties, on the other hand, necessitate a great deal of preparation, from ordering or preparing food to establishing some amazing outside party games like bocce or badminton.
A lot of grooms might enjoy barbequing or setting off fireworks together. You may also create an outdoor movie screen and projector to watch a film together, whether it's the groom's raunchy favorite or home videos from college days.
12. Game Night
A bachelor party may not be everyone's idea of a great night out. If your groom enjoys being in video games, stage the ultimate game night for him. Invite everyone together for a vintage gaming session or organize an all-night battle to see who can play the most recent release best. Make it a special evening by providing lots of food and booze.
You can also rent out a space where you can enjoy your game night!
Bachelor Party Themes
Planning a Bachelor Party can be a lot of work, but it's definitely worth it! We hope that this blog post has helped you to find the perfect Bachelor Party theme for your groom. If you are still having trouble deciding, don't worry! We are here to help. Contact us today and we would be happy to give you some more!