Best Sightseeing Destinations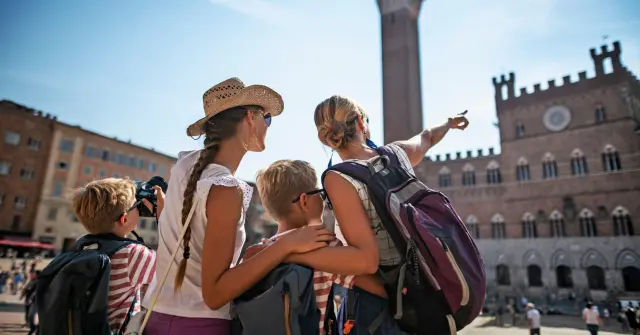 There's no doubt that traveling is one of the best things in life. Seeing new places and exploring different cultures is a rewarding experience that everyone should get to enjoy.
If you're looking for some sightseeing inspiration, check out our list of the best bucket list-worthy destinations! From ancient ruins to stunning natural landscapes, these places are sure to amaze you. So what are you waiting for? Start planning your next adventure today!
1. The Colosseum, Rome
The Colosseum, the largest and most well-known remaining building from the Roman Empire, is also Rome's top tourist destination today. It has long been a top-of-the-bucket destination for tourists and it will not let you down.
2. Machu Picchu, Peru
This is the location to go to if you only have time to visit one attraction in South America. The most spectacular destroyed city in the world is unquestionably the ancient Inca city of Machu Picchu.
The attraction largely stems from its setting, high in Peru's jungle-covered mountains. The location is fantastical, on a high plateau with towering green mountains. The fact that the original builders had the sheer determination to carve out this wonderful location from what would have been an impassable jungle is astonishing in and of itself.
The experience has been substantially improved because the daily visitor cap has been implemented.
3. Pyramids of Giza, Egypt
You might believe you have a solid understanding of historic sites if you have been to places like the Colosseum in Rome or the Acropolis in Athens, both of which date back more than 2,000 years.
The Pyramids of Giza, however, raise the bar for antiquity. These date back more than 4,500 years. Literally thousands of years ago, visitors were coming to see these spectacular structures.
4. Petra, Jordan
As you make your way through a 1.2-kilometer-long small crevice in the sandstone hills and come out in a secret city, you might feel like Indiana Jones. The city was initially constructed over 2,000 years ago but was lost to the outer world for 600 years before being found in 1812.
Beautifully maintained houses that are literally cut into the red rock walls are breathtaking and beg to be explored and captured on camera.
If you arrive early, the abandoned city has a unique atmosphere created by the eerie silence and long shadows.
5. Borobudur, Indonesia
The top tourist destination in Indonesia is Borobudur, which is situated in a humid jungle with three volcanoes as a backdrop.
One of the biggest Buddhist temples in the entire world, Borobudur was built in the ninth century. It's an interesting spot to explore. The park is home to more than 500 Buddhas, some of which are located beneath elaborate stupas.
Visit as early in the day as possible for the best chance of seeing some morning mist and the clearest views of the volcanoes.
6. Amalfi Coast, Italy
The Amalfi Coast, which is located on the Sorrentine Peninsula, is well known for its breathtaking scenery and charming seaside villages. Glamourous movie stars made it their favored vacation destination during the height of Hollywood.
Days are spent here consuming Italian cuisine, consuming wine, and ambling around the vibrant cobblestone streets. Additionally, you may anticipate sipping excessive amounts of wine while admiring the Mediterranean Sea.
7. Yellowstone National Park, United States
America's first national park, Yellowstone, is largely in Wyoming but is also in Montana and Idaho. It continues to be one of the most visited parks in the nation, with more than 3.8 million visitors in 2017 alone.
It is simple to understand why so many visitors come here given the area's unpredictable geysers, rainbow-colored hot springs, jagged peaks, dazzling lakes, and a variety of species, including elk, boars, and bison.
8. Great Barrier Reef, Australia
The Great Barrier Reef is home to hundreds of marine species and is the biggest reef in the world. As a result, snorkeling and scuba diving are a dream come true there.
With over 600 islands and nearly 2,900 distinct reefs, the reef system is truly enormous. This is one of Australia's finest achievements and a national treasure of the entire world. It is beyond words how amazing it is to witness it with your own two eyes.
9. Dubai, United Arab Emirates
In Dubai, everything is bigger and better. The city is home to one of the biggest malls in the world, the tallest tower in the world, one of the biggest man-made marinas in the world, and so on.
The United Arab Emirates' metropolitan core, which resembles Las Vegas, offers tourists a wide range of attractions, including beaches, waterparks, a ton of shopping, and even an indoor ski resort. The wide desert beyond the metropolis of skyscrapers is best enjoyed by quad-biking or sandboarding.
10. Bali Indonesia
In recent years, Bali has developed into a well-liked ex-pat location where teams of "digital nomads" live and travel.
But despite the increased traffic, the island hasn't lost its initial allure and is still a top travel destination. Spend some time swimming at the beach, seeing active volcanoes, going to temples, and taking in the scenery of the tier-like rice terraces.
Sightseeing Destinations
While there are countless amazing places to see around the world, these ten destinations are definitely bucket list worthy. From the stunning natural beauty of the Swiss Alps to the fascinating historical ruins of Rome, each of these destinations offers something truly unique.
So whether you're looking for an adventure or simply a place to relax and take in the sights, be sure to add these ten destinations to your list.
Interested in more articles to read? Check out more of our blog posts down below:
Creative workshops and team-building activities you should try: