Best Cheesecake In KL Selangor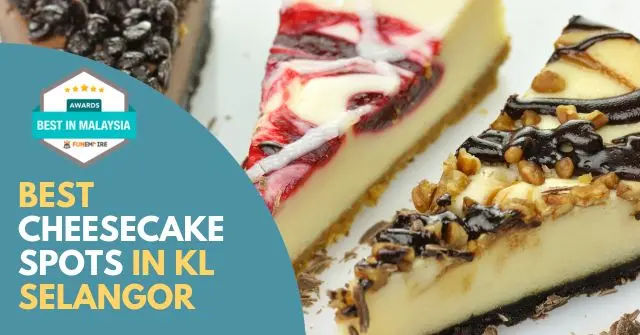 Cheesecake is one of those desserts that never goes out of style. Whether you like it plain or with lots of toppings, there's a cheesecake for everyone. If you're looking for the best cheesecake spots in KL and Selangor, look no further! We've got you covered with 10 Best Cheesecake Spots in KL & Selangor.
1. Purple Monkey
Purple Monkey is becoming well known in the cheesecake industry, as their frozen cheesecakes are gaining popularity among people in Klang Valley, Penang, and Johor.
Their most popular item is the frozen mango cheesecake, which is a dense cheesecake coated in gorgeous rose-shaped slices of mangoes. The frozen mangoes provide a pleasant taste to the cake and help you avoid getting over-stuffed with traditional denser kinds of cheesecakes. Purple Monkey also offers a variety of flavors, such as salted caramel, peaches, durian, matcha green tea, and blueberry.
Key Differentiators:
Yummy, No-Bake, Frozen Cheesecakes
Everyday Delivery
Long Life
Customer's Review:
Originally went here after lunch, and was already feeling very full. But once we started eating the mini cakes, I couldn't stop at all. Their signature sinful mango is so good!! Might get addicted after trying once, because I went back to eat here 3 weeks in a row.

Jofintha Joseph
2. Two Chefs Lab Japanese Dining and Café
Key Services
Cheesecake, Tofu Cheesecake, Japanese Restaurant, Café
Website
https://www.facebook.com/twochefslab/
Address
No 23G, Jalan Temenggung 27/9 Sek 9, Bandar Mahkota Cheras 43200 Cheras, Selangor, Selangor, Malaysia
Phone
+60 3-9011 9910
Email
twochefslab@gmail.com
Operating hours
Tuesday – Friday 12:00 PM – 10:00 PM
Saturday – Sunday 11:45 AM – 10:00 PM
Two Chefs Lab is a neighborhood Japanese restaurant that pays homage to traditional Japanese cuisine while adding a contemporary spin. Their dishes may appear to be opulent, with sashimi platters and Wagyu beef on the menu, but their café-like atmosphere delivers an easy ambience reminiscent of their approach to food.
The delicious tofu cheesecake is light and airy and yet does not taste overly sweet. The dish's minimal preparation and flavor make it an ideal post-meal pick. For those looking for a more substantial meal before dessert, Two Chefs Lab's savory menu includes all of the Japanese classics, from chawanmushi to don to sushi.
Key Differentiators:
Must try their tofu cheesecake light and airy without being overly sweet
Hand-made sushi specialist, as well as amazing donburi
Unique creations that combine Japanese inspired food with the café atmosphere
Customer's Review:
Went there for lunch and got the lunch sets. Good value for money and the fish was fresh. Lovely place to head to if you're in the area. They also serve coffee!

Ellie L.
3. The Tokyo Restaurant
| | |
| --- | --- |
| Key Services | Cheesecake, Mousse-like Japanese Cheesecake, Japanese Restaurant, Café |
| Website | https://www.isetankl.com.my/the-tokyo-restaurant/ |
| Address | ISETAN of Japan Sdn Bhd, Suria KLCC 50450 Kuala Lumpur, Malaysia |
| Phone | 03-2119-2622 |
| Operating hours | Daily 11:00 – 23:00 |
The Tokyo Restaurant will spring to many people's thoughts when you say 'Japanese cheesecake' in Kuala Lumpur or the Klang Valley. Although they are primarily a Japanese fusion restaurant-bar, their cheesecakes have become so renowned that they have come to be associated with their brand.
Cheesecake connoisseurs and casual cheesecake fans alike are crazy about their 6th Avenue cheesecake, according to reports. This one is unlike regular cheesecakes, which have a dense texture. It's an indulgent dessert that's worth its higher price point, served with a scoop of fresh cream on top.
Key Differentiators:
Boasting contemporary Japanese flavors
Eclectic and modern
Must try their Japanese cheesecake Mousse-like
Customer's Review:
Wonderful experience here. I love all the dishes especially the cheesecake and the squid pasta. Will visit again when I come to KL.

Chang Zhi Chai
4. Huckleberry
Huckleberry was one of the first few restaurants in the Klang Valley to offer a Basque burnt cheesecake, which is a sort of dessert that does not have a crust and is baked at high temperatures. Basque burnt cheesecake are baked with French cream cheese and organic eggs, resulting in a lightly burnt "crust" on the outside and a creamy, thick cheese texture on the inside.
Despite the fact that Basque burnt cheesecakes are now quite common, Huckleberry's is still a favorite, as proven by their lengthy line during weekends, so get there early in the morning to avoid waiting.
Key Differentiators:
Local artisan bakery and café
Cozy and chic space
Serves fresh pastries, wholesome breads, rustic cakes, nourishing food and drinks
Customer's Review:
Tasty food and nice restaurant deco. The restaurant is busy, so the service was a little lagging. If not this place will be great. But I will be back for food again for sure.

AP
5. LaManila Cakes & Pastries House
The La Manila bakery-café has been in operation since the 1980s. It was the first choice for high-quality cheesecakes when it was new, but as several artisanal bake businesses began to spring up throughout the Klang Valley, it became a forgotten classic. At around the same price, you may get a slice of one of their old-school cakes from the Taman Megah shop: carrot walnut, toffee banana, creamy chocolate, mud brownies, and New York cheesecake.
Key Differentiators:
Signature Cakes since 1986
Deliver freshly baked cakes and pastries
Perfect taste
Customer's Review:
Delicious pastries and cakes.

Evonne Yeak
6. Tray Café
| | |
| --- | --- |
| Key Services | Salted Caramel Cheesecake, Café, Dessert Shop |
| Website | https://www.facebook.com/TrayCafeKL |
| Address | H-0-2 Block H, Plaza Damas, 60 Jalan Sri Hartamas 1 50480 Kuala Lumpur, Malaysia |
| Phone | +60 3-2303 1742 |
| Email | traycafe@live.com |
| Operating hours | Daily 9:00 AM – 6:00 PM, Tuesday Closed |
When you combine two crowd favorites, salted caramel and cheesecake, you end up with something that will undoubtedly appeal to a wide range of tastes. The 'Tray Cafe' salted caramel cheesecake is covered in crunchy nuts soaked in a thick salted caramel sauce and laid on a cake. The nuts add a pleasant crunch to the smooth cheese flavor.
The pastries at Trays are made fresh on a daily basis, and the range of desserts available on their menu is always changing – such as Victoria sponge, berry pavlova, and Black Forest – so call ahead to reserve a specific cake so you don't waste your time driving down.
Key Differentiators:
Freshly prepared
Hand-made the old fashion way
Must try crowd favorites salted caramel cheesecake
Customer's Review:
Love the breakfast choices. Definitely will come back again.

Susan Mohammed
7. Kooky Cream
Kooky Cream is a cake shop that offers a large selection of freshly baked cakes. They serve a variety of cakes, but the macadamia nut cheesecake is worth a try. It's dusted with toasted macadamia nuts and complemented with their house caramel sauce. The salty complexity from the roasted macadamia nuts balances out the sticky sweetness of the caramel sauce.
Kooky Cream is also well-known for their mille crepe cakes, which come in a variety of unusual tastes such as onde-onde, teh tarik, gula melaka, After Eight mint chocolate, and taro.
Key Differentiators:
Made Fresh Daily Bakery
Handmade and Handcrafted
They have dozens of cakes, but cheesecake lovers go for their macadamia nut cheesecake.
Customer's Review:
Highly recommend for this kooky cream located at the hub pj ss2. The roses lychee cakes was so smooth & delicious. And the coffee was great.

Cathz Wen
8. Souka Bakeshop
Souka is a neighborhood cafe that serves Western and local cuisine, as well as a variety of baked cakes. Their most famous cake is the Biscoff cheesecake, which is stuffed and topped with Biscoff cookie crumbs. Souka serves a wide selection of sponge cakes, including Nutella, pandan coconut gula melaka, Snickers chocolate, white chocolate raspberry, red velvet, and many more to pick from for all your occasions.
Key Differentiators:
Must try their signature cake the Biscoff cheesecake
Quality Local and Imported Ingredients
Made fresh from scratch and presented to customers as homely as possible
Customer's Review:
Absolutely delicious spaghetti, pasta, pastry and cakes. Grazie mille. My favorite is the spaghetti masak lemak smoked duck.. mamma mia so sedap!

Irwan Shahrezza Mohd Razali
9. Littlepeople
Littlepeople is a charming restaurant with distinct culinary presentations. They market themselves as a pastry laboratory, and it's easy to see why. From madeleines to roulades, they're constantly developing something new and adding to their desserts list..
They make a crowd-pleaser with burnt cheesecake in three different varieties: original, matcha, and hojicha. The hojicha version, in particular, is a more uncommon find. The cheesecake has a nice undertone of roasted aftertaste, which is delightful for tea fans.
Key Differentiators:
Comfort food
Good coffee
Cozy environment
Customer's Review:
Absolutely mind blowing! The food is really good. Its a hidden gem which I will definitely visit again to try other things in their menu. Dessert is just nice, not to sweet. Love it!

Elsie Teoh
10. Park Grill
The Manchego Burnt Cheesecake from Park Grill, the only burnt cheesecake on this list that contains sheep's milk by proxy, floods the senses with umami notes and a full fat flavor. The burnt cream cheese filling is also similar to that of any genuine burnt cheesecake: an almost molten center. After all, Park Grill specializes in charcoal cuisine. Order this or spend the rest of the year wondering what it's like.
Key Differentiators:
Perfect venue for events
Only burnt cheesecake on this list that contains sheep's milk by proxy, their Manchego Burnt Cheesecake
Continental Cuisine combined with the modern art of cooking
Customer's Review:
Nice place, good food and friendly service.

Property Dave Loh
Cheesecake Spot KL Selangor
There are many delicious cheesecake spots in KL and Selangor, but the 10 we have listed are some of the best. Whether you're looking for a classic cheesecake or something more unique, these spots will not disappoint. So go out and try them all!
Check out the links below to read other articles on our site: