Brunch KL Selangor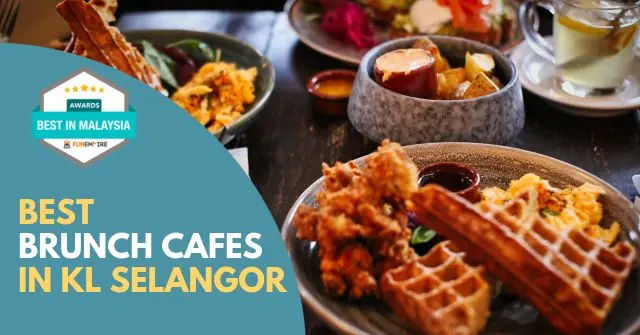 Looking for a good brunch spot in KL or Selangor? Look no further! We've got you covered with our list of the 10 Best Brunch Cafes in KL & Selangor. From Western-style brunches to Asian delights, there's something for everyone on this list. So what are you waiting for? Start planning your next foodie adventure today!
1. Yellow Brick Road
| | |
| --- | --- |
| Key Services | Brunch Cafe, Coffee shop, Breakfast & Brunch Restaurant |
| Website | https://yellowbrickroad.my/ |
| Address | 5th Place @ The Five, 49, Jalan Dungun, Bukit Damansara, 50490 Kuala Lumpur |
| Phone | (+6)03 2011 7690 |
| Email | thecoffeepirates@gmail.com |
| Operating hours | Open daily from 8.00am – 5.00pm |
Yellow Brick Road is a Breakfast and Brunch Restaurant. Their hearty big brunch meals include eggs on toast, eggs Norwegian, pulled beef Benedict, and the Big Breakfast Bash.
For kids and adults, pancakes were quite popular. The Pulled Beef Pancake Taco was the most successful, followed by the Chocoholics Anonymous.
The Pulled Beef Pancake Taco is made with Pancake tacos, pulled beef, shiitake mushrooms, kale, cherry tomatoes, Parmesan, Thai mayo, parsley, while the Chocoholics Anonymous is pure chocolate bliss topped with chocolate ice cream.
Key Differentiators:
Cozy atmosphere
Wholesome big brunch meals
Drool-worthy pancakes
Customer's Review:
Loved the menu; Awesome pancakes; Great coffee; fast and very pleasant service! Overall great experience!

Anita Vignes
2. Breakfast Thieves Kuala Lumpur
Breakfast Thieves has one more chance to win your affection for brunch. Patrons may anticipate to be taken away by contemporary Australian cuisine with an Asian touch. The spacious area gives a pleasant, relaxing atmosphere for everyone where friends catch up over brunch, business lunches are held, families gather, and coffee aficionados get their daily dose. It's time to rediscover your passion for the Viking's Brekkie, Cereal & French, and the Croque Madame once again. Don't forget to add a cup of tea on the side too.
Key Differentiators:
Industrial-chic themed
Australian cuisine with a touch of Asian influence
Relaxing environment
Customer's Review:
This place is kid-friendly, spacious and suitable during pandemic times (i.e. preferably open air spaces). Servers are friendly and the food is served quickly.

Khaw Soy Ou
3. Kaffe 16
Kaffe 16 serves delicious home-cooked meals with local touches to its customers. Local coffee roasters supply the coffee beans, which is intended to encourage speciality coffee. The food and beverage variety after exploring is well worth it. Buttermilk Chicken Karaage Spaghetti, we'll be coming for you next.
The café was built with the goal of providing its customers with a warm yet elegant atmosphere that draws on natural beauty and minimalism.
Key Differentiators:
Specialty Coffee
Breakfast and Brunch varieties
Minimalistic interior design
Customer's Review:
Great for breakfast. Menu looks good for lunch too… Will be back for lunch soon.

Vernon Chong
4. Good Food & Co.
| | |
| --- | --- |
| Key Services | Brunch Cafe, Family Style Restaurant, Coffee shop |
| Website | https://www.facebook.com/goodfoodnco/ |
| Address | 5.02, Level 5, Jaya Shopping Centre, Sec 14 Jalan Professor Khoo Kay Kim 46100 Petaling Jaya, Selangor, Malaysia |
| Phone | +60 3-7931 5156 |
| Email | goodfoodnco@gmail.com |
| Operating hours | Daily 10:30 AM – 7:30 PM, Wednesday Closed |
Good Food & Co. is an owner-run cafe that specializes in modern Australian and fusion food as well as good coffee.
Good Food & Co. is committed to its goods. Have you tried the best-selling Grilled Chicken Thighs, Pilaf Rice accompanied with a bed of fresh salad? All orders are made-to-cook.
Key Differentiators:
Serves Modern Australian influenced dishes
Made-to-cook
Cozy atmosphere
Customer's Review:
A hidden jewel. Great food. The meats are tender and nicely cook. Will come back again.

Jasonino Wong
5. Feeka
The name "Feeka" is derived from the Swedish word for work, Fika (spelled and pronounced as it is), which means "to take a break." Once you've arrived, take a break and read a book or have quiet conversations.
Coffee from Feeka is always a good choice, but their brunch dishes are worth looking into as well. This hidden gem is ideal for quiet afternoon hangs among a sea of lush greenery. The most popular and must-have dishes are the Chocolate chip ricotta pancakes, French toast, and Feekas Breakfast.
Key Differentiators:
Place to get away from the hustle and bustle
Relaxing atmosphere
Delicious pastries
Customer's Review:
Brunch was great. Place was a bit pack but it was worth a wait..

Sha Ida
6. The Butter Pantry
If you like dessert, The Butter Pantry is a must-try. Your ticket to buttery goodness and delectable sandwiches is in Ampang's Little Korea. Take a look at their Cafe. For a fast energy boost, pay them a visit and you won't be sorry.
Key Differentiators:
Friendly neighborhood cafe
Serves Korean dishes
Calm vibes, good coffee and sweet treats
Customer's Review:
I always like sandwiches and the gyutan grilled cheese sandwich from this cafe really got me hooked. The sourdough bread was just nice and soft. There's no need to put other sauce as they already seasoned their gyutan with some chili flakes and it's not too spicy.

Noah Hassin
7. Nippori Bistro
Nippori Bistro, a Japanese fusion French and Western restaurant, serves a wide range of selections. For a distinctive brunch, try the smoked salmon with grapefruit toast and deep sea konbu pasta, which is incredible in taste. They also offer homemade pastries and cakes that are ideal for afternoon tea. The restaurant is prepared to satiate your desires. Before coming over, however, be sure to call ahead of time.
Key Differentiators:
Serves Japanese fusion French and Western dishes
Stylish interior
Romantic atmosphere
Customer's Review:
Cozy ambience, good food and good service ! Dessert is fantastic !

Cynthia Kok
8. Urban Daybreak
Australian-inspired cafe Urban Daybreak serves authentic Australian breakfasts and brunches with a twist. If you haven't had a chance to visit Urban Daybreak before, this is your opportunity. If you like a more decadent breakfast with premium French toast on the menu, their Signature French Toast is definitely worth ordering.
Key Differentiators:
Trendy artisan cafe
Serves delicious and natural food
Relaxing atmosphere
Customer's Review:
Their brunch is amazing! Basic scrambled eggs cooked to perfection and their sweet brunches are superb.

Vinnie Yang
9. Blonde
Blonde is a stylish yet minimalist cafe that serves both Western and Asian cuisine. The Blonde offers a big brunch, which includes two slices of buttered sourdough, a juicy chicken sausage, crispy potato croquettes, maple beef bacon and onion jam, as well as the top choice for the greatest comfort brunch. The Dutch Style Pancakes with Mutiara figs, fresh berries and maple syrup are also a must-try brunch dish.
Key Differentiators:
More than just a restaurant
Instagram worthy
Fancy atmosphere
Customer's Review:
Cute brunch spot with lots of natural light.

Elvi Thio
10. Table & Apron
Table and apron by restaurateur Marcus Low pays homage to famous bakeries and eateries by offering contemporary comfortside cuisine that features fresh ingredients.
Table and apron specializes on hearty, rustic flavors, such as pulled pork with apple sourdough and cilantro salsa, Sanbanto pork chops with fiery chimichurri, ulam herbed crab rice, and earl grey crème brûlée with shortbread.
Key Differentiators:
Serving honest cooking
Warm hospitality
Creative cuisine
Customer's Review:
Great little place, quality food, nice atmosphere, simple setup, simple menu. Staff service is excellent!

Penelope Zapatos
Brunch KL Selangor
Brunch Cafe KL Selangor is a great place to enjoy a meal with friends or family. The cafe has a wide variety of food options that will satisfy everyone's taste buds. You can also enjoy the cafe's relaxing atmosphere while you eat.
Since you have made it to the end, it would be great if you could check out the awesome articles that we have written for you! Maybe, it will help you add more fun to your daily lifestyle.