Buccal Fat Removal KL Selangor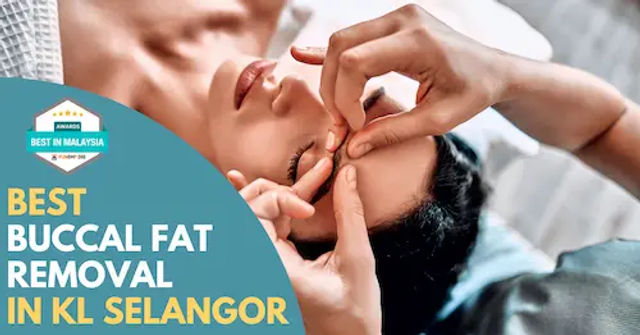 Buccal fat removal is a procedure that helps in reducing the size of the mouth, cheeks, and chin. It can also help improve the facial profile. The best way to ensure you are getting quality services is by doing your research beforehand. Here are the 8 Best Buccal Fat Removal Clinics in KL & Selangor that we recommend!
1. ARC Aesthetic & Wellness
ARC Aesthetic & Wellness is a medical aesthetic and anti-aging practice that provides skin (dermatology), plastic surgery, and other cosmetic services. They think that proper aesthetic health can be achieved by taking a multidisciplinary approach to prevent and heal disease while also promoting a beautiful vital lifestyle.
2. RJ Clinic
RJ Clinic offers a variety of non-surgical and minimally invasive procedures for aesthetic purposes. Prior to scheduling the Buccal Fat Removal, a consultation appointment with their doctor will be arranged. During the consultation, their doctors will conduct a quick physical examination, go over their medical history, listen to a patient's expectations for surgery, and explain the details of the operation in further detail. If a person is suitable for Buccal Fat Removal, an individual surgical plan will be determined.
3. Beverly Wilshire Medical Centre
Beverly Wilshire Medical Center is a medical facility offering a wide range of treatments, including cosmetic surgery, dental aesthetics, hair restoration, anti-aging medicine, and medical aesthetic treatments.
4. Da Vinci Clinic
The Da Vinci Clinic is a cosmetic clinic dedicated to assisting and improving anybody who wishes to change their appearance. Their essence can be encapsulated in a single term, such as Lift, whether its eyes, face, skin, nose, or any other part of the body.
5. Glojas Plastic Surgery Center
Glojas Plastic Surgery Center offers a variety of laser therapies that are personalized for each patient's skin problems, such as the face and neck region, which may be applied to any part of the body. Their aesthetic doctor will undertake a skin analysis before selecting the best treatment option for the individual's skin concerns, including pigmentation, melasma, freckles, wrinkles, fine lines, uneven skin tone, sagging, and aging problems.
6. KALO Cosmetic Surgery
Dr. Frederick Yap, the medical director of KALO Cosmetic Surgery, is a board-certified plastic surgeon and certified consultant. They specialize in cosmetic surgery and aesthetic medicine and are licensed by the Malaysian Ministry of Health to provide a comprehensive range of cosmetic operations and aesthetic treatments.
7. Monette Ansley Clinic
Monette Ansley, the most reputable aesthetic skin treatment facility in Malaysia, provides the highest level of care with cutting-edge technologies like Sculptra therapy, double chin reduction, pico laser, hair remedy, hair removal laser, slimming pills.
8. MedicDeno Clinic
MedicDeno Clinic is a new aesthetic facility introduced in 2019 by MedicDeno Skin Solutions. They are certified and authorized by the MOH. Their goal is to assist everyone in achieving a healthy, beautiful, and confident self with their wide range of services.
Buccal Fat Removal KL Selangor
With so many options available, it can be difficult to find the right one for you. We hope our list can help make that process easier for you!
Check out the links below to read other articles on our site:
What is a Buccal Fat Removal?
Buccal fat removal, also known as buccal lipectomy, is a surgical procedure that removes the buccal fat pads from your cheeks. This gives your face a slimmer appearance and can help to improve the look of "chipmunk cheeks".u003cbru003eThe buccal fat pads are located in the lower part of your cheeks, near your jawline. They are made up of fat and connective tissue, and are responsible for the fullness in your cheeks.
How is a Buccal Fat Removal Treatment done?
Buccal fat removal is a relatively simple procedure that can be performed under local anesthesia. The surgeon will make a small incision inside your mouth, near your cheekbone. Through this incision, the buccal fat pads will be removed.u003cbru003eThe procedure takes about 30 minutes to an hour to complete, and you will be able to go home the same day. There is usually minimal pain and swelling after the surgery, and most people recover within a week.
How much does the Buccal Fat Removal treatment cost in Malaysia?
The cost of buccal fat removal in Malaysia varies depending on the clinic and surgeon. However, the average cost is between RM2000 – RM4000 per session.u003cbru003eSome factors that can affect the price include:u003cbru003e- The type of anesthesia usedu003cbru003e- The experience of the surgeonu003cbru003e- The location of the clinicu003cbru003eWhat are the benefits of Buccal Fat Removal?
What are the risks of Buccal Fat Removal treatment?
As with any surgical procedure, there are some risks associated with buccal fat removal. These include:u003cbru003e- Bleedingu003cbru003e- Infectionu003cbru003e- Scarringu003cbru003e- Nerve damageu003cbru003e- Asymmetryu003cbru003eBefore you decide to undergo buccal fat removal, it is important to consult with a board certified plastic surgeon to discuss the risks and benefits of the procedure.
Who are not suited for Buccal Fat Removal treatment?
Buccal fat removal is not suitable for everyone. The following people are not good candidates for the procedure:u003cbru003e- People who are overweight or obeseu003cbru003e- People with health conditions that may increase the risk of complicationsu003cbru003e- People who smoke cigarettesu003cbru003e- Women who are pregnant or breastfeeding