Cafe Georgetown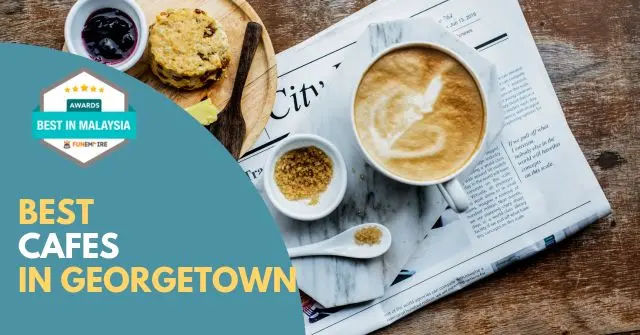 If you're looking for a great cup of coffee, Georgetown has no shortage of cafes to choose from. Whether you're in the mood for a quick caffeine fix or want to relax and enjoy your coffee with friends, the 10 Best Cafes in Georgetown.
1. 20 Chulia Lane Cafe
20 Chulia Lane Cafe offers homey meals made from classic regional family recipes with an emphasis on freshness. They provide sweets, savory meals, enticing beverages, and great coffee.
Key Differentiators:
Good for working
Best brunch
Relaxing atmosphere
Customer Testimonial:
"Delicious food, good service, comfortable environment."

Patricia Ooi
2. Tribute • Retro Cafe
If you're ever in the mood for some great Nyonya dishes, a Pork Bun, or refreshing nutmeg juice with mint, be sure to head on over to Tribute • Retro Cafe. Their signature coffee is also amazing and definitely worth trying!
Key Differentiators:
Chic décor
Authentic dish
Cozy atmosphere
Customer Testimonial:
"Cozy and charming cafe. Great place to chill out when solo or hangout with friends."

Joanna Liao
3. ChinaHouse
ChinaHouse is a popular eatery for Penang residents, as well as a popular tourist attraction due to its cakes. It's one of the most recognized and long-lasting names in Penang's café culture, and it's certainly one of the most recognizable and enduring names in Malaysia's cafe scene.
Key Differentiators:
Traditional taste preserved
Excellent service
Features music bands
Customer Testimonial:
"Nice service !! All the staff are friendly ! Love the environment."

Eilynn Ng
4. Potters Place Cafe
Potters Place is a small cafe located in Georgetown, Malaysia on Lebuh Acheh. In addition to selling their crafts, they also offer pottery throwing classes.
Key Differentiators:
Various services
Exquisite experience
Reasonable price
Customer Testimonial:
"Rare place that still sells real high quality coffee."

Joy Ariel
5. Urban Artisan Cafe Penang Georgetow
The Artisan Cafe produces some of the most distinctive ice cream you've ever tasted. It has a hue that evokes images of the sea and a taste that reminds you of the water. Their bright ice cream, beautiful bubble waffles, and unique flavors will make for an excellent Instagram photo.
Key Differentiators:
Soft Serve
Various offers
Great deals
Customer Testimonial:
"The ice cream taste nice. I ordered pistachios plus sea salt. RM13++ per cone with two flavors. Limited seats inside the cafe."

Zi Hong
6. The Mugshot Cafe
Key Services
Cafe Georgetown
Website
https://www.facebook.com/themugshotcafepenang/
Address
302, Chulia Street 10200 George Town, Penang, Malaysia
Phone
+60 4-261 4641
Operating Hours
Monday-Tuesday 8:00 AM – 9:00 PM
Wednesday, Thursday, Sunday 8:00 AM – 10:00 PM
Friday-Sunday 8:00 AM – 12:00 AM
The Mugshot Cafe specializes in gourmet coffee, hand-crafted juices, homemade yogurt, and delectable bagels. They provide a peaceful setting combined with excellent coffee and wonderful pastries. It's a good spot to socialize.
Key Differentiators:
Great food
High quality service
Cozy ambiance
Customer Testimonial:
"Relaxing atmosphere, good coffee and fine pastry. Good place to meet up."

Ben Yeo
7. Constant Gardener Coffee
Constant Gardener, a modest, multi-roaster coffee shop in Penang that serves only coffees and delectable cheese cakes from scratch, single origin hot chocolates, lovely infusion teas, and other goods.
Key Differentiators:
Reasonable price
Relaxing ambiance
Good service
Customer Testimonial:
"Good coffee with nice ambience, relax setting. Great place to chill or doing casual meet up. Plenty of electric sockets available to recharge phone/laptop juice."

YaoLong Lim
8. siTigun
siTigun sees coffee not just as a beverage, but as a tradition that fuels respect and love. This is evident in the care with which their coffee beans are roasted – always to perfection.
Key Differentiators:
Authentic dish
Creative cuisine
Great ambiance
Customer Testimonial:
"The coffee is always good. Limited seats in the cafe though. This is one of the oldest cafes in Penang. I have started frequenting this cafe since it's humble beginning."

Grayden Goon
9. Chapel Street Cafe
Australian coffee culture is the source of inspiration for the Penang-based Chapel Street Cafe. Here, they serve a great brunch. Affordable rates, a wide selection, private eating rooms that aren't too big or too little, and lovely decor with hints of the real shophouse.
Key Differentiators:
Great options
Various deals
Fair price
Customer Testimonial:
"Great food and nice atmosphere for gathering. Will come back again for sure."

Cheah Chee Guan
10. Mews Cafe
Malay food is served at Mews Cafe and is created only with local, fresh ingredients. Diners have the option of eating inside in a comfortable air-conditioned environment or outside.
Key Differentiators:
Pet-friendly
Creative cuisine
Cozy atmosphere
Customer Testimonial:
"Great place to meet, dine, chat, snack…. Really friendly and helpful staff as well. Amazing decor and ambiance."

Alexis Kerr
Cafe Georgetown
Whether you are looking for a place to relax and enjoy some good coffee, catch up with friends, or get some work done, there is bound to be a cafe in Georgetown that suits your needs. Visit one today!
Since you have made it to the end, it would be great if you could check out the awesome articles that we have written for you! Maybe, it will help you add more fun to your daily lifestyle.