Conveyancing Lawyers KL Selangor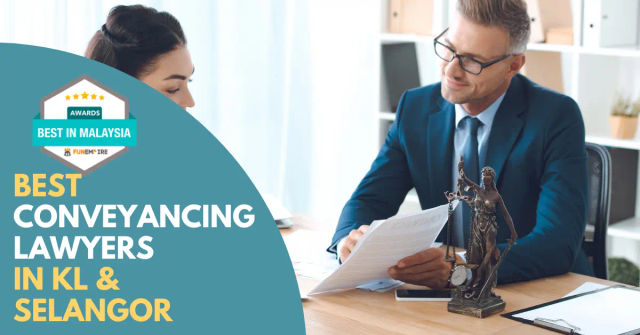 Choosing a conveyancing lawyer in KL and Selangor is a very important decision. You will need to find one that can not only provide you with the best legal advice but also help you get through your transaction quickly and efficiently. In this blog post, we have compiled a list of the 11 Best Conveyancing Lawyers in KL & Selangor for your convenience!
1. Shearn Delamore & Co
Shearn Delamore & Co is one of Malaysia's oldest full-service law firms. From being a member of the World Law Group, the World Services Group, and the Employment Law Alliance, the firm has grown to become one of Malaysia's biggest agencies with a worldwide network.
The firm offers a comprehensive menu of real estate services, including assistance with regulatory approvals required from the government, advising, mergers and acquisitions, property-related joint ventures, and more.
2. Azman Davidson & Co
Azman Davidson & Co advises on all phases of property transactions, including commercial and residential sales, leasing and tenancies, and building projects.
Azman, Davidson & Co. is a full-service law firm that has expanded into several areas of the legal profession and now offers a comprehensive range of legal services including arbitration and dispute resolution, as well as litigation and corporate and commercial legal services.
3. Christopher & Lee Ong
In 2013, a merger of three firms resulted in the creation of Christopher & Lee Ong. A team of seasoned senior counsel is on board. They manage all phases of real estate, from purchases and sales to leasing, financing, and development. They can assist you in contract negotiation and preparation as well as risk analysis.
4. Skrine
Skrine is a prominent full-service law firm based in Malaysia that was founded in 1914 by Walter Skrine. The company, which is led by three managing partners: Janet Looi, Khoo Guan Huat, and Lim Chee Wee, has 43 partners and 112 lawyers today.
Skrine focuses on corporate and commercial real estate. They deal with all sorts of real estate transactions on a daily basis. Skrine has answers for any problem, including tax responsibilities and environmental issues.
5. Donovan & Ho Advocates and Solicitors
Donovan & Ho is a boutique law firm founded in 2014. Donovan Cheah and Shawn Ho have been recognized by the Legal 500 Asia Pacific 2017 and 2018, respectively, under their management. The firm strives to be recognized for its vibrancy, innovation, and high service standards. Cheah and Ho are both have over ten years of expertise.
6. Jeff Leong, Poon & Wong
From a three-founder firm to mid-size, full-service law practice with 47 attorneys that we see today, Poon & Wong grew from a small firm to a full-service law firm.
Jeff Leong, Poon & Wong is a full-service real estate law practice. They provide thorough services in the area of real estate transactions as a whole. Jeff Leong, Poon & Wong's specialty is working with Islamic banks. They will be able to assist you in obtaining financing from Islamic lenders.
7. Zul Rafique & Partners
Zul Rafique & Partners is a commercial law practice that was founded in 1999. Dato' Zulkifly Rafique, the firm's founder and managing partner, has 38 years of legal experience and leads the business.
Zul Rafique & Partners is a real estate company that specializes in corporate property. They have significant experience with land sales and purchases, as well as lease agreements and financial arrangements.
8. Wong & Partners
Wong & Partners is a firm with nearly 30 years of experience in the real estate industry. The managing partner, Andre Gan, has more than 23 years of legal expertise and has worked with Wong & Partners for almost 10 years. His practice areas cover real estate, mergers and acquisitions, and other fields. They can help you gain critical knowledge about every stage of property investment in Malaysia. They'll walk you through every phase of purchasing and disposing of real estate, from beginning to end. Legal and tax assistance may be available as well.
9. Shook Lin & Bok
Founded in 1918 by Yong Shook Lin, Shook Lin & Bok is one of the largest and the oldest Malaysia-origin law firms in the country. They have 94 lawyers, 120 staff, and 14 departments.
The conveyancing department participates in sales and purchases of real estate, joint venture agreements involving properties, tenancies and leases of commercial buildings, government concessions, employment and management contracts, and document applications for government approval.
10. Low & Partners
Low & Partners is a full-service law practice that can help you with a range of legal issues, including family law, commercial disputes, and trusts, among other things.
Their attorneys have decades of combined expertise, consisting of board memberships, advising industry organizations, and writing textbooks.
11. Tam Yuen Hung & Co
With over 40 years of expertise, you can trust Tham Yuen Hung & Co to handle your divorce. They are skilled in a variety of legal fields and specialize in divorce settlements.
Whether you want them for estate planning, conveyancing, immigration advice, or data privacy defense, their attorneys are highly qualified and have an impressive amount of expertise.
Conveyancing Lawyers KL Selangor
Conveyancing Lawyers KL Selangor is a must-have for anyone looking to buy or sell property in Malaysia. If you're going through the process of buying real estate, it's important that your lawyer has experience with this type of transaction, and can provide guidance from beginning to end. In order to avoid any legal mistakes during the sales process, make sure you hire conveyancing lawyers who will be able to help guide you through every step of the way.
Check out the links below to read other articles on our site:
What is a conveyancing lawyer?
A conveyancing lawyer is a solicitor who specializes in the legal transfer of property ownership. A conveyancing lawyer will assist you in the transfer of ownership of a property from the seller to the buyer. They will prepare and review all the necessary legal documents, as well as represent you in negotiations with the other party. They will also ensure that all conditions of sale are met before the transfer of ownership is completed.
Why do you need a conveyancing lawyer?
The conveyancing process can be complex and confusing, so it is important to have a professional on your side who can guide you through the process. A conveyancing lawyer will also ensure that all legal requirements are met, and that you are protected from any potential risks.
How much does it cost to hire a conveyancing lawyer in Malaysia?
Fees for conveyancing lawyers in Malaysia typically range from RM500 to RM2000, depending on the value of the property being transferred.
Benefits of hiring a conveyancing lawyer?
– Save time: A conveyancing lawyer will handle all the paperwork and negotiations for you, so you can focus on other things. – Peace of mind: You can rest assured that everything is being done legally and correctly, and that you are protected from any potential risks. – Avoid mistakes: Conveyancing lawyers are experts in the field, and will make sure that everything is done correctly to avoid any mistakes.