Engagement Ring KL Selangor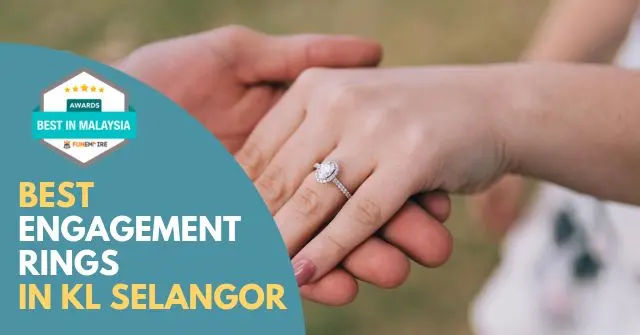 Engagement rings are one of the most important aspects of an engagement. It is what you wear to show your love, devotion, and commitment to another person. When it comes down to deciding on an engagement ring, many people find themselves wondering where they should go for their purchase. This article will tell you all about the 8 Best Engagement Ring Shops in KL & Selangor.
1. Tailored Jewel
Key Services: Engagement Rings Centre, Jewelry Shop and more.
Website: https://www.tailoredjewel.com/
Address: Unit 19-1, Level 1, Block 19, The Boulevard Mid Valley City, Lingkaran Syed Putra, 59200 Kuala Lumpur, Malaysia
Phone: +603 7733 8577
Email: info@tailoredjewel.com
Tailored Jewel was founded in 2012 and proves that high-quality jewelry, meticulous workmanship, and excellent client service are all obtainable at a reasonable price and should not break the bank. Every item is created by a team of in-house designers who we are certain will amaze you at first sight.
The diamonds in each engagement ring are all handpicked by our experts to ensure that the rings always appear beautiful. Couples searching for unique cuts will also have their demands met.
Key Differentiators:
Recognized by prominent firms and have won numerous awards
Every diamond is handpicked.
They have Muslim-friendly Engagement Ring
2. ZCOVA
Key Services: Diamonds, Engagement Rings, Gemstones, Fine Jewelry and more.
Website: www.zcova.com
Address: 5 Lorong Teknologi B, Nouvelle Industrial Park, Taman Sains Selangor 1 Kota Damansara, 47810 Petaling Jaya, Malaysia
Phone: +603 6150 8100
Email: service@zcova.com
ZCOVA each magnificent diamond is certified by GIA and GemEx, selected personally by ZCOVA's in-house GIA-trained gemologists, and has stringent criteria.
The only jewelry firm in Malaysia and Singapore to provide dual certifications is ZCOVA. Their prices are highly competitive, with the lowest price promise. They provide a customization service which is free of charge.
Key Differentiators:
Dual certifications
They offer a price match guarantee.
They offer a Free Global Shipping
3. SUEN
SUEN has spent years developing exquisite bespoke jewelry with great care and high quality. The reputation of SUEN internationally renowned fine jewelry brands is exceptional, and one of them is The Love Diamond. The Love Diamond, with a solitaire diamond cut that is finest recognized by the International Gemological Institute (IGI) in Belgium and named as the "ideal cut," contains a single flawless stone.
Key Differentiators:
Providing long-term care
Utmost care and high-quality workmanship
4. iDO Jewellery
iDo Jewelry specializes in bespoke jewelry and aims to deliver the highest quality products possible. They believe that you are deserving of a beautiful item of jewelry that is one-of-a-kind.
iDo Jewellery was founded in 2009 and provides customers with a variety of options for designing their own engagement ring. You may either start by looking at loose diamonds or fancy color diamonds or go through a selection of engagement ring designs and settings. They also sell elegant matching wedding bands as a one-stop-shop.
Key Differentiators:
Offers CAD design for review and approval
each handcrafted design is never repeated.
5. Radiance Diamond
Radiance Diamond, founded by husband and wife Ong Tiong Yee and Elizabeth Ong. They are regarded as one of Malaysia's most desired jewelers. The key to their success is not only in the quality of their goods but also in the customer service that many of their clients compliment them on.
Radiant Diamond is a company that focuses on delivering the greatest possible service and maintaining a good reputation for its customers. Each client receives personalized attention, including local or international shipments as needed.
Key Differentiators:
Every client receives a comprehensive instruction.
This is a high-end customized service.
6. Eumayco Jewellery
Key Services: Engagement Rings, Jewelry Shop, Design Academy and more.
Website: https://www.eumayco.com/
Address: Unit 25-12, Tower A, The Vertical Business Suite Avenue 3, No. 8, Jalan Kerinchi, Bangsar South, 59200 Kuala Lumpur
Phone: +603-27118927
Email: enquiry@eumayco.com
Eumayco Jewellery is well-known for its one-of-a-kind designs and high-quality craftsmanship. Eumayco Jewellery has designers and gemologists with expertise in contemporary and resplendent wedding bands and engagement rings, among other things.
Eumayco Jewellery meticulously selects only the best of diamonds and gemstones, ensuring that each ring is of excellent quality and a perfect illustration of your love story.
The Eumayco Jewellery bespoke creation services aim to provide their clients with one-of-a-kind, long-lasting items that are in line with their interests and personalities.
Key Differentiators:
a custom-designed jewelry store
One of Malaysia's most renowned jewelry producers
7. Habib Jewels
Key Services: Engagement Rings, Jewelry Shop and more.
Website: https://www.habibjewels.com/
Address: Lot 106, Lorong Mamanda 2, Ampang Point, 68000 Ampang, Selangor, Penang Malaysia
Phone: +603 4252 7777
Habib Jewels was founded by Datuk Haji Habib Mohamed Abdul Latif in 1978. It has an illustrious history in precious jewelry that dates back to 1958. Habib Jewels is one of Malaysia's top jewelry firms, and they are well-known for their high-end collection, which includes beautiful designs from all around the world.
Key Differentiators:
Multi-Award-Winning Brand
The Leading Malaysian Jewelry Company
8. Wah Chan Gold and Jewellery
Key Services: Engagement Rings, Jewelry Shop and more.
Website: https://www.wahchan.com.my/
Address: Wisma Wah Chan No. 1, Jalan 51A/219, 46100 Petaling Jaya, Selangor
Phone: 012 288 1566
In Malaysia, Wai Chan becomes a household name. Aside from establishing a solid reputation in the jewelry business, Wah Chan is also recognized as one of Malaysia's major jewelers. Traditional and contemporary jewelry are also displayed in their collections, though they belong to the category of expert engravers, polishers, and so on.
Key Differentiators:
High-quality diamonds and gems
Professional engravers, polishers, and more
Engagement Ring KL Selangor
Engagement Ring Shops in KL Selangor are a great go-to for finding the perfect engagement ring, whether you're looking for something traditional or contemporary. Whether you want to purchase an expensive gemstone from overseas or design your own custom piece of jewelry in Malaysia, these Engagement Ring Centers will have what you need and more! It's never been easier to find that special engagement ring with its high-quality diamonds and gems.
Before you go, here are some of our other articles that you might like as well!
What is an engagement ring centre?
An engagement ring centre is a place where you can find a wide range of engagement rings. It is usually located in a shopping mall or in a jewellery store.
What kinds of engagement rings are there?
The most common type of engagement ring is the solitaire ring. This type of ring has a single diamond or other gemstone set in the centre. Other popular types of engagement rings include halo rings, three-stone rings, and side-stone rings.
How much does an engagement ring in Malaysia cost?
Engagement rings in Malaysia usually cost between RM500 and RM30,000. The price of an engagement ring depends on the type of ring, the quality of the diamond or other gemstone, and the size of the stone.