Frozen Dessert Johor Bahru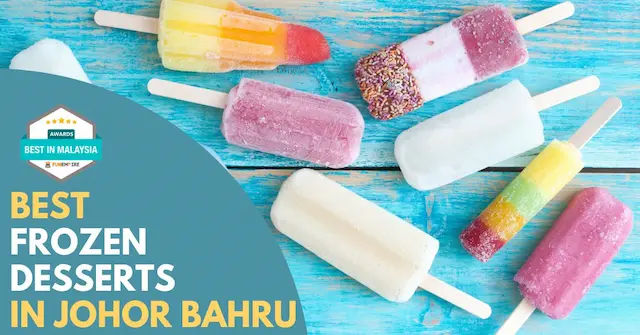 If you're looking for the best frozen desserts in Johor Bahru, look no further! We've compiled a list of the Best Frozen Desserts in Johor Bahru. From ice cream to gelato, these places will have you licking your lips in no time. So what are you waiting for? Start indulging!
1. Cheotnun Korean Dessert Cafe
| | |
| --- | --- |
| Key Services | Frozen Dessert, Korean Restaurant, Dessert Shop |
| Website | https://www.facebook.com/cheotnunjp/ |
| Address | 31, Jalan Austin Heights 8/8, Taman Mount Austin, 81100 Johor Bahru, Johor, Malaysia |
| Phone | +60 10-761 5929 |
| Operating hours | Daily 12:00 PM – 12:00 AM |
Cheotnun Korean Dessert Cafe is serving up the "bingsu," a type of shaved ice from Korea. This dessert spot, like no other, combines fresh and warmth with a variety of toppings to attract your attention.
Bingsu, a Korean shaved ice dessert with toppings, is a popular summertime treat. It's served with a big topping of syrup and fruit or candy of your choosing, as well as a scoop of delectable ice cream on top for good measure. They also offer ice cream on toast, which is an easy yet delicious combination.
Key Differentiators:
Most authentic Korean snowflake ice
Modern Korean feel
Muslim-friendly Korean food
2. Baskin-Robbins
Baskin-Robbins is a global ice cream company that creates and markets unique, premium ice cream, specialty frozen desserts, and beverages. It offers high quality and value to customers in more than 6,700 retail outlets in nearly 50 countries.
Baskin-Robbins was established in 1945 by two ice cream enthusiasts who share a passion for creating more than 1,000 different ice cream flavors and other delectable items.
Key Differentiators:
Different ice cream flavor for each day of the month
Wide variety of delicious treats
Global ice cream company
3. The Sugar Pantry
The Sugar Pantry caters to the French and Japanese culinary markets. They make excellent Frozen Dessert, breads, cakes, pastries, parties, presents, and café services using top-of-the line ingredients.
Key Differentiators:
French & Japanese inspired goods
Plentiful of sweet treats
Promotion up to 50%
4. Inside Scoop JB
The first Inside Scoop opened with 16 flavors, including Durian and Valrhona Chocolate! JB's ice cream parlors and sweets are freshly handmade from high-quality ingredients with no additions of artificial tastes or preservatives.
Inside scoop ice cream shops and dessert in JB provide a variety of ice cream flavours such as durian, rocher, passionfruit sorbet, cendol, coconut ash, red velvet and so on. With over 70 varieties of ice cream on offer, each trip is a surprise! Ice cream cakes and waffles are also available!
Key Differentiators:
Freshly made on site
Using premium ingredients
Without artificial flavorings, coloring's or preservatives
5. Rabbit Softserve & Gelato JB
Rabbit Softserve in JB, which features gelato and softserve ice cream, premium coffee, uji matcha, waffles, and pasta, is just one of the newest café ice cream enterprises To serve premium handmade softserve ice cream to residents of the neighborhood. Rabbit soft serve ice cream shops and desserts in Jb are definitely the ideal location to cool off during the Malaysian summer!
Key Differentiators:
Handcrafted Italian gelato ice cream
Rich and luxurious texture
Contains 80%less sugar than regular ice cream
6. Big Bowl Ice
| | |
| --- | --- |
| Key Services | Frozen Dessert, Café, Ice Cream Shop |
| Website | http://bigbowlice.com.my/ |
| Address | 28, Jalan Abiad 1, Taman Tebrau Jaya, 80400 Johor Bahru, Johor |
| Phone | 07-336 1934 |
| Email | bigbowlice@hotmail.com |
| Operating hours | Daily 12:00 PM – 12:00 AM |
Since 2013, Big Bowl Ice has been a well-known ice cream brand in Malaysia, with over 100 different varieties of ice cream ranging from snow ice and shaved ice. Their goal is to provide natural and nutritious ice desserts, therefore they use fresh hand-cut fruits and our self-prepared beans as primary toppings.
All of their ice desserts are being studied for sweetness to ensure that they have the proper flavor and nutritional value. Their food items and fruits are treated with ozone water (O3) to decompose pesticides and residue on their food materials and fruit skin in view of sanitary and health requirements.
Key Differentiators:
Natural and Healthy
Huge and Delicious
Hygienic Water
7. BlackBall Johor
Blackball is a Taiwanese dessert café is famous for its one-of-a-kind and evergreen traditional sweets and beverages. The name of the café was inspired by a Taiwanese spice called 'Xian Cao.' This ingredient is best cultivated in Guan Xi. The ingredient, on the other hand, turned out to be a highly nutritious diet. It also compliments Mr Tang's dish nicely. If you'd like to test it out, swing by one of their locations in Johor!
Key Differentiators
The Authentic Taste of Taiwan
Tasty and healthy desserts to their customers
International outlets all over the world
8. Creamery Boutique Ice Creams
Their sweets are all handmade in small quantities, ensuring that the quality of each dessert is not compromised. In a climate like Johor's, a scoop of ice cream is just right, and especially if you're visiting in the summertime. Look no further than Creamery Boutique Ice Creams for high-quality artisanal ice cream.
Creamery Boutique Ice Creams creates new innovative recipes to meet the varied tastes of their consumers. This shows how committed they are to providing high-quality sweets to their consumers. If you're seeking for a delicious ice cream parlor, Creamery Boutique Ice Creams is the place to go!
Key Differentiators
Freshly baked lava cookies & artisanal ice creams
Batch premium homemade production
Variety of ice cream flavors
9. TIP, The Ice-Cream Project
TIP: their recipes are lacto-vegan friendly and include only dairy products. They don't use rennet or any animal gelatin, so you can rest confident that every spoonful is high-quality ice cream.
The Ice Cream Project is filled with nitrogen. Because it just melts in your mouth, ice cream made in this manner is smoother and more appealing.
The Ice Cream Project offers a variety of flavors, including Dark chocolate, Butterscotch, Matcha, Brownies and Cream, Rocher Rudge and Brownie, and Original Cream.
Key Differentiators:
Ice cream is carefully curated and cooked
Cookies are made without egg
Halal certified
10. UMAMI Softserve
Soft serve is a soft, less dense, and therefore softer version of ice cream. Most people regard soft serves as a healthier alternative to ice creams because of their lightness.
UMAMI Softserve is well-known for its unique variety of soft serves. You will undoubtedly love indulging in their delectable soft serves, accompanied by delicious toppings. Their flavors include Uji Matcha, Nama Chocolate, and many more. The dessert cafe occasionally offers seasonal flavorings for their soft serves.
Aside from soft serves, the restaurant also creates handcrafted ice creams and gelato. If you're interested in trying a bowl of soft serve for the first time, drop by Umami Soft Serve.
Key Differentiators:
Matcha lover flavors available
Ice creams of different flavors
Seasonal flavors for their soft serves
Frozen Dessert Johor Bahru
Frozen Dessert Johor Bahru is definitely a foodie's paradise, with an abundance of delicious eats to choose from. Whether you're in the mood for artisanal ice cream, soft serve, or gelato, you'll find what you're looking for.
Since you have made it to the end, it would be great if you could check out the awesome articles that we have written for you! Maybe, it will help you add more fun to your daily lifestyle.