Furniture Store Penang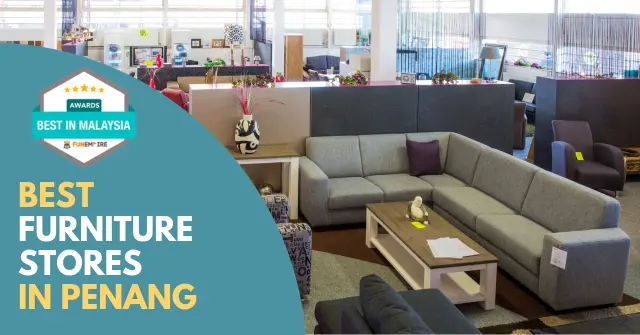 Looking for a new dresser, couch, or chair? Penang is home to some of the best furniture shops in the country! Whether you're looking for a modern style or something more traditional, these shops have something for everyone. Here are the 10 Best Furniture Store in Penang.
1. Ashley Furniture HomeStore Malaysia
Ashley Furniture HomeStore is a furniture chain that was founded in the United States in 1997 and has since branched out to over 900 stores throughout the world, including a Penang branch at Gurney Paragon Mall.
Ashley Furniture HomeStore has a wide range of furnishings, including everything from the living room to bedrooms and dining sets. Traditional, contemporary, or vintage furniture styles are all represented.
Key Differentiators:
Ashley furniture is the world's largest home furniture manufacturer
Ashley furniture sells quality home furnishings in 123 different countries
Stylish, affordable furnishings created for you
Customer's Review:
Great experience, eye-catching furniture and bedding products

Safia Adnin
2. Lavino Penang
Lavino is known for offering high-quality furniture at an affordable price. This shop, which is located at No. 452 in Jalan Permatang Batu, Bukit Mertajam, places a strong emphasis on contemporary design and is perfect for today's city dwellers.
You'll find anything you need under one roof, from L-shaped sofas to sofa beds and mattresses to bedroom sets and tables and cabinets.
Key Differentiators:
14 days free return
Lowest price matching
Largest and reputable furniture store in Malaysia
Customer's Review:
The price of the sofa here really reasonable and the quality of the sofa very comfortable

Nuramira Liyana
3. Sweet Home
| | |
| --- | --- |
| Key Services | Furniture Shop, Stylish Modern Furniture |
| Website | https://www.sweethome.com.my/ |
| Address | 1364, Jalan Besar, Taman Mas, 14100 Simpang Ampat, Pulau Pinang, Malaysia. |
| Phone | +6012-537 7899 |
| Email | hello@sweethome.com.my |
| Operating hours | Monday – Saturday 8:55 AM – 8:33 PM, Sunday 8:55 AM – 7:00 AM |
Sweet Home provides the best deals on high-quality furniture without breaking the bank. Their large showroom in Simpang Ampat has a broad range of fashionable furnishings, including sofas, bedroom sets, shoe cabinets, dining tables, coffee tables, TV consoles, and storage units.
With so many different designs and a huge inventory, you'll undoubtedly discover something you like at this store!
It's no surprise that Home Sweet Home is a strong supporter of the consumer. They provide professional services for everything from furniture layout to color selections that will complement your house's style.
Key Differentiators:
Purchase modern & high-quality furniture with a competitive price.
Thoughtfully designed
Well-made furniture
Customer's Review:
Multiple choices with reasonable price..Good service support Highly recommended

Ct Sarsh
4. DoYoung Malaysia
If you're searching for a modern-style kitchen, go no further than DoYoung Malaysia in Tanjung Tokong, Penang. All of their furnishings are designed to fit in with today's modern houses, including sofas, lounges, coffee tables, wall cabinets, and dining tables.
Key Differentiators:
Good Designs, Great Quality
Thousands of products and keep expanding
Specializing in functional and contemporary designs
Customer's Review:
Good quality, exactly same as what is displayed in showroom. Price is reasonable and delivery is fast.

Ca L
5. Fella Design
Fella Design is a Malaysian furniture company that has 21 retail locations and offers beautiful furnishings for every budget. Furthermore, the sofa from Fella Design may be customized to your liking.
Most furniture types are available in a variety of materials, such as several woods and more than 1000 fabric colors. As a result, it's an excellent location to buy big things that you'll keep for a long time or need a sofa to go with your monochrome-themed living space.
Key Differentiators:
Sofa Specialist
Fabric Experts
Nationwide Galleries
Customer's Review:
Good customer service. Good premium quality with affordable price.

Zulfadzly Mohd Rosli
6. Kome Furniture
Kome Furniture offers nature-inspired accents, such as sofas, coffee tables, chairs, bar countertops, and other furnishings. Kome Furniture specializes in the sale of furniture manufactured of high-quality natural wood from Europe, North America, and Southeast Asia.
They may be kept with you for decades and then be handed down to your grandkids or other family members as heirlooms.
Key Differentiators:
Unique Masterpiece
High Quality Wood
Made-to-order
Customer's Review:
Nature's style, soothes human's mood.

Tan Tracy
7. Timeless Design
Timeless Design was founded in 2005, offers everything you'll need to outfit your home from sofas to light fixtures and kitchen carts. They also have a huge variety of children's furniture, so you may outfit their rooms.
In terms of aesthetics, their furniture lines include Scandinavian modern, mid-century modern, vintage, and contemporary design. Timeless Design can always be counted on to improve the look of your house.
Key Differentiators:
From Scandinavian to contemporary Design
Functionally designed, inspiring and affordable
Cater to custom-made and special furniture
Customer's Review:
Beautiful designer furnitures for those willing to spend.

priya tharusini
8. More Design
More Design is the place to go if you want to add designer pieces that are both fashionable and useful to your home. For a very modest cost, the store provides everything from entryway accessories to tiny kitchen utensils to attractive pots and vases.
For individuals looking to furnish and decorate a whole area (including feature wall paint), They offer Design Plus Packages that bundle together all the components of More Design Services.
Key Differentiators:
Largest Designer Furniture & Furnishing Brand in Malaysia.
Designed with the utmost quality
Original pieces crafted and designed by their own creative Creation Team
Customer's Review:
Huge varieties and great service!

alex_lee_23
9. KAMAY Furniture
KAMAY Furniture is a contemporary furniture firm that specializes in thinking outside the box when it comes to design and function, whether it's couches, chairs, or dining tables.
KAMAY Furniture is a trendsetter in modern lifestyle ideas, with each item being a meticulously conceived work of art that complements living spaces and transforms them into something magnificent.
Key Differentiators:
Living Trends
Eco-Green
Ergonomic & Iconic
Customer's Review:
Quality product with reasonable price. The best furniture shop in Penang.

Suan Lim
10. LG Living
LG Furniture is a furniture store located at 61 Jalan Anson, George Town. LG (short for "Leong Gay") Furniture has a huge selection of modern furniture for big and tiny homes. LG Furniture has a wide range of contemporary furnishings at reasonable costs, including sofas, dining tables, mattresses, living room.
Key Differentiators:
Offer excellent quality home furnishings
Affordable modern and contemporary furniture
Style from mid-century to industrial to bohemian and more
Customer's Review:
Polite staff and very helpful they do explain to you in very detail and it's a must to visit if you need any furniture price are reasonable

Mark Tan
Furniture Store Penang
Furniture Store Penang offers a wide variety of furniture for big and tiny homes. They have contemporary furnishings at reasonable costs, including sofas, dining tables, mattresses, living room furniture, and more. If you're looking to outfit your home with stylish and functional furniture, Furniture Store Penang is the place to go!
Since you have made it to the end, it would be great if you could check out the awesome articles that we have written for you! Maybe, it will help you add more fun to your daily lifestyle.