Gastroenterology KL Selangor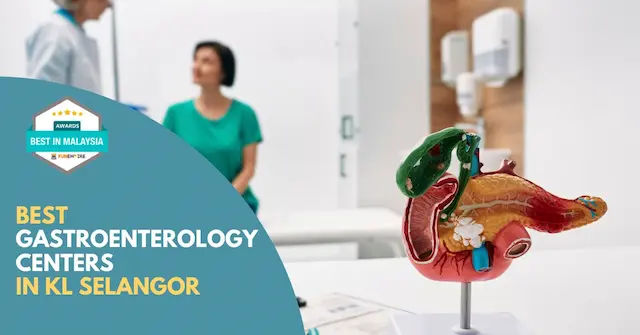 Gastroenterology is the study of the stomach and intestines, as well as diseases that affect these parts of your body. If you are having any problems with your digestion, it is important to see a gastroenterologist. Below, we have compiled a list of the Best Gastroenterology Centers in KL & Selangor!
1. KPJ Ampang Puteri
The KPJ Ampang Puteri Specialist Hospital is a leading multispecialty healthcare institution in Malaysia, founded by KPJ Healthcare Berhad (KPJHB), the healthcare division of Johor Corporation. They specialize in cardiology, dentistry, dermatology, endocrinology, gastroenterology, general surgery, neurology, obstetrics & gynecology, oncology, ophthalmology. The medical staff includes over 800 doctors who are backed by 60 resident medical professionals.
2. ParkCity Medical Centre
The ParkCity Medical Centre offers primary, secondary, and tertiary healthcare services to a wide variety of patients each year. They use cutting-edge clinical techniques and cutting-edge technologies in the treatment of gastrointestinal disorders to provide outstanding care. The underlying reasons for digestive system diseases may be complicated, but they have a highly qualified staff of gastroenterologists. They provide a variety of testing and treatment options.
3. Sunway Medical Centre
Gastroenterostomy is one of the nine total procedures offered by Sunway Medical Centre, which includes six distinct medical specialties. They offer a full range of medical services, including outpatient and inpatient specialty care, health and wellness programs, and 24-hour emergency treatment with cutting-edge technologies.
4. Thomson Hospital Kota Damansara
Thomson Hospital Kota Damansara provides comprehensive health services at the highest international standards through world-class facilities with 205 beds that are fully equipped with cutting-edge technology and exceptional customer service. Their knowledgeable medical specialists and associated healthcare staff are second to none in terms of dedication. In the hands of over 100 trained medical and surgical consultants, modern technologies become life-changing, frequently lifesaving equipment.
5. Ara Damansara Medical Centre
Ara Damansara Medical Center is a renowned tertiary care hospital that offers a wide range of medical services. The hospital, which has a capacity of 220 beds, is located in an affluent area and provides high-quality clinical care from basic to complex treatments. They have well-equipped cutting equipment and contemporary facilities, and it houses skilled medical specialists who can provide customized care and top medical treatment to both domestic and international patients.
6. Subang Jaya Medical Centre
The Subang Jaya Medical Centre is a well-known multi-specialty facility in Malaysia, part of Ramsay Sime Darby Health Care Group. The 393-bed facility is a leader in healthcare service providers with cutting-edge equipment and technology. They have some of the top oncology specialists and highly regarded renal and hematological experts in the region, all of whom are qualified to practice in their specialties.
7. Pantai Hospital Kuala Lumpur
Pantai Hospital Kuala Lumpur is one of the pioneer private hospitals in Klang Valley and a trusted partner in the healthcare journey of its patients for more than 45 years. They pride themselves on being a one-stop integrated healthcare provider, covering a wide range of medical and surgical disciplines which are complemented by cutting-edge medical equipment and specialized services.
8. Gleneagles Hospital Kuala Lumpur
Gleneagles Hospital Kuala Lumpur is a major hospital that guarantees to provide the highest levels of healthcare and administration. They've evolved from being a powerful and well-known healthcare provider to a medical center that can provide comprehensive solutions in every area. Bariatric surgery, cardiology, cosmetology, and dermatology are just a few of the treatments offered.
Gastroenterology KL Selangor
Whether it's an emergency or routine checkup, make sure to give yourself the care found on our list today!
Check out the links below to read other articles on our site:
Frequently Asked Questions (FAQ)
What is a Gastroenterology Center?
A gastroenterology center is a specialized medical facility that focuses on the diagnosis and treatment of disorders of the gastrointestinal tract. This includes the esophagus, stomach, small intestine, large intestine (colon), rectum, and anus.
Why do I need to visit a Gastroenterology Center?
If you are experiencing any symptoms of a gastrointestinal disorder, it is important to seek medical attention. Some common symptoms include abdominal pain, bloating, constipation, diarrhea, and rectal bleeding. Gastroenterologists are specially trained to identify and treat these disorders.
How much does it cost to visit a Gastroenterology Center in Malaysia?
The cost of visiting a gastroenterology center in Malaysia will vary depending on the specific center you visit and the treatment you require. However, most centers offer affordable rates for both outpatient and inpatient treatments.
What services are there at a Gastroenterology Center?
Gastroenterology centers offer a wide range of services, including endoscopy, colonoscopy, gastroscopy, and liver bi procedures These services are used to diagnose and treat gastrointestinal disorders.
What are the opening hours of a Gastroenterology Center?
Gastroenterology centers typically have flexible opening hours to accommodate patients with different schedules. However, it is always best to call ahead to confirm the center's operating hours.