Home Bakery Johor Bahru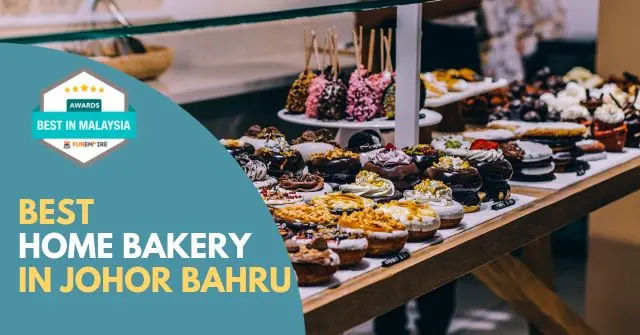 Looking for the best home bakeries in Johor Bahru? Look no further! This blog post lists 10 Best Home Bakeries in Johor Bahru. Whether you're looking for a cake or some freshly baked bread, these bakeries will not disappoint!
1. Bakingnerds
Do you want to bring some joy into someone's life during this time? Baking Nerds delivers its exquisite cakes and other baked products right to your home, so you can tuck in for anything from a special occasion to something simple like Almond Brownies and Blondies.Also, don't forget to try their homemade salted caramel in a jar!
Key Differentiators:
Serves Exquisite cakes and pastries
Sweet craving satisfied
Home delivery
2. JY CAKE HOUSE
Jy Cake House offers a wide range of designs for cakes. They can create Korean-inspired cakes, ginger bread homes, unicorns, and more.
Key Differentiators:
Korean inspired Cake
Customized Goods
Great service
3. The Bread Knife
The Bread Knife is a home baker who specializes in sandwiches. Their trademark halal Wanpaku sandwiches are carefully assembled and simply crammed with fresh ingredients. Don't forget to taste their Tuna on fire or Egg Mayo, a chance you've never had sandwiches like this before!
Key Differentiators:
Must try Their signature halal Wanpaku sandwiches
Daily Delivery
Fresh Good Daily
4. Mr Roti
Mr Roti is a bakery that you'll want to visit frequently. Mr Roti's delicious breads and pastries, as well as his delectable sweet offerings, will have you drooling the moment you walk through the door.
The Custard Buns are a treasure you should seek out, and the desserts from their menu go above and beyond sinful. It is said that customers from different states come to sweep the shelves clean because of this.
Key Differentiators:
'Oven Fresh' Bread Anytime
Fresh pastries, sweet dessert
The Custard Bun, French Toast is a must-try
5. Sutera Rasa Cake House
The Sutra Rasa Cake House is well-known for their innovative cokies and cakes, but now you can try their Cranberry sabel cookies! They also have a lot of other delicious desserts to sample. Get this with their best-seller, Burnt sugar cake, which is wonderful at any time of day or night! The burnt sugar cake for tea is also wonderful at home!
Key Differentiators:
Plentiful of sweet treats
Custom bakery
Handmade
6. Salahuddin Bakery
Salahuddin Baker is a Johor Bahru bakery that continues to cook bread using ancient charcoal grilling techniques. It may be claimed to be one of the city's oldest bakeries.
The fragrance of the bread is wonderful, it's delicate in flavor, and the price is quite reasonable. Their red bean bread and shredded coconut bread are great choices.
Key Differentiators:
Affordable
Serves Traditional breads
Unique wood baking breads shop
7. Missa Bakery
| | |
| --- | --- |
| Key Services | Home Bakery, Bakery, Dessert Shop, Wholesale Bakery |
| Website | https://www.facebook.com/missacafe |
| Address | 28, Jalan Teratai 8, Taman Johor Jaya 81100 Johor Bahru, Johor, Malaysia |
| Phone | 60 18-781 9789 |
| Email | missa.bakery@gmail.com |
| Operating hours | Daily 11:00 AM – 6:00 PM, Thursday Closed |
Missa Bakery offers French Mille Crepe, Classic Tiramisu, Japanese Style Cake Roll, and Puff pastries. Baby Croissant is also available at Missa.
Key Differentiators:
Premium Quality ingredients
French & Japanese inspired goods
Wide range of cakes and desserts
8. Dihana Bakery & Cafe
| | |
| --- | --- |
| Key Services | Home Bakery, Bakery, Dessert Shop |
| Website | https://www.dihana.com.my/ |
| Address | No 9, Jalan Helang 2, Taman Scientex 81700 Pasir Gudang, Johor, Malaysia |
| Phone | +60 18-577 7693 |
| Email | dihanacafe@gmail.com |
| Operating hours | Monday to Saturday 11:00 AM – 7:00 PM |
Dihana Bakery & Cafe is a bakery that specializes in producing and designing cakes for various life milestones and corporate gatherings. Dihana Café, on the other hand, provides a pleasant dining experience for clients by serving Western food and local dishes.
Key Differentiators:
Custom Made Cakes
Variety baked goods
Quality products
9. Tong Ah Bakery
Since the 1950s, Tong Ah Bakery in Singapore has been making high-quality baked products. They began as a modest bakery with offerings such on classic bakes such as white bread, red bean bread, and others!
Tong Ah Bakeries is a well-known mooncake baker. If you're searching for great baked items, Tong Ah Bakery is the place to go.
Key Differentiators:
Traditional Recipe
Fresh Ingredients
No artificial additions
10. Toffee Hearts
| | |
| --- | --- |
| Key Services | Home Bakery, Cake Shop, Dessert Shop, Bakery |
| Website | https://www.facebook.com/ToffeeHearts/ |
| Address | No81, Jalan Rosmerah 2/16, Taman Johor Jaya, 81100 Johor Bahru. Malaysia 81100 Johor Bahru, Johor, Malaysia |
| Phone | +60 16-767 3970 |
| Email | toffee-hearts@hotmail.com |
| Operating hours | Tuesday to Sunday 9:00 AM – 6:00 PM, Closed every Monday |
Toffee Hearts vow to deliver healthy, innovative, and fresh sweets. Only the highest quality ingredients are used. They make their cakes with only the highest-quality ingredients and meticulous attention to detail, and they're just as delicious as they appear. Take a look at their magnificent spread, from tiny cupcakes to enormous weddings and birthdays.
Key Differentiators:
Custom bakery
Handmade with the best ingredients
Freshest and High-quality Ingredients
Home Bakery Johor Bahru
Bakeries are a great place to find delicious, fresh baked goods. If you're looking for a bakery in Johor Bahru, check out these 10 best home bakeries. Each of these bakeries offers something unique and delicious, so there's sure to be something for everyone!
Since you have made it to the end, it would be great if you could check out the awesome articles that we have written for you! Maybe, it will help you add more fun to your daily lifestyle.