Home Bakery KL Selangor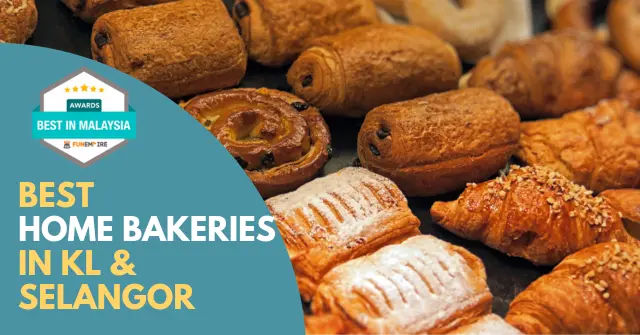 If you're a fan of fresh, delicious baked goods then you'll love this list of the 10 Best Home Bakeries in KL & Selangor. These establishments offer some of the best treats in the region, from cakes and pastries to breads and cookies. So whether you're looking for a birthday cake or just a snack to satisfy your sweet tooth, these bakeries have got you covered.
1. Lilian's Homemade Cake
Lilian's cakes are made with only the highest grade ingredients and no artificial flavors or preservatives.
Lilian and her daughter Jessica run Lilian's Cake Shop, which produces light, fluffy, non-sweet chiffon cakes that are a healthier (and less jelak) alternative to other cakes on the market.
Lilian's cakes have a minimal, understated appearance that is both beautiful and not over-the-top. If you enjoy houjicha, you'll want to try their famous houjicha chiffon cake baked with premium houjicha powder and finished with houjicha-infused whipping cream
Key Differentiators:
Homemade bakery baking cakes
Premium quality ingredients
Must try their minimalistic design cakes
2. Everyday Bakes
If you're searching for a guilt-free cheat day, Everyday Bakes has healthier cakes with low sugar and fat content. Their best bakes include their chiffon cakes, brownies, and fruit tarts, all of which are delicately studded with unprocessed, whole fresh fruit. They're always coming up with new ideas, so don't be hesitant to ask for gluten-free, vegan, or diabetic-friendly alternatives!
Key Differentiators:
Healthy home-baked treats
Diabetic-friendly options
Made vegan
3. The Cheesecake Master
The Cheesecake Master is a mother-son duo's zesty, traditional baked cheesecake that every bite is worth the calories. The crunchiest base is topped with the smoothest cheese flavor, which will make your mouth water for more.
Aside from the original, the pair also sells a Lotus Biscoff cheesecake that is just as nutritious as the conventional.
Key Differentiators:
A mother-son duo
Greatest Cheesecake of All Time
Homemade
4. The Flour Baby
The Flour Baby sells super rich dark chocolate brownies and blondies that have been browned in butter. They also believe that letting the simplicity of using high-quality ingredients speak for itself is the key to successful baking. Brownies and blondies are both available as a single tray, allowing you to taste both varieties at once.
Key Differentiators:
Homemade brownies and blondies
Quality premium ingredients
Freshly Bake Daily
5. Sid's Brownies
Brownies are always the perfect treat if you're having a terrible day. Sid's Brownies provides delectable chocolate brownies topped with your choice of drizzles. You'll be spoiled for choice, too. You're free to decorate the brownies with whatever you like, such as salted caramel, Nutella, salted egg yolk, peanut butter, or any other combination of toppings.
Key Differentiators:
Affordable price fudgy brownies
Made with premium chocolate
Brownies are baked fresh daily
6. 365 Patisserie
365 Patisserie is a home-based bakery that specializes in delectable, freshly baked pastries and cakes that taste as great as they look. Their signature Onde-Onde Cake adorned with thick grated coconut shavings is one of our all-time favorites!
Key Differentiators:
Serves freshly-baked desserts and cakes
Cakes are available in different sizes
Delivered to your doorstep in just a few clicks
7. Brown & Sugar
Brown & Sugar specializes in one-of-a-kind sweet tarts, bespoke cakes, and dessert tables.
From macaroons to cupcakes, baked donuts, tarts, and chocolates, every item on Brown & Sugar is a work of art with beautiful color combinations and luxurious presentations that are ideal for any occasion – birthdays, anniversaries, weddings, Valentine's Day, or just because.
You may even pick your preferred color palette when making a reservation, and your sweets will be made in accordance with your chosen colors, hues, and tones!
Key Differentiators:
Specializes in the making of custom cake
Provides wedding dessert tablespace
Color schemes and formal presentations that are attractive to the eye
8. Bakesandinks
Bakes & Inks offers a delicious selection of artisanal cakes that are ideal for the unexpected. From alphabet cakes adorned with lovely flowers to cupcakes that appear to be too gorgeous to eat.
If you want something a little more unique, consider getting a cupcake bouquet for someone special? Their best-selling signature Isabelle cake is topped with delectable strawberries and fresh cream, making it another popular and highly-raved item! This lovely dessert appears to be just as mouthwatering as it tastes.
Key Differentiators:
KL home-based baker
Made with premium ingredients
Lots of love and passion
9. bitter/sweet
Bitter/sweet's lovely cakes will make anybody feel special, and it's no surprise that they're popular among individuals organizing a wedding, party, or other important events such as baby showers or birthdays.
U-Mae, the creator of bitter/sweet, is a cake decorator with a flair for artistic strokes and complex decorations. She is also capable of producing lovely textures as well as multi-tiered cakes!
Key Differentiators:
Beautiful cakes
Creates one-of-a-kind specialty cakes
Harmoniously blends style and structure to elevate special occasions
10. The Comelbakes
The Comelbakes specializes in exquisite hand-painted Korean-style cakes and has built up a following of devoted cake consumers since their inception.
Cakes are made individually and based on a bespoke design, so there's no such thing as a completely identical one – you may also modify the design of your cake after providing examples of how you'd want it to look.
Key Differentiators:
Elegant hand-painted Korean-style cakes
Unique and handmade
Booking at least 2 weeks in advance as cakes
Home Bakery KL Selangor
Home Bakery KL Selangor offers a wide variety of cakes and desserts that are perfect for any occasion. Whether you're looking for something special for a wedding or party, or you just want some delicious treats to enjoy at home, these bakeries have got you covered.
Since you have made it to the end, it would be great if you could check out the awesome articles that we have written for you! Maybe, it will help you add more fun to your daily lifestyle.