Muslimah Fashion Malaysia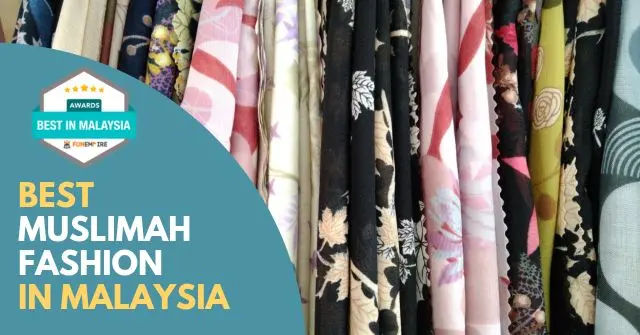 Looking for the best Muslimah fashion in Malaysia? Look no further! In this blog post, we will discuss the 11 Best Muslimah Fashion in Malaysia. Whether you are looking for something casual or formal, we have you covered. So without further ado, let's get started!
1. Naelofar
| | |
| --- | --- |
| Key Services | Muslimah Fashion Malaysia |
| Website | http://www.naelofar.com/ |
| Address | Lot No. UG110, Upper Ground Floor, Setia City Mall, Persiaran Setia Dagang, 40170, Shah Alam, Selangor, Malaysia |
| Phone | 03-3459804 |
| Email | info@nhprima.com.my |
Neelofa, a well-known Malaysian businesswoman and personality, created the modest clothing line Naelofar in 2014. They offer a wide selection of fashionable hijabs, clothes, purses, and accessories at affordable costs with top-notch selections. They have won over admirers of modest fashion all around the world, including those in Singapore, Indonesia, Dubai, Germany, the United Kingdom, and many other countries.
Key Differentiators:
Wide official distribution channels
Various products
Multiple locations
Customer Testimonial:
"Five stars."

Nasi Lemak
2. Cala Qisya
Key Services
Muslimah Fashion Malaysia
Website
https://www.calaqisya.com/
Address
L2-09, Central iCity Mall, Jalan Multimedia, 40000 Shah Alam, Selangor
Email
help@calaqisya.com
Operating Hours
Monday – Thursday 9:00AM-5:00PM
Friday 9:00AM-1:00PM
CalaQisya was founded in 2010, and it has been operating for ten years. Three sisters founded the company, which has grown steadily with constant innovation over the years. Every element that might make a person happy while wearing our outfits is seen in the fabrics they have chosen, and Calaqueens, as we affectionately refer to our customers, are well presented with designs that ensure their optimum comfort.
Key Differentiators:
Modest wear
Great deals
Free shipping on select items
3. Bella Ammara
Bella Ammara stands for Bella – 'beautiful', Ammara – "Lady with a strong iman". They emphasize all Muslims the importance of the prayers lies in the fact that no matter what actions one performs in his life.
Key Differentiators:
Various collections
Reasonable price
Great offers
4. Galeri Ariani
Premium scarf company Ariani is situated in Malaysia. Known for its tasteful head coverings that are fashion-forward while maintaining the image and ethos of Muslim compliance, Ariani has always struck the ideal balance between style and function. The company was founded in April 2008 and gained notoriety with the release of its iconic "Awning tuning" product.
Key Differentiators:
Excellent service
Modest brand
Latest fashion trend
Customer Testimonial:
"Convenient and many choices."

Noorhifah Zaman
5. Poplook
| | |
| --- | --- |
| Key Services | Muslimah Fashion Malaysia |
| Website | https://poplook.com/ |
| Address | No 13, Jalan TU 51A, Taman Tasik Utama 75450 Ayer Keroh, Malacca, Malaysia |
| Phone | +60 6-253 2750 |
| Email | service@poplook.com |
| Operating Hours | Weekdays 10:00 AM – 6:00 PM |
In the region, celebrities, bloggers, and Instagram users all flocked to Poplook products in great numbers. Aishah Sinclair, Lisa Surihani, Siti Saleha, Mira Filzah, Nur Fazura, Liyana Jasmay, Sazzy Falak, Nana Mahazan, Ira Mohd Amin, Misha Omar, Ainan Tasneem, and Shea Rasol have all been spotted wearing their products.
Key Differentiators:
Campaign channels and charities
With over 1,500 design options
Strong brand
Customer Testimonial:
"Friendly staff. Very helpful."

Fara Rara
6. Scarffeya
| | |
| --- | --- |
| Key Services | Muslimah Fashion Malaysia |
| Website | https://scarffeya.com/ |
| Address | C-19-G, Jalan Serai Wangi L/16L, Alam Avenue, Section 16 40000 Shah Alam, Selangor, Malaysia |
| Phone | +60 16-329 8400 |
| Email | scarffeya@gmail.com |
| Operating Hours | Daily 10:00 AM – 7:00 PM |
The online fashion retailer Scarffeya, which is owned by Scarffeya Global Sdn Bhd (1162549- K), sells fashionable and upscale Muslimah attire with a designer appearance. They were started and have been operating since 2014. The business has been expanding ever since. They are Malaysia's leading fashion retailer of "Designer Item" at competitive prices.
Key Differentiators:
High quality products
Exquisite shopping experience
Online store available
Customer Testimonial:
"Elegant, stylish & adorable blouse."

Sofia Iskandar
7. Fesyen Rasa Sayang
A fashion boutique called Fesyen Rasa Sayang was established in 2012 with the goal of offering the greatest Muslimah clothing in Malaysia, both traditional and contemporary.
Key Differentiators:
For Muslimah women ages 30-50
High quality products
Affordable
Customer Testimonial:
"Nice design and good service."

Nana Zaki
8. Caca's
A company called Caca's specializes in Muslimah pants. Their tagline, Seluar Muslimah No.1 Malaysia, expresses not only their intention but also their mission, goal, and work. It's far more than just a catchphrase.
Key Differentiators:
Multiple outlets
High quality items
Assisting thousands of dropships
Customer Testimonial:
"Quality and best material plus good services. Keep it up. Highly recommended."

Joki Perdani Sawai
9. Bokittajb.com
For women who are constantly on the go, Bokittajb.com offers high-quality goods that are easy to care for, incredibly comfortable, and fuss-free. Their bokitta is so excellent that you can wear it while exercising in soft, comfy material.
Key Differentiators:
Great service
Fair price
Exquisite experience
Customer Testimonial:
"Very recommended store in this town. Friendly and very helpful. Keep it up."

Najatul Adawiyah
10. Rina Salleh Clothing
Items from Rina Salleh Clothing are reasonably priced and of a great caliber. They provide free gifts and sell Muslimah trendy accessories.
Key Differentiators:
Various choices
Promotions and packages
Affordable
Customer Testimonial:
"Cheap and beautiful! Skirt RM89 – RM129. Shawl RM25 – RM45. Blouse RM149. Jacket RM169. Must buy quickly before running out of stock. This is the best brand many people like."

Muhammad Ramlan
11. Hers By BintWahab Boutique
An online and physical store called Hers By BintWahab was founded in 2014. Founded by the daughter of Wahab's three aspirant siblings. You receive the best and most satisfying Muslimah fashion from them.
Key Differentiators:
Various choices
High quality collections
Great deals
Customer Testimonial:
"This boutique specialized in satin material."

Idayu Mohd Yusof
Muslimah Fashion Malaysia
Whether you're looking for high-quality, affordable, or trendy items, there's sure to be a company that meets your needs. We've highlighted some of the best and most popular Muslimah fashion companies in Malaysia so that you can start shopping today!
Since you have made it to the end, it would be great if you could check out the awesome articles that we have written for you! Maybe, it will help you add more fun to your daily lifestyle.