Nursing Home KL Selangor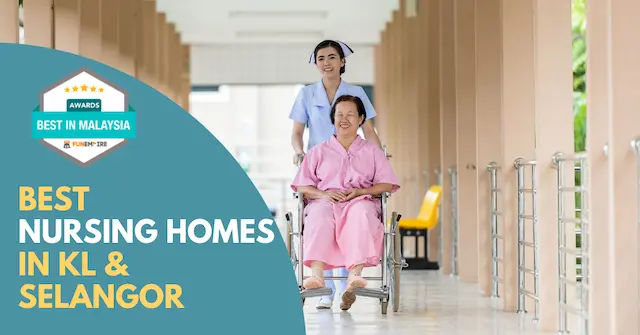 Nursing homes have been a popular choice for many elderly people looking to live in a retirement home, as they offer independence and care. In this blog post, you will find the 8 Best Nursing Homes in KL & Selangor.
1. The Mansion
The Mansion is a retirement community offering permanent and temporary assistance in private and shared rooms. The Mansion emphasizes activities that promote a healthy and active lifestyle.
There are a number of social and recreational activities available every day to keep the residents entertained and active while also improving their minds and bodies.
The Mansion also offers a variety of benefits. Apart from that, the property is fully equipped with contemporary facilities in a secure and pleasant environment. Residents may take advantage of 24-hour care and monitoring, as well as panic buttons available in every unit in the event of an emergency.
2. The Green Leaf
The Green Leaf was founded by a group of retired professionals and executives who shared a passion for living in a leisure resort setting while retaining control over their lives.
The Green Leaf provides a comprehensive range of services to retirees who want to enjoy life while having the peace of mind that their security and well-being are being appropriately looked after, no matter how far into retirement they are. Of equal importance is providing a place where family and friends can come, stay and feel completely catered for no matter what their age.
The Green Leaf is a fully disabled-friendly, emergency-ready facility that includes a variety of helpful components, including a 24-hour medical center with its own in-house ambulance and telemedicine service. Another feature of their village is the Social Recreation Center, which offers a variety of activities for children and adults. The center also features a banquet hall, retail mall, and other businesses, restaurants, cafes, and eateries.
3. Sri Seronok Retirement Village
Sri Seronok Retirement Village is a retirement home for the elderly that caters to single people and married couples. It provides a secure, pleasant environment in which they may live in comfortable self-contained flats with landscaped gardens.
To be classified as a resident of Sri Seronok, you must be at least 55 years old and able to care for yourself. Elderly people are encouraged to become self-reliant in order to foster and maintain a feeling of pride.
Sri Seronok is known for its welcoming and safe atmosphere, with spacious open spaces where the residents may relax and enjoy themselves in the large compounds. Furthermore, with its distinctive architectural design and 24-hour security, the complex guarantees protection and safety.
4. Noble Care Malaysia
Noble Care Malaysia is a welfare and compassion services program dedicated to assisting deserving individuals in our society. Their primary goal is to provide specialized care and expert services for elderly persons with severe and multiple impairments who require it.
Noble Care currently has six model facilities and is aiming to open a hundred more across the country. Their facilities give comprehensive care and high-quality services to aging and ill individuals in the community.
Noble Care enables people to live independently, with assistance, and completely at home. Noble Care provides independent living, assisted living, and total nursing care to its residents. Elderly persons who are suffering from severe illnesses such as stroke, coma, on tube feeding, catheters, tracheostomy tubes with colostomy bags, Gastrostomy.
5. Pearl Care
The Elderly Home offers residents a sense of safety and comfort while also providing for their safety. Every resident can receive personalized, attentive care that will assist them in recovering more quickly.
With a staff of healthcare professionals including physicians and licensed nurses to nursing assistants and administrative workers, Pearl Care is dedicated to offering genuine high-quality nursing and palliative care for the elderly.
The residents at Pearl Care receive a variety of services and amenities suited to those with serious illnesses such as stroke, coma, on tube feeding, catheters, tracheostomy tubes, Gastrostomies with colostomy bags, and people with terminal diseases like cancer. They provide individualized and expert care to ensure that every resident feels secure
6. Seavoy Nursing Home
Seavoy Nursing Home provides nursing home services to individuals around Malaysia as well as people all over the world. Seavoy Nursing Home is registered with both the Ministry of Health and the Ministry of Welfare, offering a creative approach to care delivery while still maintaining low prices.
Seavoy Nursing Home understands that retirement for the elderly and their anxious family members can be redefined when they redefine it.
7. Lecadia Primacare Center
Lecadia PrimaCare Centre is a long-term care facility that offers nursing services to the elderly, seniors, geriatrics, and in particular persons with chronic illnesses or impairments.
Their Nursing Home specializes in nursing care provided by qualified Staff Nurses (SRNs) and complemented by well-trained assistants They offer a wide choice of spacious rooms within a homely and friendly setting.
All of the rooms have attached bathrooms, and they are all geared towards the needs of the elderly, including disabled-friendly bathroom designs, adjustable beds, and nurse call buttons in every bed and bathroom.
It also features a variety of services and amenities to ensure that residents are comfortable. There are several multipurpose spaces where people can socialize and participate in group activities.
Lecadia Primacare Center encourages its residents to remain active by providing daily activities and programs such as physical fitness, creativity, social activities, and learning.
8. My Aged Care
My Aged Care provides a variety of care options for older adults, ranging from assisted living to medical-nursing care. The facilities are located within lush and tranquil parks that radiate peace and serenity. Licensed homely settings that offer a wide range of services, including retirement, assisted living, and medical
My Aged Care is the ideal place to call home, with a warm and tranquil atmosphere that emanates from its lush green setting.
My Aged Care is enveloped in an inviting, warm atmosphere thanks to its spacious yet cozy private rooms and private baths. Residents are invited to interact and socialize with one another in open, airy lounge areas, while comfortable sitting corners allow them to unwind or spend time in quiet reflection.
Nursing Home KL Selangor
Nursing Homes KL Selangor provides a variety of services and amenities suited to those with serious illnesses such as stroke, coma, on tube feeding, catheters, tracheostomy tubes, Gastrostomies with colostomy bags. They also offer individualized expert care to ensure that every resident feels secure in their surroundings.
Check out the links below to read other articles on our site:
What is a nursing home?
A nursing home is a residence for people who require constant nursing care and have significant difficulties with activities of daily living. Nursing homes provide a higher level of nursing care than other types of senior housing, and they are usually geared toward people who require long-term care, including those with Alzheimer's disease or other forms of dementia.
How much does it cost to go to a nursing home in Malaysia?
The cost of nursing care in Malaysia varies depending on the type of facility and the level of care required. Generally, nursing homes in Malaysia charge between RM2000 and RM8000 per month.
What services does a nursing home provide?
Nursing homes provide a variety of services, including nursing care, personal care, meals, recreation, and social activities. They also typically provide transportation to doctor's appointments and other outings.
What are the benefits of going to a nursing home?
The main benefit of nursing home care is that it allows people to receive the nursing care they need without having to be hospitalized. Nursing homes also provide a more home-like environment than hospitals, and they allow people to interact with other residents on a daily basis.
What are the drawbacks of going to a nursing home?
The main drawback of nursing home care is that it can be expensive. Nursing homes also require a significant commitment from family members, as they will need to be involved in the care of their loved one.
How do I choose a nursing home?
When choosing a nursing home, it is important to consider the cost, the level of care required, and the location. Families should also tour several nursing homes before making a decision.