Online Bookstores Malaysia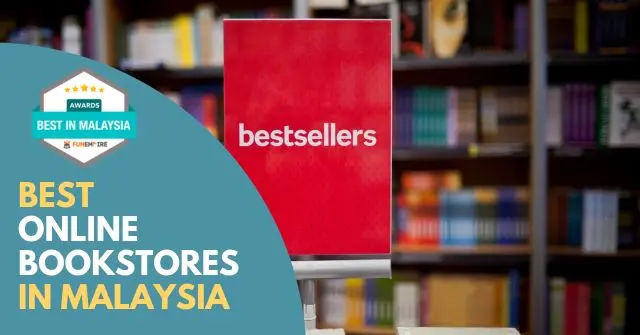 If you're a bookworm, then you'll know that there's nothing better than curling up with a good book. And what's even better is being able to buy books online! There are now many great online bookstores in Malaysia, and we've compiled a list of the 10 Best Online Bookstores in Malaysia. So whether you're looking for new releases or old favorites, these bookstores have got you covered. Happy reading!
1. Lit Books
| | |
| --- | --- |
| Key Services | Online Bookstores Malaysia |
| Website | https://www.facebook.com/mylitbooks/ |
| Address | P-01-11 Level 1, Tropicana Avenue, 12 Jalan Persiaran Tropicana 47410 Petaling Jaya, Selangor, Malaysia |
| Phone | +60 3-7886 6988 |
| Email | info@litbooks.com.my |
| Operating Hours | Tuesday-Saturday 1:00 PM – 7:00 PM |
"Lit" is short for literature or literary, but it also has other meanings. More specifically, the word refers to illumination or enlightenment, much to how reading good novels illuminates the world around us. Their firefly symbol, the Lit Bug, personifies this philosophy because excellent literature enlightens our minds and souls and sparks our imaginations.
Key Differentiators:
Great offers
Various choices
High quality items
Customer Testimonial:
"They have got good selection of books. The owners are warm, friendly and recommend great books. Lit Books is officially my new HOME!"

Vidhya GR
2. Pelangi Books
Full-service provider of international education services, Pelangi Books upholds its slogan to the letter. It was founded in 1979 and is a local educational publishing and printing business.
Key Differentiators:
Quality educational products
Local authors to produce locally and internationally publications
Excellent business conduct
Customer Testimonial:
"Good place. Not crowded. Lot types of books."

Muhammad Lokman Hakim Basharuddinss
3. Books N Bobs
Books N Bobs offers carefully chosen used books, as well as bookmarks, bookstands, bookends, holders, and other book-related items. Their books exhibit the usual wear and tear and marks of usage that are present in all used books. Each book has been thoroughly assessed based on condition, and the results are noted on the book page.
Key Differentiators:
Great deals
Promotions and packages
Fair price
Customer Testimonial:
"Overall a decent service and truly timely."

Mayra Siddiq
4. OpenTrolley
Online bookseller OpenTrolley is situated in Singapore, Indonesia, and Malaysia. Within a week, over 10 million books will arrive at your door using a local courier number.
Key Differentiators:
Various offers
Great deals
High quality products
Customer Testimonial:
"There is huge collection of books which you can find here. I received my books in a very good condition. Their packaging was good."

Manimoly Ramasamy
5. Areca Books
Books covering Southeast Asia's social history, visual arts, environment, and architecture are published and sold by Areca Books.
Key Differentiators:
Great deals
Promotions and packages
Excellent service
Customer Testimonial:
"Great collection of local history books."

Yusaimi Grass
6. Karangkraf Mall
A bookshop called Karangkraf Mall sells books, periodicals, and subscriptions for all of the Karangkraf Media Group's publications, including Alaf21, Buku Prima, and Karya Bestari, both physically and virtually.
Key Differentiators:
Various collections
Great offers
Excellent products
Customer Testimonial:
"Very helpful staff."

Wan Hailah Wan Yahya
7. MPH CLICK
MPH Bookstores started off modest, selling generic titles, but has since developed and expanded to become one of Malaysia's major chains of bookstores. Currently, MPH Group is the parent business of MPH Group Publishing (Malaysia), MPH Distributors (Malaysia & Singapore), MPH Bookstores (Malaysia and Singapore), and MPH Library Services (Singapore).
Key Differentiators:
Various offers
High quality items
Pioneer
Customer Testimonial:
"Fast delivery and my books were received in good condition. Thank you MPH."

Justina Ee
8. BookXcess
Since they first opened their doors in 2007, BookXcess has revitalized and revolutionized bookselling in Malaysia and beyond by providing an unmatched selection of reasonably priced books, including bestselling self-help books, children's pop-up books, and classic novels.
Key Differentiators:
Fair price
Various choices
Excellent service
Customer Testimonial:
"Best design and good place to take photos. Books are good and valueable. Hope can sell some Chinese Books."

Zhi Hao Tan
9. Bookurve
Key Services
Online Bookstores Malaysia
Website
https://www.facebook.com/Bookurve/
Address
B2-01(Ground Floor : Facing LRT), e-tiara service Apartment, Persiaran Kemajuan Subang 47500 Subang Jaya, Selangor,
Email
contact@bookurve.com
Operating Hours
Monday 9:00 AM – 5:00 PM
Tuesday-Friday 9:00 AM – 6:00 PM
A platform called Bookurve lets you find books that local readers have recommended. Since their launch in 2012, Bookurve has been on an incredible journey.
Key Differentiators:
Exquisite service
Great offers
Various choices
Customer Testimonial:
"Very convenient here. Plenty of choices. Look forward to going again."

Rosihan Amri
10. Bookalicious
In Subang Jaya, Malaysia, there is an independent bookstore called Bookalicious. They offer fantastic books at unbeatable pricing.
Key Differentiators:
Fair price
Great deals
Various choices
Customer Testimonial:
"Thank you, Leon for your wonderful personalized service to send me my books so efficiently! Appreciate your assistance!"

Pamela Lok
Online Bookstores Malaysia
Online bookstores have revolutionized the way books are bought and sold in Malaysia. They offer a great selection of books at reasonable prices, and many of them also provide excellent customer service. If you're looking for a good deal on your next read, be sure to check out one of these online bookstores!
Since you have made it to the end, it would be great if you could check out the awesome articles that we have written for you! Maybe, it will help you add more fun to your daily lifestyle.