Pet Boarding KL Selangor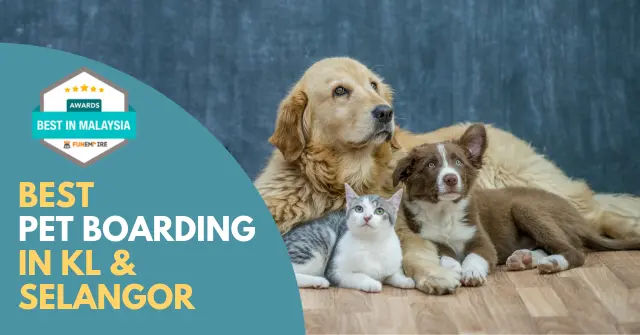 Looking for a reliable and affordable pet boarding KL Selangor? Look no further! We've got you covered with our list of the 10 Best Pet Boarding KL & Selangor centres. From luxurious resorts to budget-friendly options, we have something for everyone. So what are you waiting for? Check out our list and find the perfect boarding service for your furry friend today!
Key Consideration Factors
Facility and Amenities: Look for pet boarding facilities in KL & Selangor that provide a clean, safe, and comfortable environment for your pets. Consider the size and cleanliness of the boarding areas, availability of individual or communal spaces, and access to outdoor areas for exercise.
Staff Expertise and Care: Evaluate the qualifications and experience of the staff members at the pet boarding facility. Trained and knowledgeable staff can provide proper care, including feeding, exercise, grooming, and administering medications if required. Ask about staff-to-pet ratios to ensure adequate attention and supervision.
Pet Health and Safety: Ensure that the pet boarding facility prioritizes the health and safety of the pets. Ask about vaccination requirements, pest control measures, and emergency protocols. A reputable facility should have protocols in place to address any potential health issues or emergencies that may arise.
Pet Accommodation: Consider the accommodation options available for your pet. Some facilities offer various types of kennels, suites, or rooms to cater to different pet sizes and preferences. Check if the facility provides comfortable bedding, temperature control, and a secure environment to keep your pet safe and at ease.
Socialization and Playtime: Inquire about the socialization and playtime opportunities provided by the pet boarding facility. Pets benefit from interaction with other animals and engaging activities. Look for facilities that offer supervised group play sessions or one-on-one playtime with staff members.
Pet Monitoring and Security: Ask about the level of monitoring and security measures in place. Reliable pet boarding facilities should have surveillance systems, secure fencing, and protocols to prevent escapes or unauthorized access. Knowing that your pet is in a secure environment gives you peace of mind.
Best Pet Boarding KL Selangor
1. Bowhouse Pet Salon
| | |
| --- | --- |
| Key Services | Pet Boarding, Pet Groomer, Pet Sitter |
| Website | Facebook |
| Address | Jalan Masjid Dataran Pelangi Utama, Bandar Utama |
| Operating hours | Daily 10:00 AM – 6:00 PM, Thursday Closed |
Bowhouse Pet Salon is located on a spacious interior space, where all sorts of dogs may run free and socialize with others. Of course, under the watchful eye of Bowhouse's committed employees.
Bowhouse is also concerned with hygienic conditions, because they clean and sanitize the space on a regular basis. Daycare and dog grooming are two of the services offered here.
Key Differentiators:
Open Concept dog hotel
Spacious indoor environment
Suitable for dogs of all sizes
Customer's Review:
Great pet boarding with spacious cage free area, clean and caring nanny. Brought Molly to try boarding this place and she loved her staycation. This will be Molly's go to staycation spot

Sheila Rajeev
2. Pet Playground
| | |
| --- | --- |
| Key Services | Pet Boarding, Pet Service, Cats, Dogs, Rabbits, Guinea Pigs, Sugar Gliders, and Tame Birds Boarding Centre |
| Website | Facebook |
| Address | Jalan 21/34 47301 Petaling Jaya, Selangor, Malaysia |
| Email | petplayground@gmail.com |
| Operating hours | Daily 11:00 AM – 8:30 PM, Monday Closed |
Whatever your pet's needs may be, whether it's a dog, cat, or another animal that must be cared for while you are gone, Pet Playground can help. They provide individual suites for each animal regardless of how long they will stay.
The staff is well-trained and has prior expertise managing animals. They also provide expert grooming services in addition to daycare.
Key Differentiators:
Provide the best cageless pet hotel
Individual room
Personal attendant
Customer's Review:
Service here is unbeatable… such a lovely and loving couple who loves animals. Products are very reasonably priced. They do great grooming services.

ShinYee Wong
3. Boarding Buddy
Key Services
Pet Boarding, Pet Service, Travel & Transportation
Website
Facebook
Address
SS17 Subang Jaya, Selangor
Phone
+60 16-220 9167
Email
boardingbuddy@gmail.com
Operating hours
Daily 9:00 Am – 8:00 Pm
Thursday Closed
Sunday Closed
Are you unable to look after your dog while you are away on vacation? Boarding Buddy can help you with that within a secure, clean setting under constant supervision and attention.
They provide several services to make your pup feel at home, including feeding, playing with the pets, and lots of hugging. Boarding Buddy also offers basic and complete grooming services.
Key Differentiators:
Home Boarding for Dogs & Pet Relocation
Pet Sitting
Dog Walk and Day care
Customer's Review:
5 stars

Sor Leng Ooi
4. L Residence
The L Residence bungalow-style pet hotel even more pleasant for the animals. Each pet has its own private room, and the expert staff will give excellent care.
During their stay, your dog will participate in a variety of activities including play and social time, nap time with relaxing music therapy, and feeding session. Other than daycare, they also provide services such as pet relocation and professional dog training.
Key Differentiators:
24-hour on site care
Professional full-time caretaker
Experienced and expert in senior pet and special needs care
Customer's Review:
L Residence was fantastic. I thought it was a regular boarding facility, but my dog had his own room with a bed to boot (wasted on him cuz he's a sleep-on-the-floor kind guy). A little pricey, but they took me in on an emergency, so no complaints.

Arvin Reuben
5. Cocomomo Urban Pets Hotel
| | |
| --- | --- |
| Key Services | Pet Boarding |
| Website | cocomomo.my/ |
| Address | Cocomomo Old Klang Road No. 139, Indah UPC Business Centre, 3 ½ Mile, Jalan Kelang Lama, 58100 KL |
| Phone | 03-7972 0855 |
| Email | info@cocomomo.my |
| Operating hours | Daily 10:00 AM – 6:00 PM, Closed Tuesday |
Cocomomo Urban Pets Hotel is a contemporary five-story pet hotel that caters to both cats and dogs. They have several room alternatives, such as the Deluxe Room and Royal Suite, each of which has soundproofed walls and air-conditioned apartments to keep your pets cool.
Activities include dog day care, boarding, and training. Other services include pet grooming & spa and a 1,200-square-foot indoor park with walking paths and a training area.
Key Differentiators:
Urban Hotel for Cats & Dogs
Modern, stylish and safe pet boarding rooms
Trendy pet grooming and relaxing spa services
Customer's Review:
Excellent facilities for both dogs and cats. Staff are super attentive and responsive. I really appreciated the option of CCTV access during boarding. Highly recommended for both grooming and boarding. They are also well stocked with food, treats, and toys/accessories.

Jo-Lynn Liao
6. Wagcations
Since she began in 2009, Mel has been caring for dogs. She truly enjoys it. To put it another way, you may rest confident that your dog will be well cared for while you are away.
She offers boarding and daycare at Wagcations, but she also offers a variety of other services, such as playtime, basic dog training, and pup transportation. Simply send her a PM if you have any questions.
Key Differentiators:
Fondly known as Casa Mel to longtime guests
Fun cage-free boarding
Rates are on a case-by-case basis
Customer's Review:
Wagcation is like a combination of an elite school and Disneyland for doggie. Best place ever for doggies as Nanny Mel will showering the doggies with love!

Zoe Mah
7. FURIIStyle
| | |
| --- | --- |
| Key Services | Pet Boarding, Cats and Dog Boarding |
| Website | Facebook |
| Address | No.126-3-8 Metro 126 Genting Klang ,Jalan Genting Klang,53300 Setapak Kuala Lumpur 53300 Kuala Lumpur, Malaysia |
| Phone | +60 17-818 1443 |
FURIIStyle offers daycare services for cats and dogs. When you're not in charge of your pet's care, FURIIStyle gives great attention to your furbabies. For added assurance, FURIIStyle has a designated area where your animals may enjoy a comfortable staycation while you are away from home.
Other services offered include pet grooming, non-aesthetic dental scaling & polishing, and micro nano-bubble milk spa treatment.
Key Differentiators:
Professional Caretaker
Standards in health
Pets Spa
Customer's Review:
I've been sending my girl to FURIIStyle Setapak for almost a year now. The groomers are lovely and super friendly. The place is very clean. As for prices, for me personally, is still acceptable they take good care of my girl and listens to what I ask for. I'm always satisfied with their services definitely recommend coming here!

Charlene Han Lii Eng
8. PamperPup Pet Home-Boarding & Day Care
PamperPup is a large 15,000 sq.ft. facility that includes both indoor and outdoor areas, where you may leave your cats and dogs in their care for a brief holiday excursion. The pets are free to go about as they please, but they are kept secure in this cageless but safe environment.
The employees pay attention to ensure that each pet is well cared for while attending to their demands. PamperPup also has its own private park for the dogs to run about in, as well as basic grooming services.
Alternatively, they also provide house visits as a substitute for traditional pet boarding/daycare centers.
Key Differentiators:
15,000 Sq. ft Pet Area (Indoor and Outdoor)
Veterinary Clinics and Animal Hospitals Very Near
Offer an Introductory Trial-Stay Plan
Customer's Review:
I love leaving Bella our boxer here for play dates on Wednesdays and anytime we go away. She jumps out of the car when we arrive cause she is so excited and comes home exhausted and happy. I also love the videos they send while away

Emma jason Currie
9. Zul & Azizi Boarding Pets
| | |
| --- | --- |
| Key Services | Pet Boarding, Cats Hotel |
| Website | Facebook |
| Address | K-02-08, Jalan PPK2, Kinrara Seksyen 3 47100 Puchong, Selangor, Malaysia |
| Phone | +60 14-720 6120 |
| Email | boardingpethome@gmail.com |
Zul & Azizi Boarding Pets is a pet boarding company that specializes in cat care. Their services range from pet boarding to daycare and grooming, all of which are reasonably priced to fit every budget.
Zul & Azizi Boarding Pets has received a lot of praise from many cat owners for its comfort, tidiness, and attentive care.
Key Differentiators:
Experience Caretaker
Reasonable Rate
Clean and Safe environment
Customer's Review:
The owner and staffs are efficient and easy to contact. Comfortable place to leave your beloved pets during your holiday.

Jaxx the Tiel
10. Kitty Hotel Cat Boarding and Grooming
| | |
| --- | --- |
| Key Services | Pet Boarding, Cat Boarding and Cat Grooming Services |
| Website | www.petskitty.com/cat-grooming/ |
| Address | No.88, Ground Floor, Galaxy Ampang Mall, Jalan Dagang 5, Taman Dagang, 68000 Ampang, Selangor |
| Phone | 0173990549 |
Kitty Hotel is a cat boarding and grooming company that cares for your cat throughout the day. They have a variety of cat boarding options available. Professional and well-trained pet groomers with extensive experience offer your cats sanitary care.
Key Differentiators:
Cat Grooming Salon available
Fun Atmosphere
Clean and Hygienic Environment
Customer's Review:
Affordable price and friendly service. I sent my cat for grooming and paw trimming, I'm really satisfied with overall service. Highly recommended and I will definitely visit Kitty Hotel again

Mzi Cosmetic HQ
Pet Boarding KL Selangor
No matter what type of pet boarding service you're looking for, chances are you'll find it in KL or Selangor. These ten centres offer a variety of services and cater to different needs, so you're sure to find one that's just right for your furry friend.
Since you have made it to the end, it would be great if you could check out the awesome articles that we have written for you! Maybe, it will help you add more fun to your daily lifestyle.
Frequently Asked Questions
If you have any questions about Pet Boarding in KL & Selangor, you can refer to the frequently asked questions (FAQ) about the best Pet Boarding KL & Selangor below:
What is pet boarding?
Pet boarding is a service that provides temporary accommodation for pets when their owners are away. It offers a safe and secure environment where pets can receive proper care, attention, and accommodation while their owners are unable to take care of them.
Why should I consider pet boarding in KL and Selangor?
Pet boarding in KL and Selangor is an ideal option for pet owners who need to travel or are unable to care for their pets temporarily. By choosing a reputable pet boarding facility, you can ensure that your pets receive adequate care, attention, exercise, and socialization while you're away, giving you peace of mind.
How long can my pet stay at a boarding facility? 
The duration of your pet's stay at a boarding facility can vary depending on your specific needs and the facility's policies. Some facilities offer overnight stays, while others accommodate longer periods, such as weeks or months. Discuss your requirements with the boarding facility to determine the best arrangement for your pet.
Can I visit my pet while they are at the boarding facility?
Many pet boarding facilities allow pet owners to visit their pets during their stay. However, it's recommended to check the facility's visiting hours and policies in advance. Visiting your pet can help reassure both you and your pet and provide an opportunity to observe their well-being in the facility.