Poke Bowl Malaysia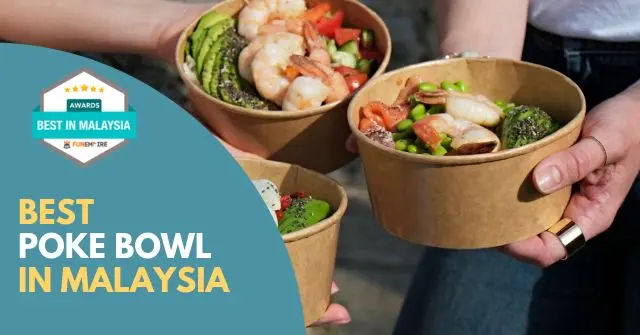 If you are looking for the best poke bowls in Malaysia, look no further! We have compiled a list of the 10 Best Poke Bowls in Malaysia. From traditional Hawaiian poke bowls to more creative and innovative versions, there is something for everyone on this list. So what are you waiting for? Start planning your next food adventure now!
1. paperfish
Hawaiian poke is served at Paperfish and is always fresh. In Hawaiian, poke (pronounced poh-kay) means "to cut" or "to slice." To harmoniously fit into a bowl, fresh pieces of sashimi are chopped and marinated with a variety of flavors before being matched with the most recent local veggies. They offer fresh, clean, and basic ingredients that go into a delicious dish known as poke. You get the best and most delectable creations from them.
Key Differentiators:
Authentic dish
Great deals
Various offers
Customer Testimonial:
"Fresh, healthy and yummy! Price more to the higher side, but they serve quality food. Staff also considered friendly. Will definitely visit again!"

JJ
2. The Fish Bowl
One of Malaysia's top premium poke restaurants, The Fish Bowl is known for serving only the freshest poke bowls. The Fish Bowl currently has 15 locations, all of which are in Klang Valley's premier neighborhoods, and we're still expanding. They provide everyone with affordable access to wholesome, delicious meals. You may create your own unique, nutritious masterpiece poke bowl by customizing it.
Key Differentiators:
Multiple locations
Customizable dish
Great deals
Customer Testimonial:
"Great healthy meal, but not cheap. Fresh ingredients and portion size is okay."

Phoon Kong Poh
3. Fin
Fin is a perfect location to get together for a quick lunch or a cup of coffee in a friendly setting. They offer great nice service and have many repeat customers. The coffee is the best in town, and they also have excellent salads (which can be be customized) and poke bowls. You may order delivery from them directly much more quickly and affordably than through Grab.
Key Differentiators:
Great deals
Creative dishes
Cozy atmosphere
Customer Testimonial:
"Food and ambience are amazing! Great poke bowl options for office function too!"

Mian Lee Tan Dadhyanna
4. Eatomo Food Co
In their amazing poke bowls, Eatomo Food Co., a California-inspired restaurant, only uses the freshest fish. High-quality ingredients such Japanese cucumber, carrot, housepoke sauce, masago, and more are used in each of their poke bowls.
Key Differentiators:
Japanese and California cuisine
High quality Halal ingredients
Promotions and packages
Customer Testimonial:
"It's a decent joint for semi-casual Japanese styled bite. super fresh seafood and the owner really knows his seafood!!! chat him up and ask for recommendations…you won't be disappointed!"

Danny Leo
5. Poké Village
A small eatery called Poké Village offers delicious, nutritious Poké Bowls. Create your own bowl by selecting the protein, base, sauce, sides, and toppings. A colorful bowl of the rainbow to brighten up your supper. They also have very courteous staff who serve meals.
Key Differentiators:
Fresh and healthy dishes
Customizable bowl
Affordable
Customer Testimonial:
"Taste is really good and fresh. I'm addicted to this Poke Bowl."

Wendy Clark
6. The Fat Fish
The Fast Fish offers fresh fish of the highest caliber at competitive prices. The owner of Fat Fish made the decision to open after more than ten years of experience in the sale of Japanese fish goods. Although Fat Fish provides excellent fish, their poke bowls go above and above by offering an authentic Japanese style.
Key Differentiators:
Creative cuisine
Specializing in sashimi, oysters, fresh seafood
Make reservations in advance
Customer Testimonial:
"The Fat Fish restaurant was truly amazing. The food here was incredible and my family and I loved it. In my opinion, the seafood was really nice. Overall the service was excellent and one of the servers, staff, was very friendly and helping."

Au Jingfei
7. La Juiceria Superfoods Signature
| | |
| --- | --- |
| Key Services | Poke Bowl Malaysia |
| Website | https://order.lajuiceriasuperfoods.com/en_MY/ |
| Address | Unit C10, Concourse Floor, Atria Shopping Gallery, Jalan SS22/23, Damansara Jaya 47400 Petaling Jaya, Selangor, Malaysia |
| Phone | +60 7-496 7895 |
The La Juiceria Superfoods Group has built La Juiceria Superfoods Signature Atria Mall Healthy Salad and Bowls Cafe, a healthy cafe with a Melbourne-style design. Fresh salads, quinoa fried rice, rice bowls, sandwiches, cold-pressed juices, organic coffee, smoothie bowls, soba noodles, spaghetti, free range eggs, and other dishes are available at this cafe.
Key Differentiators:
Quality handmade food and beverages
Promotion and great deals
For family and bigger gathering
Customer Testimonial:
"All taste is good! Truffle cauliflower salty a bit but I like it. The Caesar Chicken too dry. The omelette and rice are really delicious. Tea is good! Will come back again and recommend. Staff are friendly and nice."

Alicia 610
8. Kubis and Kale
Kubis & Kale provides nutritious meals from scratch using only the best, all-natural products. These meals are made available to everyone. To make poke a well-balanced dinner, they have chosen to add extra ingredients. The bases, proteins, toppings, sides, and sauces offered for their poke bowls are among the customizable options.
Key Differentiators:
Creative cuisine
High quality ingredients
Collaborated with certified dietician
Customer Testimonial:
"Poke bowl and their special cooked food taste good especially the butter fish and grill beef."

Boon Kok Lee
9. LUSHBOWL
Lushbowl exudes a delicate aesthetic and authentic cuisine. Their proprietor takes their ingredients seriously, and each day they are meticulously hand-selected from the market. They marinate their Norwegian salmon in truffle-infused soy sauce four times per week, which is known for its superior quality and freshness. In contrast, you must get their salmon sashimi bowl.
Key Differentiators:
Reasonable Price
High quality dishes and ingredients
Various offers
Customer Testimonial:
"Awesome healthy meals. friendly staff."

James Solomon
10. Mich'sology
Enjoy a filling bowl of raw fish salad at any meal of the day at Mich'sology, a café that promotes the idea that "healthy meals equal to happy living." Try their signature dish, the Mich'omics Fuel Bowl, which combines salmon sashimi slices, crab sticks, tomatoes, sweet corns, and other ingredients for a satisfying flavor and texture.
Key Differentiators:
Nutritious food available
Cozy atmosphere
Great offers
Customer Testimonial:
"Nice place, good food with reasonable price!"

Sherlly Tan
Poke Bowl Malaysia
With a variety of options for bases, proteins, toppings, sides, and sauces, there is something for everyone in our list. The staff are friendly and helpful, and the atmosphere is cozy and inviting. Plus, with great offers available, it's easy to enjoy a delicious poke bowl without breaking the bank. Visit one today!
Since you have made it to the end, it would be great if you could check out the awesome articles that we have written for you! Maybe, it will help you add more fun to your daily lifestyle.