Spa Penang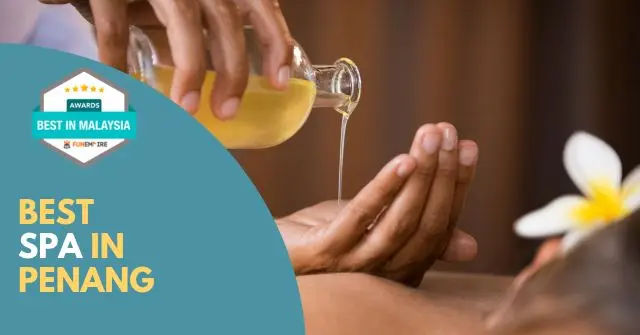 Planning a vacation in Penang? If so, you're in for a treat! This beautiful Malaysian island is home to some of the best spas in the world. From traditional Thai massages to modern day facials, there's something for everyone. In this blog post, we will take a look at the 14 Best Spas in Penang. So what are you waiting for? Start planning your trip today!
1. Imperial Thai Massage
At Imperial Thai, you can choose from a number of body and wellness treatments while enjoying a traditional Thai massage in a serene, clean setting. With the best materials and highly skilled, qualified therapists, they provide unique body and mind rejuvenating experiences.
Key Differentiators:
Highly expert, professional therapists
Traditional Thai massage,
Great experience
Customer's Review:
"Genuine legit massage place. Staff are friendly and gentle. Clean and hygenic too with the pandemic. Kind pricy but its good."

Augustine Tan
2. Reflexology Siam Paradise
| | |
| --- | --- |
| Key Services | Spa Penang |
| Website | https://web.facebook.com/siamparadisemy |
| Address | 71, Jalan Argyll, George Town, 10050 George Town, Penang Island |
| Phone | +60165234294 |
| Operating hours | Daily 12:00 PM – 12:00 AM |
At a reasonable cost, Reflexology Siam Paradise provides top-notch services and treatments. Additionally, customers have praised the fact that their therapists are kind and committed to making sure that the clients have a wonderful experience.
Key Differentiators:
Exquisite experience
Reasonable price
High quality service
Customer's Review:
"Good skill with friendly service."

Andrew Cheong
3. Thai Odyssey Penang
| | |
| --- | --- |
| Key Services | Spa Penang |
| Website | http://thaiodyssey.com/outlets/penang |
| Address | Lot 163D-3-36, Level 3, Gurney Paragon Mall, Persiaran Gurney, 10250 Penang |
| Phone | +6042263996 |
| Operating hours | Daily 10:00AM-10:00PM |
Enter this serene haven, influenced by the rich cultural history of Thailand, and let yourself be enchanted by the quiet of Thai Odyssey Penang and the warmth of Thai hospitality. Rejuvenate with their genuine Thai massage, which promotes relaxation and wellbeing by using an age-old, all-natural healing technique that has been practiced for centuries.
Key Differentiators:
Service Traditional massages
Great experience
High quality service
Customer's Review:
"They have some Good masseuse very experience, they even know the lymphatic point I can feel."

Penny Pei Ni
4. Float for Health
Float for Health, the first and only therapeutic float center in Malaysia, offers customers a chance to relax and de-stress by floating in a tank of water that is 34 degrees Celsius. Their most popular service includes 500 kg of Epsom salt, which not only relaxes the body but also has health benefits.
Key Differentiators:
Advance booking needed
Reasonable price
Customer's Review:
"Had a good experience, would highly recommend this to everyone, such a lovely and helpful lady Virginia."

Basith G Bozlu
5. Tower Spa
Tower Spa offers numerous luxurious services at an affordable price, including massages and facial masks. With a breathtaking view of Penang, it's the perfect place to relax and unwind.
Key Differentiators:
Wellness programs, body part solutions
Full packages available
Quality service
Customer's Review:
"Best place for massage and release stress! Loving it! The ambiance and service also super good. Provide a lovely tea and desert too. Feel pampered! Highly recommended!"

Joelyn Khoo
6. De Villa Spa
De Villa Spa offers a plethora of services such as foot reflexology, lymphatic brush massages, traditional GuaSha massages, Thai herbal compress massages, perfect body slimming, womb care treatments, and body scrubs.
Key Differentiators:
Traditional Javanese massage available
Womb care treatment
Customer's Review:
"My favorite place for spa and massage, good service n experience massages."

Chloe Tan
7. Eco Wellness Sanctuary
Eco Wellness Sanctuary not only provides top-of-the-line health and wellness services for their guests, but they also offer organic goods that are certified and premium German health salts.
Key Differentiators:
Premium organic certified products
Highly skilled therapists
Customer's Review:
"Very good service. Will come back here again."

Tharuminee Kunusilin
8. Relax Massage and Fish Spa
Relax Massage provides remedial massages, deep tissue massages, sports massages, foot reflexology, lymphatic drainage, facials, ear candling, body scrubs, hot stone massages (including Swedish), manicures and pedicures.
Key Differentiators:
Special packages available
one-of-a-kind relaxation with fish
Customer's Review:
"I like body massage, fish spa, ear candling, facial foot, reflexology, body scrub, back and shoulder massage."

Anthony Safari
9. Ke Wynn Medical Fitness Center
Key Services
Massage Penang
Website
http://www.kewynnpt.com/
Address
50E-2 & 50D-2 Fettes 10 Jalan Fettes, Tanjung Tokong 11200 Tanjung Bungah Penang
Phone
+604.890.2006 / +6012.233.8626
E-mail
info@kewynnpt.com
Operating hours
Monday to Friday 7:00 AM-12:00 PM, 3:00 PM-8:00 PM
Saturday 8:00 AM-12:00 PM
The Ke Wynn Medical Fitness Center is an award-winning healthcare facility aims to give personalized answers with the help of a variety of specialists.
Key Differentiators:
Wellness programs available
By appointment only
Award-winning integrated medical fitness center
Customer's Review:
"Thank you Ke Wynn for helping me with my knock knee problem. You are knowledgeable and has the patience in guiding me during the past 10 sessions."

Anna Yang
10. CKMassage
CKMassage offers professional massage services and treatments that are tailored to your needs. Their masseuses have undergone professional training and are experts in traditional oil, Thai, and Balinese massages.
Key Differentiators:
Authentic Traditional Oil, Thai, and Balinese massages available
Good customer service
Professional staff
Customer's Review:
"A true massage by a professional. Excellent service. I had an outcall massage at my own residence and I truly look forward to using CKMassage again soon."

Matthew Thomson
11. Danai Medi-Wellness
An aromatherapy massage from the Danai Medi-Wellness team can help you overcome anxiety, tension, and sleeplessness. They strive to offer a variety of services that are safe, quick, and efficient using a medically oriented wellness strategy.
Key Differentiators:
Volcano Heated Rock Massage available
Pioneer in wellness services
Customer's Review:
"Excellent service and cozy environment. Well done! Keep up the momentum."

Chew Woan Shyan
12. Herbaline Facial Spa
Herbaline Facial Spa is a personal beauty spa that provides facials, skincare advice and consultation, skin care therapies, and the sale of skincare products. They also provide value-added treatments such as detox lemongrass, fish spa therapy, and sea salt foot baths to guarantee total enjoyment on all levels.
Key Differentiators:
Facial center
High quality products and services
Customer's Review:
"Herbaline Facial SpaLove the service and the staff are very nice. Will definitely come again! Great deals. Amazing results."

Winqi Chai
13. Chi, The Spa
At Chi, The Spa, you can choose between Malay and Chinese treatments. If you book in advance, the masseuse will be more than happy to give you a private massage in one of the 30 acres of beautiful gardens that surround the villas. There are also offered massage therapy bundles which include access to a private garden, changing area, and massage room.
Key Differentiators:
Promotions and packages available
Neat essential rooms
Customer's Review:
"By far, the best – woody rustic treatment room and outdoor bathtub surrounded by nature. Loved everything. Foot spa, milk and rose petal bath and aroma massage. Pricey, but worth every penny for this Cleopatra treatment. Customer service A1 standard as well. Can't be happier."

Nava K
14. Pañpuri Organic Spa
At Papuri Organic Spa, men can get organic spa treatments like as organic massages and organic body treatments. They also provide a popular signature service called the Ultimate Signature Body Rituals.
Key Differentiators:
High quality products
Excellent delivery of services
Award-winning spa
Customer's Review:
"This famous and award-winning spa live up to its reputation. Very attentive and crew explain treatment very well. We choose the essential oil. And they communicate and find out which area we want to focus and strength. Very luxurious experience and totally relaxing. We recommend this place."

Luxuryasia
Spa Penang
There are a lot of great spas in Penang, and the list provided above is just a snapshot. If you're looking for a relaxing massage or treatment, any one of these establishments will likely be able to meet your needs. We recommend trying out a few different places to find the one that's perfect for you.
Since you have made it to the end, it would be great if you could check out the awesome articles that we have written for you! Maybe, it will help you add more fun to your daily lifestyle.