Themed Café Johor Bahru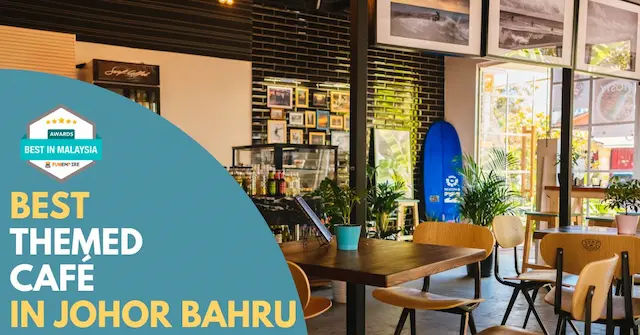 If you're looking for a unique café experience, you'll want to check out one of the many themed cafes in Johor Bahru. These cafes offer an immersive experience that will take you back in time or transport you to another world entirely. Here are Best Themed Café in Johor Bahru.
1. Bloom by Mok Mok
Bloom by Mok Mok, a garden-themed cafe with numerous dried flowers and potted plants, is easy to identify thanks to its hanging blooms. This café provides lovely and feminine aesthetics that go great with any floral attire you may be wearing.
They also collaborate with local farmers to create fresh, farm-to-table meals. The Gyutan Bowl (RM28) is made from well-marinated beef tongue slices on top of pearl rice. Bloom by Mok Mok will satisfy both your eyes and stomach!
Key Differentiators:
Fresh ingredients
Mouth-watering fragrances
Aesthetic, flower-filled environment
2. Good Morning Food Truck
Consider a beautiful morning and a hearty breakfast — that's what the Good Morning Food Truck is all about. Despite its humble food truck beginnings, this café has an open design that allows as much natural light as possible to pour into the interior. They serve a decker sandwich with a wonderful coffee as the perfect start to their morning meal. Must try their Chicken Egg Toast, which features homemade peanut butter sauce, chicken breast, and a molten egg.
Key Differentiators:
Offers multiple flavors of handmade toast
Local flavors of delicacies available
Minimalist white style interior
3. Maco Café & Bakery
MACO Café & Bakery specializes in traditional French pastries and offers a remarkable Shar-Pei Chocolate Mousse Cake that will delight. This lovely dessert is a surefire crowd pleaser, with its fluffy yet decadent texture. The restaurant offers a selection of soups, sandwiches, and other meals. They also cater to those who enjoy salty foods with their Signature Cream of Chicken Soup. Give this little place a try and have a wonderful day out!
Key Differentiators:
Traditional French pastry and coffee house
Comfortable and relaxing environment
Promotion Set Menu Cake
4. The Dreamliner Airways CAFE
The Dreamliner Airways CAFE recreates the experience of boarding an aircraft. You can enjoy a meal prepared by a team of employees wearing flight attire. That's fantastic, isn't it? However, the flight is always fully booked, so please make a reservation early.
Key Differentiators:
Dining in the airplane anytime
Valuable dining experience
Offers promotion
5. Miyakori Coffee
Miyakori Coffee offers a cute Japanese character that you'll enjoy. The characters are particularly "kawaii," especially the grumpy bear. In essence, they specialized in coffee and dessert creation. There are cute character expressions on the cakes and coffee, which may make it difficult to drink your latte.
Key Differentiators:
Cute Japanese character
Muslim Friendly café
Subscribe Healthy Lunch
6. Flowers in the Window
Flowers in the Window Café is a stylish restaurant that focuses on sustainability and diversity. Chill out in your own boutique jungle at Flowers in the Window Café, which takes inspiration from Mother Nature.
Have a taste of their fantastic breakfast and brunch platters, as well as delectable pastries and desserts. Flowers in the Window has something new to offer on your every visit, thanks to their weekly specials, which are themed around in-season ingredients.
Key Differentiators:
Vibrant fusion Café
Boutique Jungle
Serves fantastic breakfast and brunch platters
7. Bev C Cafe
| | |
| --- | --- |
| Key Services | Themed Café, Fashion boutique with Café, Bakery |
| Website | https://www.facebook.com/BevCcafe/ |
| Address | 54 Jalan Tan Hiok Nee 80000 Johor Bahru, Johor, Malaysia |
| Phone | +60 16-725 3530 |
| Email | ask@bevc.com.my |
| Operating hours | Daily 10:00 AM – 6:00 PM, Wednesday Closed |
Bev C is a fashion boutique with a café on the side. They're well-known for their white shirt wall, washed-out concrete walls with flowers and cacti, and even a stylishly constructed bed that is a popular "photo-shoot" location among customers. Experimental and rustic, yet fashionable.
The Bev C specialty is the Smoked Salmon Charcoal Croissant Sandwich, which consists of a croissant bun filled with smoked salmon, cream cheese and red onion spread; finish it off with a trendy cup of Espresso Ice Cubes with Hot Milk and Chocolate.
Key Differentiators:
Serves fusion croissants menu
Experimental and rustic, yet fashionable
Sharing lifestyle aspirations and living passions of a designer
8. The Replacement – Lodge & Kitchen
The Replacement Lodge & Café is your hipster café of choice for when you need a nice rest from all of your wanderlust. They maintain their décor to a bare minimum with all-white interiors, potted plants, and rustic wooden furnishings to maximize its Instagram appeal on every angle.
Key Differentiators:
Instagram chic aesthetics
Minimal with all-white interiors, potted plants and rustic wooden furnishings
Healthy Foods available
9. MERAH Project
Remember those old Hong Kong films you used to watch, with all of the major players snoozing around in a cool, dark setting with neon lights in the background? That's exactly what you'll get at Merah Project!
The long hallway leading to the second floor is reminiscent of an abandoned school cafeteria and bar, where there are mahjong tables for eating, a cozy bean bag area, and lots of photo opportunities!
The café serves a wide range of cuisines, and one of the main attractions is the Smoked Duck Bowl with Lychee, which is sweet and grilled lychees married with fragrant duck slices.
Key Differentiators:
Food & Beverage Service available
Spacious venue available
Old Hong Kong films atmosphere
10. Fika Farmhouse
| | |
| --- | --- |
| Key Services | Themed Café, Tapas Bar & Restaurant |
| Website | https://www.facebook.com/fikafarmhouse |
| Address | Y2, 1, Jalan Hijauan 1, Horizon Hills, 79100, Iskandar Puteri, Johor Bahru, Malaysia |
| Phone | +60 11-1054 9166 |
Fika Farmhouse, tucked away in a quiet location, looks like a tiny piece of architecture from Hayao Miyazaki's work, with a huge Totoro welcoming everyone who arrives.
At this organic greens-lined greenhouse café, the plants are arranged in perfect symmetrical rows, making for an ideal artistic symmetry shot with nature! Unlike many other city areas, this café is big and comfortable, offering a sense of belonging that you don't get at other establishments.
While you're getting settled in, enjoy your favorite brunch foods – quinoa bowls, egg benedict with smoked salmon, and a cool iced latte on a hot day!
Key Differentiators:
Child-friendly Café
Spacious with a cozy ambience
Artistic symmetrical shot with nature
Themed Café Johor Bahru
Themed Café Johor Bahru are a great place to relax and take a break from the hustle and bustle of everyday life. They offer an escape into another world, complete with unique décor, interesting menu items, and plenty of photo opportunities.
Since you have made it to the end, it would be great if you could check out the awesome articles that we have written for you! Maybe, it will help you add more fun to your daily lifestyle.