Wedding Photographer Penang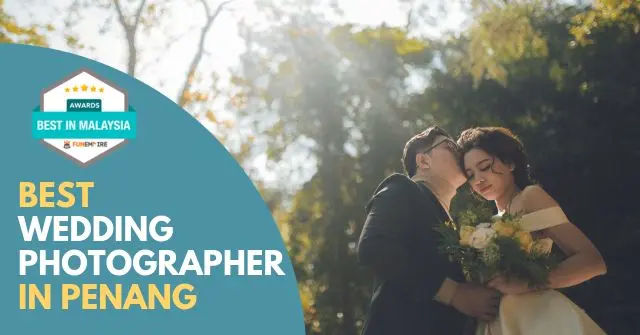 Are you looking for the best wedding photographer in Penang? If so, you have come to the right place! Here are the Best Wedding Photographers in Penang. We are dedicated to helping couples find the perfect photographer for their big day!
1. Ray Eoh Photography
Ray Eoh Photography specializes in a variety of photography projects, including pre-wedding portraiture, real wedding day, and other styles. Their photos tend to be dramatic and modern, creating feelings of warmth and caring in the photographs.
Key Differentiators:
Pre-wedding, actual day wedding, proposal & engagement photography services
Professional & corporate portraits photography services
Product & commercial photography services
Customer's Review:
Fun & Easy-going person! Ray & his team did a very great job for our wedding day photography and captured all the perfect moments for our best memories. Thank You Ray & team for the great work! Me and my husband are very happy with the pictures! The most important is the speed of their work is really fast! Click & Done. Recommended to all friends who are getting married soon!

Evangeline Goh
2. Kennfoo Weddings
Foo began his career as a wedding photographer in 2010, when he discovered his calling after decades of interest in the arts and creativity since childhood. But it was that very year that he dedicated himself to wedding photography. Today, he has received a slew of honors including WPPI (Wedding & Portrait Photographers International) accolades. He has a good eye for small details and knows how to make the most of his subjects and environment. His services include pre-wedding, real-day, and destination pre-wedding photographs.
Key Differentiators:
Award-winning photographer
Pre-wedding, actual day and destination pre-wedding photography services
Customer's Review:
Great quality photos.

AK
3. Yin Photography
Yin Photography is a headshot and wedding photographer with over 12 years of experience. They specialize in corporate portrait and wedding celebration photography coverage. However, they may also take on other sorts of photo projects from time to time.
Key Differentiators:
Professional headshot photography services
Wedding photography services
Commercial photography services
Customer's Review:
A very professional and friendly photographer. I like his concept of photography. Simple and nice.

Kathryn Chuah Kai Wei
4. Sunnysan Photography
Sunnysan Photography is a group of young, enthusiastic people working together to create something wonderful. They're based in Penang, an enchanting island full of diverse cultures that enjoy capturing weddings and family pictures.
Key Differentiators:
Specializes in wedding photography
International photographer
Customer's Review:
Love love love the photos. Captures their love so wonderfully! Audrey Lim
5. WLoon Photography
| | |
| --- | --- |
| Key Services | Wedding Photographer Penang |
| Website | https://www.wloon.com/ |
| Address | 6181-2, Jalan Ong Yi How, Taman Perindustrian Ringan Teras Jaya, 13400 Butterworth, Penang, Malaysia. |
| Phone | +60 12-434 8235 |
| Email | wloon.com@gmail.com |
WLoon Photography focuses on both local and international wedding photography. Wooi Loon is the brains and creative force behind Wooi Loon Photography. He's not only skilled in his craft, but he also has a unique viewpoint that allows him to see things differently than others.
Key Differentiators:
International wedding photographer
Covers traditional as well as modern and themed wedding shoots
Customer's Review:
The photographer is friendly and creative. I missed the outdoor pre-wedding photo shooting with Wloon. He and his team made our prewedding shooting relax and fun.

Jackson and Deanne
6. SteveBoon Photo
Penang-based photographer SteveBoone Photo provides wedding photographs across Malaysia, including Kuala Lumpur, Ipoh, Taiping, Alor Setar Sungai Pentani, and other areas. Their staff specializes in garden wedding photography and capturing the important and memorable events of your big day.
Key Differentiators:
Catered hundreds of wedding photography shoots
Extensive experience in Chinese, Malay or Indian weddings
Client satisfaction guaranteed
Customer's Review:
Steve was very responsive and responsible. He gave suggestions whenever we needed. Lucky and happy that we chose Steve as our photographer. Definitely recommend him.

Yiee Park
7. Milan Teh Studio
Milan Teh Studio specializes in wedding, family, and portrait photography. Milan is a Penang native who runs the business. Since 2009, he's been capturing heartfelt and meaningful photographs for individuals. He was also the youngest Penang photographer to earn worldwide acclaim from the Wedding & Portrait Photographers International (WPPI, USA).
Key Differentiators:
Award winning photographer
Couple portraits, prewedding photography, engagement photoshoot available
Customer's Review:
Milan was patient and provided good advice during our photoshoot. He captured the feeling and atmosphere of the event beautifully. Many thanks for the wonderful pictures and memories!

Joey
8. Alextan Artworks
| | |
| --- | --- |
| Key Services | Wedding Photographer Penang |
| Website | https://alex-tan.com/ |
| Address | 3, Lorong Batu Bukit 2, Tanjung Tokong, 11200 Tanjung Bungah, Pulau Pinang |
| Phone | +60 12-208 7172 |
| Email | info@alex-tan.com |
Alextan Artworks is a photographer who offers high-quality and professional photography services. Alextan Artworks is well-known for his well-known classic, artistic, and dramatic style. Alex Tan has been inspired by the chance to capture a variety of clients' happy moments, exposing himself to different cultures, getting involved and witnessing client's joyful events in life, which has given Alex the gift of the ability to capture natural moments on camera.
Key Differentiators:
International wedding portraits photographer
Weddings, portraits, and high fashion commercials photography services
Customer's Review:
To begin with, a great team of people who work on things to fulfill our expectations… Excellent photography skills and good customer relations ethics definitely a great choice if you're looking for one who could deliver something that's out of the ordinary ty so much guys! You guys rock! Karen Kwang
9. GeorgeOoi Photography
George Ooi Photography is a photography and videography business. George Ooi's amazing ability to shoot made him one of Malaysia's most in-demand wedding photographers. His pleasant and helpful demeanor also helps, assuring his customers that they are welcome during the photograph shoot.
Key Differentiators:
Photography and videography services
Active customer service
Customer's Review:
George is very professional and passionate. The photos are absolutely amazing, he captured all the precious moments which is timeless. We love all the photos and thank you so much for capturing such a beautiful day of ours.

Qiqi Hoho
10. Vernon Kong
Vernon Kong, the founder of Momento Wedding, is an experienced and freelance professional wedding photographer, specializing in Wedding Photography based in the heritage city Penang, Malaysia. He decided to embark on a career as a professional wedding photographer whilst studying Business Management and Finance at Keele University, UK.
Key Differentiators:
Professional wedding photographer
Featured in many famous magazines and popular wedding websites over the world
Quality services at affordable prices
Customer's Review:
Really amazing photos, superb skills and professionalism! We were really impressed with the same day edit photo slide show. Big thank you to Vernon and his team! Can't wait to see the other photos!

Wong Siow-Yun
11. Ckvin Studio
Ckvin Studio provides a comprehensive range of photo services. Calvin Ng, the creator and head photographer of Ckvin studio, is a seasoned wedding photographer. He also provided family photographs, convocation/graduation portraits, events, corporate headshots/professional corporate profiles, lifestyle pictures, and commercial & event photography.
Key Differentiators:
Accommodating and professional photographer
International level competition awardee
Customer's Review:
Awesome photography skills with nice personality, suggestions on the posture were given and well done for helping to live up the ambience for better photo-shooting. Trustworthy.

Carson Wong
12. Light Feather Studios
Andrew Ng YL, the creative director of Light Feather Studios, has a staff that initially consisted of just 2 people. Andrew Ng YL wasn't around for long. The company was founded in late 2011 as a service provider for freelance wedding photography, but it later diversified into cinematography and creative video content.
Key Differentiators:
Professional wedding photography services and videography skills
Immortalizing any events' memories
Customer's Review:
Choosing Light Feather Studio as our videographer is the best decision we had made in our wedding. You will not regret choosing Light Feather Studio as your videographer at your big day. They produce the most amazing highlighted video. Great job, highly recommended.

CaiShan Tio
13. Joie * Z bridal Gallery
Joie * Z bridal Gallery offers pre-wedding photos, wedding make up and fashion, wedding dress rental, family pictures, maternity photographs, baby portraits, and convocation pictures. After one to two weeks of shooting, their helpful and enthusiastic employees will generate a softcopy of your images.
Key Differentiators:
Accommodating staffs
Professional photographer
Customer's Review:
Great service. Friendly staff and photographer. Multi choices of backdrop. Recommended choice for brides and family portraits.

Calvin Chuah
14. Kuang Yee Bridal Collection
Kuang Yee Bridal Collection is a well-known bridal store and photography studio. The Kuang Yee Bridal Collection is one of the most established and desired bridal brands in Malaysia, as well as the leader in its field for the Northern Peninsular area.
Key Differentiators:
Premium bridal consultations available
Decades in providing quality service
Customer's Review:
Highly recommended for pre wedding photoshoot. They'll first listen and understand, then propose an irresistible satisfaction package.

Goh YC
Wedding Photographer Penang
If you're looking for a top-quality photographer to capture your big day, any of these studios would be a great choice.
Since you have made it to the end, it would be great if you could check out the awesome articles that we have written for you! Maybe, it will help you add more fun to your daily lifestyle.