Wedding Planners KL Selangor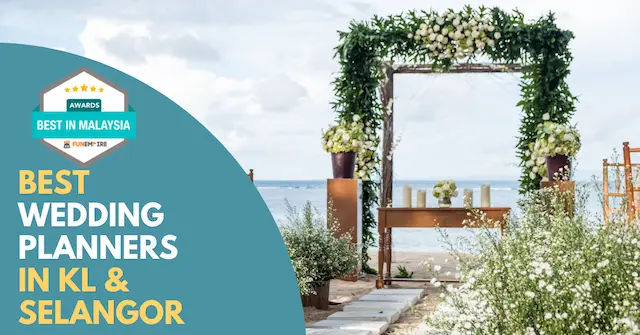 Planning a wedding can be a daunting task. There are so many things to think about, from the venue to the catering to the guest list! If you're looking for help planning your wedding, look no further than these 10 Best Wedding Planners in KL & Selangor. They will take care of everything for you, from start to finish, and make sure your wedding goes off without a hitch!
1. Elysium Weddings
Personal service is a priority for Elysium Weddings. Their wedding planners are skilled at working quickly while also taking the time to help and comprehend the client's requirements.
Key Differentiators:
Skilled and professional staffs
Promotions and packages
Reasonable price
Customer Testimonial:
"Elysium is a well-respected expert is considered by many to be a forerunner in wedding planning. By providing the best of both worlds, Elysium is able to carry out a perfect wedding, resulting in a perfect wedding effect."

Cliff Choong
2. Forevermore Events
In 2011, Forevermore Events was established. On business events, weddings, private parties, conferences, or any other events, they offer full consultation services. They handle all on-site coordination and production management tasks, such as pre-production, logistical planning, and on-site contractor monitoring, in addition to maintaining contact with all contractors and authorities.
Key Differentiators:
Great deals
Comprehensive service
High quality results
3. Moments
| | |
| --- | --- |
| Key Services | Wedding Planners KL Selangor |
| Website | https://www.moments.my/ |
| Address | 16, Jalan SS15/2B, Subang Jaya, 47500 Petaling Jaya, Selangor, Malaysia |
| Operating Hours | Monday-Friday 10:30AM–5PM |
Tricia and Evelyn, two sister-in-laws, launched Moments with the goal of gathering their thoughts and inspirations in order to better the world and make others happy. Both of them have degrees in fields other than wedding planning, and it wasn't until their own weddings that they were motivated to start this.
Key Differentiators:
Personalized service
Exquisite experience
Great results
Customer Testimonial:
"I really appreciate you."

Rashid Ali
4. Chic Occasions
Weddings, anniversaries, celebrations, and corporate events are the focus of the wedding planning business Chic Occasions, situated in Kuala Lumpur.
Key Differentiators:
Experienced planner
Great offers
For all occasions
Customer Testimonial:
"Great event to meet brides. The network is great."

Maggy Martinez
5. Precious Moments Wedding Planner
More than 20 years of experience as a decorator and wedding planner have been gained by Precious Moments Wedding Planner. They are well-known because of their reputation in the field of event organizing. Since then, they have established a solid reputation as a one-stop shop for event planning services.
Key Differentiators:
Strong brand
Experienced staff
Guaranteed results
Customer Testimonial:
"Engaged Precious Moments for our wedding flower deco. Lovely service by Evan, she is able to meet our demands and even given us practical suggestions!"

Yean Peng Liaw
6. Pathway Events & Design
The teams at Pathway Events & Design are diverse, with backgrounds in event management, graphic design, brand communication, floristry, and architecture.
Key Differentiators:
Excellent service
Professional teams
High quality results
Customer Testimonial:
"Leann was amazing with organising our "surprise" wedding! It was simply perfect. Thank you so much!"

Jane Burke Chami
7. Pretty Little Things
Planning and styling events are the specialties of Pretty Little Things. They have staff members that are excellent at planning every aspect of the wedding down to the last detail. They had everything, including the guest lists and the decorations.
Key Differentiators:
Comprehensive service
Guaranteed results
Fair price
Customer Testimonial:
"The decorations were great, they were flexible with our demands and everything was done beautifully! Thank you for making our prom so amazing and hope to work with you again."

Ler Rui Lin
8. Weddings by Emma
| | |
| --- | --- |
| Key Services | Wedding Planners KL Selangor |
| Website | https://instagram.com/weddingsbyemma |
| Address | Jalan Rodat 2A/KU5, Bandar Bukit Raja Klang, 41050 Klang Selangor, Malaysia |
| Phone | 0126486204 |
Event management is a specialty of Weddings by Emma. Initial consultations are the first step in their event decoration process. They have you covered, from creating a proposal that is unique to you and tailored to your needs and budget to execution.
Key Differentiators:
For all occasions
Personalized
Excellent results
Customer Testimonial:
"Amazingly Awesome!"

Fareq Paan
9. MY Wedding Planner
MY Wedding Planner is a wedding planning business that offers consulting and planning services. To make your ideal wedding come true and make it beautiful and completely unforgettable, they offer the creativity, vibrancy, and skills of committed and talented specialists.
Key Differentiators:
Wedding experts
Great results
Exquisite experience
Customer Testimonial:
"Definitely recommended!"

Teo Shiau Chin
10. REKA CINTA
Key Services
Wedding Planners KL Selangor
Website
https://cinta-weddings-by-nadia.business.site/
Address
19, Jalan 12/10 Taman Koperasi Polis Fasa I 68100 Kuala Lumpur Selangor Malaysia
Phone
018-369 8345
Operating Hours
Monday-Friday 9:00 AM – 6:00 PM
Saturday-Sunday Closed
Wedding services from REKA CINTA are reasonably priced. It is strongly advised that future brides make reservations if they want to stick to a strict financial budget.
Key Differentiators:
High quality service
Fair price
Great results
Customer Testimonial:
"The best service. The staff are all committed and helpful. The best and most affordable wedding planner."
Wedding Planners KL Selangor
We hope that this list has helped you narrow down your choices and that you find the perfect planner to help make your dream wedding come true. Contact one today!
Since you have made it to the end, it would be great if you could check out the awesome articles that we have written for you! Maybe, it will help you add more fun to your daily lifestyle.