Lugaw Manila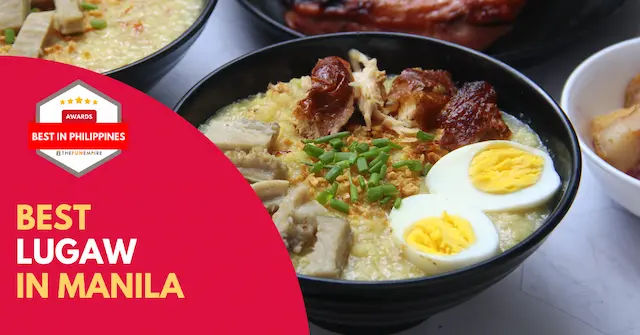 If you're looking for the best lugaw Manila, you've come to the right place! In this blog post, we will list 15 of the best lugaw spots in the city. Whether you're a fan of traditional lugaw (congee) or want something with a bit more flavor, we have got you covered. So what are you waiting for? Start reading and start eating!
1) Goto King
Although Goto King has shut down many of its branches due to financial and other crises over the last several years, this doesn't mean that the quality of its flagship product has suffered. In fact, Goto King's Special Congee–with chicharon and one whole cooked egg–is still a bargain at P38. The servings and sizes of pork rinds are plentiful and can be enjoyed either mixed with the congee or eaten alone.
Key Differentiators:
Affordable lugaw

Serves Filipino breakfast
Favorite Pinoy fast food meals and meriendas
2) Luk Yuen Noodle House
Luk Yuen Noodle House isn't only known for its great service although that's a huge factor. The servers are prompt and courteous, but they also know the menu inside out and can recite it perfectly at a moment's notice. Halo-Halo Congee is a bestseller and for good reason. It's packed with meatballs, beef strips, and pieces of stomach lining so you're guaranteed to get a little bit of everything in each spoonful.
Key Differentiators:
Friendly and helpful staff

Unique lugaw flavors
Delicious desserts
Customer's Review:
I've been going here for only one thing: Century Egg with Shredded Pork Congee. (Shredded Pork used to be Lean Meat.) I couldn't get enough of this delicious rice porridge. Upon serving, mix the egg right away so it'll get cooked by the soup. Add drops of toyo (soy sauce) for added flavor.

Patrick
3) North Park
North Park's Superior Congee is unrivaled in both taste and appearance. The dish consists of pork and chicken balls, slices of century egg, Pacific clams, fish fillet, Szechuan vegetables, fresh egg, shrimps, and chips for toppings- all arranged artfully in a small bowl.
Key Differentiators:
Good serving size

Unique lugaw flavors
Delectable toppings and ingredients
Customer's Review:
I had the chance to try their Superior Congee Bowl for only P135. The bowl was almost overflowing with tasty ingredients that I can't even name all of them! The broth was thick and creamy and the taste was simply divine. I would definitely come back and try their lugaw next time!

Tom
4) Super Bowl of China
The Super Bowl of China's Chicken Congee is not only a delicious treat, but it is also very filling and soothing. The dish is loaded with black mushrooms, thinly sliced ginger, and chopped chives. The soft and incredibly tasty chicken chunks make this dish even better.
Key Differentiators:
Serving mainly Cantonese cuisine with a western ambiance

Variety of additional toppings
Good portion sizes in each lugaw orders
Customer's Review:
I have been eating at Super Bowl of China for years and I am still amazed by the consistency of the lugaw. It is always cooked to perfection and loaded with tons of ingredients. The Chicken Congee is my go-to order whenever I'm craving lugaw. It's so flavorful and filling!

Kiko
5) Dragon Noodle Center
Dragon Noodle Center's Halo-Halo Congee separates itself from the competition primarily because of its color and texture. Most rice congees are light brown, but that minor detail shouldn't dissuade you—the delicious taste is a result of all the flavors coming together: liver, beef strips, meatballs, tripe, century eggs…oh, and don't forget the raw egg! In addition, the restaurant's congee also uses ground rice, which transforms the dish into a thick soup with fine grain bits. Served on a bowl half the size of a basketball, Dragon Noodle's Congee is one of the best in the city.
Key Differentiators:
Unique lugaw flavors

Variety of lugaw toppings
Generous serving size
Customer's Review:
This is an institution in Manila. They serve the best lugaw (congee), pinsek frito, spareribs, et al.

Hub
6) Lugawan sa Tejeros
If you're looking for a cheap and quick snack, this lugaw is perfect for you. It's served in a plastic bowl with fried garlic, chives, and calamansi. You can find it in the non-posh part of Makati near taxi drivers, streetchildren, and peddlers. Because of its affordable price, a rival imitated its recipe and business model by opening up a store called Lugawan sa Pasong Tamo across the street.
Key Differentiators:
Classic lugaw flavors

Convenient location
Local favorite lugaw spot
Customer's Review:
One of the best lugawan experience that you'll surely have. Adequate servings and the food is worth the wait.

McRey
7) Goto Tendon
Goto Tendon is one of the popular fast-food places for those who want some Beef Pares. They also have their own take on Lugaw Goto, which many people enjoy. What makes this meal unique is that you can order a Goto with tendon added to it, for extra texture. The dish comes in two sizes, large and small, so you can either eat it by yourself or share it with others. It's complete with bits of egg, garlic chips, and fresh green onion – yum!
Key Differentiators:
Flavorful lugaw broth

Affordable lugaw prices
Good lugaw portion sizes
Customer's Review:
I love their Goto Tendon because it has the perfect balance of savory and sweet – the beef tenderloin and tendon goes really well with the lugaw. I would highly recommend it to anyone who wants something different.

Junee
8) Via Mare
Besides their Bibingka, Via Mare also has two types of lugaw under their Merienda Delights section: the Lugaw Toppings and the Philippine version of lugaw, Arroz Caldo. Their servings are made for sharing so one order's usually good enough for a family of 4 (or 2 if people are really big eaters). Their Arroz Caldo tastes good with shredded chicken but you can also go for Goto if you want something different.
Key Differentiators:
Family-sized lugaw servings

Unique lugaw toppings
Variety of lugaw dishes
Customer's Review:
I always go to Via Mare for their lugaw. It's really good and it's enough for 2-3 people. The service is great too and the staff are friendly. Definitely recommend it to lugaw lovers!

Ehsyel
9) Goodah!!!
If you're looking for a great value at P35, go for the Goodah!!! Goto bowl. It comes with crushed chicharon, chopped chives, toasted garlic, and a hearty helping of tripe. This lugaw has become quite popular among people who frequent after-hours joints.
Key Differentiators:
Serves lugaw and tapsilog

Offers Salo-Salo Panalo sets
Simple yet delicious recipe
Customer's Review:
Goodah!!! lugaw is one of the best I've had. It has the perfect combination of flavors and textures that really hit the spot after a long night out. Definitely worth a try if you're in the area.

Mark
10) Le Chin Tea House
For those who are looking to try lugaw with a twist, Le Chin Tea House offers lugaw made with pork liver and topped with calamansi. It's served in their signature blue bowl and has plenty of flavor thanks to the combination of spices and herbs added into it.
Key Differentiators:
A combination of spices and herbs

Signature lugaw recipe
Customer's Review:
I love their lugaw, it's so flavorful and fragrant. The pork liver gives it an extra kick that I really appreciate. Highly recommended for everyone who wants to try something new!

Yanae Z
11) Goto Monster
Goto Monster is one of the most beloved places to get lugaw, a type of rice porridge. They offer various toppings for your lugaw as well, such as shiitake mushrooms (which may be the only place that offers this), bagnet, beef tripe, or chicken adobo.
Key Differentiators:
Post-libation lugawan

Huge servings
Affordable lugaw prices
Customer's Review:
Had the bagnet lugaw and the blended calamansi juice. All SUPERB! Staff was very accommodating too.

Erick
12) Gusto Goto
They offer the usual fan favorites like sisig or pares, but if you can't decide on just one dish- why not try both? If you're ever in a pinch and need a last minute meal solution, pop into your nearest Gusto Goto and pick up some of their delicious frozen options. Their lugaw comes with generous servings of both, enough to last you for a few days!
Key Differentiators:
Sells frozen lugaw toppings

Generous lugaw servings
Affordable lugaw prices
13) Gotobelieveph
If you're looking for a delicious lugawan, or Filipino-style congee, then this is the place for you. They serve Goto Infierno (spicy), Goto Heaven (with tripe), and plain lugawan. You can also have it with dry or fried rice.
Key Differentiators:
Reasonable price

Good ambiance and location
Unique lugaw flavors
Customer's Review:
If you are looking for classic Filipino comfort food, go here. It's often full, even in the wee hours of the night so be ready to wait for a little. The price range is great, considering the quality and serving.

Dannie
14) Lugaw Manila
Aside from the standard toppings, this restaurant also offers crispy bagnet; chicaron bulaklak; Goto Fiesta, which has both; Goto Emergency (spicy and I suppose it's meant to sober you up quickly); and Goto Forever, which has everything on it! It's gotos are served in beautiful red bowls with perfectly placed toppings.
Key Differentiators:
Attractive lugaw presentation

Wide selection of lugaw toppings
Unique lugaw flavors
Customer's Review:
Lugaw Manila never fails to make me full and satisfied. I usually order the Goto Emergency and the flavor is just right. The topping is always generous, which I appreciate! Highly recommend this place to lugaw enthusiasts.

Mya F.
15) Ling Nam
For those who don't know, Ling Nam is a little Chinese restaurant in Manila known for their delicious giant siomai. They have all sorts of lugaw (porridge) recipes that are mixed with a variety of proteins like pork, pork kidney, and liver. However, if you're not feeling adventurous today, they also serve Fish Bola Congee and some Chicken Congee that are sure to hit the spot.
Key Differentiators:
Unique lugaw recipes

Generous lugaw topping
Affordable lugaw prices
Customer's Review:
This is an old school congee and noodles place but they also offer siopao. This place has been operating for decades and is a regular place to eat at for Filipino-Chinese. Their food is not expensive and is delicious. They offer variants of congee not usually available elsewhere such as kidney congee.

Richard
Lugaw Manila
If you're looking for a delicious lugawan in Manila, then these are the best places to go. With a variety of unique flavors and generous servings of lugaw Manila, you're sure to find something that will satisfy your cravings. So what are you waiting for? Start exploring today!
If you want more suggestions, see our other posts below: