Affordable Steak Singapore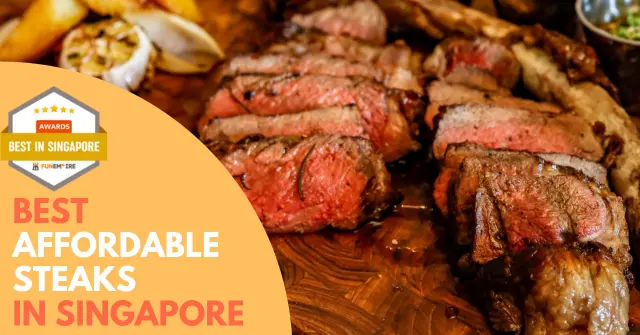 For the steak lovers residing in or visiting Singapore, finding a mouth-watering, high-quality steak that doesn't break your bank can sometimes feel like a daunting task.
The best affordable steak restaurants in Singapore are MediumRare by Saveur, Steakville, and Meet 4 Meat.
When selecting a restaurant, it is important to consider factors such as the restaurant's location, available steak options, ambiance, pricing, and customer reviews.
Singapore offers juicy affordable steak that combine traditional and contemporary flavors. With options for all budgets, steak enthusiasts can indulge in tender, juicy steaks without compromising on quality or atmosphere.
This list will guide you to the best places where you can get the tastiest and most budget-friendly steaks in SG. Whether you prefer your steak rare, medium, or well-done, there's something for everyone!
Quick Summary
Best restaurants for affordable steaks in Singapore are MediumRare by Saveur, Steakville, and Meet 4 Meat.
When choosing a restaurant, make sure to check out the location, type of steak available, ambience, pricing, and customer reviews.
Singapore's steaks offer a remarkable fusion of traditional and contemporary flavors, with options catering to all budgets, ensuring steak enthusiasts can indulge in tender, juicy steaks without compromising on quality or atmosphere.
Key Consideration Factors
Before making a decision about which restaurant to go to, make sure to consider these important factors:
Location: Choose a restaurant that is easily accessible for you and your dining companions.
Types of steaks available: Different restaurants offer different types of steak, such as ribeye, sirloin, or fillet. Make sure to check the menu before making a reservation.
Ambience: The atmosphere of the restaurant can greatly affect your dining experience. Choose a restaurant with an ambiance that suits your preferences.
Pricing: While looking for budget-friendly steaks, keep in mind that the prices may vary depending on the type of cut and grade of steak. Make sure to check the prices before ordering.
Customer reviews: Reading reviews from previous customers can give you an idea of the quality of food and service at a particular restaurant.
Best Affordable Steak Singapore
1) iSTEAKS Diner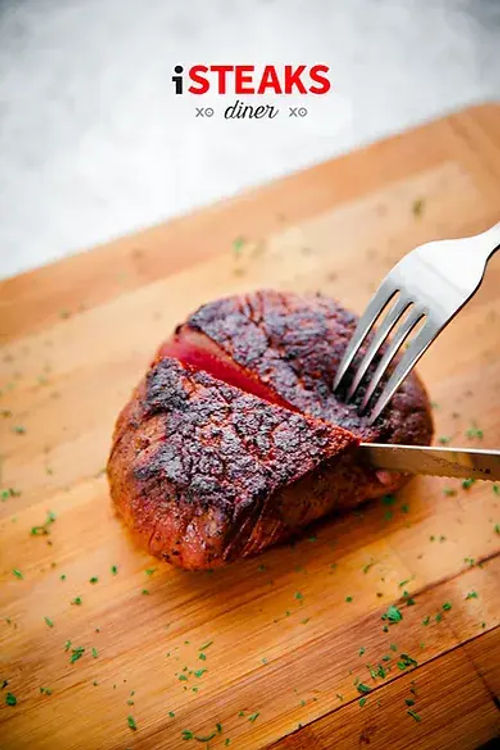 Calling all steak lovers! Allow us to introduce you to the legendary iSTEAKS Diner, where your steak dreams come true at unbeatable prices.
What began as a humble hawker stall has now flourished into a renowned brand with multiple outlets. Gone are the days when steakhouses were a rarity. iSTEAKS has always been the go-to destination for quality steaks.
Picture this: a mouthwatering 200g NZ Striploin steak for just S$22.50. And that's not all! Indulge in their premium cuts like the char-grilled New Zealand Silver Fern Ribeye and 100 days grain-fed Australian Ribeye.
Plus, every steak comes with two complimentary sides from their extensive menu. Talk about a satisfying and value-for-money meal!
2) Armoury Craft Beer and Steak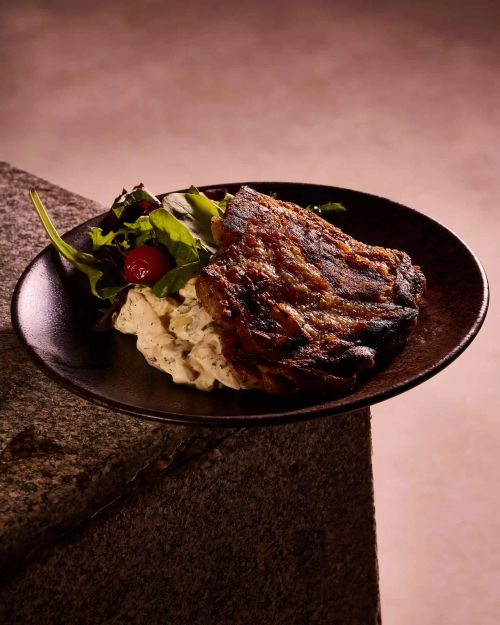 Armoury Craft Beer Bar and Steak is a down-to-earth steakhouse that focuses on quality meat and a fun selection of craft beers, rather than fancy wine pairings. If you're craving an affordable wagyu steak, visit during lunch for Armoury's 220g Wagyu Striploin or Wagyu Ribeye.
On weekends, you can even request breakfast sides like fried eggs and tater tots. But the highlight of Armoury's menu has to be their 90-minute Steak Buffet, featuring free-flow Australian grass-fed steaks, as well as Grilled Pork Belly and Grilled Shabu Beef.
For even more value, take advantage of their daily lunch promo and enjoy the buffet for S$60 for 2 pax.
3) Bizen Okayama Wagyu Steakhouse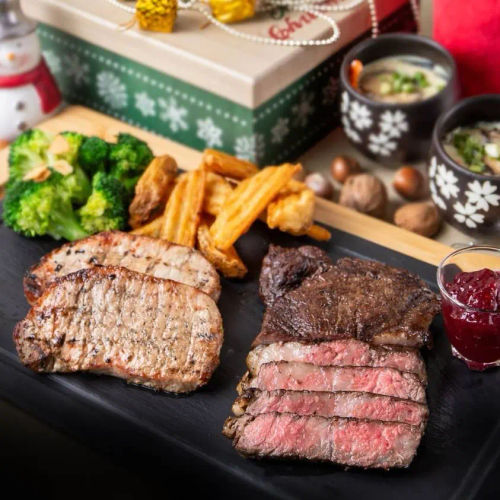 Wagyu, the buzzword of the moment, is synonymous with top-quality steak for a reason. But not all Wagyu is created equal, especially when it comes to your wallet.
Enter Bizen, the brainchild of the folks behind Aston's, Singapore's beloved budget steakhouse. Think Aston's, but with a twist of Japanese Wagyu. Here, you'll find the juiciest and most affordable Wagyu steaks in SG.
From the succulent chuck roll to the premium ribeye, Bizen's menu offers a variety of cuts to satisfy any steak lover's cravings. And the best part? You can indulge in a petite portion of 150g, with a Round steak starting at just S$20.50. Don't forget to pair it with two delectable sides.
Prepare your taste buds for a Wagyu experience like no other at Bizen.
4) Braseiro Restaurant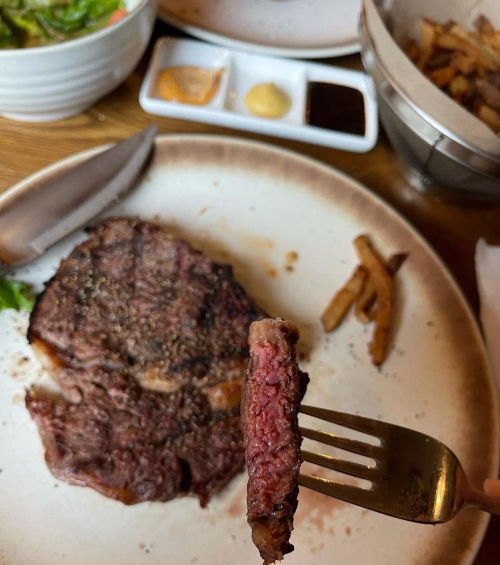 Braseiro has an intriguing concept – they specialize in serving authentic French steak frites (steak and, yes, unlimited fries) at affordable prices. A 200g Entrecôte, or ribeye at Braseiro.
However, you have the option to upsize and enjoy a 300g or 400g portion for S$28.90 and S$33.90 respectively. In essence, you'll savor a juicy slab of beef, endless fries, truffle mustard, and a house salad for under S$25.
Considering that other steakhouses with free-flow fries tend to be pricier, this is definitely a place worth remembering.
5) The Feather Blade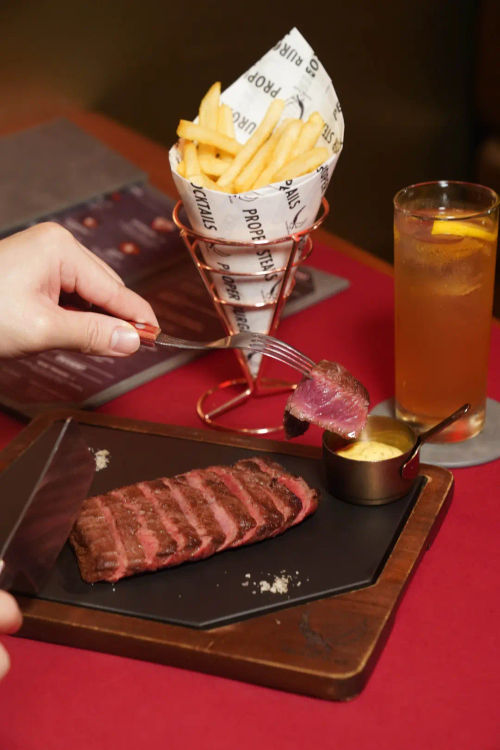 Have you heard of the name "flat iron steak"? It's a renowned steakhouse in London that is famous for its affordable and delicious steak. The founder of The Feather Blade Steak, a former employee of Flat Iron, started the restaurant with the mission of bringing high-quality steaks to Singapore.
The Feather Blade offers a unique and less common cut called the "flat iron steak" shoulder, serving a tender and perfectly charred steak.
For an additional S$2, you can enjoy special sauces like Sichuan Peppercorn and Wasabi Cream.
6) Smokin' Joe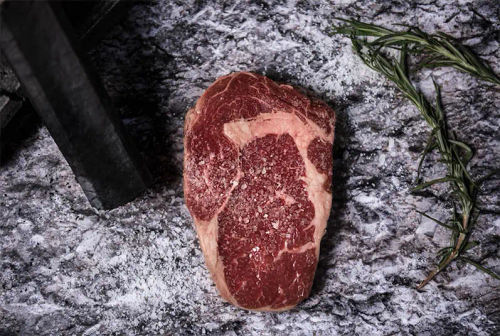 Smokin' Joe, nestled in a vibrant hawker centre, is a true haven for steak and grilled meat enthusiasts. Their unwavering passion shines through as they sizzle up succulent cuts on their remarkable S$10k Spanish restaurant-grade Josper oven.
Notably, they've earned a spot among Makansutra's distinguished hawkers, securing a place in the highly anticipated Urban Hawker food hall in New York.
Indulge in the exquisite offerings of signature Smokin' Joe steaks, including the tantalizing AU Ribeye 200g and the delectable AU Tenderloin 180g, priced at an unbelievable S$19 and S$26 respectively.
Where else can you find such meticulously seared steak, kissed by the flames of a charcoal grill, at these unbeatable prices? Prepare to embark on a truly gratifying culinary journey!
7) Hamburg Steak Keisuke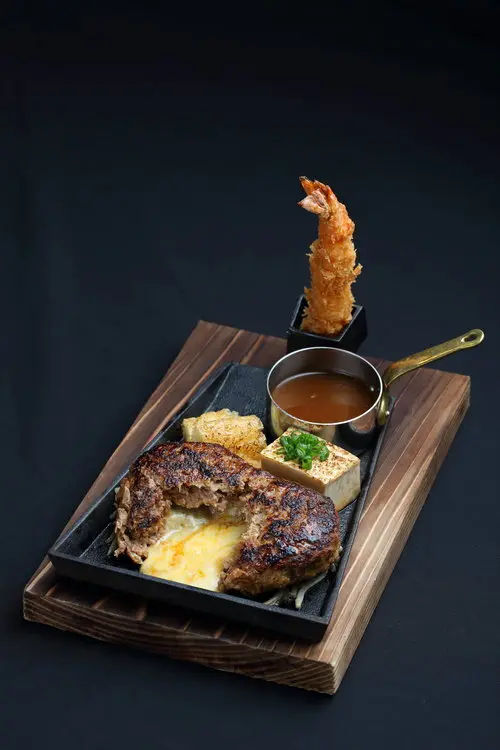 What's even better than a reasonably priced steak? A pocket-friendly steak that comes with an extensive buffet spread. That's right, this steak includes a complimentary buffet featuring not only a salad bar, but also unlimited eggs.
And we're not just talking about your typical soft-boiled eggs; we're talking a variety of eggs, from creamy scrambled eggs to fluffy tamagoyaki.
However, the star of the show is undoubtedly their Prime Beef Hamburg Steak Set (S$20.90), which is tender and perfectly charred on the outside.
8) Steakville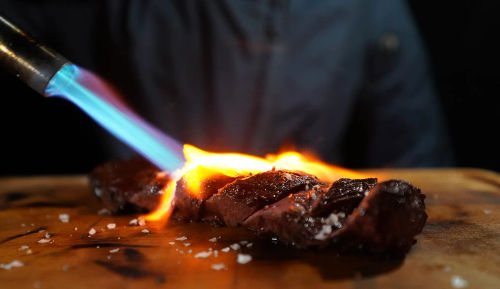 | | |
| --- | --- |
| Key Service | Cozy and laid-back steakhouse |
| Address | 91 Bencoolen Street, #01-56, Singapore 189652 |
| Website | https://steakville.sg/ |
| Phone | +65 92335142 |
| Operating Hours | Daily 12pm 3pm 5.30pm 10pm |
Sunshine Plaza may not be your typical steak destination, but hidden within is a hidden gem called Steakville. This cozy and laid-back steakhouse takes pride in offering carefully selected cuts from around the world.
One dish that stands out is their signature 200g Hanger Steak. Every bite is a burst of robust and succulent flavors that will leave you craving for more.
Indulge in an affordable yet popular dining experience at Steakville, where exquisite steaks await to satisfy your taste buds.
9) Meet 4 Meat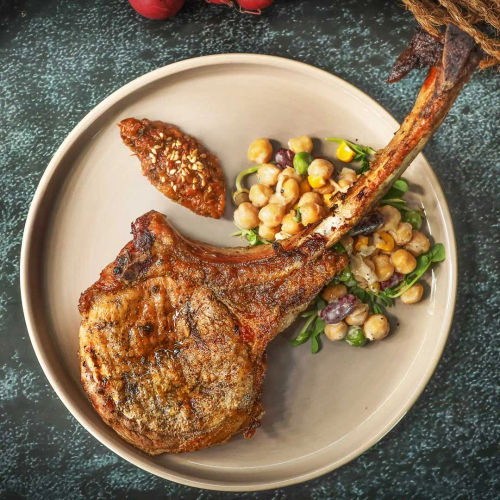 Key Service
Gourmet meats
Address
228 East Coast Road, Singapore 428925
Website
https://meet4meat.sg/
Phone
+65 8290 3605
Email
enquiry@m4m.sg
Operating Hours
Tue – Thu: 12:00 PM – 02:30 PM & 05:30 PM – 09:00 PM
Fri – Sat: 12:00 PM – 02:30 PM & 05:30 PM – 09:45 PM
Sun: 12:00 PM – 02:30 PM & 05:30 PM – 09:00 PM
Don't be deceived by the casual coffeeshop atmosphere of Meet 4 Meat. Managed by a former chef from Wooloomooloo Steakhouse, this stall is renowned for offering gourmet meats at affordable prices.
While their Beef Wellington is a stand out, don't underestimate the appeal of their grass-fed Argentina Ribeye and Australian Tenderloin.
10) Picanhas'

Key Service
Picanha steaks from Brazil
Address
90 Club Street, Singapore 069458
Website
https://picanhassg.com/
Phone
+65 9754 1909
Operating Hours
Tues to Sun
12:00 PM – 3:00 PM
5:30 PM – 10:00 PM
Picanhas, a halal steakhouse, proudly serves its customers with the motto "Steaks For The People". The restaurant specializes in the unique rump cap known as picanha, which gained popularity in Brazil.
The main menu features two proper steak options: the Picanha Don, inspired by Brazilian and Japanese flavors, and the Queen of Steak.
Each steak is dry brined, slow-cooked, and finished on the stove with binchotan butter, resulting in a deliciously rich and succulent taste.
11) MediumRare by Saveur

| | |
| --- | --- |
| Key Service | Australian steaks |
| Address | 2 Tampines Central 5 #01-35 Century Square, Singapore 529509 |
| Website | https://mediumrare.sg/ |
| Phone | 6789 1121 |
| Email | mediumrare@saveur.sg |
| Operating Hours | ON-SUN 12:00 – 14:30 | 17:00 – 22:00 |
Saveur Restaurant Group is a well-established dining group in Singapore, with a track record of opening multiple concepts since 2011.
MediumRare, a departure from the formal French dining of Saveur, offers a more relaxed steakhouse experience.
Embracing their casual dining concept, they provide affordable choices like the S$16++ Lunch Set, featuring a 200g New York Strip loin Steak aka New York Steak or Ribeye.
12) Stirling Steaks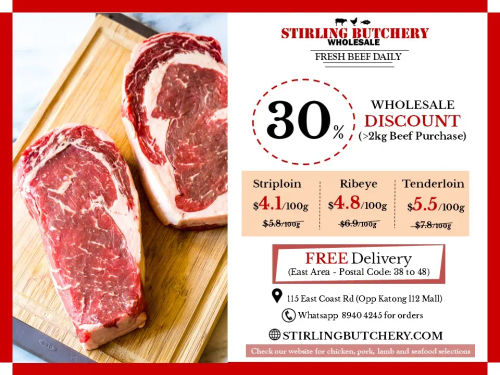 When it comes to steaks, Stirling Steaks is unbeatable. You can get 150g of Hanger Steak for as low as S$9.90, and for just a S$1.50 top-up, you can add Paprika Fries. Even mall franchises don't offer steaks at such low prices. If you prefer a more premium cut, you can go for the 250g Striploin.
For those with a hearty appetite, there's the option of a whopping 500g Angus T-Bone. The best part is that everything is charcoal-grilled and topped with avocado butter.
13) UNO Beef House
Looking for one of the best deals in town? Look no further than UNO Beef House in Singapore! At just S$17, you can sink your teeth into a mouthwatering Ribeye steak that will leave you craving for more.
This hidden gem has recently relocated, but the snaking queues in Toa Payoh are a testament to its popularity. When you visit UNO Beef House, there's one thing you simply can't miss – their legendary Black Pepper Ribeye Steak.
With a perfectly balanced beef jus sauce infused with black pepper, every bite bursts with flavor, allowing the natural essence of the steak to shine through. Trust us, it's a steak experience like no other!
14) Buddy Hoagies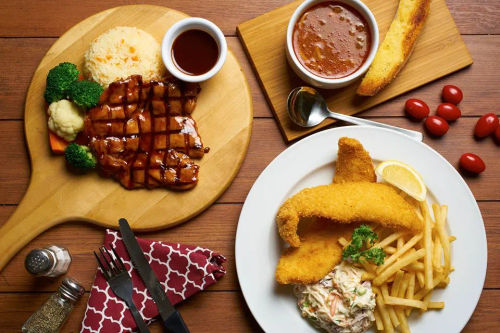 Craving affordable, down-to-earth Western cuisine that hits the spot? Look no further than the legendary Buddy Hoagies Café & Grill! This beloved, laid-back chain has been satisfying meat lovers since 2004.
Indulge in their mouthwatering signature Sirloin or succulent Ribeye Steak, served with your choice of two delectable sides. Get ready for a dining experience that will leave you coming back for more!
Affordable Steak Singapore
In conclusion, Singapore is a food paradise that doesn't disappoint when it comes to affordable yet delicious steak.
From traditional hawker stalls to cozy restaurants, the city offers an array of choices for steak enthusiasts. Whether you're a fan of tender Ribeye, juicy Sirloin, or the unique Picanha, there's a place for you.
So don't let budget constraints stop you from indulging in a mouthwatering steak experience in this vibrant city. Remember, good food doesn't always have to come with a hefty price tag!
Frequently Asked Questions
If you have any questions about affordable steaks in Singapore, you can refer to the frequently asked questions (FAQ) about the affordable steaks in Singapore below:
What are the best restaurants for affordable steak in Singapore?
The best restaurants for budget-friendly steaks in SG are MediumRare by Saveur, Steakville, BIZEN Okayama Wagyu Steakhouse, and Meet 4 Meat.
How much is a steak in Singapore?
The price of a steak varies depending on the restaurant and type of cut. However, you can find affordable options starting at around S$15 and going up to S$40 for premium cuts of beef. Some hawker stalls also offer steaks at lower prices, starting from as low as S$9.90.
What is the cheapest steak to buy?
The cheapest steak to buy in Singapore would be hanger steak, which can range from S$9.90 to S$20 depending on the restaurant.
What is a budget steak?
A budget steak is a type of steak that is affordable, usually priced at S$20 or less. These steaks may come from different cuts and types of meat but are generally cheaper than premium steaks. Some popular budget steaks include Hanger, Black Angus Steak cut, Sirloin, and Ribeye Steak.
What are top 5 steaks?
The top 5 steaks are Hanger Steak – known for its robust and succulent flavors; Sirloin Steak – a classic choice with a good balance of tenderness and flavor; Ribeye Steak – a well-marbled cut that is juicy and flavorful; Tenderloin Steak – the most tender cut of beef, prized for its tenderness; and T-Bone Steak – a combination of tenderloin and sirloin in one cut, perfect for those who can't decide between the two.
Where can I find the best black pepper sirloin steak in Singapore?
One of the top places to get a mouthwatering black pepper sirloin steak is at Buddy Hoagies. Their perfectly grilled sirloin steak is generously coated with a flavorful black pepper sauce that will leave your taste buds wanting more.
Which restaurants serve delicious filet mignon in Singapore?
If you're craving a tender and juicy filet mignon, head over to The Feather Blade or Le Steak by Chef Amri Le Steak. Known for their exquisite cuts of meat, they offer a succulent filet mignon that is cooked to perfection and will surely satisfy your hearty steak cravings.
Where can I enjoy a mouthwatering rib eye steak in Singapore?
Look no further than iSTEAKS Diner for an unforgettable rib eye steak experience. Their prime rib eye steak is expertly seasoned and cooked to your desired level of doneness, delivering a melt-in-your-mouth sensation with every bite.
Which restaurant in Ang Mo Kio serves the signature hanger steak?
For an exceptional dining experience in Ang Mo Kio, visit Steakgrill Steak House to savor their signature hanger meat. Cooked to perfection, this tender and flavorful cut of meat is sure to impress even the most discerning steak connoisseurs.
Where can I find a delectable picanha steak with sides like baked beans and beetroot puree in Singapore?
Head over to Picanhas' for a delightful picanha steak experience. Their perfectly grilled picanha is complemented with sides like flavorful baked beans and creamy beetroot puree, creating a well-rounded and satisfying meal.
Additional Useful Articles
If you are looking for other useful guides and articles about affordable steaks in Singapore, check them out below: