Arab Street Food Guide Singapore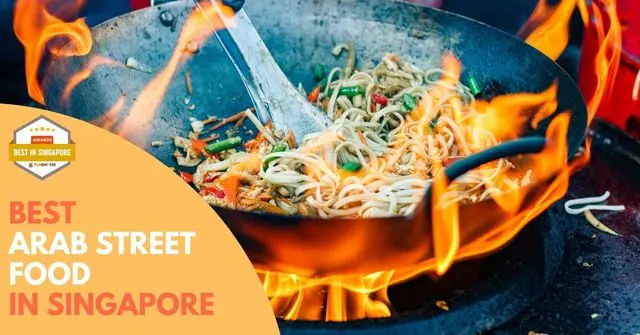 As any food lover knows, Arab street food is some of the most delicious and diverse in the world. Whether you're looking for halal meat dishes at specialty shops or Muslim restaurants or wanting to explore local street markets overflowing with fresh fruits and vegetables, there is truly something to satisfy every craving on the Arab street food scene.
And now, this Arab Street Food Guide will make it easier to explore this rich culinary tradition and find all of the best spots to savor these mouthwatering indulgences. Whether you're traveling through Singapore or a local here or somewhere in between, this Arab Street Food Guide is sure to help you explore and savor everything that Arab street food has to offer.
So why wait? Dig in and start your culinary adventure today!
Arab Street Food Guide: Best Food
1. % Arabica
Aaah, Arabica coffee. Or more affectionately known as the "percentage" coffee joint, this unabashedly wealthy Kyoto cafe sparked a lot of attention when it debuted. It's not only from the beans that this lavish Kyoto café has caused a stir.
Sip on these beverages as you sit in their white-washed interior and watch the world go by. If not, you may always visit their Chip Bee Gardens outlet to sample some of their cuisines.
Key Differentiators
Coffee shop
Love for coffee, design, and seeing the world
Begins in Tokyo, Japan
Customer Testimonial
No dessert but you can bring your own. Dine in or take away. I had a take away cake from near by and ate it at this lovely coffee place. Tried the Spanish coffee. Tastes similar to my regular Arabica coffee place I've normally tried. Staff friendly Many to serve fast service.

Win Tai
2. Guilt
There's never a bad time for a big bag of cookies, and Guilt is where you get those Nasty Cookie-eque bakes for the sweet tooth in you.
Two friends, Kirsty and Grace, left their corporate jobs to pursue something they could call their own; Guilt offers 100 percent cookie madness for all clients, as well as delectable sweets.
If you like s'mores, you'll love Guilt's Walk Of Shame, the bakery's take on a s'mores cookie made with dark chocolate chips and caramel-infused vanilla cookies. This is a cookie that is so delicious, you won't be able to stop at just one topped with toasted marsh.
Key Differentiators
Free delivery on orders over $65
The perfect gift
Cult favourites
Customer Testimonial
I started the Guilt journey with their seasonal Apple Pie cookies which were almost Proustian. Eating these cookies is an emotional, life-changing experience. In their capable hands, I would say these are cookies that are consistently excellent, clearly made with stupendous craft and originality, and easily the best money could buy! Cookies crisp and crumbly and chock full with unicorn energy.

Philip Chua
3. House of Kebab
Arab Street is a romp without Middle-Eastern cuisine, such as at McDonald's, it's like ordering a salad. It's the same kind of sacrilegious to us if you ask us. House of Kebab serves real Turkish and Lebanese cuisine that will make you rub your tummy while smacking your lips.
Sink your teeth into delicious Lamb Kofta or the House of Kebab's Signature Lamb Chop. Alternatively, if you're dining in, go all out with the Family Platter, which comes with a sampler of House of Kebab's best dishes.
Key Differentiators
Middle Eastern Cuisine
Family platters
Delicious food
Customer Testimonial
11/10 Would recommend!!!! I'm so so happy I found this place, definitely going to be coming back here again 🙂 Super generous portions, friendly and helpful staff and yummy food that came with free sides (hummus with pita, chicken kebab), drinks (soothing hot mint lemon tea) & desserts (baklava)!

Even gave us 2 bottles of iced water when we left cause it was a hot day :')

If I could give more stars I would!!

Faith Neo
4. Ratu Lemper
Ratu Lemper is one of Arab Street's best-kept secrets. You will always have a soft spot for traditional kuehs and snacks.
This tiny shop is a must-see for tourists from all four corners of the island. Lemper is an Indonesian savory snack made with glutinous rice and filled with shredded chicken or shredded fish. It's a fragrant, delicious little package that's ideal for afternoon munching.
Key Differentiators
Lemper is sticky rice cooked in coconut milk, w/tasty chicken/beef fillings
We make ours soft&plush, fulfilling at every bite
No msg/preservative
Customer Testimonial
It's so difficult to find Lemper Ayam in Singapore and finally I found a shop selling Lemper Ayam while walking around Arab Street. The taste is authentic and delicious. Love it! Must try the Pulut Kuning and the kueh kueh too. The staff was friendly, helpful and courteous. Highly recommended!

Din Neo
5. 麥吉 Machi Machi
As the favorite bubble tea shop of Jay Chou, best believe that Machi Machi's reputation speaks for itself. Plus we don't need to go into how much bubble tea runs in our blood; so there's no reason why you shouldn't visit Machi Machi while exploring Arab Street.
Their incredibly grandiose Oolong Tea With Cream Cheese Foam & Mochi, which is more dessert than a beverage, isn't something to be upset about, to be honest. Their Black Milk Tea With Creme Brûlée, on the other hand, is an on-tap staple that you can count on.
Key Differentiators
Bubble tea shop
Famous dessert go-to place
Staple location
Customer Testimonial
place is so cute and minimalistic !! bought the strawberry latte with panna cotta and almost didnt want to eat it cuz it looked so pretty ✨ slightly pricey but sooo worth it !!

Kei
6. All Things Delicious
With its freshly-baked meals, hearty breakfast selections, and the most delectable rice bowls, All Things Delicious is so hard not to love!
They offer a unique Shashouka for breakfast, as well as Wholesome, Hearty, or Nourishing set breakfasts that come with a variety of protein sources. They also have lighter choices such as Smoked salmon on Sourdough Toast or Roast Beef Panini.
Make a point of sampling their sweets, especially the Bread and Butter Pudding, which is rich yet light on your tongue.
Key Differentiators
Bustling cafe by day
Serving fresh baked goods & wholesome foods
Halal Food
Customer Testimonial
First time trying but it was home delivery so can't comment on service and food in shop.
Delivery was on time within scheduled time. Food came hot despite delivery from Arab street to Yishun and dessert (fruit tart)'s crust still has some crispiness after we ate 3 hours from delivery time. We did place in refrigerator after it arrived.
Totally love the mixed berry tart!!
Salmon portion was large and love the avocado that came with it. Delicious too (just like the shop name!) Can't comment on other food my friends are.
It's halal too so my Muslim friends can eat!
Recommend!

Qian Wen
7. Rumi The Poets Cup
The Rumi The Poets Cup has been a popular sight at Ramadan bazaars for the last several years, and they finally opened a physical store in Kampong Glam in October 2020!
You may now visit their outlet on Bussorah Street and purchase a cup of their distinctive iced tea or coffee, or the Exclusive Rumi Ice Blended series in flavors such as Butterscotch, Ondeh-Ondeh, Hazel Roche, and Strawberry.
Key Differentiators
Cozy ambiance
Distinct blended drinks
Recently opened a physical store
Customer Testimonial
Love love love love love the interior so so much! The crew even showed me a bts video on their ig acc. I had caramel macchiato and my friend ordered rumicino. So cool! Also love the idea of Game Night and the" Take Me! " envelope.

Loqman Hamdan
8. The Fortune Cookie
The Fortune Cookie, which was opened by the same group that runs The Malayan Council, serves halal Chinese cuisine as well as Asian or international fusion dishes. From Hokkien Mee topped with enormous prawns to Ikan Pari Spaghetti to Lobster Fried Rice – the restaurant's cozy and modern atmosphere makes it ideal for special days.
Don't forget to sample their sweets, especially the Red Bean Lamington Cake, which is a fusion of Asian and Western sweets you'll want to have another round with!
Key Differentiators
Muslim-Owned
Serves Halal cuisine
Cozy Restaurant
Customer Testimonial
A little quaint restaurant at the end/start of bussorah street.

Went here to celebrate a friend's birthday and I love the service here. Was served by the boss and he made sure that we had a good time. We were unsure what to order and he gave some suggestions – which we didn't regret. As it was our friend's birthday, we had a complimentary birthday cake as well!

Thank you for the complimentary food and will definitely come here again ☺️

Aminah N
9. Fika Swedish Cafe and Bistro
Do you crave a Swedish meatball? Then go to the other end of Arab Street for Fika. Toast Skagen, and Smorgasbord are among the Scandinavian classics available here.
The traditional cafe, with its whitewashed walls and bright interiors, is a welcome change of scenery among the many Mediterranean restaurants in the area. Don't forget to try the highly praised lingonberry cheesecake!
Key Differentiators
Serving home-cooked
Traditional Swedish food and pastry
Use only the finest and freshest ingredients
Customer Testimonial
Chill environments. Warm and catering owner and staff.
Good are nice, first time tried crepes, grilled chicken and cheese are quite balanced and delicious. Proposition is generous, would come again for desserts next time.

Jewel22
10. Tabbouleh Lebanese Cafe and Restaurant
The Lebanese cafe, which features mosaic lamps and red tablecloths, has a homely and comfortable atmosphere. Its cuisine is filled with Middle Eastern and Western meals, including lamb kafta with hummus, halloumi cheese sandwich, charcoal-grilled meats, and more.
For sharing, choose from a variety of mezze platters that come with creamy yoghurt and warm pita bread.
Key Differentiators
Authentic Middle Eastern Food
Best Lebanese restaurant in Singapore
Wonderful selection of soft lamb, tender chicken, and sizzling seafood
Customer Testimonial
Loved the food here. The mezza platter was surprisingly good, especially the brinjals. Would have preferred more lamb in the mixed grill which was tender and full of flavour. The chicken was not bad but the rice is absolutely the best. Finished every grain although the portion was generous. Was too full for dessert.
If the weather is too hot, they have an aircon room at the back. Service was polite and prompt.

Daniel Wong
Arab Street Food Guide: Best Restaurant
1. Beirut Grill
Since 2009, Beirut Grill is serving their own version of the best Middle Eastern cuisine and experience.
A one-of-a-kind dining experience with a twist, Beirut Grill has been offering some of the finest Lebanese and Middle Eastern cuisine in Asia, and it will undoubtedly excite and delight your senses with its mouthwatering Mezza infused with olive oil, spices, and herbs. All important spices and herbs are imported from shops.
Key Differentiators
LOCATED ON THE HISTORIC BUSSORAH STREET
MIDDLE EASTERN CUISINE
FINEST WINES FROM BEQAA VALLEY, LEBANON
Customer Testimonial
A cozy restaurant located in the Arab quarter, not far away from the Sultan mosque but in a more quiet part. Good selection of delicious vegetarian food (that we completely obliterated) and very refreshing mocktails. Amar, our very gracious host, made the already great experience even better. Will definitely come again.

Damir Soldić
2. Nasrin Restaurant
Do you want a nice hot plate of Middle Eastern and Mediterranean cuisine? Nasrin Restaurant's beautiful interior and delicious menu of appetizers, signature dishes, and chef specials, including Turkish classics like kebabs, will fill you with an appetite.
Key Differentiators
Serve amazing Turkish food
Cosy ambience
Offers free wifi
Customer Testimonial
Food was exquisite, ambience was good – this place is so underrated!! Ordered the Kofte Lamb and the grind lamb was so juicy I think I can have it everyday. Lamb Mandi was the largest lamb shank I've seen and the meat was so tender – it's IMPOSSIBLE. It's my 2nd time back here and I'm surely returning for my 3rd

Winky Chan
3. Le Petit Chef
Le Petit Chef offers an immense culinary experience that could bring you 3D visuals!
The world's tiniest chef, Le Petit Chef, leads you on an immersive culinary journey through the best of theatre & dining at The Grand Hyatt Singapore! Enjoy the time-honored traditions of sumptuous cuisine and entertainment that will pique your interests.
Key Differentiators
Unforgettable experience
Delightful dining and entertainment
3D Projection Mapping
Customer Testimonial
Had a wonderful and FUN dining with CJ! So thoughtful of him to give a cake to celebrate our Anniversary!
Apart from the experience, the food selections was super nice and quite filling!
Nice choices of Welcome drink too, which one taste like char siew

Alexander Reinaldos
4. The Ramen Stall
The Ramen Stall was built with all of its patrons in mind, providing genuine Japanese cuisine prepared with the highest quality ingredients for Singapore residents to enjoy and visitors to experience a Singaporean spin on classic Japanese cooking methods.
They begin their magic by boiling meat and bones for 30 hours to produce a flavorful, milky, and smooth texture in our Ramen broth. With no shortcuts taken, and no artificial additives used.
Key Differentiators
Halal restaurant
Serves Japanese cuisine
Uniquely local flavour
Customer Testimonial
Staff was kind enough to hold the food till it's time to break our fast, talk bout Japanese hospitality! Wow! Absolutely rare!
Food was delicious of course! Ramen was served hot! My favourite Okonomiyaki still taste the same and crispy!

BellyJay 88
5. Rakuya
Rakuya serves traditional Japanese cuisine with a unique fusion twist. With the use of uncommon combinations of ingredients, its omakase and bar bites menus will delight and amaze you. The end product is an exquisite and unforgettable dinner that takes your taste buds on a journey across Asia.
Aside from the promise of delectable cuisine and regular menu modifications to keep things interesting, visitors may anticipate enjoying a wide variety of sakes, including seasonal selections, from all corners of Japan.
Rakuya also offers inexpensive set lunches and a la carte plates that are prepared omakase-style.
Key Differentiators
Promise of good food
Omakase and bar bites
Classic Japanese cuisine with a fusion twist
Customer Testimonial
Excellent place in this neighbourhood for an affordable Omakase experience
They change the menu monthly so there will always be new items to share regular guests.
Service was excellent as usual and the Suzukagawa sake recommendation was spot on with just a hint of sweetness and mildly fragrant.
Foodwise we have never been disappointed so far, being pleasing to the eye and tasting just as lovely

phillip lim
6. Dim Sum Place
When you dine at our dim sum restaurant, you may enjoy authentic Cantonese cuisine! Dim sum dishes, noodles, seafood, roast meats, and desserts are all available on their menu.
Whether you pick to eat at their Chinese dim sum restaurant or get a dim sum delivery, you'll enjoy a flavorful and pleasant dining experience when you dine with The Dim Sum Place!
Key Differentiators
Centrally located
Ease of inclusive family gatherings
Items made fresh twice daily
Customer Testimonial
Firstly, their customer service grade is A+. The waitress ensure that we have all our orders served. The food is great and we were well served. My favourite dish since 2019 is the Beef Brisket Noodle (Dry). You should try!

MF
7. Symmetry
Symmetry is an all-day dining and bar with the laid-back attitude of Australian life, which has been open since 2012.
Sip delicious contemporary Australian dishes expertly prepared with high-quality, fresh ingredients, as well as clever cocktails and pleasant conversation. Symmetry is a fantastic social hub for all events, whether it's a business lunch, a romantic dinner or an after-work beverage.
Key Differentiators
Restaurant and bar
Feel instantly welcomed
Coffee, food, drinks, music and people sync
Customer Testimonial
Cozy, green and beautiful. Sat outdoors. Loved the coffee (tried the capp and the coconut cold brew). The food was just as delicious as it was pretty and colourful – really enjoyed the 'crab on toast' and the waffles. Would definitely go back and recommend to friends too!

Akriti Vij
8. Zam Zam
Singapore Zam Zam, which was founded in 1908, is one of the most well-known Indian-Muslim eateries in Singapore.
This restaurant, which has been serving up some of the best Nasi biryani in Singapore for almost a century, is open seven days a week and is well recognized for perfecting Nasi biryani, murtabak, roti prata, and other foods.
The restaurant is a two-story structure with basic but pleasant and warm seating. The staff is nice and willing to assist whenever possible.
Key Differentiators
Spacious location
Friendly staff
Long perfected Indian cuisines
Customer Testimonial
Enjoy the food and atmosphere here, various food choices and u can even talk to those local people who come after work! For tourists, the opening hours for Singapore Zam Zam is long enough for your to come after shopping.

Elam Kwok
9. Alaturka
Alaturka is a restaurant in historic Kampong Glam that serves exquisite Mediterranean cuisine prepared by the most experienced Turkish chefs.
They have opened their doors in May 2005 in the historic Arab Street enclave, where they've been serving high-quality versions of classic dishes as well as delicious new departures into uncharted culinary territories.
Also, they were awarded the Michelin Guide Singapore Bib Gourmand in 2016, and continue to strive to offer Turkey's genuine flavor of Singapore.
Key Differentiators
Delicious authentic Turkish cuisine.
A warm welcome awaits you
Prepared by the most experienced of Turkish chefs
Customer Testimonial
This is the first time I tried Turkish food. All dishes are very nice! Not only appetizers but also main dish all great! We also ordered less sweet desserts ❤️‍ ❤️‍ ❤️‍ ❤️‍ love it. Apple tea good as well

李冠誼
Arab Street Food Guide: Best Halal Restaurant
1. The Straits Teppanyaki
The owners of Rumi The Poets Cup have also established a dine-in teppanyaki and rooftop halal "bar" on the second floor of the same complex, which they call 'The Heart.'
The Straits Teppanyaki serves Western and Asian cuisine, such as The Straits Salmon Fillet, crunchy chicken skin, and halal wagyu beef grilled on a Japanese teppanyaki-style hotplate.
Simply sit back and enjoy the show as the expert chef prepares your meal before your eyes.
Key Differentiators
Authentic collections of Halal Fusion Delicacy
Beverages from @leveltwo.sg
Western and Asian Cuisine
Customer Testimonial
One of my best dinners. The wagyu is very soft and all of the food portions are just right. The drinks.. fabulous. overall ambience is amazing.

Hamidah Hashim –
2. ASAP & Co.
ASAP & Co. is a halal brunch restaurant that features a steakhouse-dessert bar concept, so you don't have to choose between sweet and savory any longer. Choose from ASAP Ultimate Breakfast, which includes 12h smoked brisket, or try their Baby Dutch Pancakes and Shabsouka for something different.
Key Differentiators
Steakhouse-cum-Cafe
Serving Premium Smoked Meat
Desserts
Customer Testimonial
Amazing food! Came here because of a friend's recommendation and tried the steaks had truffle fries, roasted potatoes and corn (the corn is SO GOOD). Love the vibe of the place and service of the staff. Would love to come back and try more food.

Do make a reservation in advance as pre orders need to be made. There is also a holding fee for the reservation. Do take note!

Eunice Hannah Lim
3. Overrice
Overrice is Singapore's own answer to The Halal Guys, providing a halal snack pack that will tide you over. Their bowls contain basmati rice, lettuce, tomatoes, pita bread, and chicken, pulled beef or falafel.
The Overrice Fries, Buffalo Chicken drumsticks, and even desserts like brownies, Okieco's banana pudding, and strawberry cheesecake 'shooter' for a bite-sized pleasure make up part of the restaurant's Arab Street menu.
Key Differentiators
100% Muslim Owned Establishment
Delivery Partners
Must-try Signature bowls
Customer Testimonial
Might be one of my new favorite place to go for a quick and yummy meal. Love the bowl, the sauces really made the dish, but it was all fresh and wholesome and yummy! Great meat, great pita … run don't walk to this place!

Melissa Eisner
4. Fluff Bakery
It's worth noting that any meat served is halal, so there's no worry about the food you'll be eating. Despite this fact, there is a dine-in option, which comes with its own set of restrictions. The Halal Artisanal Fluff Bakery provides an experience like no other for those who want to experience something filling and wholesome food.
Key Differentiators
Halal artisanal bakery
Since 2013
Good food
Customer Testimonial
Amazing cupcakes!!! They were a hit at the dinner i went to. I got the variety box and was not disappointed. Some very enjoyable flavours!!

Lynley Crawford
5. Butter Studio
Butter Studio serves gourmet pastries, delectable sweets, and juicy burgers. The cafe's wide selection of food is sure to pique your appetite.
If you're going for breakfast, the Good 'ol Benny and the Traditional Buttermilk Pancakes are a must, or if sweetness is what you're after, Butter Studio's handcrafted Sea Salt Nutella Tarts and Belgian Chocolate artisanal ice cream are hard to beat!
Key Differentiators
Time-tested recipes
Tradition of artisan handmade goodness
Gift packs
Customer Testimonial
Ordered their nutella tart, lemon cake, butter waffle, and chamile tea. Service was great and was surprised to see many customers coming in and out. Please stock rose tea! Am moving office to the neighbourhood! Will be a regular!

Dr. Martha Tara Lee
6. Royz Et Vous
Royz Et Vous, a French-inspired cafe, is owned by a Muslim. The bistro's dishes, such as Beef Asparagus, Soft Shell Crab Pasta, Herb Crusted Salmon, and Smoked Duck are among the best on the menu. Its unassuming but cozy ambiance and delicious food make it a diamond in the entire selection of Singaporean cafes.
Key Differentiators
Halal Restaurant
100% Muslim-owned
Cozy ambience
Customer Testimonial
Nice relaxing ambience. Excellent food and the price is reasonable. Will come again. I came back again.. Again awesome experience!! The nachos ❤.. Love it!! Will try indobowl other dishes!! I know I will not be disappointed .. ❤❤❤ thanks guys!!

Sahidah Kim
7. Penny University
If you're looking for somewhere to have a bite to eat with the crew, Penny University is the place to go. The Sourdough Toast, Eggs Benedict with Smoked Salmon, Vanilla-infused Greek Yoghurt with Granola, and Croque Monsieur are all must-tries.
The café, which is run by a Muslim family, also offers a wide range of teas, including Earl grey, French peppermint, and Moroccan rosebuds. It also serves some of the finest coffee available.
Key Differentiators
Specialty coffeehouse
Community-focused origins
Friendly and approachable service
Customer Testimonial
One of my many options for decent coffee and cafe fare in the neighbourhood. Coffee quality consistent, service was prompt and friendly. Moroccan breakfast was the usual above average level. Pistachio lemon cake was a delight to complete the breakfast. Plenty of sockets and good wifi for the workaholics to spend their day. Be considerate to our diners though and give up your seats if it's getting crowded.

Freddy Lim
8. Badoque Café
Badoque Café, a halal-certified cafe, is well-known for its excellent service and large portions of delectable foods at this café make it well worth the trip. When you're in town, don't miss out on the Rib Eye Steak, Breaded Oysters, and Squid Ink Risotto!
Key Differentiators
Muslim Owned
Time for chillax
Second seating at 8 pm
Customer Testimonial
portions here were HUGEEEE!!, mains can definitely be shared between 2 people. the food was so amazing too! and the staff working there were so lovely. will definitely recommend this place to others, and will be coming back here soon!!!

Alanice Choo
9. Tipo Pasta Bar
Tipo Pasta Bar, popularly known as "doppio zero," is an Italian restaurant. All of their dishes, which include fresh handmade pasta using only high-quality ingredients, are designed to be different. With each dish's burst of tastes, you'll be sure to impress your guests with your culinary expertise. Don't worry all of their pasta are sold at a wallet-friendly price.
Key Differentiators
Fresh pasta made daily
Gourmet Ingredients
Halal-Certified
Customer Testimonial
Not your everyday pasta place. Changing fresh pasta to choose from and you can build your own! No idea what the pink sauce is even after having it but its good! Definitely will be back.

Jillian Sim
10. Olivye Cafe Gelato
At the Olivye Cafe, which is halal certified. Along with a selection of delectable gelato, you'll discover a wide variety of Western dishes at the Gelato shop. While the steaks, pastas, sandwiches, and salads are all excellent, it's the gelato that truly makes this restaurant unforgettable.
If you're looking for a unique way to surprise your partner, try something new. Give the well-known tastes like Hazelnut and Chocolate a miss and instead try something like Chempedak or Durian!
Key Differentiators
Customer Testimonial
Halal spaghetti and gelato. Nice staff as well

Raihan Jumat
Arab Street Food Guide: Best Cafe
1. Nirvana Dessert Cafe
Nirvana Dessert Cafe is here to lead you on the path to enlightenment with their delectable desserts. Nirvana's Japanese Soufflé Pancake has three beautiful cloud-like pancakes, as well as fresh fruit and whipped cream, for a tasty treat.
Nirvana Dessert Cafe's Molten Chocolate Cake With Ice Cream is a must-try for any dessert connoisseur. It's a molten chocolate cake with ice cream in a volcano shape that will undoubtedly delight your taste buds.
Key Differentiators
No GST
No service charge
Everything freshly made and homemade ice cream
Customer Testimonial
Kids found this dessert place which could easily missed due to its location.
We have settled to the Lava chocolate cake, snowball Mochi mango and the fresh strawberry tea. Not so sweet and we really like it.
Ambiance is homey, some LEGO display that captured my little one attention
Price is affordable with many selection as well.
And good hideout place if you happen to be roaming around Arab street to pass the time.

McYLLe
2. Lina's Cafe
Lina's Cafe is a cafe that strives to create autism awareness. A colorful autism tree mural is painted on the exterior cafe's pillar to promote Autism awareness, inspired by Sara, a 10-year old ASD girl.
The Cafe serves a range of teas and coffees, as well as floats, local teh/kopi tarik, and delicious simple halal meals with healthy options such as avocado chicken salad.
Families with children on the spectrum that dine in will receive their first beverages for free. For they understand how difficult it may be, therefore they provide you a nice refresher.
Key Differentiators
Cafe with a cause
Loved by many
Offers great support system
Customer Testimonial
Love it. The basque burnt cheesecake and calamari are my top favs.

Did some shopping for tudung, brooches and mask extenders. (And these with made by children with autism)

The service was nice. The 2 ladies were friendly.

Karmila S.
3. Cafe Bollywood
The café is painted red and gold, the iconic Bollywood colors signifying vitality, vibrancy, and youth. It's a little cozy with movie posters and well-known quotations on the walls.
The Bollywood Café is a tribute to the diverse and brilliant world of Indian cinema. This café has its own "wall of fame," where customers are invited to write down their favorite quotes from any Bollywood movie. Patrons can expect to be immersed in every sort of Bollywood music that has ever been created, whether it's old classics or current
There's a different music theme each day of the week, with food and drink specials corresponding.
Key Differentiators
Cafe
Lounge
Movie & Music Store
Customer Testimonial
For the desi movie maniac in me, I can never get enough of this place. The ambience and aura of this place is just so filmy that the movie maniac in me could live there forever! It's like a temple for us desi peeps in Singapore.
Love the food and music, have heard some great classics there!

DJ Zaff
4. Meomi Cat Cafe
The staff is kind and helpful, but the owner has a personality that was made for running a cat cafe – amiable, interesting, and passionate about everything feline.
The cats' crowd of spectators grew quickly as the area began to fill up, with plenty of space for maximum cat interaction owing to a low sitting level. The cats climbed down gradually throughout the area, being playful or lowkey depending on their mood and personality.
Key Differentiators
Owners are very passionate about cats
Reservation advisable
For the well being of the cats, they have quota for group booking and children
Customer Testimonial
best cat cafe ever!! i could tell that the owners were passionate about taking care of the cats and they were very good hosts too. we were hesitant in approaching the cats who were sleeping, but they showed us how to play with the kitties, took some cardboard boxes out to entertain them and really livened up the atmosphere. I've even learnt a bit about cats being stalkers and how you should get their attention!!

the owner was charismatic and shared about the kitties, their names and personalities and we even thought he was a customer himself when we first came in because he was so comfortable chatting with customers.

overall a really great experience because unlike other cafes where you have to "compete" for the cats attention and cats are typically sleeping, the owners here will guide you on how to better spend time with them. definitely coming back soon!!

Yu Jialu
5. Kampong Glam Cafe
Kampung Glam Café's cuisine offers a variety of local and regional dishes, as well as alcoholic drinks with diverse taste profiles that cater to all tastes. With every meal freshly prepared to order, they continue to focus on giving the finest and freshest meals feasible.
They've worked hard to provide a calm and pleasant environment, so whether you're stopping by for a cup of joe, grabbing something to eat during lunch hour, or spending a relaxing afternoon drinking "Teh Tarik" while catching up with friends, you'll feel refreshed and cheerful.
Key Differentiators
Regional and international dishes
Wide variety of cuisines to choose from
Pleasant environment
Customer Testimonial
Variety of nasi padang dish to choose from. Fried item eg. Nasi goreng mee goreng etc is served from 4pm onwards.
Mee soto is to die for. Reasonable price.

Mazlinda Mazlan
6. Tarik
The new Tarik Cafe, a modest teh-k away shop located along the stretch of predominantly textile shops on Arab Street, miles from the other restaurants that are concentrated on the bustling Bussorah Street, has just opened its doors (or window).
On a sweltering afternoon, the owner of Tarik Cafe will be pulling piping hot teh tarik with deceptive ease from an unusual blue and white building. Customers will have a range of different teas and light snacks to select from when strolling or driving by on a hot afternoon.
Key Differentiators
Hole-in-the-wall concept
Serving is good
Delicious teas
Customer Testimonial
Tucked among rugs and textile shops of Arab street is this newly opened hidden gem called Tarik. The shop has white & blue front and you can follow the spice fragrance (or the queue) – get your fix of fragrant teh and light bites. It's a "hole in the wall" so only take always available

Jerry He Fangyuan
Arab Street Food Guide Singapore
And there you have it, an Arab Street Food Guide! Whether you're looking for a quick snack or a hearty meal, there's sure to be something to suit your taste. So next time you're planning a trip to the Arab world, be sure to keep this guide in mind. And who knows? You might just find your new favorite dish.
Looking for more interesting reads? Check out more of our blog posts down below: