Baby Back Ribs Singapore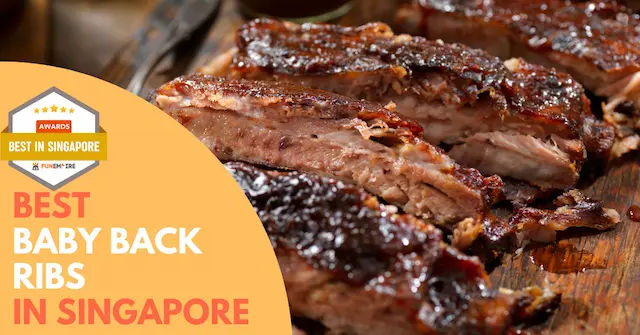 There are many different types of baby back ribs out there. It can be hard to determine which restaurants serve the best baby back ribs in Singapore. But don't worry, we've got you covered!
In this blog post, we will list 10 of the best baby back rib restaurants in Singapore, so you can enjoy this delicious dish without having to worry about quality. These restaurants are known for their delicious and tender baby back ribs. Whether you're a fan of sweet and sticky sauce or prefer your ribs dry and spicy, we've got something for everyone on this list
So what are you waiting for? Start planning your next rib feast today! So if you're looking for some good eats, look no further than this list!
1. Patbingsoo Korean Dining House
These aren't your average baby back ribs, but pork ribs are a specialty at this Korean restaurant in Singapore. The laid-back dining establishment has sinful street food like rolling cheese pork ribs on the menu.
Cheese is melted till it's stringy and then wrapped around crispy pork ribs before being served with hot gochujang sauce for this dish.
Key Differentiators
Offer modern Korean savouries
Broadest range of favourite Korean dessert, bingsoo
Open for Dine-In, Takeaways & Deliveries
Customer Testimonial
A variety of items to choose from. Personal favourite is the Dry Kimchi Ramyeon because of the spicy kick (didn't take photos because I finished it before I remembered to take one LOL). Also must order Fried Pork Belly as sides, taste perfect with the dip provided! Strongly recommend

scatty 77
2. Meat N' Chill
| | |
| --- | --- |
| Key Services | American restaurant |
| Address | 805 Bukit Timah Rd, #01-04 6th Avenue Centre, Singapore 279883 |
| Website | http://meatnchill.com/ |
| Phone | +65 8812 4455 |
| Email | meatnchill@gmail.com |
| Operating Hours | Tuesday to Sunday: 11:30AM–2:30PM, 5–9PM |
Do you want to sample some of the city's most delish ribs?
Head to Meat N' Chill for the ideal spot to meet and chill, with its best ribs. Its lamb ribs are full of flavor and taste fantastic, smoked in-house and served with a tangy orange mint sauce on the side.
The fall-off-the-bone prime beef ribs are braised in a Shiraz and XO combination, which patrons truly adore.
Key Differentiators
Gourmet Selection of Flame-grilled steaks
Light bites, ribs, steaks, burgers, and more
Chef Bruce's Secret Recipe
Customer Testimonial
Ordered the New York Strip (medium rare) along with two sides and red wine sauce. When it was first served, the steak looked thick and juicy! It was cooked to how i liked it to be- a little pink and soft in the middle. To top it off, I got the classic vanilla ice cream with warm brownie for dessert, which thoroughly satisfied my sweet tooth. The waiters were attentive and courteous. Overall, I would definitely visit this cozy restaurant again!

Ting
3. La Taperia
While the Les Amis Group is recognized as the pioneers of French and Japanese fine dining in Singapore, it also prepares genuine Spanish food at La Taperia. The costillitas de cordero a la parrilla are among its enticing selection of tapas.
In a nutshell, honey mustard glazed charcoal-grilled lamb rib confit. If you want your meat ribs to have a bolder flavor and be more gamy but still have plenty of slipperiness, this dish is for you.
Key Differentiators
Spanish cuisine
Holistic dining experience
Sizzling Spanish signatures
Customer Testimonial
What a steal in the heart of Orchard! A good variety of dishes. But do go with their lunch set that is so worth for money! You will be more surprised when you have the food. My beetroot salad with smoked sardines was so refreshing. My partner enjoyed his cheese platter and can't stopped saying it was so valued for money.

My braised beef cheek was so tender that it just melted in my mouth. His lamb dish was nicely cooked, comparable to a steak dish! We ended our lunch high with wine and sugar – of cos in a good way. We had poached pear and churros. Again, they were also nicely done with perfect sweetness. Thanks to the kind staff for being attentive too!

Siaw Wei Cheong
4. Jerry's BBQ & Grill
For a consistent supply of barbecued deliciousness, Jerry's Barbecue and Grill will not disappoint. Expect smoky ribs flame-barbecued in Memphis style with hickory wood to infuse intense, harsh, smokey tastes into the meat.
At this American restaurant in Singapore, the ribs are cooked for four to five hours at a low temperature, which is a talent done to perfection. And, yes, these people do takeout if you don't have time to finish!
Key Differentiators
Multiple Locations
Takeaway&Delivery Service
American Pie Station
Customer Testimonial
Jerry's has been a staple for American diner styled comfort food for as long as I can remember. It retains the charm and aviation paraphernalia that connects it to the old Seletar Camp and airport. Food is consistently good and price is fair. Nacho chips uses real cheeses and not cheese sauce like a lot of other places. The baby back ribs are my favourite with its fall-off-the-bone tenderness and hefty serving of BBQ sauce.

Jon P.
5. Boomarang Bistro & Bar
This is a restaurant we like to frequent. Boomarang is a cafe, bar, and bistro that serves authentic Australian dishes with pride. It has an elegant atmosphere and is located by the beautiful Singapore River in Robertson Quay, where you may enjoy a leisurely meal and entertainment all day long.
The kitchen serves meaty dishes like the fiery devil's ribs: baby pork ribs marinated in a spicy sauce that will provide tingles on your tongue.
Key Differentiators
Café
Bar
Bistro
Proudly serves fresh, authentic Australian cuisine
Customer Testimonial
They have four n twenty pies!!!
I'm surprised and I only found this in Australia.

The food is pretty much top notch, as the avocado on toast is filling, and latte is very good.

As on the owner being Aussie, yes he's from Melbourne if I'm not mistaken. From the Melbourne stadium background. Oi oi oi

Vincent
6. Super Star K
Key Services
Busy Korean eatery featuring traditional charcoal barbecue, soups & stews, plus kimchi pancakes.
Address
75 Tg Pagar Rd, Singapore 088496
Website
https://www.superstark1.com/
Phone
+65 6224 0504
Operating Hours
Mon – Sun:
Lunch : 12pm – 2pm
Dinner: 5am – 11pm
Visit Super Star K for the finest bounty and excesses of genuine traditional Korean casual meals. Super Star K has a fantastic team that prepares excellent meals whenever you visit.
Check out and try their amazing pork and beef ribs, since the professional chefs know exactly how to provide that authentic spicy beef flavor with their exquisite cooking.
The interior is simply perfect. It delivers a wonderful blend of calm and warmth that will bring to mind your favorite Korean movie. It's one of the greatest, according to Korean entertainment and culture.
Key Differentiators
Intimate atmosphere
Right location
Delicious Meal (Bibimbap/Kimchi Soup/Saba)
Traditional Korean Charcol BBQ dinner
Customer Testimonial
One of my favourite Korean bbq places in sg. Their cuisine is very authentic and staff are all Korean, we had the set menu A with all beef on this time. They have other sets that have chicken and other meats.
Another favourite is the steamed egg which is fluffy and soft.

Kevin KW
7. Morganfield's
If you love American BBQ ribs buffet smoked over wood and drenched in a delicious, tangy BBQ Sauce, then Morganfield's is the place to go.
The well-known restaurant specializes in genuinely genuine prime and normal pork ribs. You should try some of their smoked and slow-cooked succulent cuts of meat, which have been carefully prepared.
During the weekend, they frequently run special offers. Meat lovers will appreciate Morganfield's restaurant, which has four locations.
Key Differentiators
American BBQ prime pork ribs
Slow cooked to juicy
Old fashioned way.
Customer Testimonial
This place needs no introduction. If you crave for ribs, coming here will not disappoint. The sticky bones spare ribs is super tender. The staff here are also very friendly. Shout-out to Captain Bridget (hope I get the name correct) who helped us to with the seats though we only booked in the evening before coming over. The ribs are so good that I actually have ordered takeway and home delivery a couple of times during Covid. Thank you to the crew at Morganfield's.

CP
8. 8 Korean BBQ
Eight Korean BBQ is one of the most well-known restaurants in Singapore, where it serves exquisite meats. Tender, flavorful, and elegant cuts of meat are served in a stylish setting that will make you hungry for more.
The main sort of food here is a huge slab of beef, chicken mac, or pork belly in a variety of sauces and cheeses.
The ambience is welcoming, and the staff is prompt. You may select from eight distinct hues while waiting for your tasty meal to be cooked, known for its menu's colorful theme.
Key Differentiators
Offers a selection of tantalising premium BBQ meats
Best quality pork from Hungary
Sleek industrial chic setting
Customer Testimonial
Appreciate for the assistance from the restaurant's staffs (Ms Susan and Mr Jack), they are very emphatic and observances will always stand by for our enquiry. Services rendered by them is really impressive! The food is also nice and meat is well marinated. Will definitely visit again!

Belle
9. Meat Smith
Key Services
Hearty wood-fired BBQ is paired with a robust drink menu at this laid-back American restaurant.
Address
167-169 Telok Ayer St, Singapore 068620
Website
https://www.meatsmith.com.sg/
Phone
+65 6221 2262
Email
eat@meatsmith.com.sg
Operating Hours
Daily:
11:30AM–11PM
Look no farther than this contemporary smokehouse for meat lovers. Meat Smith provides clients with an unrivaled variety of barbecued food from all angles, perspectives, cultures, and tastes, resulting in a delectable wood-fired barbecue meal.
This restaurant serves fantastic smoked BBQ in Singapore. Their home-made sausages are also quite delicious and available in huge portions at a reasonable cost.
Key Differentiators
Smokehouse barbecue
International flavours
Modern Indian Barbecue
Customer Testimonial
One of my favourite place for food and drinks. Delicious meat platter and great cocktails! By the creator of burnt ends, great place to try out many of their delicious smoked and barbecue meats.

The cornbread with smoked butter is probably my favourite dish here.

Edwin Tan Boon How
10. T Bob's Corner
T Bob's Corner is the place to go if you want to dine-in, takeout, or have your meal delivered. This restaurant specializes in excellent beef ribs as well as other delectable dishes, and you'll be spoiled for choice.
This is the place to go for a weekend meal with the entire family. You'll appreciate their famous BBQ Beef Ribs, which are slow-braised, tender beef ribs cooked in BBQ sauce and caramelized.
For the sweet course, you may select from their range of cakes or any other. There's also a fantastic variety of beverages to pick from.
Key Differentiators
Fully-airconditioned dining space
Abundant parking spaces
Hit with families and large groups
Customer Testimonial
Went there with my family over the weekend, and the experience was amazing. The staff was very informative with regards to the cut, done-ness of meat and recommendations. The food was cooked correctly, and they made sure that everything was good. This was also during a very busy weekend, so very recommended

Jufri Rahmat
Baby Back Ribs Singapore
Baby back ribs are a delicious dish that can be found at many restaurants in Singapore. If you're looking for the best baby back ribs in town, then look no further than the restaurants on this list! They are known for their tender and delicious baby back ribs, which will satisfy your cravings for this scrumptious dish.
So start planning your baby back ribs date today!
Looking for more interesting articles to read? Check out more of our blog posts here: