Baby Bathtub Singapore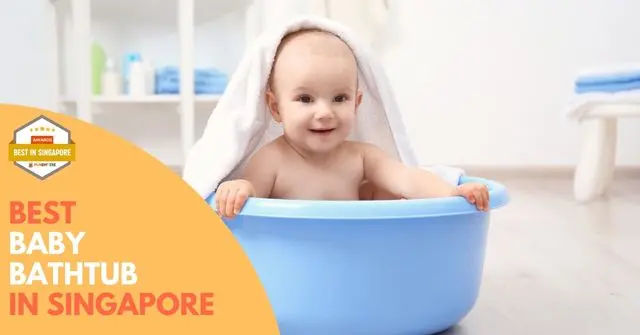 Looking for the best baby bathtub in Singapore? Look no further! In this blog post, we will discuss some of the best baby bathtubs on the market and why you should consider purchasing one for your child. We will also provide a buyer's guide to help you make the best decision possible when choosing a baby bathtub. So, what are you waiting for? Read on to learn more!
1. Munchkin Sit and Soak Dual-Stage Tub
If you're having trouble keeping your baby safe and warm, Munchkin Sit & Soak baby tub is your new best buddy! This unique non-slip tub is made to keep even the tiniest newborns upright, with a cushioned backrest and incorporated support bump that keeps them comfortable in the hot embrace of the water. This tub comes with a small storage hook that you can use to hang the tub up when you're not using it. It has a sleek and simple design that will complement any bathroom décor, and it won't take up much space!
Key Differentiators:
Non-slip and compact upright tub design
Affordable price
Has pull-tub drain for easy cleaning
With a handle that doubles as a storage hook
2. Bonbijou Premium Bath Tub with Stand
The Bonbijou Premium Bath Tub with Stand is a must-have for your baby's essentials, as it is carefully constructed to give you and your child the most enjoyable bath time possible. This bathtub can be adjusted to raise your baby to waist height, eliminating back pain and making it simpler to bathe newborns.
Almost everything you need is included in this baby bathtub, which we love. The set comes with a refillable shower and shampoo bottle, as well as a thermometer to make sure the water is at the perfect temperature (37-38°C). There's also a removable seat insert for smaller babies so they can sit securely while bathing.
Key Differentiators:
Raises the height of the tub to 84 cm, perfect waist height for parents
Leg stoppers for added security are lightweight and fold for easy storage
Removable bath seat insert to keep babies steady while bathing
Tested to the latest EN 17072 safety standards
3. 3-in-1 Foldable Baby Bathtub – Soft Hypoallergenic Cushion Insert – Smart Thermo Sensor – Lightweight Portable Bathtub
The 3-in-1 Foldable Baby Bath Tub, by Ozobot, is a portable bathtub that will keep your little one comfy during bath time. The tub has a soft cushion insert that is hypoallergenic, breathable, and comfortable for your baby while bathing.
The smart thermo sensor plug changes color once it reaches 37 °C to ensure your child does not get cold during bath time, and the insulating bottom keeps the water warm to keep him or her from getting chilly.
The Toddler Finest Bath Robe is a great choice for toddlers. It also has a slip-resistant base with added leg support for stability, and because the bathtub is foldable it may be readily packed and transported.
Key Differentiators:
Breathable, soft, and hypoallergenic cushion
Smart heat insulation and a thermo-sensor drain plug
Foldable for easy transportation
4. Skip Hop Moby Smart Sling 3-stage Baby Bathtub
The Skip Hop baby bathtub's diverseness allows you to use it as your primary tub until your little one is ready for a regular-sized one. As mentioned, the tub has two ergonomic positions because of its Mesh Smart Sling–the first being able to cradle newborns securely so parents can have peace of mind knowing their infant is safe while bathing. Simply roll up the lower portion of the mesh on the second lock region for the next posture and your baby will be able to sit comfortably in the baby bathtub during bath time. The Mesh sling provides Comfort-Edge support and secure locks, ensuring that your child is safe and comfortable while bathing.
Key Differentiators:
Ideal for babies from newborns to above six months
Smart sling for full-body support
Soft padded whale tail for head support
5. Lucky Baby® Lopee Portable Collapsible Bathtub
The Lucky Baby Lopee Portable Collapsible Bathtub is perfect for taking on the go, as it easily collapses for storage. This bathtub is soft, comfortable, and fits in most sinks, making it great for travel. The tub has a non-slip surface and a built-in soap dish, making it easy to keep everything you need close by.
Key Differentiators:
Collapses for easy storage
Non-slip surface
Built-in soap dish
6. Shnuggle Bathtub
The next product on our list is the Shnuggle bathtub, which comes in four cheerful colours. It's designed to help you and your baby enjoy bath time together while making it as comfortable as possible for both of you. The tub is ideal for two stages: newborns who need support for their heads during baths, and older babies who can sit up unassisted.
Some features include a foam backrest to keep them supported and comfortable while bathing, as well as a bum bump that does the same.
The tub's feet are made of rubber so that it has a stronger grip on flat surfaces. Its small size means that it only requires 2 litres of water to fill, and your baby will have enough space to play comfortably. The tub is also easy to store away and transport because of its light weight.
Key Differentiators:
Unique design for ultimately supporting newborns and older babies
Foam backrest for better comfort
Keeps your baby in the right posture with the bum bump
7. EasyHome Baby Folding Bath Tub BZ201
EasyHome's Foldable Bathtub for Older Babies offers your older infant a larger area and depth so that he or she can enjoy bath time. It is robust and stable, so you don't have to be concerned about it collapsing beneath your child. There's even a spot on the tub where you may mount a shower-head, making it simpler to fill up.
Key Differentiators:
Broad and deep for a fun bath
Can be fixed with a shower-head
Made with safe TPE material
8. Karibu Mega Folding Bath
The Karibu Mega folding bath is the most expensive item on our list, but it is also the largest. It's big enough to accommodate your child as they grow older, and it includes a heat-sensitive drain plug that indicates whether the water is too hot or cold so you can keep an eye on them while bathing.
This tub has non-slip legs for extra stability, plus it's foldable and has a built-in hook—making it easy to stow away or hang up when not in use. You can buy this bathtub in green, or if you have a smaller baby, you may want to purchase the 2-in-1 bath station which comes with a matching removable net.
Key Differentiators:
Non-slip legs for safety
Heat-sensitive drain plug
Easy to store and transport
9. Thermobaby – Lagoon 2-in-1 Baby Bathtub
The Lagoon 2-in-1 bathtub from Thermobaby is a revolutionary baby bathtub that may be used until your child is one year old. The tub has two sides: a lying position for newborns up to six months old, and a sitting posture for babies after they are past the age of bathing in a lying position.
The Thermobaby Luxe Baby Bathtub is the perfect choice for newborns. Made of lightweight and durable materials, it is easy to take on-the-go.
Key Differentiators:
Meant for newborns and older babies
Provides excellent head support
This product is lightweight and compact-sized for easy transportation.
10. Shears Foldable Baby Bathtub – Pink
The baby bathtub from Shears, which can sit in any bathroom or kitchen sink, is a space-saving option. You may easily transport it with you when traveling with your infant since it's foldable and tiny.
The durable and anti-slip material ensures you have extra support when bathing your baby. The tub also retains the warmth of water, so your baby won't get cold while they are bathing.
Key Differentiators:
Foldable and space-saving
Anti-slip for a secure bathing position
Ability to withstand high temperatures
11. Citylife – Baby Foldable Bathtub 50L
The Citylife bathtub is a foldable bathtub that can be used by children and babies who can sit up during bathing. The heat of your bathing water will be kept because it's constructed of heat-resistant material.
The non-slip rubber base pads on the legs give the bathtub a better grip on any flat surface. Because the tub is foldable, you may easily store it when not in use, saving you room in your house.
Key Differentiators:
Ideal for older babes
Retains the warmth of the water efficiently
Non-slip base pad for a secure grip
12. Beaba Camele'O Baby Bathtub
The Beaba Camele'O bathtub is the first on our list, with its specially designed wide edges that provide a better grip for transporting. The tub is constructed of non-slip materials, allowing it to be comfortable to the touch while also providing adequate security for your child during bathing.
The bathtub's plug is also located on the outside of the tub, making it simple to pull after you're done using it. It also has a side shower head support, making filling the tub with a shower easier for moms.
Key Differentiators:
Made with non-slip, soft plastic
Use the entire edge of the grip for a stronger hold when carrying.
Simple to put more water in and take it out.
13. Skip Hop Moby Softspot Sink Bather
The Skip Hop Moby Softspot Sink Bather is a bathtub that is designed to provide comfort and support for your baby while they are bathing. The tub has a soft, padded fabric that hugs the baby's body and prevents them from slipping.
The Sink Bather can be easily attached to any sink in your house, making it convenient to use. Additionally, the bather is machine-washable for easy cleaning.
Key Differentiators:
Adorable design
Fits into both kitchen and bathroom sinks
Best for new-born babies
Baby Bathtub Singapore
Baby bathtub Singapore is a great place to find baby bathtubs. The different types of baby bathtubs vary in features, so it is important to know what you are looking for before making your purchase. We have highlighted some of the best baby bathtubs on the market and their key features, so that you can make an informed decision before buying.
We hope you have found the best Baby Bathtub to suit all your needs. If you would like to read more from us, feel free to check out some of our other posts: