Babysitter Singapore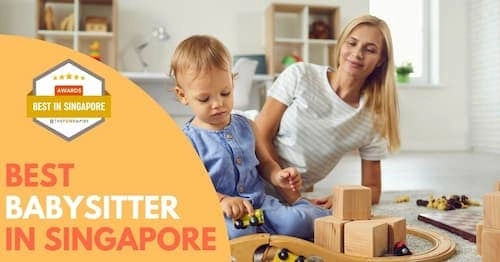 Finding a trustworthy and experienced babysitter in Singapore can be a daunting task for many parents.
The best babysitters in Singapore include NannyPro, MEIDE Babysitting, DomesticONE, NannySOS, Nanny's Home, and Rainbow Cove.
When selecting a suitable babysitter in Singapore, it's important to take into account factors like their experience, qualifications, and references.
Babysitting services in Singapore are becoming more and more popular, as an increasing number of dual-income families and busy parents depend on them.
Let's explore this list to find the perfect babysitter Singapore solution for your family.
Quick Summary
Best babysitters in Singapore include NannyPro, MEIDE Babysitting, DomesticONE, NannySOS, Nanny's Home, and Rainbow Cove.
When choosing a babysitter in Singapore, consider factors such as experience, qualifications, and references.
Babysitting services in Singapore are increasingly popular as more dual-income families and busy parents rely on these services for child care.
Best Babysitter Singapore
1. NannyPro
NannyPro is committed to assisting you in caring for your beloved youngster while you rest or go back to work. Before they are permitted to undertake any duties, babysitters go through a rigorous screening and onboarding procedure to ensure greater dependability.
When you post an ad for a long-term caretaker, NannyPro will match your needs to one that is available. You will then be shown a few candidate profiles to choose from, and once you've chosen someone, you can begin a three-day paid work trial with both you and the nanny to build trust and confidence.
This trial period will also allow you to determine whether she is suitable for caring for your child. If the test goes well, you may continue to engage her on a regular full-time basis.
Key Differentiators
Full-Time Nanny
Regular or Part-Time Care
Ad-Hoc Care
Situational or Urgent Care
Corporate Care
Travel Nanny
Mother's Helper
Client Testimonial
We were blessed to have nanny Pinky take care of our 8 month old. She is the next generation nanny, more professional, more knowledgeable, more respectful. A genuine heart for children and caring for them. Would highly recommend her and Nanny PRO.

Eddie Wong
2. MEIDE Babysitting
Key Services
Cleaning
Babysitting
Aircon Services
Address
682A Jurong West Central 1, Singapore 641682
Website
https://baby.meide.sg/
Phone
+65 8595 8579
Email
ronnie@meide.sg
Operating Hours
Open 24 hours
Singapore is home to one of the most renowned cleaning and housekeeping businesses, MEIDE. Did you know that they also have a childcare division? They provide in-home and at-home babysitting services.
The costs of a nanny may differ depending on the agreement you make with the nanny you've hired. While MEIDE does not interfere with how much you pay your nanny, there is a minimum payment requirement that it follows to protect its babysitters.
Key Differentiators
Book A Babysitter Instantly
Get The Help You Need
Receive Robust Support
Client Testimonial
The cleaner sent was very thorough and efficient. She got all the things that I needed her to do well done and on time. Have requested for the same helper to come on a regular basis, and Have been told that my request would be accommodated to the best of their abilities. Cost is also very reasonable; will definitely recommend to others.

aparna Mahadevan
3. DomesticONE
Domestic ONE is a Singaporean domestic service company that provides expert house cleaning and childcare services. They take pleasure in employing skilled nannies with considerable expertise. They place a strong emphasis on client happiness, always aiming to satisfy each customer's specific demands.
The responsibilities of the nanny include preparing meals and feeding the child, bathing baby, washing his or her clothes, changing diapers, administering meds, making bottles and baby food, transporting him or her to places like daycare centers and school buses (which might be necessary if you must work long hours), assisting with lessons (if required).
Key Differentiators
Registered and licensed with both NEA and MOM
Ad-Hoc Cleaning
Spring Cleaning
Pre-Moving/Post-Renovation Cleaning
Office/Workspace Cleaning
Babysitting
Client Testimonial
"Mdm Tina is really a great helper. She speaks good English and is systematic in her cleaning. Our house is so clean and neat now!"

Mrs. Coner
4. NannySOS
NannySOS is a professional confinement nanny business that has been assisting parents since its founding in 2011. It provides stay-in nannies and daytime confinement nurses to assist new moms in recuperating fully after childbirth, as well as daytime nanny services and part-time babysitters for hire.
NannySOS is a fantastic service to use if you're looking for a nanny for your infant, toddler, or primary schooler. With over 100 competent confinement nannies that have been professionally trained and have at least three years of expertise, NannySOS is certainly an excellent option.
Key Differentiators
Neonatal care service
Assurance and advice guide to mothers
Average 5 years experience for locals and expats
Client Testimonial
Thank you Nanny SOS for 阿友's confinement service.
Special thanks also to Juztin for accommodating baby's unexpected early arrival.

Daddy and I were able to rest well. 阿友was very careful with handling our preemie, took good care of baby and mummy, and very proactive with house chores.
She also cooked very delicious and nourishing meals throughout my confinement period.
Would highly recommend Nanny SOS and would love to engage 阿友again for our next pregnancy.

sammy siew
5. Rainbow Cove
Rainbow Cove is a Montessori pre-school in Singapore that was founded in 2002 and is authorized by the Singapore Ministry of Education to educate children from birth to six years old.
Their curriculum and instructors cater to the specific demands of children, gently encouraging them to learn at their own pace while also teaching world knowledge and life skills.
Key Differentiators
Infant And Childcare Services
Healthy Eating
Carefully crafted experiences
Client Testimonial
Our daughters have been at Rainbow Cove for the last 18 months and we have been very impressed with the quality of care and teaching they have received. Moving to Singapore from the UK was a stressful experience for two young children, but the staff at Rainbow Cove showed great kindness and care, and helped our daughters to fully acclimatise to life in Singapore.
6. Kidibliss
KIDIBLISS is an on-demand kid care service that offers Infant Care, Childcare, and Student Care Services. Corporate Child-minding services, Advance Nanny Care services, Home Tuition, Piano/Keyboard Lessons, and other kid-related services are all accessible to Parents, Expatriates, and Visitors to Singapore.
Is there no one you can turn to for assistance with your children? Parents like you who have demanding work schedules and are unable to afford to take a spontaneous day off to care for their children.
They've heard you, at Kidibliss. The on-demand kid care service app Kidibliss is available right at your fingertips. To obtain instant cost savings and credits for booking, download the Kidibliss application from the Play Store or App Store!
Key Differentiators
Home Tuition, Piano/Keyboard Lessons
Kid-related services
On-demand kid care service app
Client Testimonial
Kidibliss online tutor is friendly and make lesson interactive. My daughter has learnt basic formula for Maths. Hope the future lessons will continue to be helpful. Thank you to both tutor and team at Kidibliss!

Ms Taharah, Parent
7. NewLife Confinement Services
Their objective is to offer maximum confinement care services for new-born babies and postpartum mummies.
NewLife Confinement Services accepts progressive payment, and also ensures that they are medically fit by having a medical check-up. Plus, all our babysitters are experienced and professionally trained.
Key Differentiators
Confinement Herbal
Confinement Nanny
Postnatal massage
Lactation consultation
Client Testimonial
Me and my wife have been staying here for 3 weeks, we will be here for another week ,i would like to says it is more like staycation rather than confinement, environment here is tranquil and peaceful, food served is delicious and delicate, I heard that the chef was the ex head chef of Mount Elizabeth Novena Hospital, Nanny assigned to our room is a Malaysian, very caring and helpful.
Sophia has been very responsive, she would attend to my wife's request very promptly.
Thank you all again new life team.

Rayhaan Lim
8. Super Nanny Services
The mission of Super Nanny Services is to go above and beyond in order to provide its clients with the finest service possible. They are really glad to know that they're making a difference in your life. This is what truly distinguishes them.
The nannies are from Singapore and Malaysia. They have Chinese and Malay Muslim Confinement Nannies who can communicate in English, Mandarin, or Malay. During the confinement period, they have a Japanese translator to assist with language translation between Japanese parents and their confinement nanny.
Many first-time mothers have taken advantage of their confinement nannies' experience, dedication, and assistance throughout their confinement time.
Key Differentiators
Confinement Nannies
Mother and Baby Care
Support Services
Client Testimonial
Their nannies are trained by registered senior lactation consultant. I ordered red dates tea, herbal soup and herbal bath from them. Upon signing up, I was given free 6mths insurance for my baby. I'm impressed that they even have lactation consultant. Nanny Jessica helped me out for 56days. She had worked for Japanese families thus her level of hygiene is superb. She handled my baby with caution and takes good care of my family. She has been very encouraging and supportive of breastfeeding. Jessica has never fail to amazed us with her culinary skill. Each and every meal is well balanced, nutritional and tasty.

Grace Ee
9. BBnanny
BBNanny is a babysitting and nanny agency. They have a database of sitters that they've reviewed through a face-to-face interview to verify their qualifications and competence.
BBNanny offers to match you with your requirements and location. You may request that the childcare service be provided at the sitter's house or at yours.
Key Differentiators
Finding The Right Babysitter
Reliable babysitter
Right for your children
Client Testimonial
He managed to find a babysitter nearby my block within days. The babysitter is very caring and attentive. Her family members are so friendly and helpful. My boy is well taken care and growing up well and cheerful. Very thankful i found BBNanny and introduce me a such good babysitter.

Jiang Christine
10. Baby Carers
Baby Carers is a job listing website that allows you to locate competent part-time or full-time nannies and babysitters. With the portal's enhanced messaging system and anti-spam technologies, interacting with potential nannies is safe and quick.
Not only that but payments may also be made through the site using any major credit card. In addition, processing transactions using the site is simple and secure.
Key Differentiators
Easiest way for you to find a reliable babysitter
Audio or video introduction
Assess the suitability of a child carer
Babysitter Singapore
Finding a babysitter may be difficult, but with our list of the top Singaporean babysitters, you can relax knowing your kid is in competent hands. These nannies have been reviewed and certified by parents just like you, so you can feel confident that they are trustworthy and inexpensive.
Looking for more interesting articles to read? Check out more of our blog posts down below!
Frequently Asked Questions (FAQ)
If you have any questions about babysitters in Singapore, you can refer to the frequently asked questions (FAQ) about the best Babysitters in Singapore below:
Who are the best babysitters in Singapore?
The best babysitters in Singapore include NannyPro, MEIDE Babysitting, DomesticONE, NannySOS, Nanny's Home, and Rainbow Cove.
What are the top babysitter services in Singapore that prioritize child safety?
There are several babysitting services in Singapore that prioritize child safety. These include NannySOS, CaregiverAsia, and Babysitters.sg. All of these companies have strict policies regarding the safety of the child and conduct thorough background checks on their babysitters to ensure they are trustworthy and reliable.
Do babysitter services in Singapore offer cleaning services and help with household chores?
Yes, many babysitter services in Singapore like NannySOS and CaregiverAsia not only take care of your children but also help with light household chores. However, the primary focus is always on the child's care and safety. If you require extensive cleaning services, it may be best to hire a separate service.
How do I find a reliable nanny or babysitter in Singapore?
Finding a reliable nanny or babysitter in Singapore can be as easy as asking for recommendations from friends or family. You can also use online platforms such as CaregiverAsia or Babysitters.sg, which have stringent screening processes to ensure you get a reliable service.
Can a babysitter in Singapore handle the responsibilities of a younger sister?
Yes, a professional baby sitter in Singapore can handle the responsibilities typically assigned to a younger sister, such as taking care of younger siblings, helping with homework, and playing games. They are trained in child's development and can provide age-appropriate activities.
How can a babysitter improve family life in Singapore?
A babysitter can significantly improve family life by providing parents with a few hours of relief, allowing them to focus on work, personal hobbies, or simply rest. Babysitters also help with household chores, which can lessen the load on parents.
Are there trustworthy babysitters available within walking distance in Singapore?
While the availability of babysitters within walking distance depends on your location, many babysitter services in Singapore can match you with local babysitters. Babysitters.sg, for instance, allows you to search for babysitters based on your postcode.
What should I look for in a childcare centre in Singapore?
When choosing a childcare centre in Singapore, consider factors such as the quality of child development programs, safety measures, cleanliness, staff qualifications, and feedback from other parents. It's also important to choose a centre that aligns with your parenting style and values.
How do babysitter services in Singapore support child development?
Babysitter services in Singapore support child development by providing age-appropriate activities that foster physical, cognitive, social, and emotional growth. Many babysitters are trained in early childhood education and use fun, engaging methods to help children learn and grow.
Are there any parents related groups or forums in Singapore where I can get recommendations for babysitters?
Yes, there are several parents related groups and forums in Singapore where you can ask for babysitter recommendations. These include the Singapore Parenting Forum, the Singapore Motherhood Forum, and various Facebook groups like "Singapore Mummies Group" and "Expat Parents in Singapore".
Additional Useful Articles
If you are looking for other useful guides and articles about Babysitters in Singapore, check them out below: