Backpacks Singapore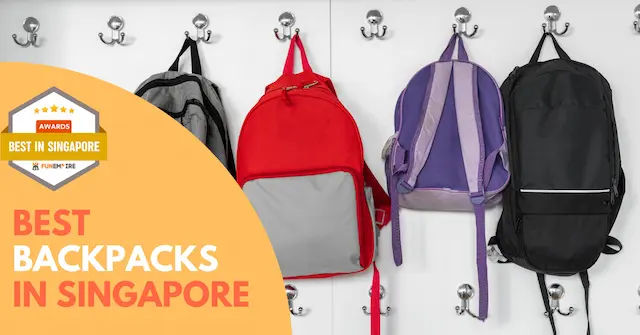 Looking for the best backpack in Singapore? You've come to the right place!
In this blog post, we will be discussing some of the best backpacks on the market today. Whether you're looking for a backpack for work, travel, or school, we have you covered. We'll also be discussing some of the key factors you should consider when purchasing a backpack.
So without further ado, let's get started! Read on to find out more!
1. Under Armour Loudon Ripstop Backpack
| | |
| --- | --- |
| Key Features | UA Storm technology delivers an element-battling, highly water-resistant & stain-resistant finish |
| Where to Buy | https://www.underarmour.com.sg/ |
| Price | S$ 34.30 |
The UA Loudon Ripstop Backpack is one of Under Armour's best-selling bags. This backpack's lightweight, robust, and water-resistant construction make it a best seller. In order to make this material water- and stain-resistant, Under Armour used their proprietary UA Storm technology.
A 15-inch laptop can be stored in the backpack's built-in laptop section. Additionally, it offers a frontand sides pockets for your phone and other devices. For increased comfort, the rear panel and shoulder straps are each padded.
Key Differentiators
Laptop sleeve holds up to 15″ MacBook Pro® or similarly sized laptop
Padded back panel & shoulder straps for added comfort
Ultra-durable & lightweight ripstop body fabric with reflective trims
Customer Testimonial
The bag stays true to its form even when under heavy loads (ie: books) and is looks great! The compartment in the front is great to put calculators, chargers and pencil boxes. Honestly a great bag for its price

Salvia
2. Ozuko Anti Theft Men Backpack
| | |
| --- | --- |
| Key Features | Anti-theft Men Backpack |
| Where to Buy | Click Here |
| Price | $129.00 |
The Ozuko Anti Theft Men's Backpack most likely includes all of the essentials for a protracted journey. This bag is made with multiple layers of storage and roomy compartments for all of your necessities.
In particular, this backpack offers a designed laptop storage and soft-lined interior sections to fit your passport, notes, or trip documents. Additionally, this item contains a secret card bag, a third zippered pouch, and a water bottle hole for an umbrella or tumbler.
Key Differentiators
Large Capacity
Can carry 15.6 inch Laptop
Waterproof Backpacks
Customer Testimonial
Delivery took sometime but the bag is awesome. Lots of compartments

Hasnah
3. Tigernu Anti-Fouling School Backpack
| | |
| --- | --- |
| Key Features | Anti fouling backpack |
| Where to Buy | Click Here |
| Price | $45.71 |
This bag can fit a 14-inch laptop as well as all the other school supplies. This backpack also features padded shoulder straps, is soft and lightweight, and is. The fact that such an item is anti-fouling, which means that it does not retain an unpleasant odor on the inside, makes it even more intriguing. It is also flame-resistant and water-repellent.
You may be confident knowing that you will always be prepared for school thanks to its organized pockets and top-notch materials.
Key Differentiators
Fit for 14 inch laptop
School Backpacks
Korean bags for women
Customer Testimonial
Happy with the backpack, material not bad. Fit nicely for a 14″ laptop.

898
4. Herschel Supply Co 'Purcell' Backpack
With this Herschel Supply Co. bag, you can make a strong impression on other people on your everyday commute. You can withstand inclement weather thanks to the canvas construction of the military-inspired design. Additionally, it has comfortable, padded straps that are adjustable.
Key Differentiators
100% Cotton
Spot clean
Imported
5. Brooks England 'Pickwick' Backpack
| | |
| --- | --- |
| Key Features | Day Pack |
| Where to Buy | Click Here |
| Price | S$275.83 |
Made of coated cotton canvas with leather trim, this Brooks England roll-top backpack is fashionable and water-resistant. The bag's wide shoulder straps, which can be fastened across the chest, ensure that it is kept firmly on your back when you're on the move.
Key Differentiators
Manufactured by skilled craftsmen
Made using water resistant
Better stability while riding
6. Troubadour 'Explorer Bivy' Tote Backpack
| | |
| --- | --- |
| Key Features | Tote pack |
| Where to Buy | Click Here |
| Price | $225 |
This Troubadour bag make up your mind for you if you're having trouble deciding between a tote and a backpack. The nylon canvas waterproof bag has a long top handle that you can easily fold over if you'd like to take it by the straps instead. In addition, the bag has numerous pockets located all over it.
Key Differentiators
Double top handles
Top zip closure
Zipped and elasticated internal pockets for easy organization
7. Norse Projects 'Hybrid' backpack
| | |
| --- | --- |
| Key Features | 100% CORDURA Nylon |
| Where to Buy | Click Here |
| Price | $169 |
This simple nylon bag is made with a streamlined design. It has a simple design with a front zippered pocket, side slip pockets, and two removable, padded shoulder straps so you can carry your belongings in comfort. Your laptop is among the items mentioned, and it may be slid into the bag's dedicated section.
Key Differentiators
Packable
Put your climbing gear or a spare pair of sneakers in it
Can be used as a backpack or carried as a tote ba
8. Fjällräven Kanken
| | |
| --- | --- |
| Key Features | Fjällräven Kanken Totepack Mini Graphite |
| Where to Buy | Click Here |
| Price | S$ 139.00 |
For people who want to look young and edgy, the Fjällräven Kanken bag is a wonderful option. Because it comes in so many different shades of blue, including Royal Blue, Blue Navy, and Blue Ridge. Design-wise, its recognizable box shape demonstrates to be straightforward and useful, with padded shoulder straps. To keep the little things you need close at hand, there are two side pockets and a front pocket with a zipper.
Key Differentiators
Adaptable with Greenland Wax
Made from durable materials
Water-resistant
9. Hush Puppies Backpack
| | |
| --- | --- |
| Key Features | BACKPACK Bag |
| Where to Buy | Click Here |
| Price | $82.90 |
Although Hush Puppies is mostly known for its casual footwear, the company is also well known for its backpacks for men. That's why we have no reservations about this Hush Puppies Men's Backpack, which thanks to its straightforward yet gorgeous design is the ideal backpack for school or casual wear. This Hush Puppies backpack is made of nylon, which is incredibly stretchy and capable of holding a lot of items without tearing.
Key Differentiators
For casual wear
Can fit many items
Straightforward design
10. Jeep Buluo Leather Backpack
| | |
| --- | --- |
| Key Features | Messenger Bag |
| Where to Buy | Click Here |
| Price | $29.80 |
Are leather backpacks something you like? Because of this, we can't take our eyes off of this gorgeous Jeep Buluo Leather Backpack, which comes in khaki or black. It is composed of split leather, which has good flexibility compared to other kinds of leather and is one of the best backpacks for guys. Due to its inbuilt laptop and cell phone pockets, this Jeep Buluo backpack is also ideal for use at the workplace.
Key Differentiators
Great quality
Flexible
Ideal for workplace
Backpacks Singapore
So, there you have it, our top 10 best backpacks in Singapore! We hope that this list has helped you to narrow down your options and find the perfect backpack for your needs. Remember to consider what you'll be using the backpack for, as well as how comfortable it is to wear. And of course, don't forget to check out the price before making your final decision.
Happy shopping!
Interested in more articles to read? Check out more of our fun blog posts here: