Best Steak in Singapore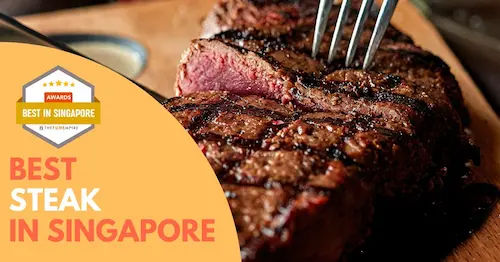 It's no secret that Singaporeans love their meat; you can tell from the numerous steakhouses available all over the country.
The best steakhouses in Singapore include Officers' Mess Polo Bar, MediumRare by Saveur, Stirling Steaks, Les Bouchons, and District 10.
When selecting a steakhouse in Singapore, take into account factors like pricing, menu offerings, quality of service, customer reviews, and overall reputation.
Singapore offers a wide selection of steaks, including prime cuts of Wagyu and Angus as well as grass-fed beef, all prepared to perfection based on your preferred level of doneness.
From cozy diners to bespoke restaurants, check out our list of places you can get the best steaks Singapore restaurants.
Key Consideration Factors
Price: It is important to do a thorough comparison of the many steak restaurants in order to choose the one that offers the best deal.
Food Menu: A decent menu for steak should include a range of savory and sweet items, as well as a number of beverages to choose from. The best steaks in Singapore are filled of flavourful meat and meaty feast, seasonal produce, also a responsibly sourced Boston lobster, atlantic scallops, and wylarah striploin wagyu.
Service Quality: The service should be kind and attentive in steak restaurants. The waitstaff should be familiar with the menu and able to provide suggestions, also ask for private dining rooms.
Reviews: Reading evaluations from past customers is an excellent approach to assess the quality of service and determine whether the shop can be trusted. If they are really the best steakhouses in Singapore. Look through the ambience too, if they are a modern steakhouse, have oak panelled walls, Morton's steakhouse, Wolfgang's steakhouse, Raffles Hotel Singapore, Voco Orchard Singapore, Maxwell Reserve Hotel, and many more!
Reputation: When searching for a dependable restaurant, choose one with a well-established reputation. These establishments often provide excellent customer service and use high-quality ingredients to make the experience endure longer.
Best Steak in Singapore
1. Officers' Mess Polo Bar
Drop into the Officer's Mess Polo Bar and sink into another world where the glamour, grandeur and sophistication of Polo transcends into conversation flowing over crystal stemware, dimly lit tables and deep armchairs clad in military uniforms. The oak paneled walls and African ebony floors are complemented majestically with a saddle leather bar and a hand painted polo scene from the 1930's depicting a match at Guards Polo Club in Windsor (UK) between Royal Patiala and the British Army.
At its heart the Polo Bar is a steak restaurant featuring some of the world's finest prime grade cuts of meats and seafood. From lobster, crab-cakes, and the signature $75 Polo burger to a succulent selection of grass fed ribeye beef and delectable sides, the menu delivers variety and the incredible authenticity of a classic fine dining experience. The bar has its own world class wine cellar with a collection curated by an expert team of sommeliers.
Key Services
Glamour, grandeur and sophistication of Polo
Parisian flavors & Prime Grade Cuts of Meat
World Class Wine Cellar & Expert Sommeliers
2. MediumRare by Saveur
Fresh from the grills of Saveur, MediumRare is a steakhouse focused on the true way of preparing steak: no shortcuts, premium grades, and at the same affordable value they are known for. A quality range of Australian-origin steaks are prepared according to your preference, from rare to well done. You can also choose from an amazing array of sides that pack both flavour and texture and not forgetting original mala, black bean and café de paris sauces that were specially created for local taste buds.
MediumRare not only provides steaks. They also offer grilled chicken, fish as well as rice bowls prepared with Japanese rice, Sous Vide Egg and their very own special sauce. A carefully curated wine selection is also available, picked by the chefs to ensure the perfect pairing with the different dishes.
Key Differentiators
A variety of unique sauces to suit local tastes. Some include Mala, Black Bean, Café De Paris, Mushroom and Black Pepper.
Premium beef at affordable prices.
Delivery available at shop.saveur.sg
Customer Review
Went to MediumRare on a Thursday night.
Ordered grilled chicken chop with mac and cheese and Brussels sprouts. The sides are delicious, chicken is juicy and tender. The flavour of sauce for chicken is well balanced.
Not forgetting their cappuccino and crepe cake, it is nice to have them after the meal. Staff are friendly and cozy atmosphere to dine in.

Oscar San (Facebook Review)
3. Stirling Steaks
Stirling Steaks is a steakhouse that specialises in charcoal-grilled steaks, served with the highly popular Stirling Sauce. They serve 10 types of steak cuts which are not readily available in Singapore. They include the famous tomahawk, prime ribeye, tenderloin, flat iron, hanger and many other steak cuts. Indulge in a well-cooked steak with a smoky aroma thanks to the charcoal flame in a cozy setting at their establishment along the popular East Coast Road. What's more, you can take your favourite cut home thanks to their in-house butchery that stocks up on their signature cuts.
Key Differentiators
Charcoal-grilled steaks at affordable prices.
Serves steak cuts that are not readily available.
In-house butchery that offers cuts of lamb, pork, duck, chicken, seafood and even vegetables at attractive prices.
Customer Review
Very good quality of meat and good service. Ordered duck breast and the stake plater included T-bone and Angus Hanger. The chef came to the guest table and explained before the order and asked feedback of the taste after. It's rare to see this kind of service in SG. Recommend for both food and service.

Ei Zar
4. Les Bouchons
Established in 2002, Les Bouchons, is amongst the first steak Singapore restaurants to serve French Steak Frites (Steak and Fries). Les Bouchons take guests on a gastronomic journey through the bylanes of Paris, paying homage to the grand tradition of French Bistros & Steakhouses. Les Bouchons is known for their best quality Steaks, setting standards for marbling and tenderness, making every meal an experience full of robust flavours and textures.
There are two branches. Les Bouchons Ann Siang brings together everything French to the cultured and eclectic cluster of bars and restaurants found in the neighbourhood. Located in a traditional shophouse, the ambiance lends a very charming, vintage feel. The venue also has a cosy Private Dining Room on the second level which is open for reservations and events.
Les Bouchons Rive Gauche, located at Robertson Quay, offers a beautiful and outdoor terrace overlooking the serene Singapore River creating a very romantic and indulgent atmosphere. Nothing like a classy dinner with great food and drinks by the riverside for the perfect end to your day.
Key Differentiators
Free flow of homemade fries to go along with your steaks and a bowl of salad to balance the meal.
Delicious homemade sauces to pair with your steaks and great value wine options.
Opt for pick-up or islandwide delivery through their Oddle website.
Customer Review
We've popped in on a busy Saturday evening, and they had only tables outside, which was perfect for us. The service was at the good level and the couple waiters that attended our table, were very friendly and knowledgeable. They have a really good wine menu whith reasonable prices, and probably the best value steaks. I had a prime Ribeye, and my girlfriend had a Fillet which didn't disappoint. Remarkable is that the Fillet, even being a thick cut, was cooked to perfection, and my prime Ribeye was so tender, it was just melting in my mouth. Whith the steak you'll get a nice entrée consisting of a salad and bread with some delicious dips. Also you're getting free flow Homemade fries, which are really good, but for me the portion I got was more than enough, even I was offered few times. I should mention their desserts, which are superb! We've tried Creme Brulee, and to be honest I think that was the best Brulee I ever tried.

At the end I can say: If you want a high quality steak for a good price, topped with a good wine and service – this is the place to go.

Victor via TripAdvisor
5. District 10
District 10 concept exudes an uninhibited, casual and fun dining energy with its brand of authentic rustic European cuisine/Fusion Mediterranean cuisine and Bar bites. Its drinks list also boasts an extensive good selection of various beers and wines (old/new) to serve the growing middle class of professionals, managers, executives and business specialists.
Founded by Executive Chef Luca Pezzera in 2009, District 10 was a strategic and welcomed extension from the group's prestigious and award-winning brand, Bonta Italian fine dining, in Singapore. The first concept in Winstedt Road opened its doors to great reviews by Singapore's food critics and was well received by discerning gourmets.
And briefly about Luca, a native of Bergamo/Northern Italy, he boasts an extensive culinary expertise of more than 20 years, where he has cooked for royalty, media stars, business mavericks, and gourmands in top establishments in Italy, Switzerland, Scotland, Istanbul, Jordan, Dubai, Jakarta, and now Singapore. You can be sure that the steaks and meals you're going to be served here are of the best, finest quality.
Key Differentiators
As ST Food Critic Wong Ah Yoke had said/recommended, "This is the place I now recommend for a good-value and a good-tasting steak.". District 10's signature 45 days Home Dry Aged Corn Fed Traditional Fiorentina Steak marked with an unmistakable aroma and rustic grandeur wins over hearts of many media fans and loyalists. Indeed, they specialise in dry-aged and non-dry aged steak, although they also have other signature dishes like Homemade Angel Hair Lobster, Spaghetti Carbonara with Black Truffle, and District 10 Pizza just to name a few.
All District 10 outlets are in the city and city fringed area, conveniently located within walking distance of MRT and public transportation. Even driving diners can find ample parking space within their premises. To top this District 10's signature chill-out outdoor set-up create a great ambience for cool drinks and yummy bites within the city concrete jungle.
Dedicated service aside, District 10's outstanding and pocket-friendly menu offers delectable tasty food with a comprehensive drinks list that fizzes and pops. Some selects include European beers, cult alcohol brands and their very own line of interesting cocktails like The Asian Cooler and Big Apple Berrie.
Customer Review
Nice and warm ambience, quiet setting (probably due to the current Covid situation but it also means more privacy). Ordered the Wagyu beef and it was really good and we were treated with good service as well. Will definitely come back!

tcl0112
6. T Bob's Corner
T Bob's Corner is a family-run restaurant serving premium quality of various meat cuts. T Bob's first opened their first restaurant in 2015 in Bedok. In 2016, T Bob's popularised the massive Tomahawk steaks in Singapore, which are now staples at many other food establishments. The cosy, rustic ambience, and our large sharing platters were a great hit for large groups of friends and families. T Bob's Corner is the top choice for halal steaks and had the pleasure of hosting celebrities, events, and the President. After 5 years in Bedok, T Bob's Corner has now moved to a more central location in Bras Basah with more seating, and still serving their signature steaks and ribs, plus exciting new dishes.
Key Differentiators
Great for large groups.
Has a variety of meat types and cuts to suit your preferences.
Soft, cosy ambience
Customer Review
"This was the 5th time i visited TBob's just for the Lamb Chops. Best lamb chops in SG! Compliments to the chefs."
7. Wooloomooloo Steakhouse
The panoramic city skyline views from this restaurant's floor-to-ceiling windows are some of the finest you'll find at any steakhouse in Singapore, and its high-end steak selections will make your mouth water. Wooloomooloo Steakhouse takes its name from a Sydney bayside town, which is no surprise given the Australian. Enjoy the Great Steak Escape with Australian cattle cuts from Queensland, such as 150-day grain-fed Stanbroke rib eye and 330-day grain-fed Westholme Wagyu sirloin (with a marble score of nine). Four different sauces are included with every steak: au jus, peppercorn, mushroom, and red wine Madeira. A beef wellington is a delicious option with mushroom duxelles, parma ham, and foie gras wrapped in a puff pastry. These magnificent meat cuts from Wooloomooloo Steakhouse have shown tremendous improvement!
Not only that, but Wooloomoooloo Steakhouse has a 250-label award-winning wine list with 35 different cocktails and 15 wines by the glass, including Penfolds Yattarna Chardonnay and Penfolds Grange Hermitage, both of which are legendary.
Alternatively, chill a cocktail at the bar for an Old Fashioned or other classic gin cordials like the elderflower-based East Side, as well as trendy rum concoctions – there's something for everyone. Feeling peckish? Chope will take your reservation. Pro tip: while you're here, forget about your diet!
Key Differentiators:
Use Australian cattle cuts from Queensland.
Four different sauces are included with every steak.
Also offers 250-label award-winning wines.
Client Testimonial
Great place for a good steak. The kids love their truffle mac and cheese. And the salmon steak was also done pretty well. The star is of course the sirloin steak. Perfectly prepared with the right amount of salt and char.

Daneal Hon
8. Little Farms
If you consider yourself a steak expert, then it's likely that you're already familiar with Small Farms. It's still a fantastic spot to go if you want the best beef around. They work with farms that truly practice free-range farming, providing high welfare standards and sustainability, eco-balance, and animal welfare in their products.
The Bistro at Katong Point offers a wide selection of Brunch and Lunch dishes, as well as dinner meals. If you're in the mood for something hearty, the AACo Darling Downs Wagyu MB4 Striploin (S$48) from Little Farms will fill you up.
A 230g AACo Darling Downs Wagyu is available as a main course, with three additional choices: Striploin (S$48), Ribeye (S$58), and Tenderloin (S$68). These steaks can also be purchased at the restaurant's retail outlet.
The Butcher's Counter also has a more affordable range, including Rib Eye Steak (S$89.98/kg), AAc Wagyu Beef Sirloin MB 4 (S$119.98/kg), and an extensive selection of wines to complement your meal at the shop. Butcher shops will also provide you with precise cuts of meat or meal ideas based on your requirements. Orders above S$100 get free delivery, and orders placed before 11 a.m. on weekdays receive same-day delivery for items weighing less than 20 kg (44 pounds).
Key Differentiators:
Offers a wide selection of brunch, lunch, and dinner dishes.
Use the best beef around through their high standards and sustainable farming in their products.
Has an extensive selection of wines.
Client Testimonial
Big breakfast was Big in portion and açaí bowl was good too. Staffs were attentive and didn't have to wait for tables. Overall pleasant experience.

Foong Yee Loh
9. Bedrock Bar & Grill
The hardy steakhouse has endeared itself to customers with top-notch steaks from Japan, Australia, and the United States. One of the crowd favorites is still the enormous grain-fed long-bone ribeye Tomahawk steak, which is grilled over a charcoal grill for an incredibly delicate flesh with a wonderful smokey finish. It pairs well with everything from beef, chicken, and fish to sauerkraut, mushrooms, roasted root vegetables, and chorizo. It's ideal for seasoning your dish or adding it to a homemade meal such as red wine sauce, Bedrock chilli oil, wholegrain whisky mustard, and classic bearnaise.
Key Differentiators:
Top-notch steaks from Japan, Australia and the United States.
Provides a variety of sauces.
Client Testimonial
Wonderful Service, delicious food! My wife and I tend to share food. They were kind enough to split our food and serve them on separate bowls and hot plates. The complimentary birthday chocolate cake was the cherry on top! We had the Japanese Aged Wagyu; meat was tender and flavorful. Just stick to salt and pepper to season the meat for the best flavor. The flat breads, roasted tomato soup were awesome too! Will definitely come back!

Douglas Choo
10. 665 ºF
Treat yourself to a luxurious dinner of prime cuts and sustainable dish at 665°F at the top of Andaz Singapore. With an exquisite interior inspired by traditional Savile Row menswear shops, the restaurant provides spectacular city views as well as choice cuts and sustainable seafood. If you ask us, it's ideal for date night or special events!
You should come by for supper and try the appetizers including lobster bisque and grilled octopus. A4 Kagoshima wagyu striploin, grass-fed country lamp chops, and New Zealand king salmon are just a few of the specialties that will satiate your appetite. You'll find lots of options for sides, including creamed spinach, mac and cheese, and truffle French fries. You've now got a truly hearty meal with additions like asparagus and rice cakes. For dessert, don't forget to order something sweet—you have a choice of fresh fruit sorbets or other bites!
Key Differentiators:
Exquisite interior inspired by traditional Savile Row and provides spectacular city views.
Wide range of main course choices and sides.
Prime cut steak
Client Testimonial
Best. Steak. Ever. No kidding. We got the Black Onyx Ribeye, 300gm. The meat was so tender and went really well with the sauce (can't remember what the sauce was), I'm almost salivating writing this. The 2nd star of the show was the mac and cheese, so delicious. Enjoyed the truffle fries too, the truffle taste was good and strong. Ordered a crab cake to try and it was chock full of crab flesh

Theron Muk
11. Meat 4 Meat
Chef Jimmy, an ex-chef at Wooloomooloo Steakhouse in Swissôtel, runs Meet 4 Meat. For his steaks at this hawker stand on East Coast Road, he utilizes a flame-grill, so you may anticipate restaurant-grade steaks.
The Beef Wellington (S$28, S$31 with foie gras) is one of their signature dishes; a dish of tenderloin coated in pâté and duxelles (mushroom paste), wrapped in puff pastry, and baked.
Instead of pâté de foie gras, a delicate piece of pan-seared foie gras is incorporated in the mushroom duxelles in Chef Jimmy's adaptation of this dish. This is then spread over the grass-fed Australian tenderloin, which is 180g in weight.
Alternatively, the Premium AZ Ribeye (S$23/240g) is a good option. These hawker steaks are well worth the money and quality.
Key Differentiators:
Premium hawker steaks
Flame-grill stakes
Beef Wellington is a must try and their signature dish.
Client Testimonial
Beef tenderloin was awesome. The sides are super good. I tried the beef wellington wad juicy and the pastry was fluffy and nice.

Aaghir Yadav
12. Bistecca Tuscan Steakhouse
The stylish design of this Italian steakhouse, which offers a wide range of meats from Miyazaki A4 Wagyu striploin to grain-fed Bistecca alla Fiorentina, is just as well-known for its meat choices as it is for the beautiful interior. It's a thick-cut T-bone steak grilled over that is perfect for sharing. There are numerous other Italian foods to try, such as antipasti and pasta, as well as fish dishes that are sustainably harvested. Besides beef, there are a variety of alternative protein sources, including pork chop, the rack of lamb, and roast chicken. Their wine list is also large; don't forget to order a glass or two to complement your order.
Key Differentiators:
Offers a wide range of meats from Miyazaki A4 Wagyu
Offers other Italian dishes and complimentary wine selections.
Thick-cut T-bone steak is a must try.
Client Testimonial
Excellent food. Bone in rib eye cooked just right. I higly recommend ordering the wild mush room for the sides. We came here with our newborn and the staffs were extremely nice and accommodating.

Minh Nguyen
13. Guzman y Gomez
Do you want your steak to have some crunch? Try it with nachos or in a burrito bowl at Guzman y Gomez (GYG). GYG's beef steak, slow-roasted, slow-cooked beef, and beef mince are incredible options that use high-quality True Aussie Beef produced in Australia. You can have your steak fixed at a reasonable price if you pick from GYG's True Aussie beef toppings, which include delicious and savory meat dishes prepared fresh on-site every day. Choose from GYG's True Aussie beef toppings for a hearty dinner, including burritos, tacos, and more. You may get your favorite items on the menu delivered or taken away in GYG's 13 locations all over Singapore for an at-home dining experience. Get some of the finest Mexican street food you've ever tasted!
Key Differentiators:
Provides beef produced in Australia.
Reasonably priced dish with delicious and savory meat dishes.
Delivery option is available with their 13 locations all over Singapore.
Client Testimonial
I really love their food, crispy corn chips and sour and spicy chipotle sauces!! Crazy in love with GYG!!

albie
14. Picanhas'
Picanhas' purpose is to serve its clients with one motto in mind, "Steaks for the People." Shaleh Jati founded Picanhas on Club Street, which focuses its cuisine (and name) on a single type of beef, the picanha.
The rump cap, often known as picanha steak, is a cut of meat from the rear end of the steer. This distinct piece of beef has a thick layer of fat encircling the edge, which is little known outside Brazil. Fat is flavor in Gordon Ramsay's words.
Key Differentiators:
Affordable Steak Singapore Restuarant
Offers single type of beef which is known in Brazil.
Client Testimonial
Came to know of this place by chance and it turned out to be my lucky day. Great halal steak and friendly service. Once seated they give you bowl of popcorn so that you can remove your mask! How thoughtful right? Price is reasonable for a steak that literally melts in your mouth. Not too overly marinated so that you get a good taste of the beef, and comes with three choices of sauces at additional charge. Love the ambience of the place. Was there around 1 pm for lunch and it was bustling, good for them because many other F&B outlets are suffering. Reservation is recommended for dinner.

Haris Manaf
15. Bochinche
Argentina is well-known for its beef, and fortunately, there's a place in Singapore where steak lovers can get a genuine serving of Argentinean meat. The Latin American cuisine restaurant on Amoy Street is renowned for its lunch sets, which may be consumed in two or three courses. Steaks are grass-fed and cooked on the parilla, a traditional Argentine cooking technique. The restaurant's loyal customers are equally appreciative of its cheerful service and intimate atmosphere, which is why Bochinche remains the best choice for steak lovers.
Key Differentiators:
Use premium Argentinian meat.
The restaurant is well known for its lunch sets in two or three courses.
Steaks are grass-fed and cooked on parilla.
Client Testimonial
Visited their new outlet at club street and got a table next to the window which is nice. Steak was cooked perfectly, juicy inside with a very nice crust. Well executed. Loved the broccolini although it was quite pricey. Overall nothing to complain about, Bochinche has been around for many years and know what they are doing!

Avril Tan
16. Butcher's Block
Butcher's Block, which took the place of Long Bar Steakhouse at Raffles Hotel, features USA prime and cut meats that are roasted, cooked, and grilled. Wagyu tartare is a top choice that melts in your mouth. They're so good, you'll want to serve them with a side of Japanese hamachi or burnt carrot. The elegant room, which features an open wine cellar and a glass cooler showcase of meats, adds a sophisticated touch to your meal.
Key Differentiators:
Features USA prime cuts beef.
Wagyu Tartare is a must try.
Provides an elegant room that features a wine cellar and a glass cooler showcasing the meats.
Client Testimonial
Sunday brunch. Food was pretty excellent as was the service. Price wise was not higher than expected. Highly recommended.

James Tan
17. Huber's Butchery/Bistro
Huber's Meat Shop offers beef to many eateries around Singapore. Why not have your dinner at the source?
Here are two steak selections to consider: US Prime Sirloin Steak (S$38/250g) and Flat Iron Steak (S$19). The steaks are simply grilled, and you may rest confident that this butcher provides high-quality meat.
Not even at US Prime steak, which costs S$38 and is served with a herb & butter flavored brown sauce, would you find this quality of value for money elsewhere.
Key Differentiators:
Modernised beef meat shop.
Delivers meat to most of the Singapore restaurants.
US Prime Sirloin Steak and Flat Iron Steak are a must-try.
Client Testimonial
Everyone is very friendly and knowledgeable there. They answered our queries perfectly. Nice ambience, we were lucky that there is no queue when we arrived. I ordered the tasmanian ribeye steak (medium rare), it was cooked nicely, soft and tender. Will go back there again when i crave for beef.

j0Lene L
18. Burnt Ends
It might be difficult to secure a table at this well-known restaurant, but eating here is almost certain to be unforgettable. The one-of-a-kind grills at this modern Australian eatery, which has been gaining fans since 2013, are the showstopper. The cuisine is updated daily, although the beef tenderloin and Blackmore's cube roll are must-tries that will have you longing for another visit. The restaurant has also introduced its bakery side in recent years, including several varieties of bread, scones, tarts, cinnamon rolls, and doughnuts. As with restaurant reservations, acquiring a box of donuts may be difficult—but it is well worth the effort.
Key Differentiators:
This restaurant changes its menu daily.
It is well known for its steak and doughnuts.
Offers a variety of pastries.
Client Testimonial
Took awhile to get a booking but was definitely worth the wait.

Everything we ordered was good to say the least but I will just talk about the eel and bone marrow and the OP Rib.

The eel was roasted with bone marrow tucked underneath served on a small slice of toast. Sweet, tender, juicy and rich

The OP Rib was cooked to perfection. Super juicy and tender with just some salt sprinkled over the top. It was served with a lettuce coated in a light vinaigrette. It went well with the rich meat.

Looking forward to my next visit

slugontheface
19. Black Marble by Otto
Otto Weibel, nicknamed the "godfather of steaks," believed in keeping things simple and perfect, and his approach is lovingly represented in the cuisine. Select from Wagyu striploin, Australian Angus ribeye, or dry-aged t-bone steak and complement your grilled meat with chimichurri sauce, mushroom port wine sauce, or fresh herbs butter. Grab a seafood platter and sides like 24-hour brine hand-cut fries to go along with your friends.
Key Differentiators:
Simple yet lovingly presented cuisine.
Variety of steak options to select from
Offers seafood platter.
Client Testimonial
I've been here twice now, in the span of 1 week. The food is most definitely photo worthy, and more importantly, worth an hour plus journey.

The restaurant itself is nice and cosy, perfect for date night or family dinners. Everything I've tried is definitely worth ordering, so I suggest making multiple trips to try all their food items!

Kudos to the team and chef for bringing fine dining to an affordable price! Keep up the good work, and you definitely have a regular customer in me!

Marcus
20. The Market Grill
The Market Grill at Telok Ayer uses secondary cuts rather than the more costly primary cuts to balance price and quality while maintaining high standards of beef.
The main dish at this modest hole-in-the-wall restaurant is excellent, hearty charbroiled steaks.
Try the basic Wagyu Rump, which comes with caramelised onions and is served with a side of chips (S$40), or the Beef Hanging Tender (S$40) or Black Angus Bavette (S$40), all of which are flavorful yet still soft. Each steak is served with a peppercorn sauce or red wine jus to choose from, allowing you to customize your meal.
Key Differentiators:
Uses secondary cuts for balance price and quality beef.
Charbroiled steak is a must try.
Also serves premium cuts but with higher price.
Client Testimonial
Really loved the steak! (ordered 900g) Cooked to perfection and the mash was amazing! Lovely oysters! The staff at the restaurant were really attentive and kind. Had a wonderful and romantic evening w my hubby. Would go again❤️

Rachel Ong
21. Cut by Wolfgang Puck
Cut by Wolfgang Puck is a well-known steak restaurant in Singapore that offers one of the greatest steak meals available. Since its debut in 2010, it has kept its luster and reputation as a high-end steakhouse with only the highest quality cuts of prime beef. The wide selection is expected, and its American Wagyu ribeye from Idaho's Snake River Farms is a must-try. The menu also has other appealing choices, such as the creamy and buttery bone marrow flan with mushroom jam. There are several dessert alternatives on the menu, including a luxurious Valrhona chocolate souffle that feeds up to three people. The Michelin-starred restaurant also has an extensive wine list if you want to stay for a bit longer.
Key Differentiators:
A luxurious steakhouse that serves prime beef only.
The restaurant's menu also offers other appealing menu courses.
Has an extensive wine list to offer.
Client Testimonial
Best in class steak and was done perfectly. A restaurant is only as good as it's food & SERVICE! Service was great and made us feel well looked after.

Kai Feng
22. Opus Bar & Grill
Rangers Valley, Opus Bar & Grill will wow even the most discriminating meat eaters with its high-quality beef. The cuisine at this date restaurant emphasizes sharing plates that will make your caveman side scream in joy. For a real treat, try the signature 1.2kg Australian whiskey-aged wagyu tomahawk for two, topped off with free-flow booze or bottomless seared foie gras.
Key Differentiators:
Use high-quality beef
Australian whiskey wagyu tomahawk is a must try.
Client Testimonial
Excellent food. They're one of the best grill house for a reason. Steak and lobster was fresh. Staffs are extremely friendly and helpful. Highly recommend it for all steak lovers.

M Yunes
23. Meat n' Chill
Meat n' Chill is a relaxed diner in Bukit Timah Road that serves excellent meats and plenty of mellow vibes. This restaurant was created by three good friends after their passion for hearty American cuisine and casual dining.
Australian Wagyu is known for its marbling, so you'll want to order the 500g Australian Wagyu Rib-eye Steak (S$75). For those on a budget, try the 250g Red Neck Soo-veed Rib-eye Steak (S$27), which is far more delicate and almost melts in your mouth.
Key Differentiators:
Americanised steaks
Steaks are slow-cooked, then chargrilled.
Affordable steaks
Client Testimonial
Great place with amazing food and fantastic service. I would definitely recommend the food, and the restaurant for its very convenient location only a short walk from an MRT station. Ordered lovely, crunchy garlic bread as an appetizer, and a vanilla milkshake that looked and tasted so good, that I drank some before taking a picture. Ordered the "Old God Mother" pork ribs, which were divine. Though they are said to be slightly spicy, the ribs were not spicy for my level, but still tasted fantastic. Ordered this with side of Cajun rice and Fries that were excellent, and the fries were the best that I had tried in a long while. Overall, a really nice place to eat dinner and relax with a friend.

Serini Rajaguru
24. Fat Cow
Wagyu cattle breeders will be aware that this Japanese steakhouse offers a wonderful selection of top-notch meat. Choose from an extensive variety of Japanese Wagyu, including Ohmi Grade A4 (ribeye), Iwate Grade A5 and Saga Grade A3 (tenderloin and sirloin) prepared in a range of Japanese. The meat's doneness will be advised to you by the staff, but generally have Wagyu beef medium-rare to fully appreciate its flavor and texture. The donburi bowls—diners have the option of Wagyu beef in there—are extremely popular, especially during lunch. Remember to end your meal with a nice cup of sake.
Key Differentiators:
Offers an extensive variety of steaks.
You may choose your meat's doneness.
Client Testimonial
5th visit. The steak is one of the best in SG and the rice this definitely my favorite( yummy fat round Japanese rice with truffle). Great quality and wine is also reasonable price.

Carol Wang
25. Morton's The Steakhouse
At Morton's, you can get a taste of the finest thing. It's one of those classic restaurants where you know what to expect from the menu. Filet mignon and prime New York strip aren't cheap, but they're definitely worth the cost. Even better when they're accompanied by ahi tuna crisps and piping hot coffee.
Key Differentiators:
Use quality beef on their steak.
Worth the cost of steak cuisines.
Client Testimonial
Easy place to recommend for a nice steak meal. Portions are generous. Service is nice. Ambience and lighting is pretty dark, but I guess that's the vibe they're going for. Must haves are the mac n cheese, and chocolate lava cake. You can't go wrong with steak here as well. Great place for special occasions or for that special someone. Expect to spend $120-$200/pax.

Rudy Hamid
26. Fat Belly
Now a prime 52-seater steakhouse in Bukit Timah, Fat Belly serves up great value steaks. Carefully sourcing their meats from premium breeds like Wagyu combined with secondary cuts such as onglet (hanger cut) and careful portioning, Fat Belly delivers excellent quality at pocket-friendly prices.
Fat Belly may not have a huge steak selection, but it aims to provide fatty, juicy steaks to its patrons.
Key Differentiators:
Small steak selection but focuses on juicy and fatty steaks.
Wagyu Deckle is a must try.
Excellent quality beef with affodable price.
Client Testimonial
Excellence services, asked for medium and steak was cooked to perfection. Juicy and awesome.

JeremMii
27. Lawry's The Prime Rib Singapore
Lawry's is one of those timeless restaurants that never goes out of style. The exclusive area, which is perfect for special events and gatherings, is sophisticated and elegant. The signature USDA prime ribeye of beef at one of the best steak restaurants in Singapore is a must-try – this baby is aged up to 21 days, so you know it'll be perfectly roasted and delicate!
Key Differentiators:
Long standing dining establishment that never goes out of style.
Ideal for special occasions and gatherings.
Signature USDA prime ribeye of beef is a must try.
Client Testimonial:
Had a wonderful dining experience on my birthday with my father. The service was excellent and would cater to all of our needs. They slice the beef up right in front of you so that was pretty cool! You can have your steak and any rareness you'd like. I got mine at medium rare and it was *chef's kiss* perfect!! The view we had was of the new courts on orchard road and I cannot complain because Christmas decorations were also up so it was beautiful

Rosie
28. Skai
Tucked high up on the 70th floor of Swissôtel The Stamford, this exquisite contemporary grill serves up bespoke beef cuts that have been grilled in a Josper charcoal oven. Wagyu beef from Australia and Japan, as well as USDA prime ribeye and American Wagyu, are among the numerous selections available at this restaurant. The beef is so exquisite, it's almost indecent to add anything else to your steak. However, the black truffle, red wine, and green peppercorn sauces are welcome alternatives.
Key Differentiators:
Wide range of fantastic beef options.
You may try their other sauces for better experience.
Exquisite contemporary grill restaurant.
Client Testimonial:
Had a wonderful dining experience on my birthday with my father. The service was excellent and would cater to all of our needs. They slice the beef up right in front of you so that was pretty cool! You can have your steak and any rareness you'd like. I got mine at medium rare and it was *chef's kiss* perfect!! The view we had was of the new courts on orchard road and I cannot complain because Christmas decorations were also up so it was beautiful

Rosie
29. Wolfgang Steakhouse
Look no further than Wolfgang's Steakhouse if you're looking for dry-aged beef, seafood, or wine. Wolfgang Zwiener, who hails from New York and runs the restaurant with his wife, is a friendly and inviting guy. The latest addition to the area's culinary scene, this is a modern Japanese steakhouse. The USDA prime black angus beef is dry-aged for 28 days on site and is known for its rich taste. Yes, with each bite, you'll get an explosion of flavor.
Key Differentiators:
It is known as modern Japanese stekahouse.
This restaurant is run by a known New York chef and his wife.
USDA prime black angus beef is highly recommended.
Client Testimonial:
Impeccable service and delicious food! Our medium rare steak was cooked the way we like it and every bite was a bliss. We were also served a complimentary anniversary cake which we enjoyed a lot. Highly recommended!

Yiting
30. Skirt
What distinguishes this exquisite steak house from the rest? The cooks at this restaurant use a Parrilla grill to prepare the meats, so you may expect exceptionally tasty and juicy prime cuts. A wagyu steak at Skirt tells the whole story. It's always delectably rich, but if you're feeling hungry, go for the tomahawk steak with grilled bone marrow.
Key Differentiators:
It is known as elegant steak restaurant.
The kitchen uses Parrilla grill to prepare the meats.
Wagyu and tomahawk are highly recommended.
Client Testimonial:
Awesome food and service. The steaks were very nicely done. Had a 300g Australian wagyu, and my wife had a 300g tenderloin. My wagyu was flavoursome and juicy. The tenderloin was butterflied and medium well, but still tender. With the Amex Love Dining deal, it's very affordable for the quality.
31. L'entrecote
The pricey main course at this Parisian Restaurant is one of the most delicious things we've ever tasted, and it's quite delectable. The dish to try is the signature steak frites, covered in its own special sauce and served with delicious fries and a fresh salad. Oh, but the rich Paris-brest is fantastic for dessert.
Key Differentiators:
Wide range of beef steak options
Signature steak frites is highly recommended.
Desserts are also a must try in this steakhouse.
Client Testimonial:
Always consistent in topnotch quality of service and products. This is where you go for your steaks, European favourites, smooth cocktails, and the best wines.

Ramon Antonio
32. The Feather Blade
A pop-up restaurant at Tanjong Pagar has become a permanent business. The restaurant's name refers to the flat iron beef cut from the side of the shoulder, sometimes known as a feather blade, which is used in its cuisine. It provides you with a unique meat alternative that you may enjoy without breaking the bank. Order the sinful potatoes, which are deep-fried in beef fat and served as a side dish with every dinner.
Key Differentiators:
Steaks are known for its intense flavour.
Adding sinful potatoes is highly recommended.
It is now a permanent establishment in Tanjong Pagar.
Client Testimonial:
The steak is really delicious and the foie gras is soft and melts in your mouth. They were kind and nice to extend my timing as I was running late. Definitely a nice place to have a meal. Would have been even better if there is a surprise complimentary dessert or drink as we were celebrating our 6 years together.

Justin Ng
33. Ruth's Chris Steakhouse
The American steakhouse, which was founded in New Orleans decades ago and now serves clients from 21 nations around the world, has served a lot of hungry people. The restaurant's selections are quite conventional and basic. Filet, T-bone, New York strip, ribeye, porterhouse (for two)… Choose your favorite USDA prime steak cut and watch it arrive at the table hot grilled to perfection.
Key Differentiators:
Established in 21 different countries.
Menu is classic and straightforward.
Client Testimonial:
I find this more family friendly than Morton's. Great service, all meat and sides and desserts were very tasty with generous portions. We'll definitely be back!

Kyle Lee
34. High Steaks
The well-known High Steaks Restaurant is located in the Jalan Riang shophouses, which are surrounded by landed estates. It's a rural area known mostly to people living around Lorong Chuan and Serangoon.
Key Differentiators:
Its location is surrounded by landed estates.
Widely known to its neighbouring residents.
Client Testimonial:
Spot this Gem, It's located at a quiet area, nice area away from the buzzing city. ordered the steak and was cook perfectly. Really love Oyster as well, very fresh and affordable!

Highly Recommend

Jayden
35. iSteaks Diner
Despite the cheap-looking interior and fast food appearance, iSTEAKS Diner serves quite nice steaks for the price. There's not as much flavor profile to it, but their steaks are juicy and soft, with a nicely charred crust.
Key Differentiators:
Affordable price
Tacky interior and fast food looking concept
Flavorful steaks
Client Testimonial:
Good tasty food with nice ambience. Staff is very friendly and service is quick. Cost is okay and totally worth the price. Ordering is fully online with online payment. One drawback is I got the dessert before everything else and Ice cream was melted by the time I had finished the steak and wanted to start on the dessert. Staff should have been bit smart on that and have it delivered after the mains.

Milindu Sanoj Kumarage
36. BIZEN Okayama Wagyu Steakhouse
Just like many other speciality steakhouses these days, they import the entire cow carcass and age the meat in-house. This means that cuts are limited and diners can head to their Facebook page to check which cuts are still available during lunch and dinner.
Key Differentiators:
Affordability of its great cuts.
Its steaks are juicy and easy to cut.
Client Testimonial:
Finally decided to try this place as I have been a long time supporter of Aston's and would usually order the Wagyu. The Wagyu ribeye here is definitely fattier than the one I usually have at Aston's. On first bite it was crispy on the outside and tender and juicy on the inside. I like that you have the option to go for a petite 150g or standard 220g. I opted for the petite Wagyu ribeye rare as I wanted to order a chawanmushi appetiser. I love the chawanmushi it is so soft and smooth, only wishing there was a bigger size! The baked potato here is also huge! Was here around 3-4pm for a late lunch and it was totally empty which was a plus for me as I prefer my quiet. Would come back again.

Renee
37. Black Pearl Steakhouse @ Holland Village
At 85 Upper East Coast Road, the New York-based Traditional Steakhouse Black Pearl Steakhouse Singapore by Chef Jonathan Tan can be found nestled in a cozy nook. For over 16 years, we have been offering the greatest steaks along the East Coast stretch and were previously known as Perle Noire Oyster & Grill Bar. In 2021, she opened another location at 40 Lorong Mambong Holland Village that provides the same menu. The cuisine is inspired by French cooking and features French-inspired mains complemented with house-made sauces and delectables sides. Our restaurant offers an extensive wine list to go with our cuisine. Black Pearl Steakhouse is thrilled to be recognized as one of Singapore's top steakhouses.
Key Differentiators:
Voted best steak house in Singapore
Premium cuts / Air-flown steak cuts from Australia
Client Testimonial:
Fantastic service, staff will constantly checking on us. Ordered a Tomahawk 2.6kg, 2 mains and a few more sides, nice serving n taste awesome!

J Kwek
38. Meadesmoore
Meadesmoore is a steakhouse that specializes in unusual cuts of beef and other meats from a network of trusted award-winning premium small producers. Meadesmoore is a fist bump to the great steakhouses of the early 1900s in the United States and United Kingdom, led by Executive Chef Victor Loy.
Key Differentiators:
Gutsy side dishes
Decadent desserts
Client Testimonial:
The food was amazing and there is an extensive wine selection. We started with the grilled ox tongue which was really tasty. For the mains, we tried the port wine that pairs superbly with the black Angus short rib steaks. The ambiance of the place is perfect for dates and business dinners. Will definitely come back.

Jonathan Lee
39. WAKANUI Grill Dining Singapore
WAKANUI Grill Dining Singapore is a steak and lamb restaurant in Marina One's West Tower, with Ocean Beef and WAKANUI Spring Lamb from New Zealand's Canterbury region. The restaurant was opened in Tokyo by ANZCO Foods Japan in 2011, quickly establishing it as one of the city's leading steakhouses. WAKANUI is relaunching in Singapore, aiming to change the notion of beef and lamb in the country by fusing New Zealand meat and Japanese cuisine.
Key Differentiators:
Steak & Lamb
Fusing New Zealand & Japanese
Client Testimonial:
Excellent experience from entry to exit. Friendly and attentive service paired with great dishes made for a memorable enough meal worth sharing. Try the lamb rack – some of the most tender (and non-gamey) I've had in a very long while. The desserts and appetizers are also worth making space in your tummy!

Wen Huang
40. Braseiro Restaurant
A basket of excellent fries, from chilli crab fries to the well-known truffle fries, seems to be one side on which Singaporeans can't get enough. And Braseiro has put an end to the annoyance associated with spending money on batches of fries. For less than $20, you may enjoy a hearty serving of steak and free-flow fries! The restaurant's name is a tribute to the number three, which is significant in numerology. The owners of the eatery opted to focus on the number three as well. Each of the three categories on their menu has three dishes, therefore you can pick from among them for a total of nine appetizers, nine mains, and nine desserts.
Key Differentiators:
Authentic french steak-frites
Unlimited fries
Client Testimonial:
A decent steak for the price it is offered. Ordered the 300gm piece of ribeye cooked medium rare and it was spot on. The meat also includes a free flow of fries and lettuce. The fries although really soggy were surprisingly tasty. Service was pretty good and quick. The lava cake with a scoop of vanilla ice cream was delicious.

Toms Arackal
41. Steak & Bones
Leisure Food Space, a hipster cafe situated in the industrial estates of Geylang, is home to Steak & Bones. A relaxing atmosphere is created by the peaceful location and colorful and delicate decor.
XXL platters, like buffets, are always in demand. Whether you're pigging out by yourself or feeding a large group of gluttonous friends, these enormous combos will stretch your money to its limits. For example, the huge XXL Western platter from Steak & Bones should sate any big eater.
Key Differentiators:
Hearty XXL Western platter
Affordable prices
Client Testimonial:
42. Angus House
"Angus House" is a restaurant chain based in Indonesia that was founded by Mr Motonaga Hokonohara and Ms Elizabeth Liman in 1990. It became well-known immediately for its charcoal grilled steaks cooked Japanese style and other Japanese dishes.
In 1992, The Angus Steak House (S) Pte Ltd was established in Singapore's prime Orchard Road area, alongside Japanese retail chain Takashimaya Shopping Centre, to launch the "Angus House" brand.
Our steaks are charcoal grilled, with sizes ranging from 100 grams to 300 grams. Hors d'oeuvres, soup, salad, rice or bread, and dessert are all included in the dinner menu. Our house specialty is Japanese Miyazaki Wagyu Sirloin Steak, which is delicate, soft, and luscious to eat.
Grilled fish and chicken are also available. Ingredients include salmon roe and abalone, cuttlefish and sea-urchin in Japanese spaghetti cooked al dente. Desserts are limited to the daily special, tiramisu, ice cream, and fruit fresher.
Key Differentiators:
Charcoal grilled steaks
30 Years + History
Client Testimonial:
Had originally intended to try their surf and turf promotion but found that they serve daily set lunches. So tried their foie gras yakiniku rice set instead. Top up $10 for bread, soup, salad and dessert which I think is very worth it although they were just decent. The foie gras yakiniku rice though is something to die for. Foie gras melted in the mouth and the beef were flavorful. Service staff were prompt and friendly. Will drop by for lunch again.

Alex
43. Steakgrill Steak House
Chef Edwin's background and love of BBQ and grilling inspired SteakGrill, a Western BBQ and grill restaurant. They discovered that excellent steaks are frequently too costly, but cheaper alternatives failed to satisfy our high expectations; as a result, we've come up with the best combination of good steaks at a reasonable price. Your taste buds will be in for a treat with the Chef's 6 years of BBQ and smoking expertise. Don't miss out and come down to have a taste now!
Steak Grill's slow cooking procedure is used to cook the meats, ensuring that each mouthful is exquisite, fully cooked, and juicy. This is what makes dining here so special and distinct. The meats are subjected to careful selection and various culinary processes in order to achieve that ideal balance of taste and texture.
Key Differentiators:
Affordable Steaks
Slow Cooking Steaks
Client Testimonial:
Back again to this nice cosy restaurant inthe heart of AMK. The steaks are juicy and done perfectly. Duck breast is yummy. Pork tenderloin fillet is nocely done.

Chris Ang
Best Steak in Singapore
And there you have it; our picks for the best steaks in Singapore! We hope this list has helped you narrow down your options for selecting where to get your next steak fix!
To help plan your next food adventure, why not check out these articles?
Do you know any business that needs help getting noticed, or a hidden gem in the city that everyone needs to visit right now? Drop us an email here so we can feature them!
Frequently Asked Questions (FAQ)
If you have any questions about Best Steak in Singapore, you can refer to the frequently asked questions (FAQ) about the Best Steak in Singapore below:
Additional Useful Articles
If you are looking for other useful guides and articles about Best Steaks in Singapore, check them out below: