Braces Singapore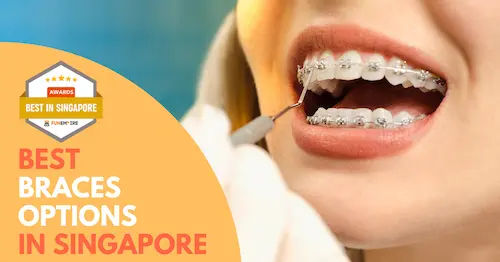 When it comes to dental aesthetics and health, braces are a popular choice for many.
The best clinics for braces in Singapore include Nuffield Dental, Expat Dental, A Line Dental Braces Clinic, and i.Dental, Zenyum.
When selecting a brace clinic in Singapore, take into account factors like the clinic's location, pricing, and the range of braces available.
In Singapore, the most common types of braces are metal braces, ceramic braces, and lingual braces.
In this article, we'll discuss the best braces in Singapore so you can find the braces that work best for you!
Quick Summary
Best clinics for braces in Singapore include Nuffield Dental, Expat Dental, A Line Dental Braces Clinic, and i.Dental, Zenyum.
When choosing a brace clinic in Singapore, consider factors such as location, cost, and the types of braces offered.
The top 3 types of braces in Singapore are metal braces, ceramic braces, and lingual braces.
Consideration Factors When Choosing A Clinic for Braces Singapore
Price: Everyone's budget varies. It is important to note the prices at various clinics and make an informed decision on which fits best into your budget range.
Location: You will want to consider the distance of the clinic from your home or workplace as well as its accessibility.
Services: Check the types of services available at each clinic, such as the different types of braces they offer and their payment plan options.
Technology: The latest technology available is always great to look out for as it can potentially reduce your treatment time.
Reviews: Read reviews from other patients who have undergone similar treatments with the clinic in order to gain insight into the quality of service you can expect.
Best Braces Singapore
1. Nuffield Dental
Key Services
Invisalign, Braces, Root canal treatment, All-on-4 dental implant surgery, Same-day dental implants, Digital smile design, Wisdom tooth surgery
Website
https://www.nuffielddental.com.sg/damon-braces
Address
Nuffield Dental Jewel, Wheelock Place, 501 Orchard Road #05-01, Singapore 238880
Phone: 6950 2866
Phone
6950 2866
Email
jewel@nuffielddental.com.sg
Operating Hours
9am-7pm Monday to Friday, 9am-6pm Saturday
Singapore's premium dental chain with 11 clinics island-wide, Nuffield Dental offers an extensive range of signature services such as All-On-4 dental implants procedure and Digital Smile Design. They work with their own certified laboratories in Singapore to ensure quality, well-fitted orthodontic crowns and implants that meet consistently high standards.
Nuffield Dental takes pride that their dentists are experienced and clinically trained to complete treatments swiftly, and they provide different pain management options to give patients a smooth and comfortable experience.
Key Differentiators
Same-day dental implants, crowns, dentures, and bridges (prosthodontics)
One of the few dental clinics in Singapore to offer All-on-4 dental implants surgery
Wide range of sedation options for nervous patients
Client Testimonial
Excellent service provided from first point of enquiry to the final point of bill settlement. Both Dr Chung and his team, Komathi, Mel and Liana were truly professional. They answered all our queries with patience and understanding. Never been to a dental clinic with such 5 star services. Will definitely recommend this dental clinic. Kudos to such a great dedicated team.

Sharmini Sandhu
2. Expat Dental
Key Services
Metal braces, ceramic braces, Invisalign
Website
http://expatdental.com/
Address
Novena Medical Center, 10 Sinaran Drive Square 2, Singapore
Phone
+65 6397 6718
Email
info@expatdental.com
Operating Hours
Monday – Tuesday: 10:00 AM – 7:00 PM
Wednesday – Friday: 8:00 AM – 5:00 PM
Saturday: 9:00 AM – 2:00 PM
Expat Dental is a global dentistry practice that provides outstanding patient care and advanced dental and orthodontic procedures. It has a large team of dentists in Singapore, the United Kingdom, and Australia who are actively involved in the dental profession.
Metal braces, ceramic braces, and Invisalign are all available at Expat Dental. This variety of treatment alternatives makes Expat Dental a great alternative for adults, preteens, and those who moved to Singapore before completing their orthodontic therapy abroad.
Expat Dental also has specialists who focus on dental treatment for children, which means that toddlers and adults alike can benefit from the clinic. As a result, Expat Dental offers early examinations for children as young as 7 years old to detect any developing orthodontic issues like bite concerns or tooth overcrowding.
Key Differentiators
Accepts transfer patients
Use of ceramic braces and Invisalign for subtle appearance
Good services for children
Client Testimonial
Didn't know going to the dentist could be so pleasant. From receptionists, nurses and dentist – all so kind and caring. Totally trust their expertise. Best experience I've had at the dentist worldwide.

Anonymous
3. A Line Dental Braces Clinic
| | |
| --- | --- |
| Key Services | Metal braces, ceramic braces, clear aligners, removable braces |
| Website | https://www.alinedental.com.sg/ |
| Address | 1 Coleman Street, #03-01, The Adelphi, Singapore |
| Phone | (65) 6837 2722 |
| Operating Hours | Monday, Wednesday – Saturday: 10:00 AM – 7:00 PM |
The clinic's name, 'A Line Dental Braces Clinic,' speaks for itself, so you may expect nothing less than the greatest braces in Singapore from it. A Line specializes on orthodontics alone, which is why it also provides a broad variety of braces.
Customers may select from metal braces, ceramic braces, and alternative types of braces. A Line also caters to people who are concerned about the look of their orthodontic treatment because it provides a variety of invisible braces choices.
The most popular dentistry services include braces, veneers, crowns, bridges, implants, and cosmetic procedures. Braces are a form of orthodontics that straighten teeth by attaching wires to them at various stages of development.
Key Differentiators
An efficient online scheduling system
Accepts transfer patients
Numerous braces types
Affordable invisible braces options
Client Testimonial
I did my braces in Malaysia because of the covid-19 I can't go back to Malaysia and adjust my braces. During this time one of my brackets is broken then I try to find a clinic to stick it back, I went at least 4 clinics to check whether they can help me or not, some of the clinics don't accept cause my braces are did in Malaysia, 2 of the clinic want to cost me 550++ and another one 650++ just to stick it back, check and change the rubber . Lucky I found this Braces clinic the nurse is helpful and friendly, the fee is very good for me when they tell me the fee I though I get wrong because the last 2 clinic is too expensive for me just for stick it back. I have to say the Doctor is very nice and professional he very quickly to understand what I want and even help me changed my rubber . Thank you so much.

Anonymous
4. i.Dental
Key Services
Invisalign, braces, wisdom tooth extraction, veneers
Website
idental.com.sg
Address
Tanjong Pagar: 168 Robinson Road, #01-04 / 13-04, Capital Tower Singapore 068912
Yishun: 1 Northpoint Drive, Northpoint City, #B1-176, Singapore 768019
Ubi: Block 302, Ubi Avenue 1, #01-47, Singapore 400302
Phone
3165 4519
Email
info@idental.com.sg
Operating Hours
Tanjong Pagar, Ubi: Monday-Friday: 9:00AM-8:00PM
Saturday: 9:00AM-4:30PM
Sunday & PH: Closed
Yishun: Monday-Friday: 10:30AM-9:30PM
Saturday: 10:30AM-4:30PM
Sunday: 10:30AM-4:30PM
PH: Closed
For over three decades, i.Dental has been at the forefront of orthodontic care in Singapore, offering a broad spectrum of braces options to suit diverse dental needs. From the advanced Invisalign aligners for those seeking clear braces to traditional metal, ceramic, and self-ligating braces, i.Dental ensures a customised treatment plan for every individual. They also make orthodontic care more accessible with special plans for students and National Servicemen (NSF).
With the clinic's journey beginning in Ubi and expanding to four convenient locations across Singapore, i.Dental remains committed to exceptional patient care. Each clinic, including the Invisalign Dedicated Clinic at Tanjong Pagar, is strategically situated near MRT stations, making it effortless for everyone to access their services.
Key Differentiators
Over 30 years of experience
Invisalign Dedicated Clinic
Black Diamond Provider 2019 – 2022
5. Zenyum
Braces are becoming increasingly popular these days, but they can be costly. There has been a monopoly on this sort of goods, which is why they are so expensive. Zenyum's therapies, which are as brief as 3 to 15 months long, aim to keep braces affordable in Singapore without sacrificing quality.
The cost of zenyum invisible braces is $2,400. All clients must submit photographs of their teeth to this dentist, who will then create the desired look using resin restorations.
Zenyum begins by scanning your teeth, after which it inspects them to see whether you need a ZenyumClear or a ZenyumClear Plus. You may also use the promo code BestSGAligners to get $100 off your purchase if they advise you on any of their treatments.
Zenyum's mobile application is what really sets the brand apart. It allows patients to communicate with dentists and orthodontists all across the country via its own mobile app. You no longer have to go to a clinic for routine Braces check-ups because of this technology.
Key Differentiators
Convenient mobile application for orthodontic check-ups
Fast treatments
Client Testimonial
I just started my Zenyum journey on 18Oct2021, Just done with approving the treatment plan l went to see the periodontis for some gum issues and I'm all cleared ! My molds are ready ! I'm now waiting to see my dentist on 23Nov for the aligners fitting. The whole process was very smooth. A sincere thank you to Mr Firdaus for his assistance since day 1. He has been very helpful through out the whole process!! 100& fabulous customer service. Can't wait to try out my Zenyum (counting down to 3 more days).

Anonymous
6. G Dental Centre
Key Services
Invisalign
Website
http://www.gdental.com.sg/
Address
25 Ghim Moh Link #01-04, Singapore 270025

Camden Medical Centre: 1 Orchard Boulevard #02-01 Singapore 248649
Phone
+65 6262 1580
Email
gdcsmilestaff@gmail.com
Operating Hours
Monday, Wednesday, Friday: 10:00 AM –6:00 PM
Tuesday, Thursday: 10:00 AM – 8:30 PM
Saturday – Sunday: 9:00 AM – 3:00 PM
G Dental Centre is Singapore's go-to clinic for Invisalign braces, according to the website. Dr. James Ho, a renowned pinhole surgeon for gum rejuvenation and reverse gingival recession treatment who is a platinum elite provider of Invisalign, leads this clinic. When it comes to braces, G Dental Centre provides invisible braces and braces for adults.
G Dental Centre does comprehensive consultations to determine which plan is ideal for its customers, during which its specialists will evaluate your dental condition as well as learn about your lifestyle.
Key Differentiators
Considers patient lifestyle
4 different Invisalign packages
Client Testimonial
Best dental services ever. Did my Invisalign treatment with Dr James Ho and am very satisfied with the results. Was previously an underbite case with some crooked teeth, he managed to help me attain straight teeth without having to do jaw surgery, pluck any teeth or use elastics (which is usually the case among my friends with similar conditions as me). He is very experienced and friendly, always reassuring me and providing professional dental advice when I have any doubts. Would recommend to anyone looking to straighten out their teeth or who are generally afraid of dentists.

KK Ming
7. Neo Smiles
Key Services
Metal braces, ceramic braces, Invisalign, Damon braces
Website
https://neosmiles.com.sg/
Address
Bedok branch:
214 Bedok North St 1, #01-153 Singapore 460214

Kovan branch:
210 Hougang St 21, #01-273 Singapore 530210
Phone
Bedok branch: +65 6481-0800
Kovan branch: +65 6386-0700
Email
hello@neosmiles.com.sg
Operating Hours
Monday – Thursday: 10:00 AM – 8:00 PM
Saturday : 9:00 AM – 5:00 PM
Sunday : 9:00 AM – 2:00 PM
Neo Smiles is one of the dentistry clinics that employ cutting-edge equipment such as iTero dental scanning and 3Shape Trios rather than traditional, unpleasant teeth moldings. The clinic also has x-ray equipment to provide each patient with a comprehensive range of in-house diagnostic choices.
With two branches in Singapore, one in Bedok and one in Kovan, each of which offers orthodontic therapies, it provides a wide range of entertainment options. There is free WiFi, an overhead TV with relaxing music, and other leisure activities available at each office.
Neo Smile, on the other hand, is divided into two offices. This might be the cause for some clients' complaints about unreliable scheduling, with claims that there have been occasions when employees booked the incorrect day or that a doctor was unavailable despite a confirmed appointment.
Key Differentiators
iTero dental scan and 3Shape technologies
Offers removable orthodontic appliances
Client Testimonial
Doctor Neo is a sincere and professsional dentist. She is also very patience in handling queries and feedbacks from her customers. Along with the rest of the crew, they has shown genuine care and concern as well. They remembered my occupation, my birthday and requests i have put up. Its a honour and a great experience to do up my braces over Neo Smile Dental. I will be introducing their services to my friends and family for years to come.

Ray
8. Align Braces
Key Services
Invisalign, Damon braces, metal braces, ceramic braces
Website
https://www.alignbracesclinic.com/
Address
68 Orchard Road, Plaza Singapura #04-33, Singapore 238839
Phone
+65 6513 0686
Email
hello@alignbracesclinic.com
Operating Hours
Monday – Friday: 11:00 AM – 8:00 PM
Saturday – Sunday: 10:00 AM – 5:30 PM
If you're searching for a new Invisalign Platinum Elite provider, then Align Braces may be the best alternative for you. With Invisalign and Damon braces, this clinic provides fast and simple alternatives to orthodontic treatment.
Align Braces offers a complete line of braces that includes both metal and ceramic braces for more complex situations. Traditional metal braces as well as more fashionable ceramics braces are still available to accommodate more complicated cases. Patients with additional jaw or bite problems can also use aligners with jaw surgery for faster results.
Key Differentiators
No-interest payment options and student prices
Accepts walk-ins
Available all week with extended hours
Client Testimonial
I'm currently ~9 months through my Invisalign journey with Align Braces Clinic, and the experience has exceeded my expectations. Dr Stanley is very patient, gentle and comprehensive in his treatment. While I was initially concerned about the level of discipline required for Invisalign to be effective, integrating it into part of my daily life has turned out to be straightforward after the first 1-2 months. In my experience, maintaining the habit (of removing/replacing aligners during meals) is relatively easy once it has been formed. Prices for both Invisalign and generic dental treatments are also competitive / reasonable, in my view.

Citi Lim
9. My Braces Clinic
If you're looking for a clinic that provides cutting-edge treatments, My Braces Clinic is the place to go. This clinic already keeps all client records digitally and paperless throughout the consultations.
My Braces Clinic also uses the Trios 3Shape Scanner, which is recognized for its 3D impression technology. It won't need traditional molds to provide you with the finest orthodontic care, since it will create digital 3D impressions using this device.
My Braces Clinic offers a number of alternative choices for patients who do not wish to disclose their orthodontic treatment to family or friends. My Braces Clinic's network includes Invisalign and Incognito, which provide low-key solutions to clients who don't want others to know about their braces. Before Invisalign begins, My Braces Clinic provides a full report of one's braces.
Key Differentiators
3D digital scanning
Kid-friendly dental clinic
Numerous options for subtle-looking braces
Client Testimonial
Dr poon is so amazingly professional. She had made my entire braces journey a smooth sailing one. I went to so many other dental clinics they told me that I had to extract my crooked front teeth before i can put on the braces but with Dr poon's skills and braces specialty, none of my teeth was extracted and now, i have straight beautiful teeth. Receptionists and staff were also all so friendly and smiley. I have BRACED through it! Would definitely recommend this place to any of my family / friends.

Neesa
10. Mount Elizabeth Orthodontics
Key Services
Metal braces, ceramic braces, Invisalign, lingual braces
Website
https://www.braces.com.sg/
Address
#10-03 Mount Elizabeth Medical Centre 3 Mount Elizabeth, Singapore 228510 (Lobby A1 / A3)
Phone
+65 6327 2237 / +65 8201 9019
Operating Hours
Monday – Friday: 9:00 AM – 6:00 PM
Saturday: 8:30 AM – 2:00 PM
Mount Elizabeth Orthodontics has been offering braces and jaw surgeries to Singaporeans for more than two decades. Metal, ceramic, lingual, and invisible braces are just a few of the types of braces available.
Among its efforts to provide the finest possible orthodontic therapy at the greatest price, we believe their hybrid treatments are most innovative. For example, a patient can get lingual braces for their upper teeth and ceramic braces for the bottom of their jaw.
For this reason, the combination treatment approach allows clients to reap the advantages of therapy while minimizing its drawbacks as much as feasible. Mount Elizabeth Orthodontics also offers a variety of relapse treatments, including Niti bonding, social six braces, and active retainers for additional treatment.
Key Differentiators
Interceptive orthodontics for early diagnosis and treatment
Option for hybrid braces available
Combination treatment approach
Client Testimonial
I would highly recommend Mt Elizabeth Orthodontic Clinic if you or your loved ones need some braces work done. Got my braces done here between 2017-2020, and I cannot be happier with Dr Lim and his entire team, who are all friendly, kind, patient and extremely professional. I have not had a single even remotely negative experience despite coming here every few weeks for an entire 3 year period. Thank you Dr Lim and team, very sincerely.

Ayeesha
11. Koh Dental Surgery
Key Services
Metal braces, ceramic braces, Invisalign
Website
https://www.kohdentalsurgery.com/
Address
1 West Coast Drive #01-03/04 NeWest Condominium, Singapore
Phone
(65) 6777 0181 / (65) 6264 0638
Operating Hours
Monday – Friday: 9:00 AM – 6:00 PM
Saturday: 9:00 AM – 1:00 PM
Although Koh Dental Surgery specializes in dental surgery, it also provides orthodontic treatments. Metal, ceramic, and invisible braces are just a few of the options available at Koh Dental Surgery for people looking to enhance their smiles. In addition, Kohn Dental Surgery offers dental implants, prosthodontics such as veneers and crowns, braces and orthodontics for children as well as adults.
Key Differentiators
Offers numerous braces options
A large team of dentists
Wide range of service
Client Testimonial
Chose to come Koh dental to do my braces as my cousins and mum having been visiting them for years. Having been with the clinic for about 3 years now and was seeing Dr Koh Chin Nam. He's skilled and friendly.The front counter staffs are always helpful, friendly and will try their best to assist on our requests. Highly recommended clinic to come to with a team of professional staff. Thank you!
12. NTUC Health
Key Services
Damon braces
Website
https://ntuchealth.sg/denticare/
Address
55 Ubi Ave 1 #08-01 Singapore 408935
Phone
+65 6590 4300
Operating Hours
Monday – Friday: 8:30 AM – 6:00 PM
Saturday: 8:30 AM – 12:30 PM
Another full-service dentistry practice is the National Union of Workers' Central Office, which offers everything from the finest braces to the best gum treatments and wisdom tooth extraction. Self-ligating braces or Damon braces are available for orthodontic treatment at NTUC Health.
This orthodontic treatment is ideal for kids or adults who have busy schedules and would benefit from the dental visits required for traditional types of braces. Damon braces also speed up the treatment of practically any dental issue, making them perfect for students or employees with tight and hectic schedules.
Key Differentiators
Faster treatment requiring fewer dental visits
Linkpoint rewards
Faster treatment requiring fewer dental visits
Client Testimonial
My Dad is attending the Day Care at the Punggol South centre. So far we are very happy with their services provided. Ranging from daily transport arrangement to the activities and professionalism of the care givers at the centre. The cleanesness of the centre are well taken care off as well. My Dad have made new friends and learn new things/activities when attending the Day Care there. The Centre Manager – Amy and her team has done a great job in taking care of my Dad and trust the same goes to the rest of the attendees there too.
Braces Singapore
Braces Singapore provide a variety of treatment options for people who want to improve their smile. Treatment options include traditional metal braces, ceramic braces, invisible braces, and lingual braces. Clinics also offer a variety of relapse treatments.
If you found this article useful, do check out our other articles as well!
Frequently Asked Questions (FAQ)
If you have any questions about braces in Singapore, you can refer to the frequently asked questions (FAQ) about the best Clinics for Braces in Singapore below:
What are the best clinics for braces in Singapore?
The best clinics for braces in Singapore include Nuffield Dental, Expat Dental, A Line Dental Braces Clinic, and i.Dental, Zenyum.
What is braces treatment and how can it help with misaligned teeth?
Braces treatment refers to the use of devices (braces) that are attached to teeth over a certain period to correct misaligned teeth. The treatment works by applying continuous pressure on the teeth, which gradually moves them into the correct position. This not only improves the appearance of your smile but also aids in proper chewing and speech.
Can braces treatment help prevent tooth decay and gum disease?
Yes, braces treatment can help prevent tooth decay and gum disease. Misaligned teeth can make it challenging to maintain good oral hygiene as some areas may be hard to reach when brushing or flossing. By aligning your teeth, braces make it easier to clean your teeth thoroughly, reducing the risk of tooth decay and gum disease.
What are traditional braces and how do they differ from other types of braces?
Traditional braces, also known as conventional braces, consist of metal brackets that are adhered to each tooth and connected by a wire. They are the most common type of braces used in braces treatments. Other types of braces include ceramic braces, lingual braces, and clear aligners, each offering different benefits and aesthetic options.
How long will I need to wear braces for my treatment in Singapore?
The duration of wearing braces varies from person to person, depending on the severity of the misalignment and the individual's response to treatment. On average, most people wear braces for about 18 to 24 months. Your orthodontist will be able to give you a more accurate timeline after assessing your teeth.
Are there different types of fixed braces available in Singapore?
Yes, in Singapore, there are several types of fixed braces available for braces treatment. These include conventional metal braces, ceramic braces, and lingual braces. The type of braces that will be suitable for you depends on your specific needs and preferences.
What is the cost of braces treatment in Singapore?
The cost of braces treatment in Singapore varies widely depending on the type of braces chosen and the complexity of the case. On average, traditional metal braces can range from SGD$3,500 to SGD$6,000. Ceramic braces and lingual braces are generally more expensive. It's best to consult with an orthodontist for a more accurate quote.
Will wearing braces affect my daily activities?
While wearing braces, you may experience some discomfort or difficulty in speaking and eating initially. However, most people adjust to their braces within a few weeks. It's also essential to maintain good oral hygiene and avoid certain hard or sticky foods that might damage the braces.
How does conventional metal braces treatment work?
Conventional metal braces work by applying continuous pressure on your teeth to gradually move them into the desired position. The orthodontist adjusts the tension on the braces at regular intervals to guide the teeth correctly. This method of treatment is often effective for correcting even severe misalignments.
How can I maintain good oral hygiene while wearing braces?
Maintaining good oral hygiene while wearing braces involves regular brushing and flossing, using a soft-bristled toothbrush and fluoride toothpaste. Special floss threaders or water irrigators can help clean between the braces and under the wires. Also, regular check-ups with your orthodontist are crucial to ensure that your braces are clean and functioning properly.
Additional Useful Articles
If you are looking for other useful guides and articles about Clinics for Braces in Singapore, check them out below: