Breakfast Singapore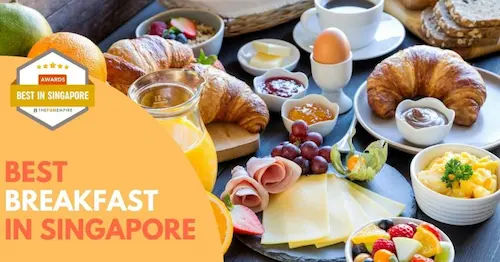 Singapore is a foodie's paradise, and breakfast is no exception.
The best breakfast spots in Singapore include PUNCH, Grids Coffee Bar, Clinton Street Baking Co. & Restaurant Singapore, Forty Hands, and Chock Full of Beans.
When deciding on a breakfast place in Singapore, take into account factors like the location, price, flavor, menu options, quality, atmosphere, customer reviews, and variety.
Kaya Toast with soft-boiled eggs, Roti Prata, and Nasi Lemak are among the top breakfast choices in Singapore.
Here are the best breakfast spots in Singapore!
Key Considerations Factors
Location: It's always important to consider the location when choosing a breakfast spot. Is the place accessible and close to where you're staying?
Cost: The cost of the food is also an important factor. Will it fit within your budget?
Taste: What kind of food do you want for breakfast? Is there variety and does it taste good?
Menu Selection: Another important factor to consider is the menu selection. Is there something for everyone? Does it have an all day breakfast menu? There are a lot of breakfast food you should pick from, such as the favorites: eggs benedict, kaya toast, french toast, buttermilk pancakes, pork sausage, scrambles eggs, carrot cake, fluffy pancakes, avocado toast, savoury french toast, fried bee hoon, sunny side up eggs, sourdough waffles, love fluffy pancakes, pumpkin pancakes, rice rolls, two poached eggs, breakfast plate, luncheon meat, banana walnut, homemade kaya, and greek yoghurt.
Quality Control: Quality control is always a key factor when choosing a breakfast spot. Is the food fresh and properly cooked? Their ultimate breakfast should have an authentic taste of local breakfast, may it be local breakfast, or all day breakfast dishes made of pork belly, hash brown, porridge stall, fried egg, cherry tomatoes, warm maple butter, fried chicken wing, minced pork, chicken sausage, century egg, thick toast, and vanilla ice cream.
Ambience & Atmosphere: The ambience and atmosphere are also important when choosing a breakfast spot. Is the place cozy, relaxing and inviting?
Service & Staff Efficiency: The service and staff efficiency should also be taken into consideration. Is the staff friendly and accommodating?
Variety: Variety is also an important factor when choosing a breakfast spot. Does the menu have dishes to suit different tastes?
Now that you know what to look for, here are the Best Breakfast Spots In Singapore!
Best Breakfast Singapore
1. PUNCH
If you can't start your day without a cup of coffee, PUNCH might be the place for you. It's one of Singapore's top cafés and the best breakfast spot, with excellent coffee and food at an affordable price.
Customers can also enjoy fruit salads, Earl Grey pancakes, French toast, scrambled eggs, grilled cheese sandwiches, and croque madame before heading to school or the workplace. They may even spend some time in the lovely café chatting with friends and coworkers before getting started!
They are truly a perfect breakfast spot in Singapore!
Key Differentiators
Quality coffee beans
Seasonal blend
Trained baristas
Client Testimonial
Been here a couple of times and the food is always satisfying. The coffee is great, the staff are warm and attentive, the interiors are nicely done up. We had the earl grey pancakes with poached pear which was yummy, with the pancakes being soft and fluffy. The avocado toast with poached eggs came with a generous heap of avocado. A cafe I would like to return to many times to try all the different food on the menu!
2. Grids Coffee Bar
The cafe's slogan is "bridging people, health, and lifestyle." The coffee comes from locally roasted beans, whereas the tea is produced by award-winning plantations.
Grids & Circles offers delectable pastries to go with any (or both!) beverages. The cafe sells scones, cheesecakes, tarts, croissants, and other pastries.
Key Differentiators
Food delivery option
Offers gourmet deli
Events space available
Art gallery which features a community of local artists
3. Clinton Street Baking Co. & Restaurant Singapore
The quality of food offered by the Singapore branch of Buttermilk is unrivaled, and it isn't for no reason that Buttermilk has four stars on TripAdvisor. It's well recognized for its fluffy pancakes, blueberry muffins, vanilla waffles, buttermilk fried chicken, and ground coffee.
Clinton Street Baking Company and Restaurant Singapore, on the other hand, serves meals all day long to accommodate your whims. To appeal to the Singaporean audience, Clinton Street Baking Co. & Restaurant Singapore aspires to serve and reinvent traditional American breakfast foods. A lot of people appear to enjoy what they're serving so far.
Key Differentiators
Fresh ingredients
Pancakes and waffles
Experienced chef
Client Testimonial
Visited this place for breakfast. The pancakes were nice, warm and fluffy. Great with the blueberries and maple syrup. Also tried the Spanish Scramble which was very tasty. The egg was nicely done with onion, cheese, and sausages. The staff were pleasant. This is a great place for breakfast!
4. Forty Hands
Forty Hands may be well-known for its excellent brewed coffee, but we think it also has some of the finest breakfast in Singapore. Other cafés might give English breakfasts, which are larger portions of Australian breakfasts instead of satisfying clients.
Additionally, Forty Hands has a team of professional and experienced servers and baristas, so you can be certain that your guests will receive excellent service.
Key Differentiators
Professional baristas
Quality coffee beans
Competitive pricing
5. Chock Full of Beans
Chock Full of Beans has established a reputation as a cafe that is ideal for family and friends to hang out together.
The cafe's unique atmosphere sets it apart from the competition. The interior is characterized by a genuine red-brick wall and a welcoming atmosphere. You'll be greeted with the fragrance of freshly ground coffee once you walk through the door.
Key Differentiators
Wide array of food selection
Healthy choice breakfast menu available
Freshly roasted coffee
6. Wild Honey
Wild Honey has three branches in Singapore, making it one of the most accessible cafés with the best breakfast in Singapore. It serves a wide variety of dishes, from English breakfasts to Spanish breakfasts.
If you're looking for a quick and easy breakfast meal at home on the weekend, consider calling the chain's hotline for delivery. There is no need to go all the way to one of its branches just to sample its delicious breakfast cuisine.
Key Differentiators
European breakfast
Delivery and pickup
Multiple branches
Client Testimonial
The service was really good and friendly. I had the steak and man it was one of the best steaks I've ever had. The steak was served sliced and every piece was grilled to the same doneness consistently. Each bite yields a delicious trickle of juice and seasoning. The meat was tender and not overpowered by seasoning. And the meat isn't even Wagyu or Angus. The chef really put many more established restaurants and chefs to shame.
7. Walking on Sunshine
Living a fast-paced lifestyle and finishing every day's jobs leaves our bodies in need of rest. There is no better location to relax than Walking on Sunshine in this case.
The salon provides high-quality hair treatments at a reasonable cost. You may also discover new fashion trends that are appealing to you and your personality.
Key Differentiators
Cosy atmosphere
Skilful staff
Tasty foods
Client Testimonial
Had a pleasant experience at Walking on Sunshine Cafe at Orchard Central last Friday .

Heard and read the good reviews and decided to personally experience the place.

This is a cafe cum beauty salon.

A nice and cool place with luscious greenery and flowers aplenty. Certainly a pleasant experience to enjoy our drink and waffle and chill in a calming botanical atmosphere. Unfortunately, due to the current pandemic situation plus the ongoing renovation, certain parts of the place are cordoned off.

Overall, we were pleased with the food, ambience and customer service. Thanks to Ms Paula for her service.
8. My Awesome Cafe
My Awesome Cafe is a small café that has expanded in popularity since it was founded in 2014. It serves delicious breakfasts, including sandwiches, salads, smashed avocado, stir fried french fries, English breakfast, fried dough, coffee, beverages, and even wine if you want to combine your meal with alcohol.
It also offers a wide range of drinks and food, making it a popular spot for locals and tourists. Furthermore, it's staffed with an excellent crew of professional and kind servers and chefs that are all committed to providing the greatest first meal of the day to customers. It's also a well-known cafe among visitors as well as expatriates.
Key Differentiators
Huge platters
Friendly staff
Competitive pricing
Client Testimonial
Indeed awesome cafe!! It's a must-go. Love the unique decorations. I can tell the owner loves cultural items with deep heredity meaning. Most of all, the owner makes us feel like he is welcoming us into his "house". The food and ice mocha are big portions and real. ie instead of processed patty for the roasted beef burger, they used sliced beef. Will go back again to check out their upstairs once ready!
9. Common Man Coffee Roasters
The clientele a restaurant attracts is an indication of its popularity. You should discover both locals and tourists visiting Common Man Coffee Roasters to enjoy locally roasted coffee, juices, wine, and their all-day brunch-style menu.
The café is housed in a modern industrial building with a long barista counter and an equally lengthy communal table that runs parallel to it.
Key Differentiators:
Locally roasted coffee
Trendy interior design
Tasty foods
Client Testimonial
"Good experience. Food is nice. And the barista take effort in serving the food. The is the level 2 cafe inside Yoga Movement. Quieter than the one on the ground floor. Order a black coffee $(5.50) and a balanced burger ($18). Very well roasted coffee and the burger (eggs, sauce, bacon strips) with the green salad is well paired."
10. PS. Cafe at Harding
PS. Café, which has been in operation since 2005, exudes a modern and invigorating atmosphere. Its spacious and bright interior textures, big floor-to-ceiling windows overlooking the lush greenery, and indoor-outdoor seating choices provide it a stylish yet comfortable vibe.
Key Differentiators:
Great interior and atmosphere
Great Desserts
Good quality food
Client Testimonial
"Very cozy and beautiful experience. Food was delicious. They're best seller is truffle fries. We did no try but the whole place was filled with the aroma. Their fusion menu was remarkable."
11. Symmetry
Symmetry is a cafe house that exudes Australian style, with bottle-green doors and shutters, brick walls, a space that flows freely between the inside and outside, and an Aussie-laidback as well as industrial chic attitude.
Symmetry, an all-day dining restaurant in the outer reaches of Kampong Glam famed for its textile boutiques and Malay restaurants, bucks the local commercial pattern with its cool vibe and lively mood.
They are truly one of the best breakfast spot in Singapore!
Key Differentiators:
Unique atmosphere
Delicious foods
Cool exterior
Client Testimonial
"Cozy, green and beautiful. Sat outdoors. Loved the coffee (tried the capp and the coconut cold brew). The food was just as delicious as it was pretty and colourful – really enjoyed the 'crab on toast' and the waffles. Would definitely go back and recommend to friends too!"
12. The Populus
The Populus gives a new spin to the usual café cuisine by combining uncommon international tastes such as slow-roasted Tuscan lamb, crab meat scramble, Greek yogurt, and Atlantic cod fillet.
The Populus's food is modern, while the coffee is artisanal in nature. There's always something new to try around the year, from Mörk hot Chocolate and Tea Bone Zen Mind teas to unique coffees that change with the seasons.
Key Differentiators:
Fusion food
Unique dining experience
Competitive pricing
Client Testimonial
"Came here for brunch and find this place nice and cozy. Not very much of a crowd and the staffs were also friendly. Flat white (balanced) tasted good too and food was filling and very nicely presented. We ordered the breakfast with scrambled eggs and buckwheat pancake.
Will come back again to try other food too!"
13. Atlas Coffeehouse
Atlas Coffeehouse is the creation of the Assembly Coffee staff, who named it for At-Land-Air-Sea. The design of part of the interior was influenced by this concept.
Not the same stuff that you'd find at a typical brunch in a cafe. They're not only avoiding being "Instagram-worthy," but also from just being " Instagram-worthy." Presentation is straightforward, and it's clear they're trying to break away from just being "Instagrammable."
They are truly one of the best breakfast spot in Singapore!
Key Differentiators:
Delicious Foods
Unique dining experience
Beautiful interior design
Client Testimonial
"This cafe is a great place for brunch. It served healthy and delicious breakfast. It is slightly crowded at the time i went but worth for the queue. Try their Scrambled white and greens, it taste nice. Their Summer Chicken Stew also delicious. Their bacon waffles is a bit over sweet but it is perfectly match with black coffee."
14. Toby's Estate Coffee Roasters
It's a contemporary café that exudes the city's cafe culture, which is now an important aspect of Singapore life.
The flagship store of Toby's Estate Café & Roastery in Singapore, which opened in 2011, has a casual vibe that would make for a relaxed get-together with friends or office colleagues.
The café provides a unique Australian ambience, with its own coffee house vibe and views of the Singapore River (if you choose to dine al fresco).
Key Differentiators:
Great food
Good Pricing
Amazing ambience
Client Testimonial
"A popular breakfast place, lucky to be able to get a table in a short time. The portion is reasonably generous. Customisable meal choices with various add ons. As mentioned, they are not stingy. The brioche bread was impressive for me. Soft and fluffy! Scrambled eggs are a treat and mushrooms has a wild nature taste that day. The smike salmon is done perfectly, blended well with the rest of the items, not too salty. Ordered a single bean coffee, fragrant!"
15. The Coffee Academics
The Coffee Academics is a specialty coffee chain from Hong Kong that offers globally inspired cuisine with fragrant coffee. It's good to know that the world's best coffees are sourced by the World Coffee Review, which has awarded them a score of 92 to 94 points and ranked first in Asia and third worldwide.
If you're opting for dinner, the Academics Breakfast ($28) includes Spiced Herb Bratwurst, maple bacon, homemade baked beans, sautéed mushrooms, Halloumi cheese and fried eggs of your choice served with toasted brioche and seasonal greens as a suggested option.
Key Differentiators:
Wide variety of food
Great foods
Best Coffee
Client Testimonial
"Had the Okinawa coffee and it was really, really good. Not overly sweet, unique and not too adventurous. Easy to drink. Will def return for this! Staff service was also great and they have free wifi & are ok with you using your laptops. There's a sign about a 1.5hr time limit on seating but not sure if it's strictly enforced."
16. Kith Cafe
Kith Cafe, with several locations throughout the city, is a fantastic spot to meet up with friends or have a business meeting over breakfast and coffee.
The IT brunch item is avocado on toast, and Kith Café does it right with their Poached Eggs & Avocado — a healthful dish of creamy crushed avocados, roma tomatoes, kale, and walnut pesto poached eggs on sourdough.
Key Differentiators:
Affordable
Great Food
Wide Variety
Client Testimonial
"Went there for a team teatime, ordered a slushie watermelon lychee and ate some pizzas – margarita, Hawaiian and truffle mushroom 🙂 tried some raspberry cheesecake too. Food was good! Cafe was relatively uncrowded at 4pm on a weekday, good place to chill."
Breakfast Singapore
This article has summarized some of the best breakfast spots in Singapore. The cafes mentioned are known for their excellent food and service. If you're looking for a great breakfast to start your day, any of these cafes will surely satisfy your cravings.
Looking for more interesting articles to read? Check out more of our blog posts down below!
Frequently Asked Questions (FAQ)
If you have any questions about Breakfast in Singapore, you can refer to the frequently asked questions (FAQ) about the best breakfast spots in Singapore below:
Additional Useful Articles
If you are looking for other useful guides and articles about Breakfast in Singapore, check them out below: