Business Insurance Singapore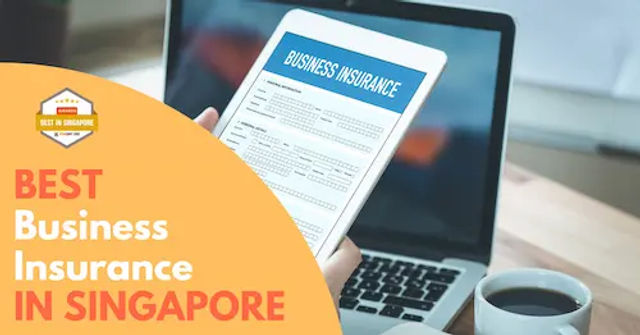 Business insurance is an important investment for any company. It can protect your business from a variety of risks, including property damage, liability claims, and employee injuries.
While some businesses may feel that they are too small to worry about business insurance, this is actually not the case. There are a number of different types of business insurance available, and each type can provide protection for a different set of risks.
In this article, we will discuss 8 of the Best Business Insurance options in Singapore.
Let's get started!
1. Etiqa Business Owners Super Suite (BOSS)
There are several business packages in Etiqa Business Owners Super Suite (BOSS), each designed to suit the demands of small and medium-sized businesses operating in a certain sector.
Personal Services, Education, Pub & Restaurant, Office, Retail, and Light Manufacturing are just a few of these categories.
If your company works in any of these fields, go to their website for further information. Theft of keys is one of the most common risks they cover, as well as seasonal stock increases, external signage, external blinds, and other factors.
Key Differentiators
Cater the needs of small to medium size business
Non-obligatory consultation
Can tailor to your needs
2. AIG SME Package
The AIG SME Package is a versatile multi-line insurance for Singapore's small and medium-sized businesses that includes all important coverages.
Whether you're looking for a new insurance policy, having trouble understanding your current policy, or simply want to get in touch with an agent so that they can help you better understand your coverage options, AIG will be glad to assist.
They provide basic packaged solutions that cover the right amount of coverage required for micro and small companies, as well as bespoke solutions to your customized needs.
You may pick from six distinct industries and three plan types: food, beauty, education, healthcare, business, and retail. If none of them fits your needs, you can customize your insurance plan as well.
Key Differentiators
Burglary
Daily Cash Benefit
Fidelity
Group Personal Accident
Inland Transit
Loss of Gross Rental
Money
Public Liability
Work Injury Compensatio
3. QBE Business Insurance
Key Services
Provides small- to medium-sized commercial, retail and industrial clients
Broad financial protection against a variety of risks
Comprehensive insurance package
Address
1 Wallich St, #35-01 Guoco Tower, Singapore 078881
Website
qbe.com/sg/business-insurance/sme-insurance
Phone
+65 6224 6633
Operating Hours
Monday to Friday: 8:30AM–5:30PM
QBE Business Insurance is Singapore's oldest registered Australian company. QBE Business Insurance is a reputable provider of specialized knowledge and professional insurance services.
Your insurance agent will be a specialist who knows what he's doing. He or she will have the knowledge and ability to assist you in any way possible, including giving advice on how to avoid incurring additional costs when making a claim.
Their top-of-the-line solutions are tailored to meet the demands of everything from high-end risks to basic and easy insurance requirements. They believe in the phrase "if they can prevent the unexpected, they may assist you to run your business with confidence."
Key Differentiators
Risks for loss or damage to Building, Contents, Stocks and Machinery and Plant
Business Interruption for loss of profit/revenue
Public and Products Liability
Miscellaneous Property for property in Singapore or worldwide
Machinery Breakdown and Electronic Equipment for damage to machinery and electronic equipment
Money for loss of money in premises or in transit
4. Pacific Prime Business Insurance
Pacific Prime Business Insurance is a Singapore-based insurance brokerage that offers a variety of insurance options to protect you and your company.
They are a global organization with offices in Hong Kong, Singapore, Dubai, and Shanghai, and have more than 10 years of expertise providing cutting-edge insurance solutions to their customers.
Third-Party Liability is covered by Pacific Prime Business Insurance, ensuring that you are protected if any individuals who aren't part of your company were to suffer an accident on your company's premises or as a result of their activities for your business.
They also have staff compensation and benefits such as group medical insurance and personal accident insurance, among other things. They also provide property insurance.
Key Differentiators
Employee Benefits
Workmens' Compensation
Protection of physical assets
Professional Indemnity and Product Liability
5. AXA SmartPlan
The AXA SmartPlan offers over 8 coverages under one policy. They guarantee that all of their customers are fully covered with a single easy-to-understand and low-cost plan.
Plus, AXA assumes all forms of property risks, work injury compensation, business interruption, and liability.
All property risks include the loss or damage of buildings, equipment, stock, fixtures and other contents. Their compensation will cover medical leave pay, as well as medical and hospital expenses.
For the loss of profits due to a business interruption, AXA SmartPlan covers your company.
Finally, if someone is harmed or has an accident as a result of your firm's carelessness, they will reimburse you for any claims.
AXA offers a variety of health, disability, and rising healthcare expenses coverage for your workers and their family members through its SmartCare program.
Key Differentiators
Hospitalization & Surgical
Outpatient
Family and LifeStyle Protection
Other Medical Cover
Protect your Business with SmartPlan
Property All Risks
Work Injury Compensation
Business Interruption
Liability
6. Provide Cover
If you're searching for a low-cost business policy, consider Provide Cover. It's one of the few insurance companies that provide comprehensive insurance plans and wide-ranging coverage to SMs.
Business interruption and property damage are examples of things that their business insurance policies would cover. Fire damage, water damage, public utility repair, and product liability are among the other items covered.
Furthermore, Provide Cover is a team of insurance professionals with extensive knowledge of the Singapore market who will assist you in determining which policy is ideal for your company.
Key Differentiators
Broad cover for fire, public liability, worker injuries, and business interruption
Tailored for your business
Brand-name global insurers
7. China Taiping Insurance Singapore
China Taiping Insurance (Singapore) Pte. Ltd. has been providing general insurance in Singapore since 1938, and it has a long history in the country. Since 1938, CTPIS has functioned as a general insurer in Singapore for more than eight decades.
Since January 2019, TTPIS has branched out into life insurance and offers complete one-stop financial solutions for both personal and commercial requirements.
The vast majority of CTTPIS insurance solutions are for foreign workers' medical insurance, BizTrenZ employee benefits package and other items.
The BizTrenZ Employee Benefits Package is a cost-effective group insurance plan that can be obtained by small and medium-sized businesses with as few as two workers.
With branches in Mainland China, Hong Kong, Macau, North America, Europe, Oceania, and East and Southeast Asia, the China Taiping Insurance Group is a substantial transnational financial and insurance organization with operations throughout the world.
Key Differentiators
Branded and well-known distribution partners
One-stop financial solutions
Different business insurance packages to choose
Client's Testimony
Staff Irene Tay was very responsibility and professional!!!

Thank you customer service and China taiping teams!!!

Jason Lim
8. Easy Insure
Easy Insure is recognized for developing individualized insurance solutions that are tailored to your company's demands and capabilities.
They'll be able to provide you with a thorough explanation of what type of insurance would work best for you and why after just a few questions.
There are many different kinds of company insurance, including buy and sell agreements, employer's liability coverage, and employee medical insurance, all of which are provided by Easy Insure.
Not only do they provide a wide range of business insurance, but they also have more than ten different types to choose from. That way, whatever you might need can be met.
Key Differentiators
Personalized service for each online enquiry
Team of professional staff
Adapt to the new digital age
Business Insurance Singapore
If you're looking for business insurance in Singapore, this article will help guide your decision.
With so many options available to business owners these days, it can be hard knowing which type of coverage is best or even what type of business insurance they need at all.
We've done the research and come up with 8 types of business insurance that are perfect for different needs. From general liability protection to cyber liabilities, our list covers a variety of risks faced by business owners today.
If you have any questions about how we came up with the list or want more information on one particular form of business insurance, please leave a comment down below! We would love to hear from you!
Looking for more interesting articles to read? Check out more of our blog posts down below!
What is a Business Insurance?
A Business Insurance is an insurance policy which provides protection to businesses and their employees against financial losses that might occur due to unexpected events such as accidents, natural disasters, or lawsuits.
What are the different business insurances available in Singapore?
There are various types of Business Insurance available in Singapore, and the best one for your business will depend on the specific needs of your company. Some of the most popular Business Insurance policies in Singapore include:u003cbru003e- Business Interruption Insurance: This policy provides protection for businesses in the event that they have to stop operations due to an unexpected event such as a fire or flood.u003cbru003e- Property Damage Insurance: This policy covers the cost of repairing or replacing damaged property, such as equipment or buildings.u003cbru003e- Product Liability Insurance: This policy protects businesses against legal liability for injuries or damage caused by their products.u003cbru003e- Professional Indemnity Insurance: This policy protects professionals such as lawyers, accountants, and architects from financial losses that might occur due to their professional advice or services.u003cbru003e- Directors and Officers Liability Insurance: This policy protects businesses against legal liability for the actions of their directors and officers.
How much does a business insurance cost in Singapore?
The cost of Business Insurance in Singapore will depend on the type of policy you choose, as well as the size and nature of your business. Generally, Business Insurance policies can range from a few hundred dollars to a few thousand dollars per year.u003cbru003eWhen choosing Business Insurance, it is important to compare the prices and coverage of different policies before making a decision. You can use an online Business Insurance calculator to get an estimate of the cost of different policies.
How do I choose the best Business Insurance for my company?
When choosing Business Insurance, it is important to consider the specific needs of your business. You should also compare the prices and coverage of different policies before making a decision. You can use an online Business Insurance calculator to get an estimate of the cost of different policies.u003cbru003e
Who is suitable for business insurances?
Business Insurance is suitable for businesses of all sizes. Whether you are a small business owner or a large corporation, Business Insurance can help protect your business against financial losses that might occur due to unexpected events.