Cafes in Orchard Singapore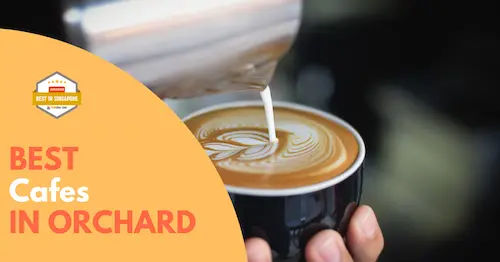 If you're looking for the best cafes on Orchard Road, look no further for you've come to the right place!
The best cafes in Orchard Road Singapore include Plain Vanilla Bakery, Maccha House, and Mr. Holmes Bakehouse Singapore.
When selecting a café in Orchard Road, Singapore, take into account elements like the ambiance of the café, the quality of coffee, and the variety of food options available.
Cafes in Singapore, especially those in Orchard Road, enjoy immense popularity, attracting both locals and tourists who seek their distinctive atmosphere and an extensive selection of gourmet coffee and culinary delights.
So what are you waiting for? Start browsing our list and see which cafe is right for you to enjoy some delicious caffeine fixes!
Quick Summary
Best cafes in Orchard Road Singapore include Dal.Komm, Plain Vanilla Bakery, Cafe&Meal Muji, Maccha House, and Mr. Holmes Bakehouse Singapore.
When choosing a cat cafe in Orchard Road Singapore, consider factors such as cafe atmosphere, coffee quality, and food selection.
Cafes in Singapore, particularly in Orchard Road, are extremely popular, with residents and tourists alike frequenting them for their unique ambiance and diverse range of gourmet coffee and food offerings.
1. Plain Vanilla Bakery
A hidden gem at In Good Company is a tiny and cozy Plain Vanilla cafe area where you can enjoy distinctive cakes and cupcakes as well as various drinks such as coffees and teas.
The location is tucked away, allowing you to take a break between the shopping frenzy. The design is elegant and bright, and its hidden position ensures that it doesn't get in your way.
Key Differentiators
Advance orders
Enjoy cakes, cupcakes, and drinks
Elegantly designed
Customer Testimonial
Favourite coffee place in town, recommended by a good friend and I always patron every time am at Orchard.

I am totally not a fan of anything sweet, but I have to comment that the strawberry custard tart is very well bake. The crust is crumbly and the burnt crystal sugar over the tart made it taste special. Like the overall flavour.

Coffee is great not acidic, smooth and very light coffee aroma. However, the coffee art can be improved.

Sometime it's get very crowded so you better put your name on the wait list then go for your shopping.

Take Me For Tour
2. Maccha House
Maccha House is a matcha cafe located in the basement of Orchard Central. The menu offers an array of unique matcha desserts that will have you feeling like you're in Japan in a second. Parfaits and classic sweets are available, as well as monthly dessert specials. Keep an eye out for exciting deals, such as limited-edition ramen.
Key Differentiators
A quaint cafe that sits in the heart of Orchar
Green Tea haven for Maccha lovers
Extensive selection of Maccha-based Drinks and Desserts are available
Customer Testimonial
Love the Matcha latte and tiramisu here. Very thick and smooth. Currently there is a special promotion by ordering 2 sets of meal, plus 2 drinks and 1 dessert will entitled $10 off from the total bill. Service provided is good as well. Keep it up!

Wenni Choong
3. Mr. Holmes Bakehouse Singapore
Aaron Caddel, one of the co-owners and a pastry chef at Mr. Holmes Bakehouse, began his bakery in 2014 as a modest wholesale bakery along San Francisco's bustling Tenderhill district before exploding to fame on social media with its cruffins.
By the way, the name comes from the owner's mother's cats. One is called Sherlock, and the other is Holmes.
Cruffins, Donuts, Croissants, Danish, Sweet Buns, Sandwiches, Salads, and Beverages are all available here.
Key Differentiators
Craft bakery
New flavors every few months
No problem getting out
Customer Testimonial
Visited Mr Holmes Bakehouse this morning. I had hot chocolate with almond milk and a Tomato Pesto Melt. So yummy! I was the only other customer there and it was quiet for a Sunday late morning. The service was fast and they delivered food to my table after ordering. There seemed to be some exhibit going on and there is a kiosk you can buy cool stuff from. Do support this lovely place.

Dr. Martha Tara Lee
4. Walking on Sunshine
Key Services
Cafe and Salon
Address
181 Orchard Rd, #03-07 Orchard Central, Singapore 238896
Website
https://walkingonsunshine.sg/pages/wos-cafe
Phone
+65 8877 8800
Operating Hours
Sunday – Thursday:
9AM – 10PM
(Last Call at 9PM)
Friday & Saturday:
9AM – 11PM
(Last Call at 10PM)
Walking on Sunshine is a new Korean-inspired breakfast and dessert restaurant that just opened at Orchard Central. They also have a sister location called You Are My Sunshine in Ngee Ann City, which you may recall.
With the same lush greeneries and plants in their enclosure, both outlets are Korean twin-concept stores with a cafe and a salon under one roof.
From a distance, the entire area may be seen, and it is completely surrounded by potted plants and climbers, much like a tiny forest.
Key Differentiators
Available for delivery
Has salon inside
Art jamming
Customer Testimonial
Had a pleasant experience at Walking on Sunshine Cafe at Orchard Central last Friday .
Heard and read the good reviews and decided to personally experience the place.
This is a cafe cum beauty salon.
A nice and cool place with luscious greenery and flowers aplenty. Certainly a pleasant experience to enjoy our drink and waffle and chill in a calming botanical atmosphere. Unfortunately, due to the current pandemic situation plus the ongoing renovation, certain parts of the place are cordoned off.
Overall, we were pleased with the food, ambience and customer service. Thanks to Ms Paula for her service.

Ms Cheng
5. Eggslut
At the stunning junction of Scotts Square, Eggslut Singapore has taken its place. It's the company's first site in Southeast Asia.
For those unfamiliar with the restaurant, Eggslut is a Los Angeles-based food truck that has expanded to cities all across the world, including Las Vegas, London, Seoul, Tokyo, and Kuwait City.
The eggs are cooked to classic standards, cage-free and soft-scrambled, in a matter of seconds.
Key Differentiators
Inspired by a true love for eggs
Menu is a balance of comfort and innovation
Celebrating food that appeals to both novice and extreme foodie through classic comfort fare with a twist
Customer Testimonial
Creamy delicious eggs in the Fairfax sandwich paired with fresh OJ, this is the new brunch spot on the block! Absolutely tasty sandwiches with some healthier alternatives for those who want them. Service is fast! Definitely worth going back for

Rovik Robert
6. Porcelain Cafe By Gratefood Co
This is one café that you probably overlooked while shopping at Orchard Road, a plant-based wellness cafe tucked away inside Porcelain Origins at The Paragon.
The Smoothie Art Bowls is ideal for two people and takes 20 minutes to prepare. Because they are completely organic, their açai bowls are made solely with organic açaí pulp and natural ingredients, which means that they use no sugar coating on their açaí bowls.
The sweetness of the tea has been magnificently captured. You may choose between Alpina, Aloe Vera, Calming Spirit, Lychee Black and Orchid Oolong as the taste is amazing.
Key Differentiators
Signature acai smoothie bowls
Revamped menu
Extensive range of plant-based food such as protein shakes, vegan mains and bakes
Customer Testimonial
I love how different this spa looks compared to its other outlets (and pretty much most spas out there as well). I'm also a fan of their acai bowls… LOVE the generous portions and reasonable pricing. My new hangout.

Kelly Roxanne
7. The Assembly Ground
The Assembly Ground has a laid-back atmosphere with warm wood tables, bicycles on the walls, and exposed pipes along with the ceiling.
Common Man Coffee Roasters and Nylon Coffee provide the coffee for the servers to pair with your meal order, enhancing your drinking experience. Plus, their wide selection of breakfast foods, soups, salads, pizzas, and plates of pasta makes this a great place to visit at any time of day.
Key Differentiators
Gourmet with local flavours
Island-wide delivery
Best coffee roasters, classic pastas and pizzas, juicy burgers
Customer Testimonial
Very friendly staff and nice cosy environment. The pasta were served very fast (less than 5min upon order).
The ice cooler – honey cabana was really refreshing and nice too.

Elainnn
8. Oriole Cafe & Bar
Key Services
Substantial comfort food & cocktail jugs served in an easygoing cafe & bar with a terrace.
Address
96 Somerset Rd, #01-01, Singapore 238163
Website
https://www.oriole.com.sg/
Phone
+65 6238 8348
Email
enquiry.pp@oriole.com.sg
Operating Hours
Monday to Thursday
11am – 10.30pm
Friday
11am – 11.30pm
Saturday
10am – 11.30pm
Sunday
10am – 9.30pm
Oriole is a little farther down Orchard than most of your favorite retail destinations, but do yourself a favor and go to this eclectic cafe and watering hole. At day, the leather booths beckon for leisurely lunches, while the heavenly odor of freshly roasted coffee flows through the air.
Only the greatest sustainably sourced Arabica beans are used to create a delectable cup of coffee at the Oriole Cafe & Bar. If you need to get some work done, there is also Wi-Fi available.
Key Differentiators
Cashless
TriplePlus rewards program
Offers exclusive benefits
Customer Testimonial
Another one of my The Entertainer tryouts. Loved that they had a good number of options for the 1-for1 deal (everything under "Mains'). Went for the Sweet Soy Pork Rib and they were fall off the bone delicious. Loved that they were served with sweet potato fries too, added to the sweetness of the soy glaze. Also ordered the spicy calamari to try and the pickled chili pepper that it was served with had some kick to it. Overall definitely enjoyed and will return!

V Jeyakanthan
9. Wild Honey
Key Services
Restaurant
Address
333A Orchard Rd, #03 – 01 / 02, Singapore 238897
Website
https://www.wildhoney.com.sg/
Phone
+65 6235 3900
Email
general@wildhoney.com.sg
Operating Hours
Sun-Mon 9am-6pm (last order 5pm)
Tue-Thu 9am-9.30pm (last order 8.30pm)
Fri, Sat/Eve of PH 9am-10.30pm (last order 9pm)
Common Man Coffee Roasters creates a fantastic custom coffee blend just for Wild Honey. It is highly encouraged for you to try it as is without adding milk or sugar to fully enjoy the distinctive tastes.
They also serve delectable breakfast and brunch entrees that range from rich full monty feasts to healthy California-style meals, as well as some sweet desserts for good measure.
Key Differentiators
Global favourites with a twist
Inspired by love for travel and a passion
Each restaurant is distinctly unique
Customer Testimonial
Had dinner with my son for a quiet evening. My beef was perfectly done and the sauce was great too. My son had a thing about the hollandaise sauce being too buttery and I think it was great though. Love the rose wine here and it does not disappoint since.

Wide variety of dishes for all sorts of flavors.

Ambience is very chill. Good for anytime of the day!

Sybil Yap Bee Lee
10. The Coffee Academics
The baristas at these cafés are serious about their coffee, with seven locations throughout the shop featuring a hand-brew coffee bar, a tea academics bar, and a roasting corner.
The Coffee Academics is also home to delectable dishes such as fluffy scrambled eggs with crayfish, colorful fish tacos, and a coffee concierge that can assist you in creating your own delicious blend.
Key Differentiators
Setting the standards of specialty coffee
Delivering unique coffeehouse experiences
Convenient Subscription plans
Customer Testimonial
Very cool cafe with good espresso coffee. They also have some innovative coffee beverages too, which are worth a try.
Breakfast was also delicious and generous.

Mel J
Cafes in Orchard Singapore
No matter what your caffeine fix may be, there's definitely a cafe on this list that will satisfy your needs. With so many great options to choose from, you're sure to find the perfect cafe for you on Orchard Road.
So what are you waiting for? Start browsing and start planning your next coffee date!
Interested in more exciting finds? Check out more of our articles down below!
Frequently Asked Questions (FAQ)
If you have any questions about cafes in Orchard Road Singapore, you can refer to the frequently asked questions (FAQ) about the best cafes in Orchard Road Singapore below:
What are the best cafes in Orchard Road Singapore?
The best cafes in Orchard Road Singapore include Dal.Komm, Plain Vanilla Bakery, Cafe&Meal Muji, Maccha House, Greyhound Cafe Singapore, and Mr. Holmes Bakehouse Singapore.
Which café in Orchard Road Singapore offers the best artisanal ice cream?
The Creamier Handcrafted Ice Cream and Coffee is a popular cafe in Orchard Road, Singapore that offers a variety of artisanal ice creams. Its flagship store in ION Orchard is known for its unique flavors and creamy textures that are a hit with dessert lovers.
Where can coffee lovers find the best brews in Orchard Road?
Coffee lovers should definitely check out The Coffee Academics in Scotts Square along Orchard Road. They offer a variety of specialty coffees that cater to every palate.
Are there any cafes in Orchard Road that combine fashion and lifestyle boutique elements?
Yes, there is. Kki Sweets and The Little Dröm Store in School of the Arts (SOTA) is a combination of a desserts café and a fashion and lifestyle boutique. It's an interesting place where you can enjoy delectable sweets while shopping for unique items.
What is the best dessert café in Orchard Road for peanut butter milkshake?
The Benjamin Browns Bistro & Bakery located in Forum The Shopping Mall is famous for its over-the-top milkshakes including their decadent peanut butter milkshake that is a must-try.
Where can I find stuffed Italian doughnuts in Orchard Road?
You can find delicious stuffed Italian doughnuts at Da Paolo Gastronomia in Paragon. Their doughnuts are filled with rich and creamy fillings that will satisfy any sweet tooth.
Can I get ice cream parfaits in Orchard Road, Singapore?
Yes, you can. The St. Marc Café in VivoCity has a menu dedicated to ice cream parfaits. Their parfaits are well-loved for their generous servings and delicious combinations.
Is there a place in Orchard Road that serves mint chocolate chip ice cream?
Indeed, there is. The Swensen's in ION Orchard serves a range of ice cream flavors, including the classic mint chocolate chip. It's a perfect treat after a day of shopping.
Where can I find ice cream petits gateaux in Orchard Road?
L'Atelier Tiramisu in Clarke Quay Central is a desserts cafe that offers a variety of sweets, including ice cream petits gateaux. Their desserts are as delicious as they are beautiful.
What cafes are located in Sunshine Ngee Ann City?
Sunshine Ngee Ann City is home to several cafes. Some of the popular ones include Xi Yan Private Dining, Patisserie Glacé, and TWG Tea Salon & Boutique. These cafes offer a variety of desserts and beverages to cater to different tastes.
Additional Useful Articles
If you are looking for other useful guides and articles about best cafes in Orchard Road Singapore, check them out below: