Car Air Freshener Singapore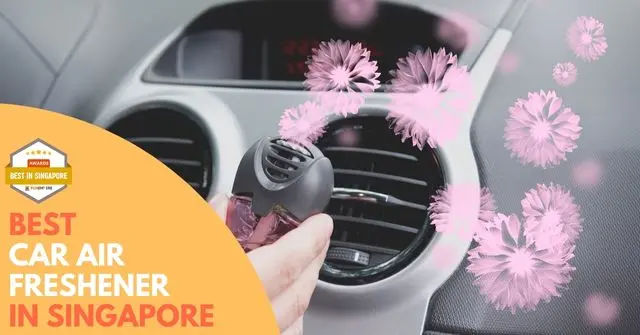 Looking for the best Car Air Freshener in Singapore? Look no further! In this blog post, we will discuss 10 of the best Car Air Fresheners on the market today.
We'll go over each Car Air Freshener's features and benefits, so you can find the perfect one for your needs. From simple, affordable options to more luxurious Car Air Fresheners, we have something for everyone. Or whether you're looking for a Car Air Freshener that eliminates bad odors or one that simply smells nice, we have you covered!
Read on to find out which Car Air Freshener is right for you!
1. Glade One For All
| | |
| --- | --- |
| Key Features | Car Air Freshener |
| Where to Buy | Click Here |
| Price | S$ 1.50 |
Sometimes odor issues that suddenly arise merely require a quick cure. The Glade One For All is affordable and practical for single use. They provide you the luxury of choice, with aromas ranging from sweet apples to zesty lemon and the tranquil notes of a beach getaway. You can hang it wherever in your car for instant freshness because it has a handle and loop design.
Key Differentiators
Capture the warm, clean scent
Refreshing fresh orange zest
Refreshes every room in your home or car
2. Yankee Car Jar
| | |
| --- | --- |
| Key Features | Ultimate Hanging Air Freshener |
| Where to Buy | Click Here |
| Price | $20.90 |
The Yankee Car Jar is renowned for dispersing additional fragrance in the heat by utilizing the element. This is due to the wax's strong construction.
Expect a strong aroma blast at the end of the day if you've left your car in the sun all day. Each jar can last up to 4 weeks and is available in the majority of Yankee Candles' distinctive aromas, giving you plenty of opportunities to test them all out.
Key Differentiators
Yankee Candle Beach Walk captures the fragrance of refreshing salt water and sea musk warmed with sunny notes of tangerine and orange blossom
Yankee Candle Pink Sands is an exotic island escape, a beautiful mix of bright citrus, sweet florals and spicy vanilla.
Yankee Candle Sun and Sand smells of a tropical beach breeze, a combination of sweet orange flower, lemony citrus, fresh lavender and powdery musk.
Customer Testimonial
The parcel itself smelled so good even without opening. It's a good gift for anyone Thank you seller.

durgadorita
3. Little Trees
| | |
| --- | --- |
| Key Features | X-tra Strength Vanillaroma |
| Where to Buy | Click Here |
| Price | $8.90 |
It's not always necessary to go fancy to get fantastic results. If you drive for Uber or Lyft, you probably don't want to spend a lot of money on maintaining the car's fragrance. Little Trees is the preferred choice for ridesharing vehicles because of this.
These tiny scent bundles are reasonably priced and have a decent shelf life. the aromas? 40 different ones exist, but Black Ice seems to be a crowd-pleaser. It is contemporary and doesn't smell very perfume-like, so it ought to be a good neutral scent for anyone getting in the car.
Key Differentiators
Affordable
Known brand
Multiple scents to choose from
4. Febreze Air
| | |
| --- | --- |
| Key Features | Fabric Extra Strength+ Fabric Refresher |
| Where to Buy | Click Here |
| Price | $23.70 |
Even though you already have a can of Febreze at home, anyone getting in the car will probably find the Febreze Air's Linen & Sky aroma to be really unoffensive. The company does make a deodorizer designed expressly to get rid of unwelcome pet odors, but it honestly feels rather harsh. We prefer the airy scent from the appropriately named "Air" version in a closed space like a car.
Key Differentiators
Smells nice
Refreshes the surrounding
Affordable
Customer Testimonial
Nice smell and, delivery was fast. Will order again when needed.

A
5. Febreze Car Unstoppable Air Vent Clip
| | |
| --- | --- |
| Key Features | Air Freshener And Odor Eliminator Deodorizer |
| Where to Buy | Click Here |
| Price | $7.00 |
Both scents—Fresh and Shimmer—have a pleasing aroma and are excellent at masking other potent odors in the car. Shimmer is the more perfume-like scent, while Fresh is unquestionably for people who like a fresher scent. However, neither is very strong.
Additionally, each clip has a dial that can be adjusted to release more or less fragrance into the vehicle, and they are purposefully made to be undetectable.
Key Differentiators
Car Vent Clips
Smells nice
Clips can be adjusted
6. Chemical Guys New Car Smell
This isn't for you if you prefer more perfume-based scents. Instead, the New Car Smell eliminates odors while attempting to replicate the fresh plastic aroma of a brand-new car. Even though it's still off and undoubtedly different, the smell is still pleasant. And it comes the closest to giving an older automobile the fresh-off-the-lot fragrance.
Key Differentiators
Take years off your old car's life
Relive the excitement of buying a new car
Obliterate stale, lingering odors
Recreate the magic of a brand new car
7. Air Spencer CS-X3 Squash Air Freshener
| | |
| --- | --- |
| Key Features | This modern air freshener will keep your car smelling great |
| Where to Buy | Click Here |
| Price | SGD 32.34 |
How should we introduce this air freshener? It's simply wonderful. In our experience, a single cartridge lasts months, and the aroma is fresh with only a tang of faint citrus. We assure you that despite its name, it doesn't smell like a gourd. Instead, the scent of this Japanese air freshener is derived from the flavor of a common soda called Ramune.
Key Differentiators
It can be placed on the dashboard or anywhere inside your car
Squash scent
Lasts up to 4 weeks
8. Moso Natural Air Purifying Bag
| | |
| --- | --- |
| Key Features | Air Purifying Bag |
| Where to Buy | Click Here |
| Price | $32.60 |
The 200 grams of activated bamboo charcoal in this tiny linen bag will purify the air in an area up to 90 square feet. The Moso Natural Air Purifying Bag is an excellent option for a natural automobile air freshener because the charcoal inside is fragrance-free. It functions by absorbing scents and moisture present in your car and encasing them in charcoal.
Key Differentiators
ELIMINATES ODORS WITHOUT MASKING THEM
COVERS 250 SQUARE FEET
LONG LASTING AND EASY TO USE
Customer Testimonial
Great at absorbing all kinds of scents but be patient as it is not an instantaneous effect.

Jonathan
9. RoyAroma Car Aromatherapy Essential Oil Diffuser
| | |
| --- | --- |
| Key Features | Aromatherapy Essential Oil Diffuser |
| Where to Buy | Click Here |
| Price | SGD 27.92 |
Twelve felt pads that are prepared for your preferred essential oils are included with this set of two engraved stainless steel diffusers. Just fill the felt pad with your preferred aroma, then put it into the diffuser for essential oils.
Additionally, you can use two pads to give your automobile air freshener twice as much aroma strength. The diffuser includes a clip on the back that enables mounting to the air vents in your car, but it can also be put in a cupholder or another practical location.
Key Differentiators
Relieve your stress and keep alert when you drive.
Aroma around you, bring you good mood.
Minimize some smell you don't like.
10. One Fur All Pet Car Air Freshener
| | |
| --- | --- |
| Key Features | Non-Toxic Auto Air Freshener |
| Where to Buy | Click Here |
| Price | SGD 120.51 |
These essential oil-based car fresheners for dog owners are available in a wide range of aromas, including Lavender Green Tea, Apple Cider, Bamboo Watermint, and Mandarin Sage.
Pet owners remark that such car air fresheners really combat the stench of wet dogs and keep their car feeling fresh because of the fantastic scents and odor eliminator. While opinions on how long-lasting these air fresheners endure are divided, most people concur that they smell excellent and transform your car's odor into a tropical getaway.
Key Differentiators
FOR A FRESH & ODOR FREE ENVIRONMENT
SATISFACTION GUARANTEE
VARIETY
Customer Testimonial
Product just arrived, and both and my father and I are in love with the mango peach smell. Affordable pricing for a package of 4 while keeping the air safe for my cats. I hanged one on my bed and I can smell it very well. Left another in my the bottom drawer of my litter robot, which releases the fragrance in few minutes. Definitely a happy purchase!

Kelly
Car Air Freshener Singapore
There are a lot of factors to consider when choosing the best car air freshener for your needs. However, if you keep these 10 factors in mind, you should be able to find the perfect option for your car. These air fresheners are all great choices for keeping your car smelling fresh and clean.
Interested in more articles to read? Check out more of our blog posts down below: