Chinese Funeral Singapore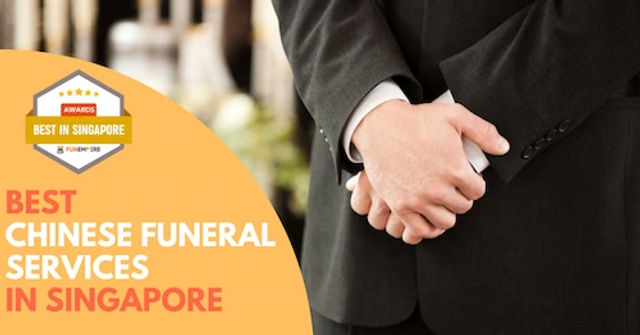 When someone close to you dies, the process of organizing their funeral can be overwhelming.
If your loved one passed away in Singapore, you will need to find a reputable Chinese funeral service provider. This can be difficult, especially if you are not familiar with the customs and rituals involved in Chinese funerals.
There are many different services available, so it can be difficult to decide which one is right for you.
In this blog post, we will discuss the Best Chinese Funeral services in Singapore. We will also provide tips and information on what to look for and how to choose the right provider for your needs.
1. Gallant Gardens
Gallant Gardens is a funeral business that provides different religious-based funerary services seven days a week, 24 hours a day.
A variety of funeral services are available, including a Chinese burial, Taoist burial, Christian burial, Catholic death ceremony, and many more.
The fact that it has a competent staff is another factor that makes us believe it to be the best Chinese funeral in Singapore. They will make certain that the entire funeral procedure does not add to the burden and sadness of the deceased.
Key Differentiators
Caters to every beliefs and traditions
Open 24 hours a day, seven days a week
Professional team of experts
2. Eternity Funeral Service
Key Services
CHINESE BUDDHIST FUNERAL
TAOIST FUNERAL
CATHOLIC FUNERAL
CHRISTIAN FUNERAL
SOKA FUNERAL
FREETHINKER FUNERAL
Address
31 Woodlands Close
03-09 Woodlands Horizon
Singapore 737855
Website
https://eternityfuneral.sg/
Phone
+65 6681 5757
Email
info@eternityfuneral.com.sg
Operating Hours
Open 24 Hours
Eternity Funeral Service is a firm that aims to relieve the stress of those who have lost their loved ones.
Eternity Funeral Service's staff assists with every step of the funeral procedure, allowing its clients time to mourn while the business focuses on logistics.
Eternity Funeral Service, regardless of religious belief or not, is open to everyone. In fact, the firm offers a variety of funeral selections that cater to various religions and readily accept them.
Also, the Eternity Funeral Service is commendable for its staff, which includes kind and competent people working toward the same goal: making things simple for their clients.
Finally, Eternity Funeral Service provides low-cost services. This is due to the fact that the firm has removed the middleman from the equation and has instead handled everything on its own.
Key Differentiators
Complete services and packages
Free of charge, professional advices
Sincere and honest staff
Client's Testimony
I wanna express my sincere gratitude to all staffs of Eternity Funeral service especially the director, Eforce. Thank you Eforce, for always being around to whenever we have queries, explaining to us in every single detail and making sure we doesn't have to worry about any other issues during this period of time. The service that you guys provide is simply excellent. I was expecting at least a 90% but I've gotten a 101% service instead. Everything was done up nicely, well organized, and it's perfect.

Thanks once again for everything

Tay Eileen
3. Singapore Funeral Group
Singapore Funeral Group, with over 20 years of expertise, has evolved into one of the most reputable names in Chinese funeral services on the island. It provides a comprehensive range of religious-based funeral services, ranging from the finest Chinese funeral to Christian funerals.
Singapore Funeral Group is well-known for going above and beyond to deliver clients convenient and high-quality funeral services as a gesture of respect for their loved ones.
Plus, no need to worry for their funeral director will ensure that all religious customs and traditions are followed during the entire funeral process.
Key Differentiators
One-stop solution
Years of experience and expertise
Assist with all types of funeral arrangements
Client's Testimony
Thank you Leslie and team… your professional guidance, empathy and willingness to go that extra mile when arranging our private family services to honour our very dear mother and father in November 2021 deserve more than compliments. Your thoughtfulness and understanding in accommodating our requests has made the services extremely dignified and the difficult days a lot easier to bear.

We do not have enough words to express our appreciation for all you have done during this trying moment in our life and we thought you should know this.

Aswin Rai
4. Embrace Funeral Services
Jeffrey Lee Yi Fu, a fourth-generation undertaker with over 20 years of expertise, established Embrace Funeral Services Singapore as a one-stop professional funeral service provider.
Embrace Funeral Services has a more modernized approach to funerals, incorporating cultural and religious traditions. They provide pre and post funeral services for a variety of religions.
They are dedicated to giving high-quality services that families can count on when they need it most. Their approach is based on the idea of "embracing families as if our own" in order to strengthen social connection. They attempt to alter the current perception of the celebration of life and death in order to promote more compassion and respect throughout the community.
Key Differentiators
4 generations of knowledge of Chinese customs, traditions and practices
Highly trained in-house local staff with focus on customer service and compassion
Honest, fair, and transparent pricing
Client's Testimony
Jeffrey and crew were very professional, friendly and supportive during my late grandmother's wake and funeral. A lot of attention to detail e.g the crew dressed in suit and tie for the funeral, bus driver would hold a box of drinks while family members were boarding the bus, the alignment of coffin and general presentation and even a photo collection for us to download after the funeral. It's the small details that count and mean a lot. Thanks guys for your service.

Anthony Jr Xu
5. Direct Funeral Services
Among the few funeral parlors that provide comprehensive funeral planning, Direct Funeral Services takes care of everything from pre-funeral preparation to final prayers.
They provide a wide range of funeral services such as Chinese funerals, Taoist burials, and Christian funerals, among others.
Clients who enlist their services will have no cause for concern since they will be working with a professional staff of funeral directors that will handle everything, letting them grieve in peace.
In fact, this funeral service has more than three decades of expertise. As a result, it's been shown to be capable of meeting the demands of its clients.
Key Differentiators
Memorial Hall
Curated Caskets
Dedicated Service Team
Personalised Funerals
Order Funeral Wreaths
Post Funeral Services
Repatriation
Grief Counselling
Client's Testimony
Jammie & Direct Funeral provided excellent service during my mother funeral. Jammie was able to coordinate the funeral well enough to make it a smooth sailing experience. Our family members were pleased with their impeccable service. I would highly recommend Jammie & Direct Funeral to anyone mourning the lost of a loved one.

Emily Kwok
6. An Lok Funeral Services
An Lok Funeral Services is well-known for its large funeral parlor halls, and it promises to provide you with low-cost services.
This implies that you will not be duped into purchasing anything you don't need.
They treat their clients with complete care and respect. They also have a broad understanding of different customs, beliefs, traditions, and religions.
They will assist you in saying goodbye to your loved ones with complete confidence that everything will go on smoothly and as planned.
Key Differentiators
Caters to different religions, traditions, and beliefs
Direct Cremation packages
Strive to make things a little bit easier for the families
7. Entrust Funeral Services
| | |
| --- | --- |
| Key Services | Funeral Director |
| Address | 6 Yishun Industrial Street 1 Northview Bizhub #08-02 Singapore |
| Website | https://entrustfuneral.com/ |
| Phone | +65 6681 5757 |
| Operating Hours | Open 24 Hours |
Entrust Funeral Services is transparent about its pricing and offers. Furthermore, you can contact them at any time and ask questions regarding funerals or beliefs without having to pay a fee.
In addition to sea and tree burial, they offer a range of funeral services, including Chinese, Taoist, Buddhist, and others. They also provide post-funeral services such as a 100-day aftercare ceremony, ancestral tablet worship, Gong Teck Ceremony, among other things.
Knowing that your loved ones will be taken care of by a funeral they deserve from Entrust Funeral Team. This may help you to obtain closure in a far more positive way.
Key Differentiators
Pricing transparency
Caters to a wide range of funeral services
Trustworthy and dependable team
Chinese Funeral Singapore
Chinese funerals have many different services available so it's important that you think about what is right for you before choosing which one is best suited for your needs.
We hope this blog post has helped provide some clarity on how to choose the right Chinese funeral service providers for your situation by providing information on Best Chinese Funeral Services in Singapore as well as tips on what to look out for when deciding who provides these services.
Looking for more articles to read? Check out some more of our blog posts down below: