Christmas Catering Singapore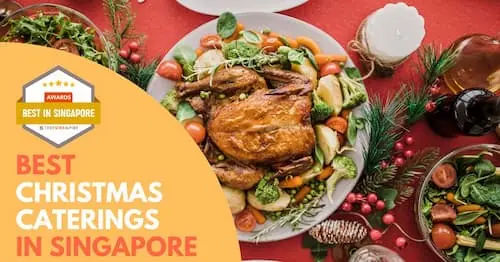 When the festive season of Christmas rolls around in Singapore, it's time to gather friends and family for a delectable feast.
The best Christmas caterings in Singapore include Chilli Manis, Parkroyal Collection Marina Bay, Grain, Chico Loco, and Fairmont.
When selecting a Christmas catering service in Singapore, consider menu options, dietary choices, delivery/pick-up, and value for money.
Roast turkey, honey-baked ham, log cakes, and an assortment of local and international festive treats are commonly enjoyed Christmas dishes in Singapore.
Here are the best options for Christmas catering Singapore.
Best Christmas Catering Singapore
1. Chilli Manis
Merry Grandeur Celebrations
Herald the season and create treasured memories with family, friends and colleagues with Chilli Manis Merry Grandeur Celebrations, where Traditional Flavours meet Modern Splendour.
Get ready for a culinary spectacle this festive season, their menus are curated with a wide array of Christmas classic delights and all-time Peranakan favourites.
For those looking to impress your guests with a splendid soiree, construct the perfect Christmas meal with their Christmas regular buffet menus. Be sure to take a look at their Exquisite Taste menu which is sure to impress your guests with their all-time signature Christmas and Peranakan dishes.
Here's a list of their all-time signature Christmas dishes to give you a taste of their exquisite menu:
Gourmet Cheese Platter with Assorted Cold Cuts
Garlic Rosemary Rotisserie Chicken
Creamy Tuscan Roasted Dory Fish
French Sailor-Style Mussels
Chicken Stroganoff Shepherd's Pie
Early Bird Promotion
50% off Petite Chocolate Ganache Yule Log (500g) (UP: $42.80) with purchase of Christmas buffet menu. Limited to the first 200 redemptions.
Key Differentiators
#1 Catering group in Singapore
#1 Peranakan caterer in Singapore
Over 200k people served
Client Testimonial
Loved the food they provided, and everything was kept warm and tasty throughout even though we were in a cold air con room. Quality and quantity were beyond expectations!

Irwin Law
2. Parkroyal Collection Marina Bay
If you're looking for some festive food, Parkroyal Collection Marina Bay has got you covered with its Portman's Bar e-shop. On the menu is roasted turkey with rosemary and cajun spices, roasted beef ribeye, glazed boneless ham with gingerbread spices, pasta dishes, tiramisu and mao shan wang durian mousse yule log.
3. Grain
This Christmas, Grain has seasonal catering sets that will save you time and money from cooking for your large family. The best part is that the food is healthy and guilt-free! With so many rich nutritional choices, everyone in the family will enjoy a delicious meal without even knowing it's good for them. The Christmas Party Set serves between six and eight people for $239.95, seven delicious courses including a smoked mesquite whole roast chicken, triple citrus salmon parcel, Mrs Santa's irresistible pasta, among other cuisine options.
Key Differentiators
Creative cooking techniques and nutritious ingredients
Excellent service
Signature buffet experience for your Christmas celebration
Client Testimonial
Ordered Grain's Christmas mini buffet set for my family's Christmas dinner. The food was superb, but the experience and service standards went above and beyond. The staff made sure to keep us informed and secure every step of the way, and made us feel welcomed and supported throughout the collection process. Not only was the food a delicious, but the portions were also generous and inviting. Dinner was a hit with everyone, highly recommended!

S T
4. Chico Loco
Chico Loco's lineup of traditional roasts will make your Christmas Mexican-themed. This fast-casual Mexican spit-roasted chicken joint is known for its signature rotisserie chicken and rotisserie lamb leg, but festive dishes like smoked maple agave gammon ham, traditional herb-marinated turkey with gravy, smoky Ancho roast beef striploin are also delectable choices.
Client Testimonial
Was surprised by the interior when I entered the restaurant ; beautiful place greeted by pleasant staff. Appreciate the staff that took our orders and gave some personal recommendations! The spicy chicken is quite spicy to my palate but the meat is really good and tender.

Stella Lee
5. Fairmont
With Christmas right around the corner, now is the time to take advantage of Fairmont's amazing festive menu options. Created by the award-winning culinary team from Fairmont Singapore and Swissôtel The Stamford, this year's Christmas at Home with Fairmont menu offers an irresistible range of winter roasts, savory sides and delectable desserts. So why spend hours in the kitchen when you can let them do all the work?
Key Differentiators
5-star luxury hotel
Same day delivery available
Selection of hassle-free ready meals
6. 1-Group
1-Group's 1-At-Home makes it easy to order a festive meal from your favorite restaurant. With options like traditional roast turkey, honey and mustard glazed bone-in ham, and rosemary-marinated leg of lamb at Stellar or crispy suckling pork belly with cranberry sauce and roasted yellow chicken with rosemary sauce at Monti, you'll have a hard time deciding what to get!
Key Differentiators
Decadent brunch in bed or dinner party bundles
Award-winning dining concepts
7. Paul
This Christmas, Paul is offering a stress-free holiday party menu. Canapes include options like wild mushroom, quail egg and truffle salsa, Maine lobster roll salad with sweet mayo and caviar, and smoked duck breast with hoisin sauce. Main courses feature traditional favorites like roasted turkey and baked ham.
Client Testimonial
Great service! Definitely worth visiting. Our experience overall was good. The queue was fast and Kathy, the service staff was very friendly, accommodating and fast. The food was served fast that we didn't even have to follow up. Thank you Kathy from Takashimaya for today. We'll definitely comeback for a meal, coffee and cakes too.

Maria Lourdes Nacion
8. Singapore Marriott Tang Plaza Hotel
Kicking off the Christmas season, Singapore Marriot Tang Plaza Hotel offers an array of delicious festive favorites and new creations! Savor such dishes as Guinness malt-beer whole roast turkey with sage and walnut stuffing, slow-smoked beef striploin, mustard mint roast lamb leg and black truffle lobster thermidor.
9. Stamford Catering
Stamford Catering is an excellent choice if you're looking for Christmas delivery options. They have various bundle choices that will suit any sized family, big or small. The Christmas feast option serves 10-12 people and includes a traditional roast turkey with chicken chestnut stuffing and cranberry compote, a gourmet meat sausage platter, classic Italian beef lasagna, as well as classic bread and butter pudding with vanilla sauce. With such delightful options available, Stamford Catering guarantees that there'll be something to please everyone this holiday season!
Key Differentiators
Offers different Christmas bundles
Delicious set of menu
Client Testimonial
Ordered another Christmas mini party set again for New Year and everything was right this time. It came just right on time and the food was also delicious with generous portions. Would definitely keep ordering again in the future.

Jing Yi Teo
10. Green Common
This Christmas, switch things up with a plant-based meal from Green Common. With takeaway options starting at S$49 for two people, you can choose from a range of delicious soups, main dishes, and desserts. Highlights include butternut pumpkin soup, OmniSeafood taco and fillet-no-fish dishes, vege lovers pizza, and Omni luncheon Aglio olio.
Key Differentiators
One-stop plant-based eatery, marketplace and product innovation platform
Delicious vegetarian meals
Affordable
Client Testimonial
Been here twice, tried their different dishes. The food were all tasty and tried all the different fries like potato, sweet potato and 'luncheon meat', their sweet Thai chilli sauce it is must try. My favorite drink is the avocado shake. The service from the staffs have been good.

Lonesome Boss
11. Black Marble
If you're looking for a delicious Christmas feast, Black Marble has got you covered with two amazing menus to choose from. The Joyeux Noel Platter is perfect for smaller groups and comes with individual starters, a sharing appetizer, main course (including festive surf and turf delights), sides, and desserts. Or, if you're feeding a larger crowd, the Glad Tidings platter will do the trick! It includes everything in the Joyeux Noel Platter plus an additional prawn and chorizo pil pil dish and a sharing cheese plate. Either way, your guests are sure to be impressed –and full!
Key Differentiators
Free delivery islandwide for $100 and above orders
Led by one of the most respected veterans of Singapore's F&B industry
Uses the freshest ingredients harvested at their peak
Client Testimonial
Cosy mid size restaurant great for steak and meat. Service staff was great and friendly. Explain to us chef recommendation. Oyster was fresh and love their special sauce. Both steak and lamb chop taste great. Angel hair pasta was tasty and good to the last bite. Mushroom was cooked different from most restaurant. Our dessert was on the house.

Randy Tan
12. Tablescape
Tablescape offers a variety of takeaway sets for your next feast, ranging from charcuterie and bread to afternoon tea delights. But if you're looking for an all-out meal, the eight-course festive set is the way to go. It comes with burrata, foie gras, spatchcock roast chicken, pork belly roulade, and an assortment of sweets and artisanal panettone. If you prefer something more traditional (and less costly), there are also several roasted options available like gammon ham and Spanish-style roast turkey.
Key Differentiators
Interior of neoclassical beauty
Inspired list of artisanal cocktails, wines, and craft beers
Decadent treats available for takeaway and delivery
Client Testimonial
Great dining experience! Derek and team are fantastic with the service. They are sincere and attentive the whole evening. We like most of the dishes starting from the bread basket. The bread are freshly made and they provided another serving after knowing we liked it. We also liked the lamb rack and the beef cheeks. The lamb is cooked perfectly and nicely seasoned. They even provided a piece of complimentary cake for a friend who is celebrating his birthday. Overall an awesome experience and we will be coming back to try more dishes.

Sean Yeo
13. Carlton Hotel Singapore
This holiday season, celebrate with Carlton Hotel Singapore's Christmas takeaway bundles! The Christmas Party Pack includes a whole roasted turkey with chestnut stuffing and cranberry and turkey jus, as well as honey-glazed boneless ham with pineapple sauce. There's also the classic log cake. If you're feeding a large group, go for the Family Party Pack which features fruit salad, bratwurst sausages, roasted Brussels sprouts, honey baked ham and more.
14. Goodwood Park Hotel
If you're hoping for a quiet family Christmas at home, consider ordering food from Goodwood Park Hotel. The only difficult part will be deciding what to order! You can stick with traditional choices or mix it up with local offerings like chilled smoked turkey breast with mala sauce.
Key Differentiators
Available for delivery or self-pick-up
Offers repertoire of festive savouries and sweets
Asian-inspired interpretations of quintessential Christmas dishes
Client Testimonial
We were here for their Mega Brunch and it was incredible! Beautiful, kid friendly spread with the cutest donut wall. My toddler loved every minute of it. The air-conditioned play area bouncy castle was an excellent touch for parents with wriggly children. Am glad to see they're doing the Mega Buffet again for Mother's Day.

Shin Tiong
15. Da Paolo Gastronomia
Da Paolo is the perfect place to order a fabulous Christmas meal to-go. Some classic items on their menu include deboned roasted free-range turkey, honey-baked ham, and roasted vegetables. And for dessert? They have an edible wreath made with crispy cornflakes, almonds and pumpkin seeds coated in dark chocolate and cranberries. Add some bubbly champagne and you're all set!
Key Differentiators
Offers a wide array of freshly made food and imported fine foods from Europe
Over 30 years of experience
Authentic Italian delights
Client Testimonial
We had a great time. Attendants were friendly. Menu options were great along with the decent number of veg items. We had some pastry , coffee , pizza slices and pasta. All tasted quite nice. Overall highly recommend

Lagna Das
16. The Marmalade Pantry
If you're drooling over The Marmalade Pantry's menu, don't worry, you're not alone. In fact, we're pretty sure that everyone would happily give up their pocket money to contribute towards it. For $368, you can choose between a turkey or ham and a beef or lamb, plus four sides and a log cake – enough for up to eight hungry tummies. Wipe those chins clean now!
Client Testimonial
Excellent carbonara and oat mocha; my go-to every visit. I think the coffee that is being served in Marmalade has improved so much lately. Also, I would like to commend on the genuine and professional service by the manager, Nigel, who always makes us feel very welcome!

Shandy Tan
17. Raffles Singapore
Raffles is offering dining sets to be enjoyed in the comfort of your own home this Yuletide season. There are three different sets available, depending on how many people you are planning to have over. The Raffles Ultimate Christmas Indulgence set serves eight to ten and includes foie gras terrine, cote de boeuf (rib steak), smoked salmon and roasted turkey, cheese platter, loaves of bread, potatoes au gratin and classic holiday desserts.
Key Differentiators
Delectable selection of Champagnes, wines, craft cocktails and beer
Build Your Own Cake experience
Italian Riviera through produce-driven, thoroughly perfected recipes with a contemporary touch
Client Testimonial
Had the Most amazing High Tea ☕ for my 60th Birthday this Hotel is simply Gorgeous and the staff are so Beautifully turned out in their White Uniforms and so Friendly and helpful we really enjoyed our Visit ☺️

VillaLinleigh
18. Little Farms
Little Farms provides an array of hearty, tasty dishes that are perfect for any holiday gathering. Choose from mouthwatering meat options like Christmas maple walnut glazed whole roasted turkey, balsamic and manuka honey glazed bone-in Barossa ham, herb-roasted King Island beef ribeye and amaretto glazed turkey breast roulade. Don't forget to pair them with our delicious sides like Australian new potato salad, dauphinoise potatoes and roasted farm winter vegetables.
Client Testimonial
Had brunch on a weekend. I would suggest to book before heading there. I managed a 40mins sitting for a quick brunch and cocktail. The cocktails were very good and interesting. I had the pina colada and aperol. Not your normal kind but rather a twist on the classic cocktail. You should give it a try. I also had the avocado toast which was yummy. Presentation for both the meal and drinks were inviting.

The Cultured Life
19. Pan Pacific Singapore
Pan Pacific Singapore makes it easy to enjoy a wonderful Christmas feast at home with friends and family. Simply choose from one of their three delicious bundles, which include roasted turkey, honey-glazed boneless ham, slow-roasted Australian beef rib eye and baked barramundi. And for dessert? Indulge in yummy strawberry lemon log cake, sea salt caramel chocolate tart or vanilla mango passion log cake.
Key Differentiators
Monthly deals and discounts
Wide range of delicious meals
20. JW Marriott Singapore South Beach
Instead of slaving over a hot stove this holiday season, order your Christmas feast from JW Marriott Singapore Beach Road. With options like a traditional roasted turkey with gravy and cranberry sauce for $158, honey glazed gammon ham, and slow roast beef striploin with all the trimmings, sides and condiments, we're sure to have something that will please everyone at your catered Christmas party.
Key Differentiators
Wide selection of Christmas meals
Traditional roasted turkey
Hassle-free Christmas catering service
Christmas Catering Singapore
Christmas is just around the corner, and if you're still looking for a catering service that will deliver delicious food to your door, we've got you covered. Our list of 20 best Christmas catering services in Singapore has something for everyone, from Pan Pacific's sumptuous takeaways to Little Farms' wholesome farm-to-table dishes. So don't stress yourself out trying to cook this year, let one of these top caterers do all the hard work for you!
If you want to read more interesting articles, follow the links below:
Frequently Asked Questions (FAQ)
If you have any questions about Christmas caterings in Singapore, you can refer to the frequently asked questions (FAQ) about the best Christmas Catering Services in Singapore below:
Additional Useful Articles
If you are looking for other useful guides and articles about the best Christmas Catering Services in Singapore, check them out below: