Combat Archery Singapore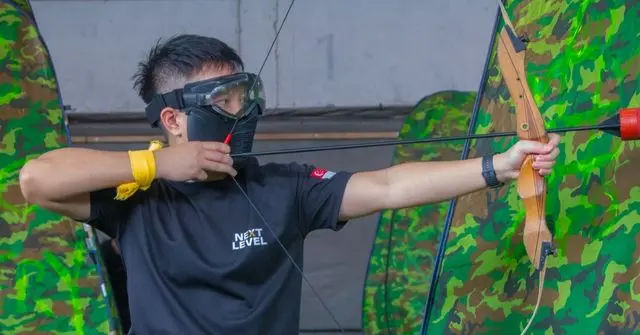 Fans of Katniss Everdeen, the protagonist of the well-noted Hunger Games franchise, may be intrigued by Combat Archery Tag, a game which involves shooting your opponents with bows and arrows.
The history and background of Combat Archery is truly unique. It is even more fascinating when it has been converted to a team building activity, engaging both the young and old.
There is nothing more crucial than safety during game play. Thus the arrows used in Archery Tag are foam-padded and the bows used have reduced poundage to create a safe playing environment.
If you're bored with the uninteresting and conventional games for team bonding or ice-breakers, then Combat Archery Tag might be the game choice for you. Here are the reasons why.
1. Highly-Thrilling
Combat Archery Tag would undoubtedly incite tons of laughter and also screams while you hunt, and be hunted!
Though your objective to scout for opponents and shoot them with your arrows, be on the lookout for your opponents as they have the same objective as you! Combat Archery Tag could take place both indoors and outdoors.
However, it's always in an enclosed area, thus you can't escape and your opponents are never far away from you. Embrace both your competitive and adventurous spirit and strategize alongside your teammates to emerge as the winner.
2. Various Game Modes
There are not only 1 or 2 game modes to choose from, but 5! As such, your team building event will never be dull.
Domination is the classic, but break out of your comfort zone by challenging yourself and your team mates to more mentally-stimulating game modes such as Mission Impossible or League.
Combat Archery Tag is not just about running around and tagging opponents, but could also be tailored to specific requirements and requests – thus each different game mode is to meet with such objectives.
For example, if you're looking to cultivate leadership roles among team mates, then The Last King would be the suitable choice.
3. Stay Fit
Corporate fitness is usually taken for granted, but it should be implemented crucially. It is beneficial for both our minds and body to step out of the claustrophobic office environment every once in a while as to de-stress and promote blood flow.
Our past clients have opted to dedicate a day off every month for their team building event, and one of the most popular activities is Combat Archery Tag.
Combat Archery Singapore
There's really no wonder considering that it could be held indoors and away from the humid weather of Singapore, yet the fun and benefits of participating in sports are not sacrificed. Furthermore, in the long run, you would see the rise in productivity and motivation among colleagues.
Check out more related articles!