Company Culture Singapore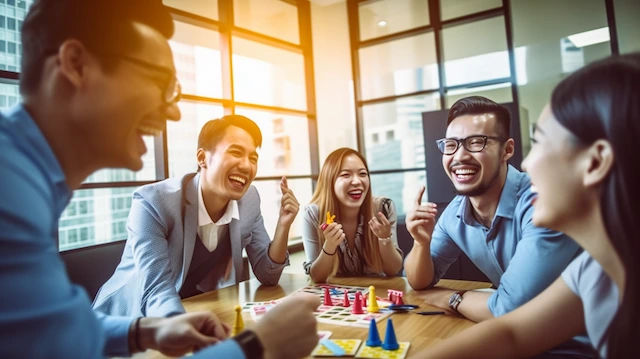 In today's context, having a company culture that's cohesive and team-oriented is very important. By working well together in the workplace, it can help bring valuable success to your business. Better teamwork leads to new ideas, improved problem-solving capabilities, better morale, and much more. In addition, working well together can also lead to the development of better working relationships. This can improve the overall experience that your employees have within the company because working is not such a chore for them if they're with other like-minded individuals. In short, it benefits a company to adopt a team-oriented culture.
However, if you have not adopted a company culture that is focused on team building within your workplace. It will definitely be a daunting task to suddenly make the switch. Hence, to make your life easier, here are some simple changes you can start incorporating into your company to help your transition into the team-oriented company culture.
To learn more on how you can better hold a team building activity, you can check out The Ultimate Team Building Guide In Singapore
Team Building Activities: Adopting A Company Culture
1. Employer Recognition
Firstly, one of the ways to transition into a team-oriented company culture is to recognize your employees. Some employees may feel under-appreciated and unvalued by the top brass of the management if they aren't rewarded or recognized. Not to worry, there are several ways you can go about start recognizing your employees. An example of this can be as simple as having a team building activity, followed by a nice meal at a restaurant. Or if your budget allows it, you can arrange an overseas trip for your company's employees as well! If not, another simple method could be just commending your employees for certain behavior or doing the right things. So drop a post-it with a sweet on the employee's table. Don't underestimate this, it might be a small gesture but it's more than sufficient to put a smile on their faces.
2. Get Off Their Backs
Secondly, no one likes it when their boss is constantly nagging them to do something. When employees are given the freedom to do what they do best, it is then when bosses get the best results out of them. Managers should be more like coaches, guiding the staff in the right direction. A little bit of trust can go a long way. Taking this step helps to promote team building as they are more open to taking risks without fear of repercussions. Furthermore, it builds a safe space where employees can innovate. If we were to take a look at companies like Netflix, they do not judge employees by the amount of time or the process of getting their work done but solely based on the end product. Such initiatives could be incorporated to transition into the more team-oriented company culture.
3. A Flat Organisation
What does a flat organization mean? It means an organization with fewer levels of chain on command. So instead of a pyramid structure, you have a flatter base, fewer layers, and lesser people at the top. Although, this change is likely more possible if done in smaller companies. But the point still stands; try to have a lesser level of management in between staff. How can this step create a team-oriented company culture? It is because when the employees at the lower part are not under layers and layers of management, the communication channel will be clear. Thus employees will feel empowered. They will feel that their views are heard and that they can make recognizable contributions to the company.
4. Celebrate the little things
It's not good to be too focused on just trying to reach your KPIs and finishing your tasks for the week. While it's important, such a results-driven company culture just creates extra stress for everyone. Take a break and celebrate the little things such as the end of a workweek. This helps to showcase an environment that encourages both work-life balance and team building. You can take the initiative by arranging simple get-togethers at the end of the week to go grab drinks with your colleagues for happy hour or even a barbecue session during New Years'.
5. More team building activities
Last but not least, you can simply include more team building activities in your company! Team building activities such as bubble bump soccer, laser tag, and escape room help to build better relationships along with promoting bonding between your employees. By including more of such team building activities, also helps to showcase a fun company culture that works hard and plays hard. So what are you waiting for, book your team building sessions with us right now!
Recommended Activities
The best method to make employees feel a part of their workplace community is by engaging them in team building activities. Your team will become more cohesive through these enjoyable, interesting, and demanding exercises. A team's communication, trust, and collaboration can all be enhanced with the right team building techniques. Look at these suggestions for things to do!
1. Virtual Food Quest
Are you a food expert who is well-versed in all things culinary? Singapore's one and only Virtual Food Quest experience lets you test your knowledge. The Virtual Food Quest, brought to you by The Fun Empire, promises an unforgettable culinary trip for everyone.
Collaborate with your friends, family, and coworkers to find solutions to food-related puzzles, each of which is centered around a distinct cuisine! As you learn more about various foods together, spend some quality time connecting with them and putting your communication skills to the test! Try this flavorful activity as one of your Singapore team-building exercises; laughter and enjoyment are assured! After the activity, you can even start to become hungry!
2. Virtual Time Travel
Introducing the first and only virtual time travel experience in history! This experience will appeal to you if you've ever questioned whether time travel is actually possible. Together, transcend time to solve riddles in various eras and time zones. The timer is ticking, so hurry to finish your assignment!
This activity will put the entire group's problem-solving abilities to the test and is both enjoyable and difficult. One of the newest and most original team-building exercises ever made is this one! There is no cap on the amount of participants, and you only need 2 people to get going! To join the most prosperous teams of the present, travel through time!
3. Virtual Travel Experience
Unable to choose which virtual activity to engage in? Try out The Fun Empire's Virtual Travel Experience; it combines several! Travel through Singapore's history on an adventure that includes a virtual treasure hunt, an amazing race, and an escape room experience.
While learning more about the nation in an inventive and immersive virtual environment, participants will collaborate online in teams to solve amusing and engaging puzzles. Finish all the tasks to unravel the gripping plot!
4. Hybrid Amazing Race
The Hybrid Amazing Race is the first hybrid version of the race that you may participate in, and it was created by The Fun Empire. It combines a physical activity with a virtual activity. Participants will get the opportunity to learn about Singapore's history and delectable cuisines while tackling both physical challenges and online riddles. They will also have the possibility to explore well-known sites in Chinatown at the same time. This is a fantastic team building activity for large groups that want to physically bond while following social distance rules because there is no cap on the number of participants. In your subsequent team-building exercise, compete to be among the first successful teams!
5. Virtual Balloon Sculpting
The Balloon Sculpting Workshop is a fun and engaging class that teaches both adults and children how to make incredible balloon sculptures! You will get the chance to discover all there is to know about various forms, colors, and textures. Create your own balloon sculptures, such as a balloon pirate sword, butterfly, rainbow, and flower, to showcase your artistic talent.
6. Virtual Game Show – Wheel of Fortune
Love watching and participating in game shows like The Price Is Right, Wheel of Fortune, and others? You may now participate in your very own private game show with your family, friends, coworkers, and more thanks to FunEmpire's Virtual Game Show experience!
7. Clay Making Workshop
8. Art Jamming
9. Leather Workshop
10. Candle Making
Company Culture Singapore
In conclusion, as you can see, it is very important to adopt a company culture that's focused on team building. And here are the small little steps you can take to start building a more team-oriented culture. Need some references? Check out this list of Companies With The Best Workplace Culture here!
We trust that you now have a clearer understanding of the many team-building activities that are available for your upcoming corporate team-building event. In the interim, you can view more of our many team building Singapore experiences here: