Computer Speakers Singapore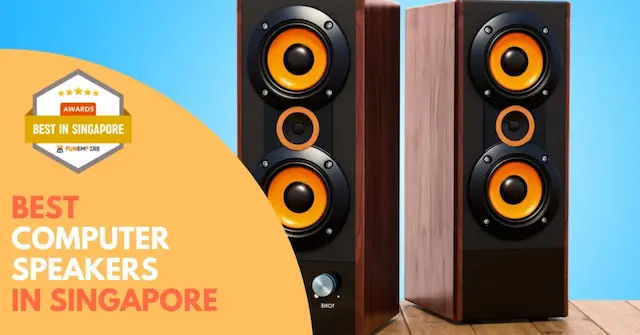 Looking for the best computer speakers in Singapore? Look no further!
We have compiled a list of the Best Computer Speakers available in the market today, that are sure to give you an immersive audio experience.
These computer speakers are perfect for anyone looking for great sound quality and performance. Whether you are a gamer, music lover, or movie buff, we guarantee that you will find the perfect computer speaker for your needs!
So whether you are looking for a speaker for your home office or for your gaming rig, we have got you covered! So without further ado, let's get started!
1. Logitech Z407 Bluetooth Computer Speakers
Key Features
Bluetooth Computer Speakers
Subwoofer and Wireless control
Where to buy
Lazada
Price
$149.00
This speaker's wireless control dial and dual feature allow you to adjust the sound and appearance from across the room.
Bass and volume may be altered from any area in the room. The position can also be adjusted both horizontally and vertically. Connect via Bluetooth, micro USB, 3.5mm input, or remotely using a range of options.
With a wireless coverage of 20 meters, it has four buttons for volume control: play, pause, mute, and bass adjustment.
The little oval speakers in black smooth graphite are ready to surprise in your work area with their loud, robust sound without interrupting the general flow. Place them in the area where you want them to be.
Key Differentiators
Connect up to three devices via Bluetooth, micro USB, and the 3.5 mm input
20-meter wireless range
12-month battery life
Buyer's Testimony
bass was strong enough!! look very nice to match my pc.

Koo C.
2. Edifier e25HD Luna Eclipse HD 2.0
Key Features
Stylish Design
Smooth Curves
Piano Finish
Where to buy
Lazada
Price
$299.00
The Edifier E25 Luna Eclipse is now a fantastic speaker system with a fascinating design, while at the same time sounding great.
The Luna, which is available in red, white, and darker hues, has a strong yet well-controlled bass that matches an outstanding offset with sharp midst and excellent sound system isolation.
Simply with a few button adjustments, you may enjoy the wonderful sound quality. With each speaker's built-in bass radiator, bass driver, and dome tweeter, effortlessly soothing your ears with your music choice.
Key Differentiators
Powered digital speaker system for TV and home entertainment
Bluetooth pairing capability with Bluetooth enabled devices
Touch sensitive controls for volume, play/pause, previous/next track and standby
Buyer's Testimony
The speakers are really sexy. And they sound good!

YD
3. Harman Kardon Soundsticks III
Key Features
SoundSticks
Wireless
Refurbished
Where to buy
Shopee
Price
$299.00
The Harmon Kardon Soundsticks III might be likened to a bloom of jellyfish. These are fantastic speakers, and their installation is simple.
The Soundsticks III system is actually a multimedia setup, but once you hear it, you'll want one. It provides a substantial base output that improves the sound of your music. The Harmon Kardon Speakers may be used with PCs, MP3 players, portable CD players, and almost any device with stereo line-level outputs.
The Soundsticks III is a versatile addition to your desktop, entertainment center, and bookshelf that will make your music life more enjoyable.
Key Differentiators
Compatible with all devices with a stereo minijack output
Outstanding bass performance
Touch volume and mute controls
Stunning visual design
Buyer's Testimony
Always love the products by Harman Kardon. Order was made yesterday, the speakers were delivered today, super fast!

Mr. Suunto
4. Bose Companion 50
| | |
| --- | --- |
| Key Features | Multimedia Speaker System |
| Where to buy | Shopee |
| Price | $599.00 |
With only two desktop speakers, the Bose Companion 50 provides a comprehensive sound system that delivers an enveloping audio experience!
You can hear rich and detailed sounds with this top computer speaker in Singapore, which will provide you with a clear and realistic soundstage while watching movies or playing games.
You may quickly modify the sound settings on the all-in-one control pod for improved quality. This includes volume control, single-touch muffle, headphone jack, and auxiliary input.
It will also switch to sleep mode after a few minutes of inactivity, saving you money on electrical bills. There's no need to install any software or hardware modifications because it only takes a single connection from the speaker to the computer.
Key Differentiators
Rich detailed sound and a wide soundstage
Deep accurate bass
All-in-one control pod
Buyer's Testimony
Excellent Quality

LH
5. Creative Pebble 2.0
Key Features
Pebble Speaker
Budget Speaker
Where to buy
Creative
Price
$39.00
The Creative Pebble 2.0 is a portable speaker that has earned a significant following due to its wide soundstage housed in a sleek and attractive form.
The Creative Pebble 2.0 is a device that works quietly and effectively. It's designed to provide amazing sound quality and versatility. This desktop speaker has customized drive solutions for precise and clear sound.
The depth of the sound will leave you speechless with its built-in passive radiators.
You can conveniently place the speaker beside your laptop/PC owing to its small size. It may be connected to your computer with a single USB cable, leaving you with a hassle-free audio upgrade experience!
Key Differentiators
Featuring a 45° elevated custom-tuned far-field
Only 4.4 inches wide
Convenient front panel control knob
Buyer's Testimony
The Creative Pebble Modern 2.0 USB Desktop Speakers offer great sound at an extremely reasonable price. If you're looking for a small pair of desktop speakers that aren't going to break the bank and give you decent sound, you should definitely give the Creative Pebble a go.

TECHAERIS
6. Audioengine A2+
Key Features
Wireless Bluetooth Speakers
Desktop Bookshelf Speakers
Where to buy
Shopee
Price
$469.00
The Audioengine A2+ is a tiny yet powerful desktop speaker that works in limited areas. It's a basic, highly functional speaker with built-in power amps for accurate music reproduction.
This also has a subwoofer connection for better audio quality in movies, music, and games. It is different from others since it comes with a wireless capability so you may instantly link it to your smartphone or tablet.
Key Differentiators
Designed for desktops + smaller spaces
Analog inputs
USB computer audio input
Premium Bluetooth wireless that works with all your devices and apps
Buyer's Testimony
Beautiful speakers! Love the build and quality. Delivery was relatively quick !

Aa
7. Bose SoundLink Revolve
Key Features
Portable
Long-Lasting Bluetooth Speaker
360° Wireless Surround Sound
17 hours of battery life
Water & Dust resistant
Where to buy
Lazada
Price
$499.00
The Bose Soundlink Revolve might be the finest computer speaker in Singapore if you don't require more sound tinkering abilities. It provides good audio quality that you can use to listen to your favorite movies and songs with realistic sound.
The Bose Soundlink Revolve is also a waterproof portable speaker with bumpers that may be placed by the pool or near the kitchen sink, making it ideal for outdoor excursions.
It can play music for up to 12 hours on a single charge, allowing you to listen to all of your favorite songs or podcasts throughout the day!
Key Differentiators
Built-in microphone
Connecting is easy
With a flexible fabric handle
Buyer's Testimony
Great sound as always from Bose..very portable too!

363
8. Razer Nommo Chroma 2.0
| | |
| --- | --- |
| Key Features | Speakers with Full Range Sound |
| Where to buy | Razer |
| Price | S$169.90 |
Now, the Razer Nommo 2.0 takes the cake as the most distinctive speaker yet. Despite being a 2.0 speaker, it does provide strong bass power and clear mid-tones.
At first sight, it appears to be simple and basic, but once you look closer, you'll notice that it has a more complex design that fits well with any gaming desktop. It isn't particularly loud even when played at maximum volume. It's only suited for individuals who spend a lot of time in front of their computers.
This item will be a hit for you for a variety of reasons. One is that you'll appreciate is how simple it is to set up. Another one is that there's a control knob on one of the speakers, allowing you to instantly change the volume.
Key Differentiators
Automatic gain control
Deliver increased bass output for a fuller, richer range of audio
Deliver ultra-clear sound
Buyer's Testimony
"These gaming-minded stereo speakers deliver rich, directionally accurate sound for hearing the competition coming, while also doubling as a pretty solid set of speakers for music and movies."

Tom's Guide
9. Logitech G560 Lightsync
| | |
| --- | --- |
| Key Features | LIGHTSYNC RGB Speakers |
| Where to buy | Logitech |
| Price | $329.00 |
A pair of excellent speakers can only improve your gaming experience, and the Logitech G560 Lightsync is one of the finest out there.
Perhaps the most distinctive feature of this light is its synchronization, hence the name. It may change color to match the intensity of the game or your preference.
It has a fantastic light show aside from that, with an extra bass subwoofer for a deeper bass sound.
It can also be a wonderful way to enjoy music while on the road. It may be used as a Bluetooth transmitter/receiver for your smart device, has a 3.5mm jack, and even comes with a USB connector for fast connection!
Key Differentiators
With Audio Visualizer
240 Watts Peak
Unique driver design
Computer Speakers Singapore
There you have it! We have listed out the Best Computer Speakers pick in the market.
Computer speakers may help you get more immersed in your audio material. We've got you covered whether you're looking for a home office speaker or a gaming rig!
Have you tried any of these speakers? Don't hesitate to share with us your thoughts by leaving a comment down below.
Looking for more interesting articles to read? Check out some of our blog posts here: