Creative Group Workshop Singapore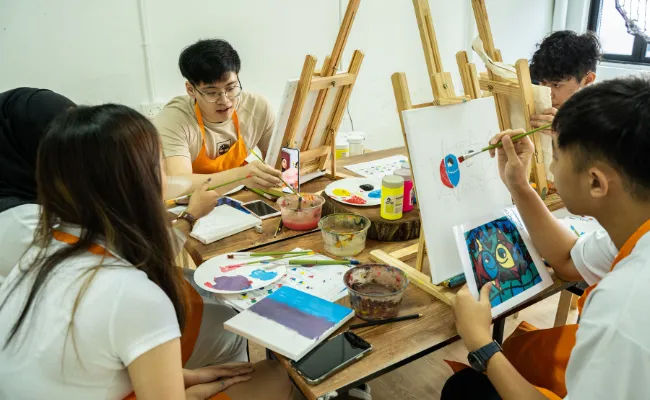 While the arts may not be actively pursued by the majority of Singaporeans due to our highly pragmatic upbringing, more and more Singaporeans these days are attending art exhibitions, visiting museums and even attending craft workshops. Workshops, in particular, are a growing hobby and with our findings, we conclude that our sunny island does not disappoint.
In fact, the variety of art workshops in Singapore is aplenty! Bet you didn't expect that! If you're wondering, "How good can the workshops be?" considering our previous lack of outlets. But, we assure you that we have rounded up the best workshops that Singapore has to offer both in terms of its uniqueness and its ease of following for even total beginners. /
1. Neon Art Jamming
What? Did you say NEON? Yes, we sure did! Before you conclude that the only difference is using neon paint, we want to tell you that it's more than that! Neon art jamming by The Fun Empire is an immersive and multisensory experience from start to end. Participants would be in a specially lit room that is only for neon art jamming. They would do the brainstorming, the drawing and the painting all under the special conditions of the room! Expect to feel transported to a tranquil discotheque like café. What is great about this workshop is that it not only is a new experience because of the setting, communication and collaboration becomes the dominant skills that participants would use to ensure that collaboration and communication more important! Besides team building, The Fun Empire also does neon art jamming for group gatherings and kids birthday parties!
Website: https://www.thefunempire.com/art-jamming/
2. Batik Workshop
Credits: Goodman Arts Centre
Although batik is wildly popular in Indonesia, neighbouring countries like Singapore also use batik in its clothing or art. So, it is no surprise that there would be batik workshops! Batik is a method of producing coloured designs on textiles with the use of wax to create the design and the use of dye after that to add colour. This workshop by Kamal Arts Ltd goes through both the waxing technique of decorating the cloth as well dyeing of the cloth. Led by Kamal Dollah, Singapore's batik artist, participants can expect to learn briefly about the culture and its history in addition to the techniques just from this workshop! This experience would no doubt be a unique one to try! (Do note that open classes are only available on Wednesdays.)
Website: http://kamaldollah.com/batik/#openstudio
3. Silkscreen Printing
Credits: Knuckles and Notch
Have you heard of printmaking? Or silkscreen printing? In essence, it is the technique used to print graphics or designs on other materials like tote bags, shirts and more commonly, cloth. Printmaking allows a person or organisation to express their style, what they stand for and even their culture! Hence, this makes printmaking a great corporate team building as participants can get to bond and create a common identity. The workshop offered by knuckles and notch would teach participants to create a home-based silkscreening set-up. By the end of the workshop, you would be able to take home the artwork that you have! This makes the silkscreen printing a versatile activity that is suitable for casual group gatherings as well.
Website: https://knucklesandnotch.com/workshop-info/silkscreen-printing/
4. Paper Marbling
Credits: Artefakts
If this is your first time hearing the term paper marbling, you're probably not the only one! Paper marbling makes use of a solvent such as water to serve as a surface to float paints. The paint will be added layer by layer and tools like sticks and brushes are used to create patterns on the floating paint. Now, the paper comes in. When you are satisfied with your creation, a specially prepared paper will be placed on top of the liquid to pick up the paints! This art workshop is a simple one that everyone can contribute to especially when designing the floating paint. As such, this would be great for couples who are looking to create a design together or even for companies to create art as a team. While it sounds largely simple, the technique of picking up the paper to receive paint requires some guidance from attending the workshop.
Website: https://artefakts.sg/wp/paper-marbling/
5. Pottery Painting
Credits: Clay Cove
When you think of pottery, you probably think of how there's only two types of people in the world – the ones who have the patience and precision to make it, and the ones who don't. But, put that thought aside first because we are focusing on the painting of the pottery. What makes painting on pottery different? The major one would be the surface you paint on. Unlike tote bags, t-shirts and canvas that have flat surfaces, handmade pottery tend to have curved surfaces! Granted that it might be slightly challenging, but with the guidance of a workshop, beginners would have no problem catching on! What's more, this is a great chance to get a self-personalised mug or plate.
Website: https://www.claycove.com/paint-a-clay-gift
6. Chinese Calligraphy
Credits: Studio Miu
Did you know? Chinese calligraphy is traditionally known to have linked with longevity of those who practised, as it is said to have a meditative effect. This is one workshop which is not only culturally but also historically significant. Just think about all the Chinese dramas and the scholars who would write. Although not practised as much by younger people these days, Chinese calligraphy has its own poise from each stroke that can't be compared to modern-day calligraphy. This would be a great workshop for those who seek a cultural experience while creating art.
Website: https://www.studiomiu.com.sg/chinese-calligraphy.html
7. Tote Bag Art Jamming
Well-loved by those who have tried, tote bag art jamming is one of the relaxing, collaborative and creative workshops offered by The Fun Empire. Not only is it suitable for all ages, but we can also confidently say that being able to use the tote bag after that makes it one of the more popular art jamming workshops! Tote bag art jamming is highly recommended for corporate team building and casual gatherings as it allows participants to get to know each other and their interests through a common activity.
Website: https://www.thefunempire.com/art-jamming/
8. Face painting workshop
Credits: Party Parlour
Some would argue that make up is a form of art that is done on the face. It's lesser known cousin, face painting, is also equally vibrant. Using only body art face paint, face painting workshop would teach participants how to paint intricate designs on skin. While it is called face painting, you need not only paint on the face! Hence, this opens up the workshop to countless of creative options.
Website: https://partyparlour.com.sg/face-painting-2/
9. Coffee painting
Credits: sgartclass
Not only is coffee fuelling our day, but it now also fuels…our art? For coffee and art connoisseurs, this workshop would have you feeling like your two worlds are colliding! Fret not as it is actually not as messy as you are probably picturing it to be. In fact, the first coffee paintings appeared centuries ago as coffee began to colonize Europe. In recent years, painting and illustrating with coffee has become a common practice among many artists around the world. Now, you can have a taste of it as SG art class is offering the workshop. Get ready to explore shades of brown!
Website: https://sgartclass.com/corporate-workshops/
10. Group Art Jamming
Want to create something as a group? From start to end, this group art jamming workshop will allow you just that! What separates this from most art workshops so far? Mainly, it's how a group effort is consistently required from start to end – deciding what to paint, making sure that the individual canvases line up together etc. Moreover, it is designed to promote communication, delegation and collaboration and creative thinking as a group! This is apt for groups that are looking to have a solid team building experience that puts the skills to work.
Website: https://www.thefunempire.com/art-jamming/
11. Caricature
Credits: Caricaturist.sg
Head down for a session to learn how to draw comical portraits! Caricatures tend to be an exaggeration of a person in which certain striking characteristics are emphasized, sometimes for satirical purposes. As such, you can expect an entertaining and humorous session with your friends or colleagues! With just one workshop, the people at caricaturist will have even the beginners a complete masterpiece at the end of it. We reckon this to be great as ice breakers or to get to know your peers on a deeper level.
Website: https://caricaturist.sg/workshops-classes/
12. Zentangle
Credits: Stephenie Jennifer
From the name, you may have guessed that this involves reaching some level of zen. That is exactly what this workshop of drawing repeating patterns is said to achieve. Unlike doodling, participants are to draw each pattern mindfully to achieve an inner calm. Zentangle offers an introductory workshop where no experience is required and they will be taught the 8 step method. This definitely sounds good for unwinding on the weekends and to refocus your mind!