Cycling Routes Singapore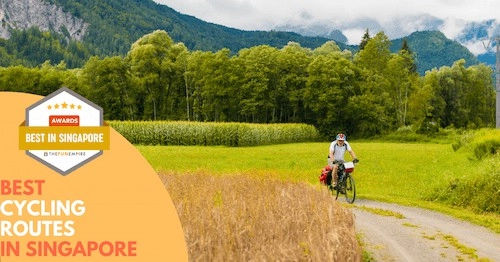 Biking is more than just a recreational activity or a sport; it also offers several health benefits.
The best cycling routes in Singapore include Pulau Ubin, Coast-to-Coast (C2C) Trail, The Eastern Coastal Loop, Western Adventure Loop, and Northern Eastern Riverine Loop.
When selecting a cycling route in Singapore, take into account various factors including the distance, type of terrain, safety measures, scenic views, attractions, and level of difficulty.
Mountain bikes, road bikes, and hybrid bikes are among the top choices for cycling in Singapore.
There are several bicycle routes Singapore, but you should know which ones are the best.
Quick Summary
Best cycling routes in Singapore include Pulau Ubin, Coast-to-Coast (C2C) Trail, The Eastern Coastal Loop, Western Adventure Loop, and Northern Eastern Riverine Loop.
When choosing a cycling route in Singapore, consider factors such as – distance, terrain type, safety and security, scenery and attractions, and level of difficulty.
The most popular types of bicycles used for cycling in Singapore include mountain bikes, road bikes, and hybrid bikes.
Best Cycling Routes Singapore
1. Pulau Ubin
Cycling is an excellent way to discover Ubin at your own speed. There are paths to fit every desire and skill level when it comes to handling on a bike. Metaled/tarmac roads connect all main areas, allowing for convenient access. Off-road paths vary in difficulty from basic to difficult. There are also bicycles available for rent to suit every taste. Mountain bikes, tandem bikes, tricycles, and even bicycles with side carts for infants or really sluggish spouses are available. For a little fee, you may have a basket mounted to your bike to carry your goods.
2. Coast-to-Coast (C2C) Trail
The Coast-to-Coast Path (Central) is a 36-kilometer trail that connects natural areas, parks, and park connectors from Jurong Lake Gardens in the west to the new Lornie Nature Corridor towards the center, and to Coney Island Park in the northeast. This is a path designed for more experienced bikers, but if you're looking for a challenge, this may be the one of the cycling routes Singapore for you.
3. The Eastern Coastal Loop
The Eastern Coastal Loop, which connects East Coast Park to Pasir Ris Park, is a beautiful 17.5km cycle that offers plenty of picturesque topography (rainforest, wetland, and coast) and refreshment stops. We suggest starting at Pasir Ris Town Park, where bicycles can be rented. Head to Tampines Eco Green, a flora and wildlife refuge, and then to Bedok Reservoir Park, which is home to the famed Ye Lai Xiang Cheng Tng stand – simply look for the largest wait. Its variety of photogenic scenery is what makes it one of the best cycling routes Singapore.
4. Western Adventure Loop
The west side of Singapore is home to the country's largest floating wetlands, granite cliffs, and natural parks, which are all linked by small park connections. The Western Adventure Loop will take you to the wild side of Singapore. Hiking through rocky Zhenghua Park, seeing an incredible diversity of species at Dairy Farm Nature Park, or simply relaxing beneath the trees are all options.
5. Northern Eastern Riverine Loop
The northeastern portion of Singapore has a mysterious yet alluring charm that draws nature enthusiasts to explore the island's less-traveled corners. The 26-kilometer-long North Eastern Riverine Loop winds through park connections, rural landscapes, and coasts like as the Lorong Halus Wetlands and Punggol Beach. Because more than 80% of this cycling route passes along streams and reservoirs, bikers may expect to see a variety of flora and animals, including sea otters, exotic fruits and trees, and more. It is regarded as one of the best cycling routes Singapore because of all of the natural riches that surround it.
6. Central Urban Loop
The 36-kilometer Urban Loop connects historic HDB housing estates in Singapore's central area, including as Bishan, Ang Mo Kio, Toa Payoh, and Whampoa, and gives direct access to Bishan-Ang Mo Kio Park, Kallang Riverside Park, and Punggol Waterway Park. It is an island-wide network of linear open spaces that connect parks and nature preserves surrounding major residential areas. They are a vital component of Singapore's development into a City in a Garden, taking you through the lush foliage and natural grandeur of their island and providing chances for people to engage in a variety of fascinating leisure activities.
7. Northern Explorer Loop
Lower Seletar Reservoir and Woodlands Waterfront are linked by the Northern Explorer Loop. Although the parks along the route are beautiful, especially the reservoir in the early morning, the remaining of the trip is on park connections beside busy highways. This is excellent for both leisure riders and bicycle aficionados, with several parks, waterfronts, and heartlands throughout the route. There is certainly something for everyone to view, whether it be nature, the water, or Singapore's stunning fauna. Its combination of urban activites and natural topography makes it one of the best cycling routes Singapore.
8. Mandai Loop
For those acquainted with Singapore's road cycling scene, the Mandai "Loop" is likely one of the more popular routes. This cycling track, however, is a little more obscure and unknown to leisure bikers. You may only be familiar with Mandai because of the Singapore Zoo and the River Safari, but there is much more to this region than meets the eye. It has a lot of scenic features and leisure stops that make it a great cycling routes singapore especially for the more experienced cyclists.
9. Southern Ridges
The Urban Redevelopment Authority (URA) developed the Southern Ridges route in 2002, and it was formally launched in 2004 at a cost of S$25.5 million. The 10-kilometer-long path connects Kent Ridge Park to Harbourfront via a series of parks, bridges, and walkways. The Southern Ridges Nature Trail, with its stunning views and award-winning attractions, is surely one of Singapore's most popular nature trails. It is one of the best cycling routes Singapore because of its core premise and range of gorgeous views.
10. Chestnut Nature Park
Chestnut Nature Park, located on the outskirts of Central Catchment Nature Reserve, is Singapore's first nature park with dedicated mountain biking and hiking pathways. The secluded position of Chestnut Nature Park, tucked away in the deep end of Chestnut Avenue, is likely why it remains a lesser-known jewel among most Singaporeans. What it lacks in accessibility, it more than makes up for in abundant terrain. From birdwatching to hiking and bicycling, this park has a lot more to offer than your average nature preserve. Its remote position also ensures it is unaffected by urbanization, making it a popular choice for people seeking a peaceful getaway from the city.
11. Changi Airport Connector
The Changi Airport Connector is a 3.5-kilometer cycling and running trail that connects East Coast Park with Changi Airport. For the first time, you can cycle or jog all the way to Changi Airport, even spotting dinosaurs along the route. The new Changi Airport Connector has a variety of must-see and do attractions. They offer everything from a dinosaur park to Singapore's National Service Resort and Country Club (NSRCC) and even an instagrammable café named Hub & Spoke Cafe. Their wide range of services and natural features makes it one of the best cycling routes Singapore.
12. Coney Island Park
Coney Island Park is important because of its history, but it is also home to many different ecosystems, such as coastal forests, grasslands, mangroves, and casuarina woodlands. It is home to many different kinds of animals and plants, including some that are very close to extinction. Some of the plants in the park are thought to be nationally extinct in the wild. Coney Island is a nice spot to get away from Singapore without having to leave the country. Its rich natural flora and fauna and scenic topography make it one of the finest getaway cycling routes Singapore.
Cycling Routes Singapore
Overall, They are numerous trails and spots you can take and find throughout Singapore but there are also unique places that showcases the fully beauty of what Singapore has to offer. These trails will help you understand how amazing Singapore is. We hope that these help you find the best cycling routes Singapore for your next biking run or road adventure.
If you're looking for more recommendations, you can check out our other posts below:
Frequently Asked Questions (FAQ)
If you have any questions about cycling routes in Singapore, you can refer to the frequently asked questions (FAQ) about the best Cycling Routes in Singapore below:
What are the best cycling routes in Singapore?
The best cycling routes in Singapore include Marina Bay Sands, Bukit Timah Nature Reserve, Punggol Waterway Park, Toa Payoh Town Park, Bukit Batok Nature Park, Changi Beach Park, Woodlands Waterfront Park, and Telok Blangah Hill Park.
What are some of the best cycling routes in Singapore?
There are numerous cycling routes in Singapore that cater to different levels of experience and interests. Some popular ones include the Marina Bay Loop, the Round Island Route, and the trails around Singapore's largest nature park.
Can you provide more details about the Marina Bay Loop cycling route in Singapore?
The Marina Bay Loop is a scenic cycling trail that takes you around some of Singapore's most iconic landmarks. It's perfect for both casual cyclists and seasoned riders who want a blend of urban and natural sights.
What can I expect from the Round Island Route?
The Round Island Route is a 150 km route that lets you explore the entirety of Singapore. You'll see a mix of cityscapes and rural landscapes, including coastal roads, heritage sites, and nature parks. It's a great way to experience Singapore on your own bike.
Are there specific cycling trails for mountain bikers in Singapore?
Yes, there are several trails designed for mountain bikers in Singapore. These include the Bukit Timah Mountain Bike Trail and the Chestnut Nature Park North Loop, which is Singapore's largest nature park and offers a challenging ride for experienced bikers.
What is the East Coast Seafood Centre, and how does it fit into the cycling routes?
The East Coast Seafood Centre is a popular dining spot known for its delicious seafood. It's conveniently located along the Eastern Coastal Loop, making it a perfect pit stop for cyclists to refuel and enjoy some local cuisine.
Can you tell me more about the Singapore Round Island Loop?
The Singapore Round Island Loop is a comprehensive route that covers major parts of the island. It's a lengthy ride, but it offers an unparalleled opportunity to see the diverse landscapes and attractions Singapore has to offer.
What is the Changi Point Ferry Terminal, and how is it related to the cycling trails?
The Changi Point Ferry Terminal is located in the northeastern part of Singapore. It's a common starting point for the Coastal Adventure Corridor, a cycling route Singapore that takes you past beautiful beaches and parks.
What is a pump track, and where can I find one in Singapore?
A pump track is a circuitous trail that mountain bikers use to improve their handling skills. The tracks have a series of bumps and banked turns, allowing riders to gain speed without pedalling. In Singapore, you can find a pump track at the Chestnut Nature Park.
Do I need to rent a bike, or can I bring my own bike to these cycling routes in Singapore?
You're welcome to bring your own bike on these cycling routes. However, if you don't have one or prefer not to transport yours, there are several places where you can rent bikes in Singapore.
Additional Useful Articles
If you are looking for other useful guides and articles about Cycling Routes in Singapore, check them out below: